The Loop
Golf Digest Podcast: Maverick McNealy, golf's No. 1 ranked amateur, explains why he still isn't sure he's going to turn pro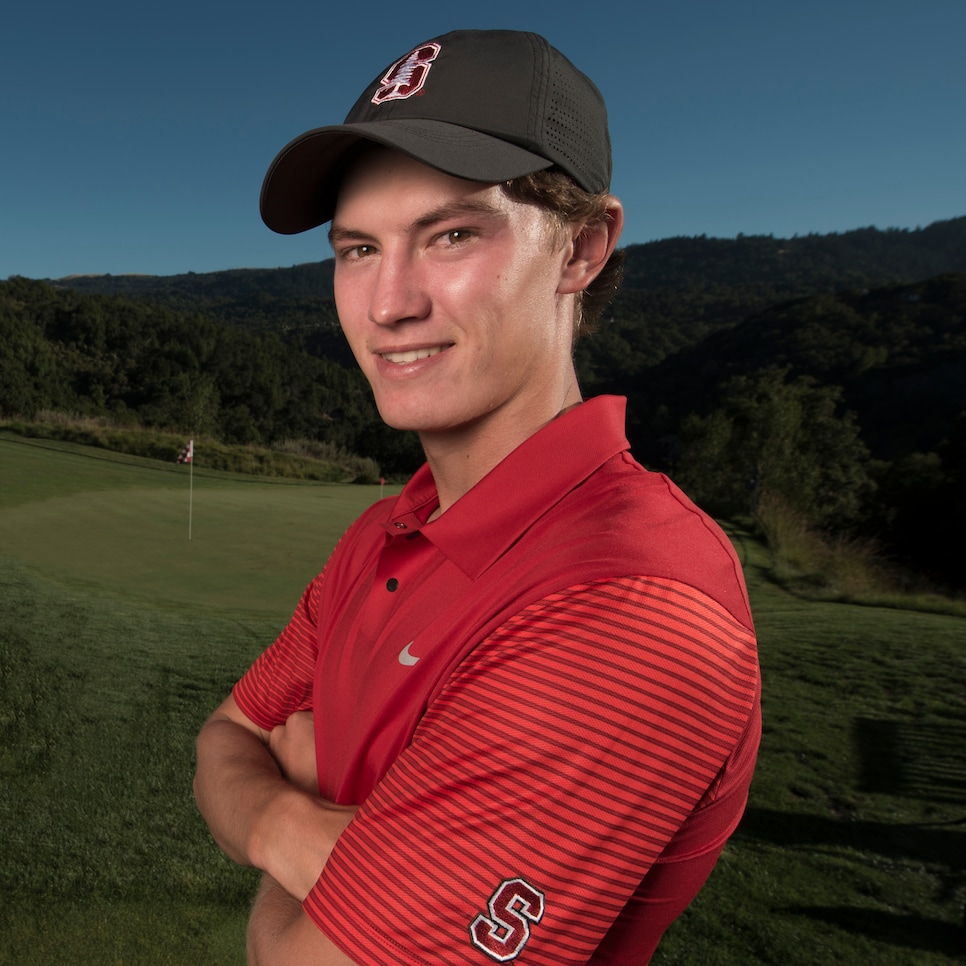 Maverick McNealy is not your ordinary college golfer. That begins on the golf course, where the Stanford senior is among the game's best, having been the consensus national player of the year in 2015 and currently holding the No. 1 spot on the World Amateur Golf Ranking. With one more win this spring, McNealy will break the Cardinal's all-time career victory mark with at 12, erasing the names Patrick Rodgers and Tiger Woods from the record book.
But it also veers off the course as the 21-year-old management science and engineering major from Portola Valley, Calif., contemplates doing something no elite college/amateur golfer has done in decades: forgo turning pro seeking fame and fortune on the PGA Tour card after graduating this spring to instead enter the business world, where he would follow in the footsteps of his father Scott McNealy, the co-founder of Sun Microsystems.
During the latest Golf Digest podcast, McNealy discusses the thought process he's going through as he contemplates his future career path. In listening to McNealy weigh various factors, several things become obvious quickly:
"I definitely think the experience I've had out playing against the big boys has persuaded me more towards playing professionally," McNealy says at one point, perhaps offering a clue as to his current lean based on playing four PGA Tour events (including a U.S. Open) as an amateur and making the cut three times. "But then again, basically if I played the way I have played on the PGA Tour, it feels like I've had three good rounds and one poor round every event I've played that wouldn't be enough to make it. So I do think I need to work hard on my game this year. I don't think I'm quite ready right now if I were to tee it up on the PGA Tour to have the success I would like to have. But I do think it would be possible if I have good year this year to have that opportunity."
If McNealy does turn pro, it won't happen until at least the end of the summer. By holding the No. 1 amateur ranking at the end of last summer, he won the McCormack Medal and earned exemptions into this summer's U.S. Open and British Open. He also says he would like to play in a second Walker Cup in August.
McNealy says the decision about his future won't keep his mind off the here and now. While breaking the win record this spring would be great, but there's a different prize he's focused on.
"I would trade an entire professional career to win an NCAA championship with my team. For me goal No. 1 and challenge No. 1 is win a natty with these guys."
Other topics that Maverick McNealy discusses:
On the chance to beat Tiger's all-time win record at Stanford (1:57)
The decision on whether or not to turn pro after college (6:32)
Making the leap from under-the-radar junior to All-American college player (12:17)
How ice hockey helped make him a better golfer (12:17)
The five questions he asks himself after every round to get better (14:32)
When he finally accepted he's a pretty good golfer (17:30)
Golf binge trips with mom, dad and the four McNealy boys (18:45)