Pucker Up
NHL Draft pick's parents slip each other tongue on live TV after son selected 29th overall by the Coyotes
Getting drafted into the NHL is no small feat. It takes years of early mornings, late nights, long drives, cold rinks, and stinky skates … and that's just what the parents put up with. So when your son finally makes the show, it's cause for celebration, and celebrate Isabelle and Patrick Lamoureux—the parents of prospect Maveric Lamoureux—did on Thursday, slipping each other some serious tongue on live TV as their son was selected 29th overall by the Arizona Coyotes. Let's get it on.
From the sounds of things, the ESPN broadcast loved it and honestly so do we. It's not easy keeping the flame lit as the years add up, but Mr. and Mrs. Lamoureux clearly have it figured out. Maveric, meanwhile, appeared slightly embarrassed when he looked up and saw his parents going at it in real time, but not nearly as mortified as you might expect. Who knows how they do things in Quebec. A French kiss is probably the equivalent of a handshake up there.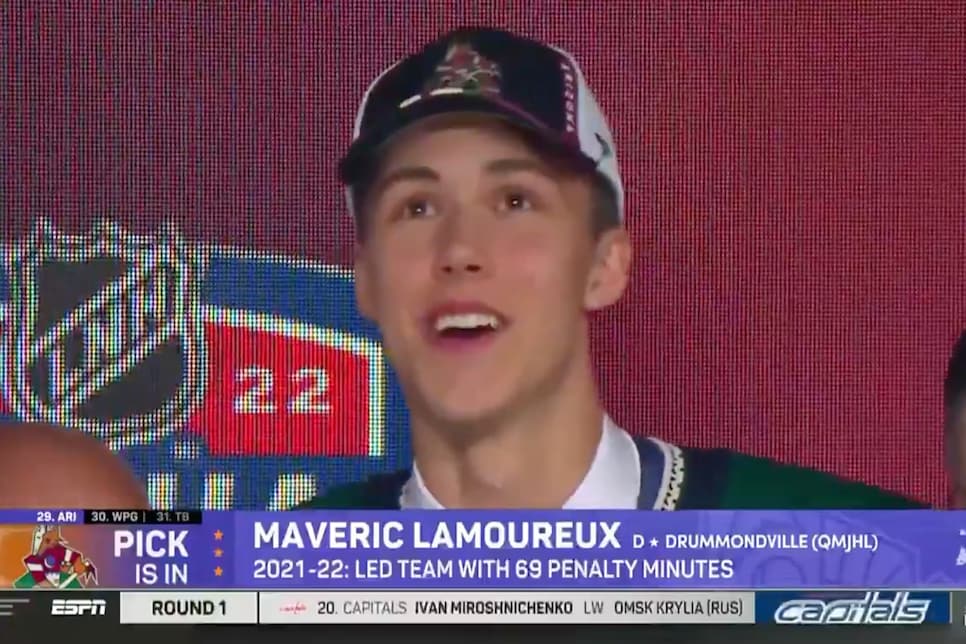 As for Maveric's NHL prospects, the 6' 7", 190-pound defenseman has an impressive offensive toolset and could prove to be a steal if he fills out and puts it all together. If that happens, look out. If this is how the Lamoureuxs reacted to their son being drafted, just imagine what they'll do if he wins a Stanley Cup.