PGA Tour
Even with strong partner at Zurich, Matthew Wolff's struggles continue, and everybody's asking: why?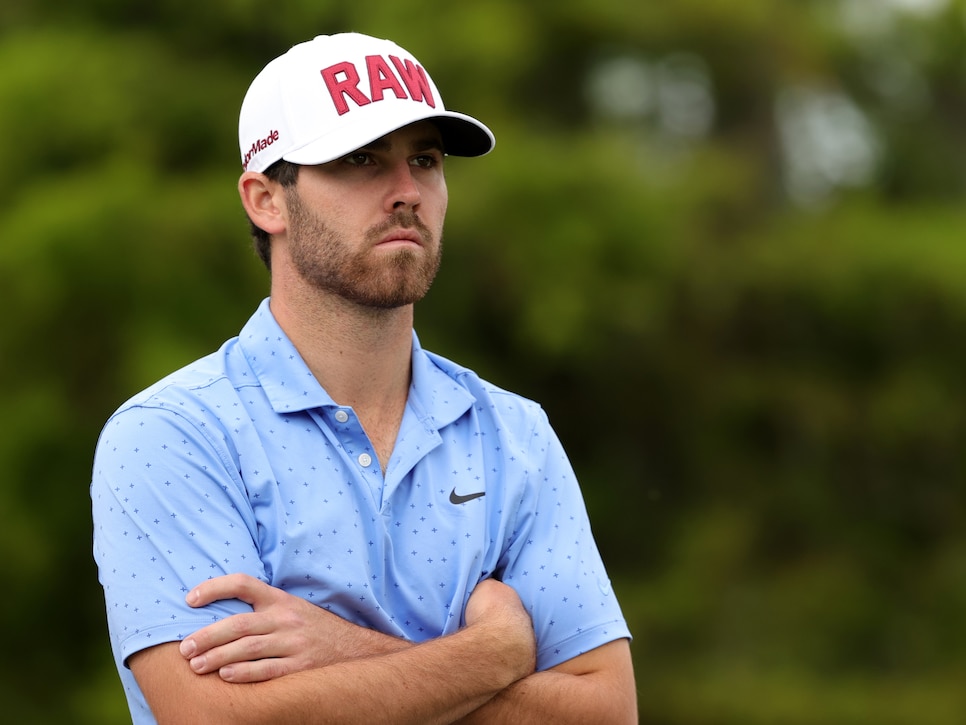 Matthew Wolff walks from the 15th tee during the second round of the Zurich Classic of New Orleans.
Stacy Revere
AVONDALE, La.—Matthew Wolff walked off the tee at the par-3 17th at TPC Louisiana on Friday, his head down and expression joyless. He and teammate Collin Morikawa had just made double bogey the hole before, the result of a badly pulled tee shot from Wolff into a hazard. Morikawa came up from behind and put his hands on Wolff's shoulders, trying to shake the sulky mood of his partner.
"I told him let's keep your head up for the next 10, 11 holes," Morikawa said. "I said, I don't care what we shoot. Let's just go have fun. If you hit the ball wherever, I don't care, no one cares. Let's just find the next shot, hit it and keep trying to make birdies.
"That's all you can do, even where you're playing by yourself. Hopefully he looks at that pep talk as just a little motivation to stay positive."
The breeze was picking up and the humidity rising at the Zurich Classic, with thunderstorms beginning to percolate off to the west amid the heavy air and forecast to roll through the bayou in the evening. Wolff and Morikawa were blown out of TPC Louisiana long before the first bolt of lightning was expected to hit, however. Another week, another startling performance by the latter.
The two young stars finished their two days of four-balls and foursomes at three over and missed the cut following an alternate-shot five-over 77 in the second round. Afterward, Wolff buried his head in his phone and declined an interview request, instead motioning toward his 24-year-old major champion playing partner to handle the duties.
What could Wolff possibly have to say anyway?
In eight starts this year, the 22-year-old one-time PGA Tour winner and former NCAA champ from Oklahoma State has two WDs, a missed cut and a DQ that came at the Masters, where he signed an incorrect scorecard, but he would have missed the cut by a mile anyway after what ended up being rounds of 76-79. His 71.58 scoring average is among the worst on the tour, ranking 132nd out of 209 players. At the WGC-Workday Championship in February, he opened with an 83 and a couple of hours later withdrew, despite the tournament not having a cut. In January, he opened with a 78 at the Farmers Insurance Open then withdrew with a hand injury. Only twice this year has he finished a week under par—his best result a T-36 at the Waste Management Phoenix Open.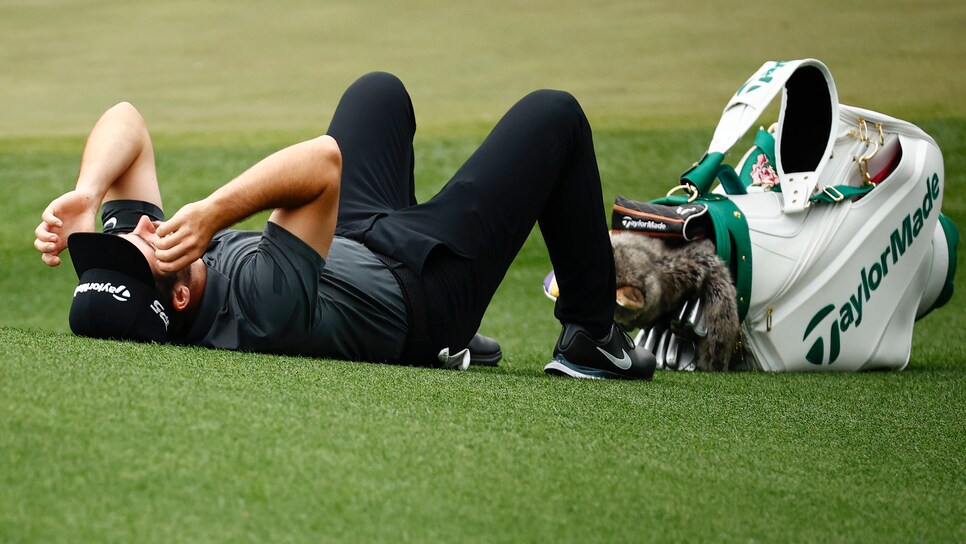 Matthew Wolff lays down near the 11th green during the Masters.
Jared Tilton
Perhaps riding the tail of Morikawa, the fourth-ranked player in the world and already with a victory this year, would help stanch the bleeding. It didn't.
There's nowhere to hide in alternate shot and Wolff's performance was largely responsible for the team's five bogeys and a double. Among the examples: a wide-right tee shot and poor pitch on the 12th, a missed six-footer for par at 15, a lousy wedge from the middle of the fairway on 16, after which Wolff looked like he wanted to snap the club over his head.
Bad shots, worse sulking.
"Obviously he's struggling and going through stuff," Morikawa said of his usually ebullient partner. "Whether it's on the course or off it.
"But when you're playing a team event you gotta stay positive. There's no saying sorry for hitting bad shots, but emotions and the mood flow with each other. I wanted him to keep his head up. I've seen it the last couple months, he's had his head down a lot."
The reasons why—other than a run of poor golf during which Wolff doesn't seem to know where his ball is going—are anyone's guess. So, too, is what exactly is wrong with Wolff's game in the first place, though some stately and respected swing coaches speculate that his unorthodox swing with a high left arm, high right elbow, and stance close to the ball with both feet pulling away isn't one that's built for consistency with such positions and so many moving parts.
It's also fair to wonder if he was perhaps overhyped in the warp-speed world of social media and the game's constant search for its next superstar. The talent is obvious and it begat early success, with Wolff earning his first career victory less than a month after turning pro in 2019, followed by a T-4 at last year's PGA Championship and a runner-up at the U.S. Open six weeks later. (A final round of 75 at Winged Foot was perhaps a sign of a crack in the foundation.) But the pace and expectations that followed would be impossible to maintain for most any player.
Even Morikawa can relate, albeit relatively so, after having missed the cut in three of his next five starts following his victory at last year's PGA Championship.
"Last fall when I wasn't playing great, I was still trying to find the positives," he said. "There's always something to look at. I know for [Wolff] it's tough to see that right now, but he has to find something because that's how he's gonna get out of it."
There's also an element that's tougher to measure, adjusting to a lonely life in the lonely world of professional golf. In college, there are myriad support systems for a player. On tour, it's ultimately every man for himself, no matter the friendships. Some struggle with that transition more than others.
"It's a different world to travel on your own," Morikawa said. "Yeah, you have an agent, but you're out there by yourself in a hotel room. You can't prep for that. There's a certain age where some people are more mature than others. I wouldn't blame it on young age—he's won and proven he can do it—but he just has to find that little thing in his swing and get over that hurdle."
How or when Wolff will, who knows.
"Everyone goes through these ups and downs," Morikawa said. "I'm sure he's going to figure it out. I don't know when. But it was fun playing with him."
Perhaps one day soon Wolff will be able to say the same.