DP World Tour Championship
Matt Wallace birdies every hole on the back nine to take lead at DP World Tour finale … but there's a catch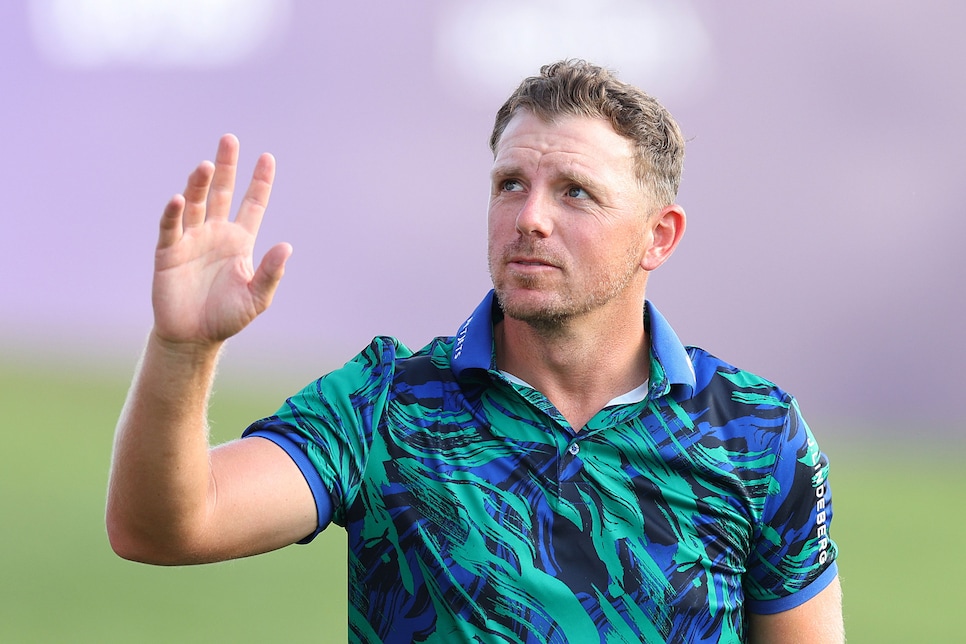 Matt Wallace's impressive Saturday in Dubai comes with an asterisk as his 12-under 60 with nine birdies on the final nine holes was played under lift, clean and place rules so they won't be listed in the DP World Tour record book.
Andrew Redington
DUBAI — On the Earth course he played like a man from outer space. Or at least a man possessed. Making nine straight birdies on his back-nine, Matt Wallace completed the third round of the Race to Dubai's season-ending DP World Tour Championship at the Jumeirah Golf Estates in a mere 60 shots, 12 under par.
Great stuff clearly, but every one of Wallace's 12 birdies and six pars comes with an asterisk. An overnight storm led to preferred lies being in operation, so the 33-year-old Englishman's effort will not count in the former European Tour's record books. What it did do, however, was take him to 16 under par and into the 54-hole lead, one stroke clear of FedEx Cup champion Viktor Hovland and fellow Englishman Tommy Fleetwood in the race for the $3 million first prize.
That "non-counting" fact is disappointing, but perhaps fair enough. Wallace himself admitted that "ball in hand" had aided him on at least two pitch shots from what he was able to turn into perfect lies.
Still, if his (almost) historic effort had been deemed official, Wallace would have equaled the records for most birdies in a DP World Tour event, the low-nine relative to par and most birdies in succession over 18 holes. He is though the first man ever to make those nine birdies on either a back nine or a front nine.
"It didn't feel that good playing alongside what Matt was doing," said a smiling Dan Bradbury, his playing partner who shot a "pedestrian" 68. "But I'm happy with my day. I was just trying to act normal around him. He missed one putt on seven, which he's probably not too happy about. But it was all so easy. I was listening to him and his caddie. It was, 'aim here' and he hit it there. Every time. There wasn't a weakness. One of those days. The phrase 'couldn't miss' is appropriate."
Wallace seemed equally non-plussed by it all, to the extent that the World No. 87 didn't realize the bunker shot he struck to a foot on the 18th green would have made him only the second man to shoot 59 on the DP World Tour (after Oliver Fisher at the 2018 Portugal Masters) had it fallen in.
"Dan said he felt like he had shot five over and he shot four-under," Wallace said. "I putted nicely, which is a change from the form I've been in. I was so confident today. I felt like as long as I hit it on my line, I was reading them really well. I've been working towards this, so it's really nice that it all came good there on the back-nine. I guess I'm just not scared to go low. I love making birdies and always want to make one more. I always want to push forward, and I guess it showed out there.
Asked to pick out the best shot on a day when he clearly hit so many good ones, Wallace identified two.
"The 3-wood into 14 was mega," he claimed. "I just flushed it into the middle of the green. That was a great shot but the one that really pushed me on was the 6-iron into 12. Off an upslope to a left pin, I hit it to four feet.
"And yes, I had no idea what I was achieving," he continued. "Because you don't think that far ahead. When I went onto the 16th tee all I was thinking was 'ball in play.' When I got down there, I had a perfect number. So I took it on. I went through the same process I would on day one. Then I hit it to a foot. It doesn't always happen like that. But I hit a lovely shot. The confidence and the flow was there."
Indeed, Wallace might not be done yet. Now that he is paying full attention, he has a singular aim in mind come the final round.
"Give me one more hole," he said. "Hopefully I can do it [make a birdie] on the first tomorrow and get to 10."