The Loop
Matt Kuchar (gasp!) curses, Paige Spiranac gets the SI Swimsuit treatment, and our favorite celebrity golfer shines at the Super Bowl
Welcome to another edition of The Grind, where we finally got good Super Bowl numbers, but, well, let's just say the Eagles' kicker isn't our favorite athlete. Still, it was a great night overall. My wife made chili and guac, Justin Timberlake dazzled, and of course, the Patriots lost. And now I can't stop "Can't Stop The Feeling" from playing in my head as I picture images such as these:

And it's wonderful. Anyway, our favorite celebrity golfer/man crush unfortunately won't be teeing it up at Pebble Beach this week, but there's still plenty of golf stuff to talk about so let's dance, dance, dance, c'mon!
Gary Woodland: After several seasons without a victory and going through a difficult 2017 with his wife in which they lost an unborn daughter, Woodland was understandably emotional after winning the Waste Management Phoenix Open. "Yeah, that was just kind of a tribute to last year," Woodland said. "Obviously, we lost a little girl, and being there, seeing my wife give birth to her, that's real. Just wanted her to know I still love her." Golf fans learned Woodland can still go low, firing a final-round 64 and beating Chez Reavie in a playoff. This slam-dunking 33-year-old won't be stuck on three career wins for too long.
Ryan Palmer: In what's become a tradition in recent years, the PGA Tour veteran tosses out golf balls wrapped in $10 bills to the fans at TPC Scottsdale's infamous (more on that later) 16th hole.
Giving out beer money is a kind -- and smart -- move. That crowd can turn on you fast.
Paige Spiranac: Congrats to our favorite golfer/Instagram star on being selected to be part of this year's Sports Illustrated Swimsuit Issue:
According to SI, Paige is also using her platform to promote Cybersmile, an anti-cyber bullying organization. Good stuff, Paige. You can read more about her cause and watch her powerful video here.
Shubhanker Sharma: Last week, we plugged 22-year-old Haotong Li from China for winning on the European Tour. And this week, it's this 21-year-old Indian's turn to shine. With a final-round 62, Sharma won the Maybank Championship for his second Euro Tour title in 13 starts. With all this young firepower from Asia, maybe the next Presidents Cup won't be such a route.
Tour pros wearing jerseys: If Bob from accounting is allowed to show up for work the Friday before the Super Bowl repping his squad (even though you've never heard him mention the Eagles before), then tour pros should also support their favorite teams at work. We see players rocking jerseys at the Waste Management Open's 16th hole all the time, but one Web.com Tour player, Vince Covello, busted his out as well:
Wonder if he was named after Vince Papale, who Mark Wahlberg played in "Invincible." In any event, congrats, Vince. Although, it might be time to update to the jersey of someone who is actually still on the team. . .
All the 16th hole complainers: More than ever, it seemed golf writers -- from Golf Magazine's Michael Bamberger to our own Brian Wacker -- ripped the raucous hole. And while I agree with Bamberger that I'd take the 16th hole at Augusta National any day (who wouldn't?), that doesn't mean there can't be a place for this par 3, too. Meanwhile, Wacker questioned how this could be good for the game, but I look at these ridiculous attendance figures and say how can it not?
Also, last I checked, this isn't the only spot in golf where fans go streaking or yell stuff during players' backswing. And it's ONE hole, people. Any tournament would kill for that kind of turnout.
Justin Leonard's house: As in, the 1997 British Open champ is selling his home in Aspen and the asking price seems a tad aggressive. Don't get me wrong, it's a beautiful house as you can see: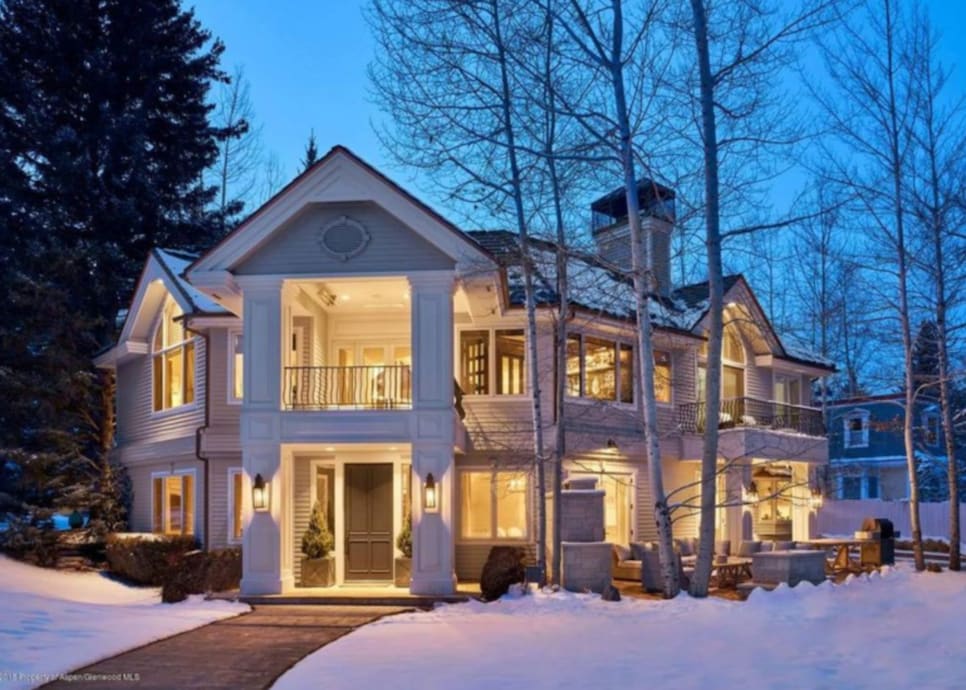 And as a non-skier I don't appreciate the whole Aspen scene as much as others, but $15.9 million for a piece of property that's about one fifth of an acre? Even Fredrik on Million Dollar Listing New York would balk at that kind of price per square foot. And yes, I watch that show. Come at me.
Taking Hideki Matsuyama with our 1st pick: I joked last week that there was no way Matsuyama would win in Phoenix for a third straight year after Joel Beall and I took him at No. 7 overall in our draft, but I didn't think he'd only give us ONE start before withdrawing with a wrist injury. To make matters worse, we Joel picked Matsuyama over Jason Day. That's looking about as good as my under bet in the Super Bowl.
The PGA Tour heads to Monterey Peninsula for the AT&T Pebble Beach Pro-Am, AKA that event where viewers complain a lot because Golf Channel and CBS are showing Larry the Cable Guy and Gary Mule Deer too much.
Random tournament fact: I have no idea who Gary Mule Deer is other than a guy who always seems to participate in this event.
RANDOM PROP BETS OF THE WEEK
-- Tony Romo will rock an Eagles jersey on the course: 1 MILLION-to-1 odds
-- Tony Romo will announce he's playing for real in a PGA Tour event: 5-to-1 odds
-- Tony Romo will hang out with Jim Nantz in the CBS booth after his rounds: LOCK
That range should be burned to the ground.
VIRAL VIDEO(S) OF THE WEEK
While I'm a fan of the Waste Management Phoenix Open's 16th hole, I don't condone streaking. That being said, this guy put on quite a show before he was (eventually) arrested after about five minutes:
Seriously, what took so long to get this clown carted off? On the flip side, Brooks Koepka barely got any airtime during this Michelob Light Super Bowl ad, but he made the most of a brief singing solo at the 30-second mark:
VIRAL VIDEO OF THE WEEK (TRICK SHOT DIVISION)
Everytime I think Joshua Kelley, AKA holein1trickshots, has reached his peak, he does something like this to top himself:
"Golly, Matty. What a d*$% head!" -- Matt Kuchar. Yes, that Matt Kuchar was caught on a mic saying this as his tee shot headed toward the water on No. 17 in the final round. Have a listen for yourself:
Glad to know this walking smile is human (and love that he still started his surprising curse with "Golly, Matty"), but imagine the odds you could have gotten on Matt freakin' Kuchar forcing CBS to issue an apology for bad language?!
THIS WEEK IN PROS ARE JUST LIKE US
Even Rory McIlroy gets his name misspelled at Starbucks:
THIS WEEK IN PROS AREN'T JUST LIKE US
Jordan Spieth caught a pass from Aaron Rodgers while they played together at the Waste Management Phoenix Open Pro-Am. Sounds like a good day.
Then there's Jon Rahm, who broke the unofficial record for earliest walk on a made putt:
Welcome to SwaggerTown, am I right?
Rickie Fowler blew his fifth 54-hole PGA Tour lead in six chances. That's a small sample size, but it's also not a great conversion rate. . . . In another surprising stat, Golf Channel announced the Farmers Insurance Open playoff between Jason Day and Alex Noren broke the network's record for most-watched telecast. It's good to know so many people chose watching golf over watching Grammys red carpet coverage. . . . Rory McIlroy will take on Paris Hilton in a celebrity car race that airs this Friday. I swear I'm not making this up. . . . And finally, a big shout-out to Dallas BBQ for keeping their onion loaf on the menu when other restaurants have caved on similar items in the name of good health: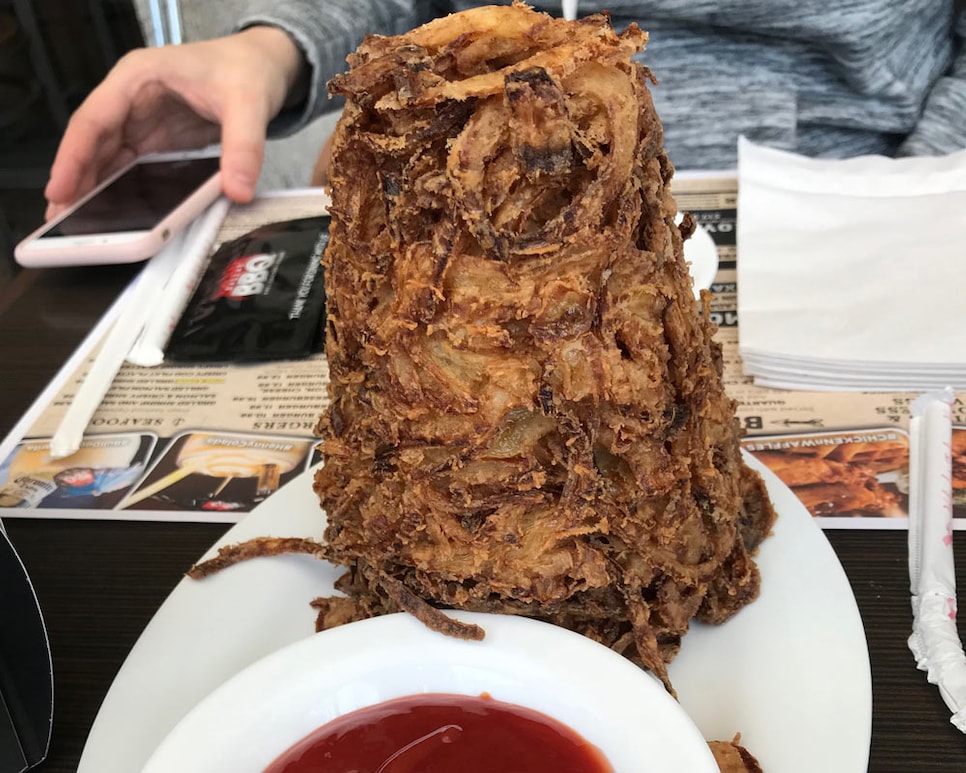 That thing probably took 3.5 years off my life, but man, was it worth it.
RANDOM QUESTIONS TO PONDER
Are the Patriots done winning Super Bowls? (Hope so!)
Is Phil Mickelson done winning PGA Tour events? (Hope not!)
Is Justin Timberlake looking for a fourth this weekend month year ever?