News
Wasted Management Phoenix Open? How is this a good thing?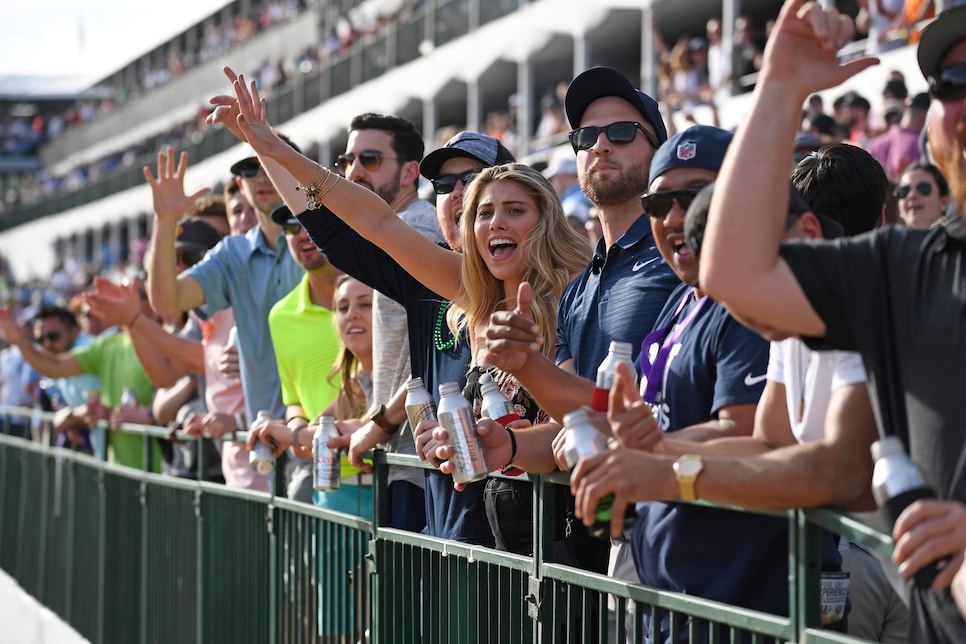 Rickie Fowler is the poster child (er, guy, as he nears age 30) for all things cool on the PGA Tour, both in promotion and practice. So when golf's Leo DiCaprio says he was "a little disappointed in some of the stuff that was said" by some obnoxious fans during the early stages of his opening round at last week's Wasted Management Open, Phoenix, you might have a problem.
That same day, one fan yelled "Tater tots!" in the middle of Jordan Spieth's downswing on the 18th hole. There was also a streaker. That was on Wednesday, before the tournament even began.
These were just a few of the incidents that played out in what is becoming an increasing amount of debauchery during the biggest party in golf.
Now, a few bad mashed potato heads always seem to spoil it for everyone else, yes, but for one week a year it is becoming the norm more than the exception. How exactly is this a good thing?
For all the NFL's shortcomings it doesn't try to be something it's not. It never has. Name the sport and the same is true. Except for golf, which every year around this time tries so hard to be so cool.
What, by the way, is so cool about yelling in someone's backswing? Yeah, real cool, bro.
One could argue (and many do) that the laid-back atmosphere at the Wasted Management brings casual fans to the game and exposes them to something they're not familiar with. In doing so, they might actually walk away liking it. Or, maybe they'll just walk away hammered. A surge in Scottsdale police records for alcohol-related arrests during Phoenix Open week would certainly seem to indicate so.
Now, all those people pouring through the gates do help raise millions for charity every year. That's big money, and it has a real impact on the community.
At the center of it all is TPC Scottsdale's 16th hole, an otherwise ho-hum par 3 that turns humming with 16,000 screaming fans amid its confines of a stadium that surrounds the entire thing.
Singularly, each isn't that big of a problem, and it's unfair for each to get all the blame. In the larger picture, though, both are significant contributors to larger issues.
In short, amid all that spilled beer (having spent a full day camped out in the stadium I can attest to lots of various, uh, spilled liquids, among other NSFW things) somewhere along the way of this stunt came a spillover effect.
This much was evident in the comments made by golf's Mr. Nice Guy, Fowler, and by others through the years. Not to mention the players who just don't bother even showing up because the hassle isn't worth it (see Woods, Tiger).
I wonder, too, that if golf was substituted with some other activity filling the background, if so many people would still come anyway? After all, there's warm sun, cold booze, people to watch and things to shout.
Just not in someone's backswing, please. SMH.