SCOTTSDALE, Ariz. -- What's it like to spend a day at the infamous 16th hole at TPC Scottsdale during a spectacularly gorgeous Saturday at the Waste Management Phoenix Open? Sorry, make that the Wasted Management Phoenix Open.
This is the side of the tournament you don't see on TV (but have probably heard about, or perhaps experienced, presuming you weren't so hammered that you can actually remember it).
First, some of the logistics to paint the picture. The stadium surrounding the 178-yard par 3 seats more than 16,000, and by 7 a.m. fans come pouring in by the thousands, many sprinting toward the entrance to snag one of the roughly 4,000 first-come-first-serve seats that surround the right and back of the green as well as a small strip of seats to the left of the tee box. These amount to the cheap seats -- a grounds pass gets you in, while other seating on the hole requires a corporate ticket.
Concessions don't open until 8 a.m., but it's quickly apparent the crowd has already served itself.
At 4:30 a.m., one group of 23 Arizona State alum and students were downing mimosas, beer, vodka chugged straight from the bottle and other libations before all piling into a one limo. Hey, at least they were smart enough to have someone else do the driving.
In a line stretching out and around the Colosseum, as it's called by the PGA Tour, one Arizona State coed is having what those in competitive eating competitions call a reversal. I am assured she is not a competitive eater, unless you're counting wheat, barley or various other grains that are fermented. Nearby, a late 30s/early 40s man pulls a flask from his sock and proceeds to dispense probably not hot chocolate, though it does seem to warm him in the chilly early morning 45-degree temps.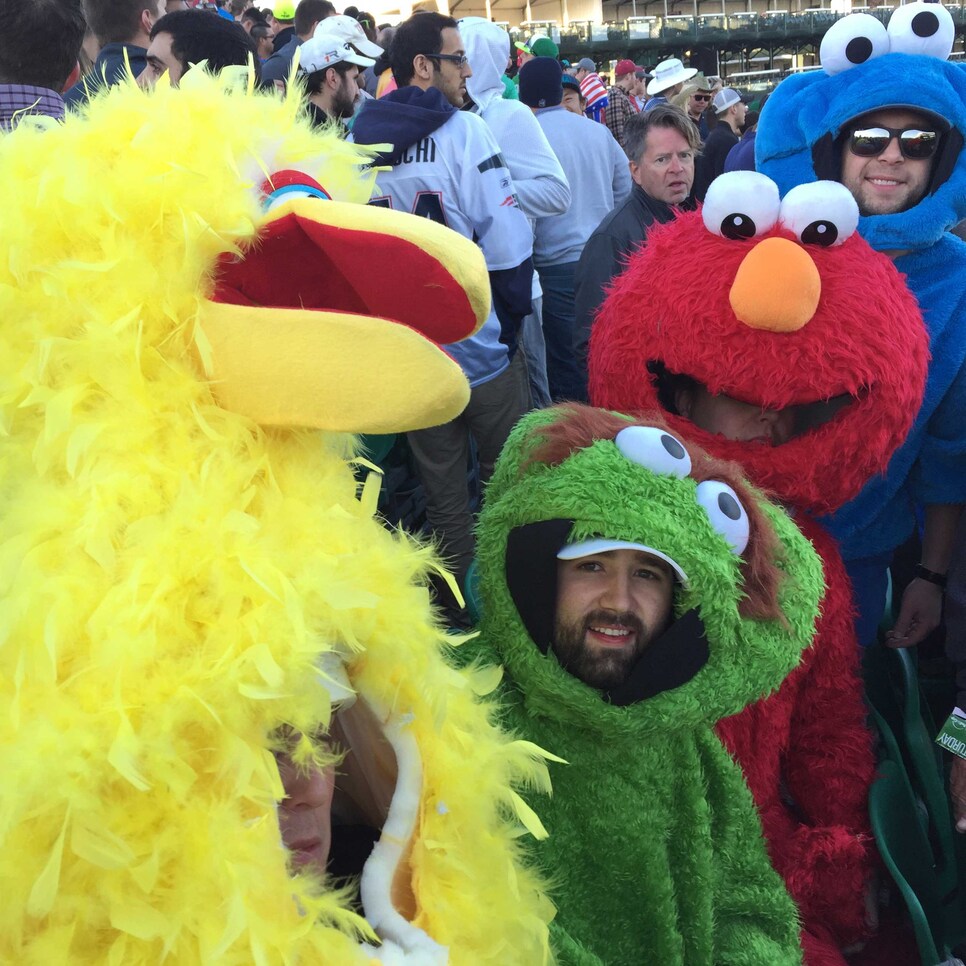 It takes less than an hour for the seats to fill and various chants to break out -- "Wave your sign!" to a marshal, "Ole, Ole, Ole!" and "Chug your beer!" among them, all well before players have even teed off.
It takes not much longer to confirm through a police officer who spoke on the condition of anonymity because he's not authorized to speak on such matters that last year one female had passed out from intoxication near a porta potty having defecated on herself. That was the least of her problems as she had a certain white, powdery substance around her nose that is illegal in all 50 states.
Speaking of the porta pottys, more than one officer also confirms the biggest complaint from fans is people having sex in them. Later, I overhear this very complaint from a woman to a friend after returning to her seat. The officers also confirm these will actually be the least of their problems among the liquefied masses of 204,904 at TPC Scottsdale this day, a record crowd for the event.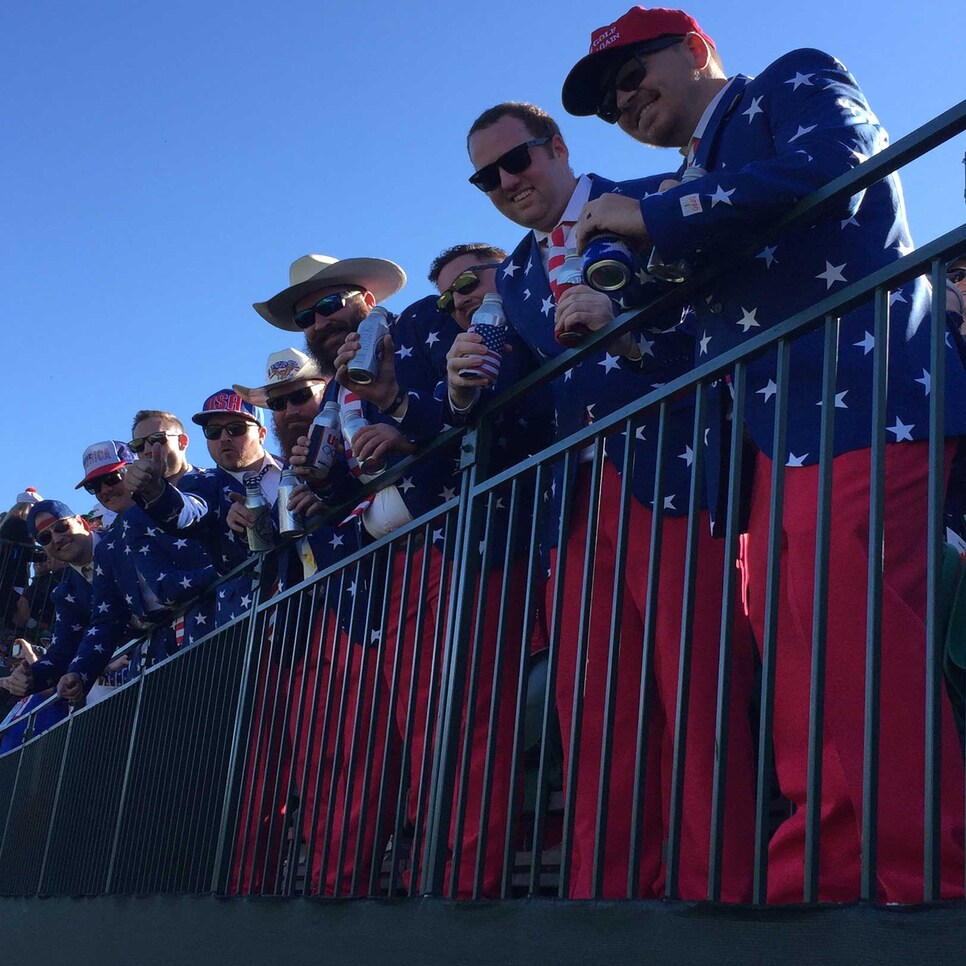 It's frat party, plus music festival (sans music), plus golf tournament. Many, especially on 16, however, are not there for the golf. They are here for the party and the people watching, of which there is plenty, especially in this day of the zoom function on smart phones. "How can you not get drunk on a day like this!" exclaims one bearded, pot-bellied man in his 40s. Some are here for the golf, travel from afar and are quite dedicated in their research, though.
For the last 15-plus years, Mike Leonard has been the ringleader of a creative bunch that has grown to around 50 family and friends from the Minnesota area. A few years into it, they put together "Leonard's List," a cheat sheet of esoteric facts about every guy in the field. Their favorite bits, Mike says, usually center around girlfriends or ex-girlfriends. Just about anything is fair game and every year they set up shop left of the tee box.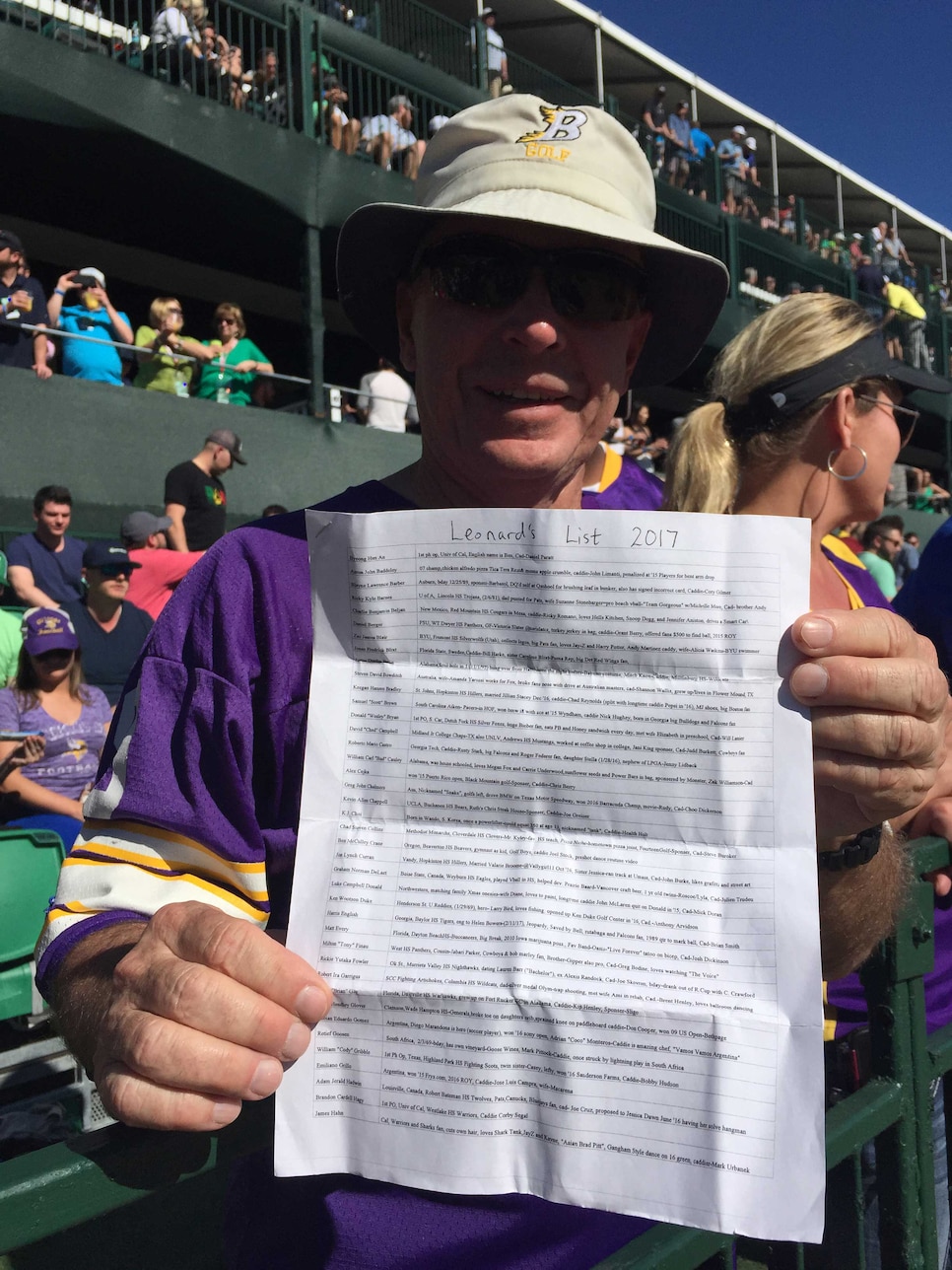 Across the way and near the green, an affable group of 30-something Canadians has been making its way down from Alberta for the past few years. Their names are Bruce, Chris, Dustin and Dylan, or Big Bird, Kermit, Elmo and the Cookie Monster, if you go by their costumes.
The most creative attire, however, belonged to four guys dressed as the Jamaican bobsled team, complete with helmets and moving in unison one behind the other as if they were actually in a bobsled.
By the time players actually start arriving at the hole -- the first group of Ben Crane, Cameron Smith and Charley Hoffman comes through the tunnel left of the tee box at 10:22 a.m. -- nearly the entire stadium is full and in full-throat.
Crane hands out Frisbees after the group has teed off, careful not to throw them because the Tour has told players not to throw items into the stands for legal reasons and will fine them if they do. Not everyone abides by this, of course.
The most popular items? Foam curly fries from Andrew "Beef" Johnston and actual cans of Guinness from Shane Lowry (it should be noted that in the wee hours a day earlier, player Steven Bowditch was arrested for "Extreme Driving Under the Influence" after being found asleep at the wheel at a nearby intersection).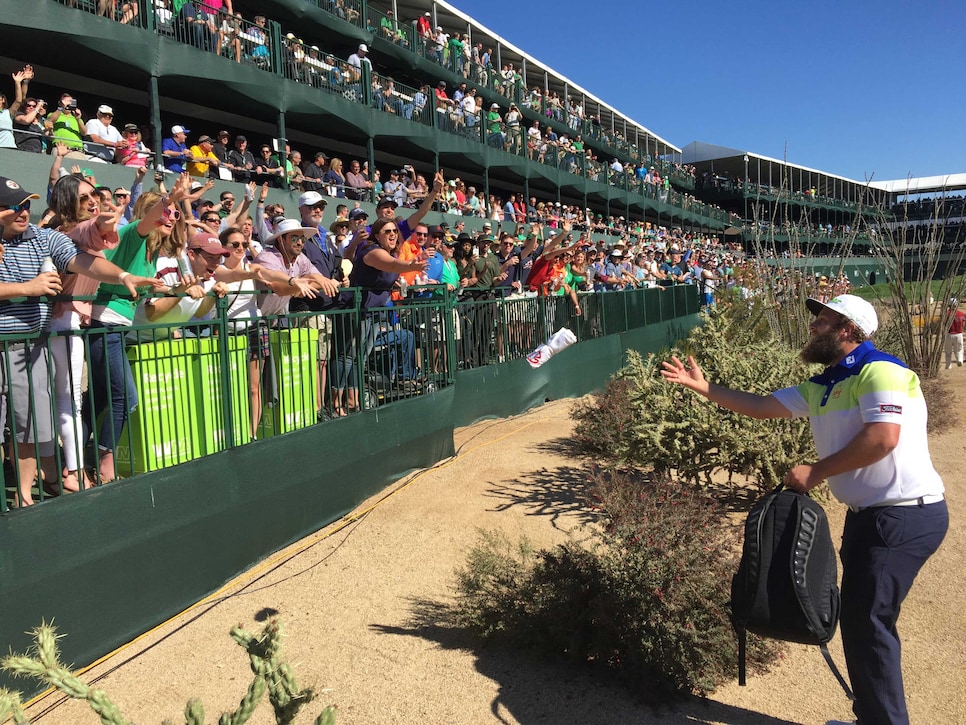 With every group comes action, too. Bets on everything from closest to the pin, to who will win the caddie races, another activity banned by the Tour but often disregarded by the caddies, including Camillo Villegas' brother Manny, who face plants just short of the green in his footrace in the third group of the day.
When the last group of the day comes through -- Brendan Steele taps in for par at 3:17 p.m. -- the crowd is in no particular hurry to end its day. After all, it's a beautiful afternoon and the party is trending into NSFW territory.
Of course, beauty is in the eye of the beholder. Whether all this good, bad and ugly has any real impact on golf (outside of booze sales, etc.) and growing its audience, however, that answer is like a lot of spectators' vision: Blurred.