News
Matt Kuchar and Rickie Fowler get Patrick Reed to admit Jordan Spieth played better than him on Day 1. Barely.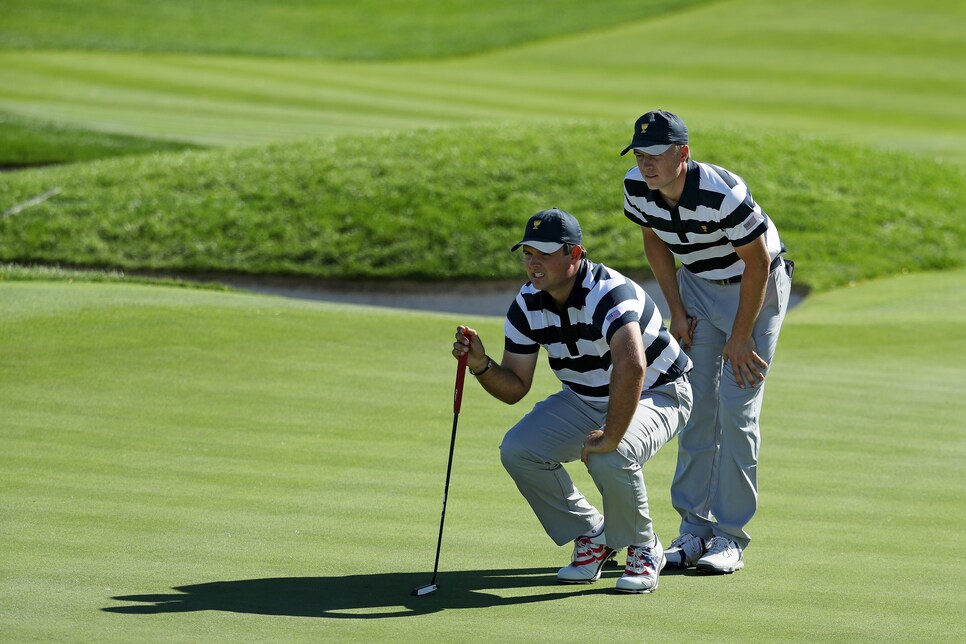 So who got the better of the Spieth-Reed pairing during Day 1's foursomes session at the 2017 Presidents Cup as the two produced a 5-and-4 win over Si Woo Kim and Emiliano Grillo? That question at the end of the U.S. press conference produced a hilarious exchange between Reed, Matt Kuchar and Rickie Fowler, who were the three lucky players sent to the media center. Here's how it played out:
Q. So if you're that competitive, who won today between you and Jordan?
PATRICK REED: Oohh, good question. That 40-footer on 11 was pretty nice that he made.
I would say it was pretty close. It was hard to tell because we had a game plan going in there to play pretty conservative.
MATT KUCHAR: Come on, give him an answer. They didn't come here for this. Like give him an answer.
PATRICK REED: I really don't know that answer --
MATT KUCHAR: Got to catch the ferry. (Laughter).
PATRICK REED: All right. Time to go catch a ferry.
MATT KUCHAR: Well, I wish we could have gotten an answer out of him. I tried to help, I really did. I did.
PATRICK REED: I don't know.
RICKIE FOWLER: That 40-footer maybe give him an edge --
PATRICK REED: Maybe give him an edge.
Kuchar and Fowler really had to coax it out of Reed, but he finally conceded that Spieth may have had the edge. That means Spieth better be prepared for Reed to really come after him during Friday's four-ball session when the two take on Hideki Matsuyama and Adam Hadwin. Oh yeah, and those two international players should be ready to feel Reed's wrath as well.