Paying it forward
Matt Fitzpatrick is using a Jack Nicklaus tip that has him contending at Kapalua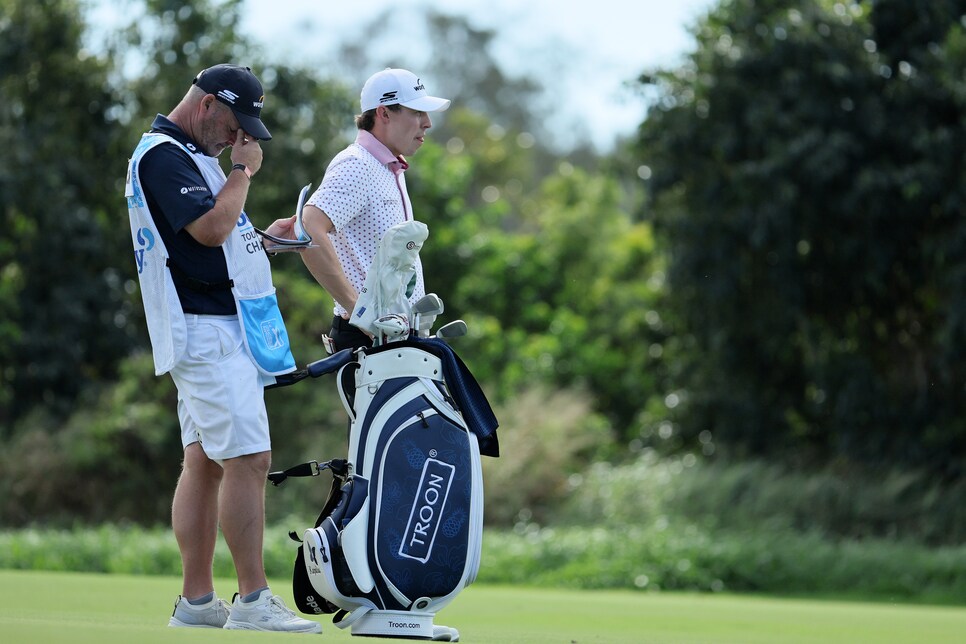 Matt Fitzpatrick and caddie Billy Foster consult on a shot during the third round of the Sentry Tournament of Champions.
Andy Lyons
It had to be nearly as mind-blowing as hoisting the U.S. Open trophy. When Matt Fitzpatrick made a gutsy par from a fairway bunker on the 72nd hole to win the national championship at The Country Club last June, Jack Nicklaus immediately lauded him with a tweet.
"One of the greatest rounds of golf I have ever seen on a final day of the U.S. Open," gushed Nicklaus, who had a particular interest in the outcome for a couple of reasons. Fitzpatrick joined him as the only players to capture the U.S. Open and U.S. Amateur on the same course, and the two had become fast friends during the young Englishman's visits with the legend at Florida's The Bear's Club in January 2022.
Nicklaus had even needled Fitzpatrick after he'd won a member-member at the club, noting that it was his first victory as a pro in the United States. Fitzpatrick got to jab him back after the U.S. Open triumph, saying in his press conference, "I can go back to him now and say I've won twice."
Obviously, it's been a cool circumstance to see the two generations of golfers from very different worlds getting to bond. And, apparently, the talks with Nicklaus are still paying off for Fitzy.
On Saturday, with a seven-under-par 66 at Kapalua, Fitzpatrick shot up to be tied for second 18 under, six shots back of Collin Morikawa (65) heading into the final round of the Sentry Tournament of Champions. Again, it looks like Fitzpatrick will come up short of his first "regular" PGA Tour win, but he's having a fantastic week, and he credited some of his strong play to advice he got from Nicklaus a year ago. He said he added eight grams into the grip of his club this week to create a fade bias that has "felt a little more comfortable out there."
Explaining on Saturday about Nicklaus' insight, Fitzpatrick said, "He just said that he did it because it just stopped his hands over rotating it. … In my terms, I guess it would be felt more held off. So, I think that's obviously what suited him."
Nicklaus, the 18-time major winner, and Fitzpatrick, whose U.S. Open triumph gave him eight DP World Tour titles, hit it off so well last January that they had lunch several times in Jupiter, Fla., and the younger man sifted through the knowledge in the Golden Bear's brain as if he were panning for gold.
"We were just chatting about life and golf and stuff," Fitzpatrick said. "For me, growing up, it's a dream to be able to talk to someone like that, let alone one of the greatest, if not the greatest, to play the game."
This strong start by Fitzpatrick comes after he tied for 13th in the CJ Cup in his only other official start in the 2022-23 PGA Tour season. Beyond the U.S. Open win, he enjoyed his best season yet in the States, notching top-10 finishes in half of his 20 starts. In the DP World Tour season chase, he finished fourth behind champion Rory McIlroy, Ryan Fox and Jon Rahm.
"I practiced a little bit after Christmas," Fitzpatrick said. "Not done loads, but kind of knew where my game was at before. I kind of played a little bit. It was just kind of doing more of what I ended the year with really."
Duplicating 2022 would hardly be a disappointment.