News
Masters 2020: Justin Thomas loved his ball-striking, but definitely not his score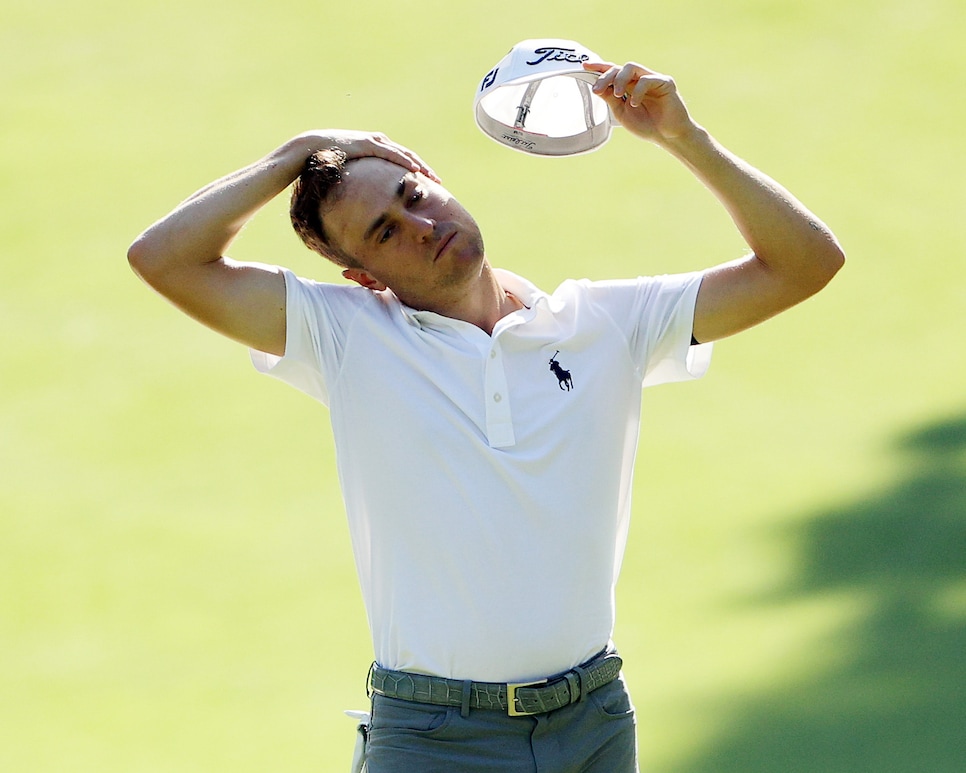 Justin Thomas was frustrated by how he scored on the back nine on Saturday.
Patrick Smith
A six-stroke deficit is not impossible to overcome in the final round of a major, but Justin Thomas knows that his finish in the third round of the Masters Saturday afternoon has made the task of winning his first green jacket rather less likely.
The 2017 PGA champion bogeyed four of his last seven holes and let a three-stroke deficit to World No. 1 Dustin Johnson balloon to that six-stroke margin. Especially frustrating was his bogey on the home hole after failing to get up and down from the right greenside bunker. After seeing his approach from 157 yards drift into the sand, Thomas looked bewildered, then punched the air in frustration.
"Disappointing about wraps it up," Thomas, 27, said after settling for a 71 and 10-under 206 total. "I played beautifully today. That's probably what's most frustrating, I hit the ball so flush. I hit a lot of shots exactly how I wanted. Just one of those days where it didn't go my way. I was a couple yards [off] here or there.
"I know one thing is I can't make four bogeys on the back nine if I expect to win this golf tournament."
One of the game's most aggressive players and one who has no trouble shooting low scores, Thomas has improved his finish each year at Augusta National, with a T-12 showing a year ago. The world's third-ranked player was in position to put more pressure on Johnson, but a soft bogey on 12 started his retreat. Another bogey at the par-5 15th, where he had hoped to gain a stroke or two, was a killer as he blistered a 5-iron over the green and found the water.
His back-nine 37 put him in sixth place and swimming against a 30-year trend in which the Masters winner has stood no worse than fifth after 54 holes. The last man to rally from outside the top five was Sir Nick Faldo in 1989. He was ninth, but closed with a 65 and then beat Scott Hoch in a sudden-death playoff.
"Just go as low as possible," Thomas said about his approach on Sunday. "That's the only … unfortunately, I put myself so far back, that that's really the only thing I can do.
"I can't sit at home and sulk about that tonight," he added. "I just need to get over my finish and just come out and be ready to try to shoot a really low one. And if it's good enough, great. If not, get ready for April."
Here are other takeaways from Day Three: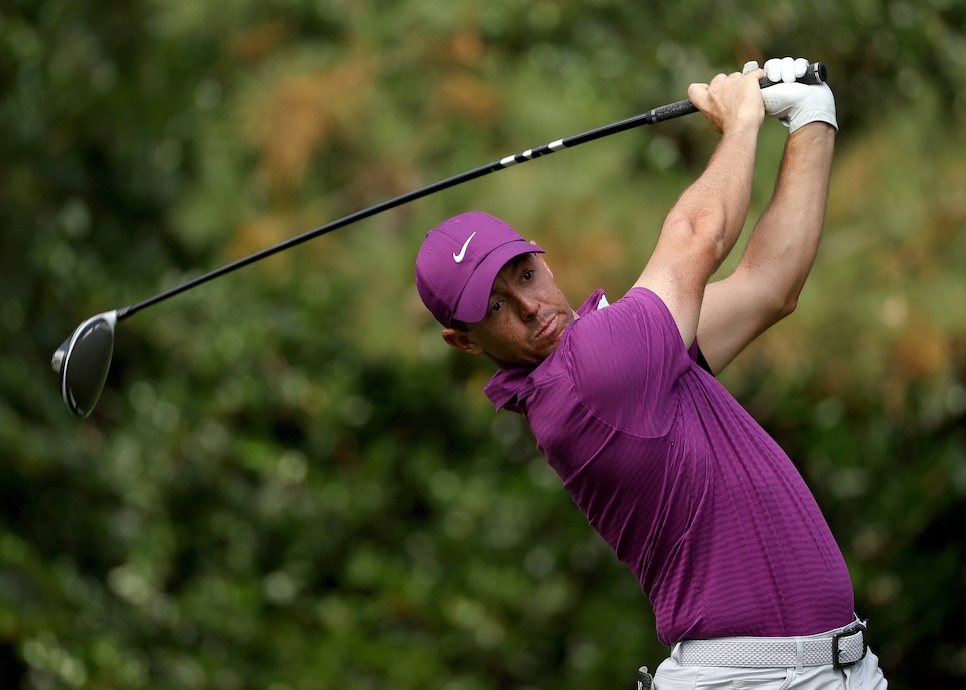 Rory McIlroy plays his shot from the seventh tee during the third round of the Masters.
Patrick Smith
When Rory McIlroy holed out from the front bunker for birdie at the par-3 12th hole, he climbed within four strokes of the lead and brought Harry Vardon into the Masters conversation. According to Justin Ray, it seems that Mr. Grip is the only player in majors history to win when trailing by more than 10 strokes after 18 holes, rallying from 11 back to win the 1896 Open Championship.
McIlroy was 10 strokes behind after opening with a disjointed 75. That on a day when the first round scoring average of 71.413 was the lowest in Masters history.
Since then, the four-time major winner is 11 under par and completed 54 holes at eight-under 208, eight shots behind Johnson.
"The good golf was in there. I just didn't allow myself to play that way on the first 18 holes," said McIlroy, whose only hiccup in the third round came when he three-putted from nine feet for bogey at the par-5 13th. "This course can do that. This course can make you a little bit careful and a little bit tentative at times. I've always said I play my best golf when I'm trusting and freer, and I've been a lot freer over the last 36 holes."
That's not an anomaly. It's a recurring theme for the native of Northern Ireland. Since 2015, McIlroy is 28 over par in opening rounds and 61 under thereafter. He's the embodiment of the aphorism, "You can't win it in the first round, but you can lose it."
"I try to view everything as a learning experience, but yeah, I'll look back at that [first round] and rue some of the shots that I hit and some of the thought processes I had and just try to learn from it and be better the next time."
The next time, God willing, will be the Masters again in April.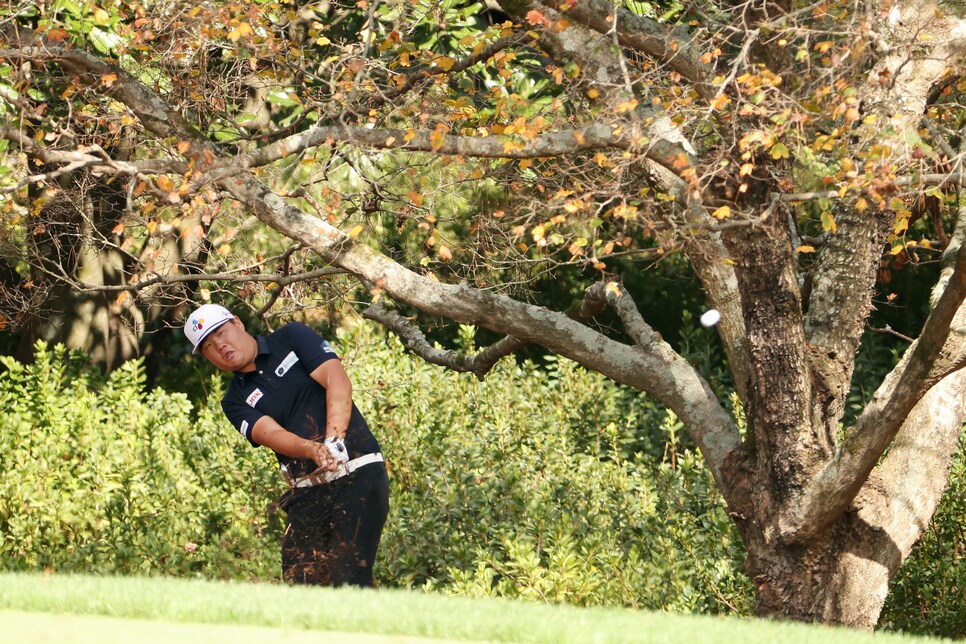 Sungjae Im plays a shot on the second hole during the third round of the Masters.
Jamie Squire
Contenders as green as Augusta grass
Call them "Sungjae and the Im-probables."
A Masters leader board that featured the top three players in the world tied for first place through 36 holes has given way to a bunch of cheeky interlopers. First-time Masters participants Sungjae Im, Abraham Ancer and Dylan Fritelli are among the top five. Im and Ancer are tied for second with Cameron Smith at 12 under, while Fritelli is a stroke back.
The trio combined for two bogeys in the third round, one each by Im and Ancer, who shot 68 and 69, respectively. Fritelli had five birdies in a 67. Another rookie, Sebastian Munoz, stands T-7 after a 69.
Incredibly, Ancer has a chance to become the first player to shoot four rounds in the 60s at Augusta. (Smith also could do it.)
A course without its usual fire probably has helped the newbies. But Im alluded to another factor – the lack of patrons. A large Masters crowd filled with energy and pressing in against the ropes can be unnerving to the uninitiated. Not only are there no fans, but there are no ropes. So, um, learning the Masters ropes hasn't been an issue.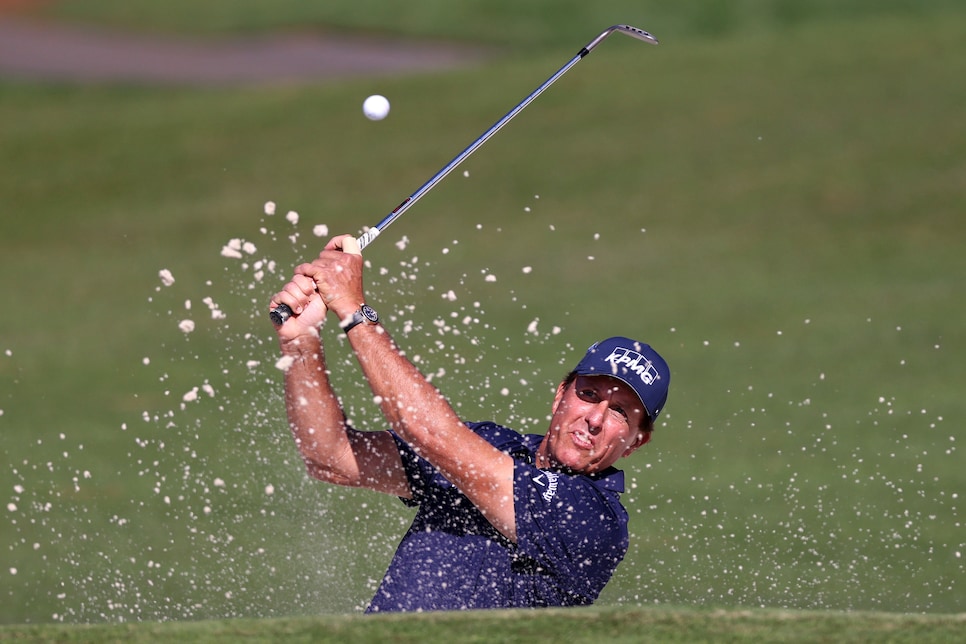 Phil Mickelson plays a shot from the bunker on the second hole during the third round of the Masters.
Rob Carr
There are no azaleas blooming in Augusta this time of year, but the sentimentalists sure were sprouting up everywhere Saturday upon seeing Tiger Woods and Phil Mickelson begin the third round five under par and just four behind the leaders.
With the course firming up, one would think it would benefit two men with a combined eight Masters victories. Not so.
Woods, the defending champion, got stuck in neutral, making two birdies and two bogeys in a round of even-par 72, which tied his third-worst third-round score. After birdies on four of his first 10 holes of the tournament, the five-time champion has made just five in his last 46. Didn't help playing 26 holes on Saturday, which appeared to put a catch in his surgically repaired back. "If you have long days like this, I'm going to get a little bit sore, which I definitely am," said the 15-time major winner.
Mickelson, meanwhile, was probably sore elsewhere.
Winner of three Masters, the last a decade ago, Phil might be driving it like a stallion this week, but on the greens he looks like he's putting with a scallion. Lefty let loose with 36 whacks on the quickening putting surfaces, worst in the field, and sped down the leaderboard with a 7-over 79, tying his worst round at Augusta. He has shot 79 in three of his last five Masters starts.
With the two-tee start, Tiger will go off early, Phil late. Neither will win or even get to soak up adoring applause.