Zozo Championship
Hideki Matsuyama's Zozo win is very different from the Masters, but just as impressive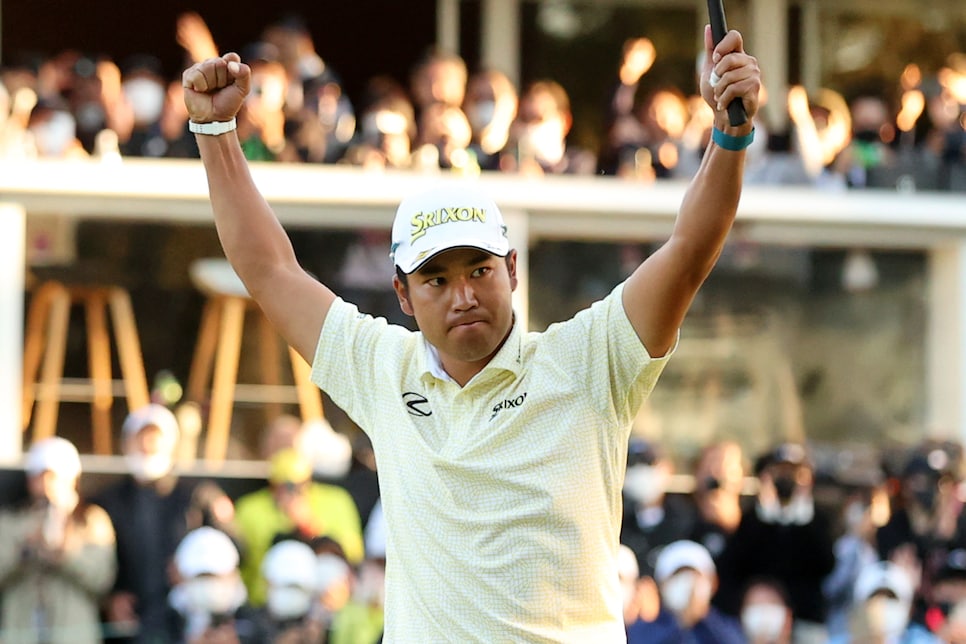 Hideki Matsuyama celebrates winning the tournament on the 18th green during the final round of the Zozo Championship.
Atsushi Tomura
The narrative predictably fades with time, and though we're only six months removed from Hideki Matsyama's historic win in the Masters, it's probably already forgotten that the Japanese star was on the precipice of a monumental collapse at Augusta National.
Matsuyama led by four heading into the final round in April, lengthened the margin to six shots at the turn, and yet, in a display of nerves served up with some unnecessary bravado, he nearly gave away that green jacket with three bogeys over the last four holes.
Of course, Matsuyama held on to win by one shot over Masters rookie Will Zalatoris, and what we most remember is his tearful celebration and the massive impact his victory, as the first Japanese male to win a major, had at home.
One had to wonder if that back-nine drama at Augusta served as motivation for Matsuyama on an October Sunday in the only PGA Tour event staged in Japan, the Zozo Championship. Facing enormous expectations and support from the 5,000 fans who attended each day at Narashino Country Club outside Tokyo, Matsuyama entered the final round with a one-shot lead—and then it was gone by the 10th hole.
Matsuyama's response was as ferocious as it was beautiful to watch. There was no timidity for the 29-year-old this time as he produced one spectacular answer after another, making three birdies and an eagle over the last eight holes to close with a five-under-par 65.
The last 15 minutes were good theater. With only a two-shot margin standing on the 18th tee, Matsuyama blasted a drive into the short grass and followed with a fairway wood from 241 yards, the ball seeking out the flag and nearly dunking in for an albatross. He then dramatically converted the eagle and thrust both arms in the air.
Matsuyama, whose comments on the win for international reporters were limited to his on-camera interview, said through an interpreter, "It's just great to be able to play in front of so many fans here in Japan and to be able to play well. I'm thrilled."
That is clearly an understatement. While Matsuyama won eight times in Japan, including as 2011 victory as a an amateur, this is his first PGA Tour triumph at home. It also eases the disappointment of not earning a medal in the summer's Tokyo Olympics. Matsuyama now has seven PGA Tour wins, spannning eight years.
Hideki Matsuyama hits his tee shot on the sixth hole during the final round of the Zozo Championship.
Atsushi Tomura
After opening the tournament with a 64, followed by a pair of 68s, Matsuyama finished at 15-under 265, five shots better than runners-up Tringale (69) and Brendan Steele (66). The winning total was one shot off the 16-under showing he had in the inaugural Zozo in 2019, when Matsuyama was second by three shots to Tiger Woods, whose win matched Sam Snead's all-time tour record with 82 victories.
"I must revenge here next year," Matsuyama said at the time of that loss. "He is coming back, and I will be here."
Of course, the return to Japan didn't happen in 2020 because of the worldwide coronavirus pandemic, and the rematch didn't have as much juice when the Zozo was repositioned for Southern California. Matsuyama tied for 28th at Sherwood Country Club and it was a hollow besting of Woods, who was well off form and finished 12 shots behind the Japanese native.
Sadly, Woods hasn't been on hand for either of Matsuyama's latest milestone wins as he recovers from his car accident in February.
After carrying an "underachiever" label in the early years of his career—despite eight victories on the Japan Tour and five on the PGA Tour entering this season—Matsuyama is drawing fervent admiration and some awe with the completeness of his game. His No. 10 World Ranking will get another boost, and there were loads of style points in the Zozo. Always known as a superb iron player, Matsuyama is a beast with fairway clubs, too. He got to pin-high in two shots on the 608-yard 14th (an eventual par) and produced the spectacular approach into 18.
Putting has been a bugaboo, but when he has weeks like those in the Masters and Zozo, Matsuyama seems unstoppable. The stroke that spurred his back-nine charge on Sunday was a curving 35-foot putt that dropped at perfect speed for birdie and answered Tringale's brief run at him. He made another nervy 15-footer at the par-4 15th.
"Shoot, I don't really know his game," Tringale said afterward. "He seemed a little off just based off watching his reactions and things to shots, but he hung in there. The crowd loved him. He's very focused, pretty stoic, and it ended up working out for him."
Tringale, 34, played impressively all week, but in the end he paid for the chances he took in chasing Matsuyama. Tringale spent a lot of cash with bogeys on the 17th and 18th holes, allowing Steele to tie him for second.
"Just continuing to learn, playing, getting myself in more of these positions," Tringale said. "At least I was in it to some degree on the back nine. And yeah, I felt comfortable. I feel like I keep getting more comfortable and I'm more excited about continuing to be in that position."
Tringale interacted with the fans all week, saying he was trying to reflect their warmth and positivity. He had one of the best views in the house of Matsuyama's celebration with the fans who have come to so revere him.
"To really slam the door and hit an incredible second shot and hole the putt [at 18], it was storybook," Tringale said. "It was cool."