Masters
Masters 2023: Overcoming a 4-shot deficit with marathon day ahead is far from unfathomable for Jon Rahm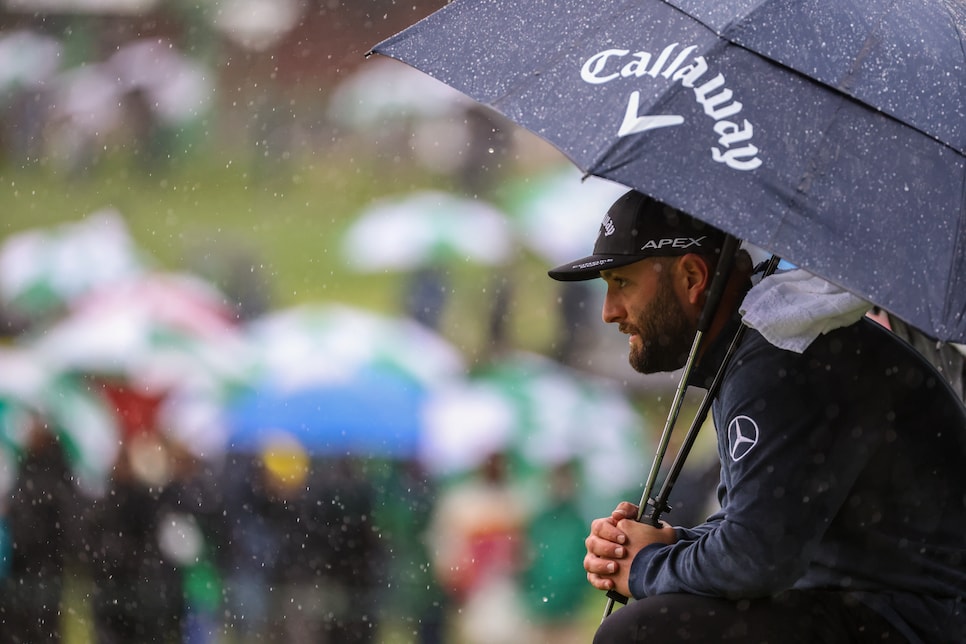 AUGUSTA, Ga. — Four shots back with 29 and-a-bit holes to play indicates plenty of room for recovery and represents an arithmetical equation Jon Rahm finds far from unfathomable. Despite the doubling of Brooks Koepka's overnight advantage over his nearest pursuer, Rahm was making nothing but positive noises in the wake of the premature end to Day 3 of the 87th Masters. Even the notion that the tournament organizers had asked the final group at Augusta National to play one or maybe two holes too many in conditions more familiar to Scots than Southerners brought only a pragmatic response from the burly Spaniard.
"It's hard to say when [the call to stop should have come]," Rahm said. "When we walked up to the seventh green it was clear to us that that green had been wet for a while. They had been squeegeeing it for a while. I understand they're trying to push us to play as many holes as possible, but it was very apparent when they tried to get the water out that it just wasn't going to happen in our case. You can't really say it was late because I don't blame them for wanting us to play as much as possible."
Rahm played the nine holes he needed to finish Round 2 (a three-under 69), then the almost seven holes he completed in Round 3, and it all added up to level par: four birdies, four bogeys, seven pars. It was a mixture of good and bad matched by the weather.
"The elements are what they are," he shrugged. "Early this morning it was very cold. We enjoyed a couple holes without any rain, but 17 and 18 were absolute monsters. I was very happy to finish those even par. Then I kind of kept it going the rest of the day. It's just too bad I couldn't save at least one par on 4 or 5. On 5 I actually hit two good putts. But it is what it is—500 yards in pouring rain is always going to be very long. All in all, I'm very happy with the way I finished. I made a great swing on 6 and two great swings on 7. I'm feeling confident, playing good golf and there's a lot to be played."
Pressed on which shot had caused him most angst, Rahm did not hesitate, although he did eventually prevaricate. The combination of low temperatures, cold wind and steady rain made the second shot on the uphill 18th in the morning a challenge for even this toughest of competitors. That he was between clubs didn't help either.
"I mean, 4-iron had a very slim chance of getting on the green," Rahm said, "but I thought anywhere short was better than wherever the 5-wood could end up. Just because it was going to have to be some kind of faded 5-wood. I just wanted the safe play. So I would say that one. Obviously the tee-shot was no picnic either. Tee shot on 17, 18 or that second shot there on 18. Because I couldn't play the shot I wanted to."
Not surprisingly, Rahm was making positive noises about his chances of becoming the fourth Spaniard (after Seve Ballesteros, Jose Maria Olazabal and Sergio Garcia) to claim a green jacket. And he gave short shrift to any notion that, for Koepka, playing more than half of a full LIV Golf event in one day would put the four-time major champion at any kind of disadvantage.
"Feeling good, feeling strong," said Rahm. "When you're in the position we're in, adrenaline kicks in and it doesn't really matter."