Back To Earth
Masters 2023: For golfers like Brooks Koepka, 'clutch' rarely lasts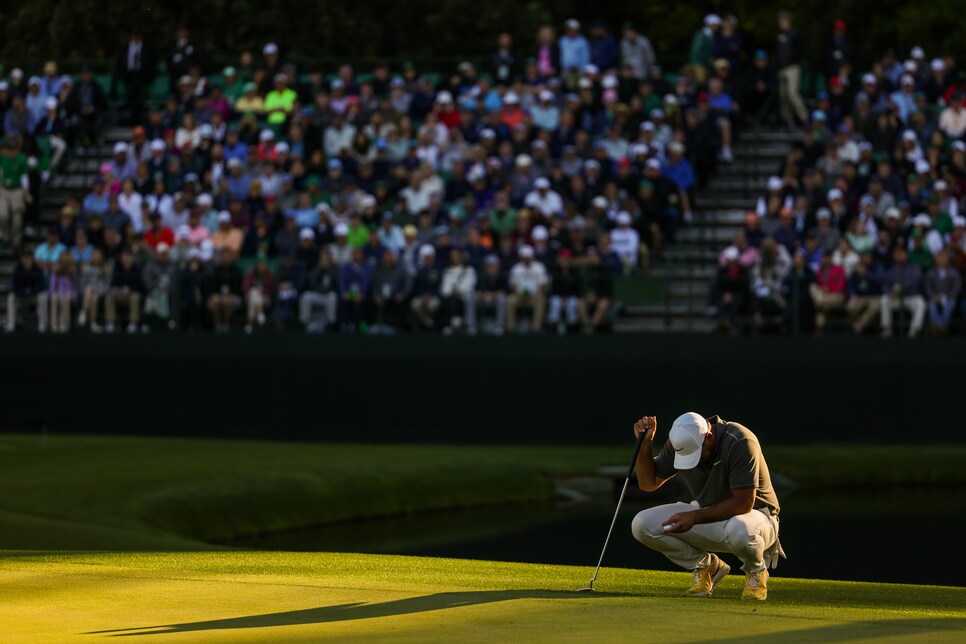 When you win four majors in two years, as Brooks Koepka did between June 2017 and May 2019, you don't have to worry about your reputation for performing under pressure. The proof is in the pudding—you can't succeed that many times on the game's biggest stages unless you're clutch. That was Koepka's life, and it helped his image that everything he did, from his game to his personality, spoke of a confidence bordering on aggression. He was the consummate killer, having filled the void left by Rory McIlroy and Jordan Spieth, and it didn't seem at all unrealistic to argue about whether he might threaten ten majors by the time his career was spent.
Or, more accurately, they were already changing even in the midst of this run. Here's how Koepka has fared in the last six majors when he's been somewhere near contention:
—2019 Masters: Tied for the lead heading into 12, makes double bogey, plays 3 under the rest of the way but loses to Tiger by a shot.
—2019 PGA Championship: Holds a seemingly insurmountable seven-shot lead on the field heading into the final round, reaches 13 under by the tenth hole, then falls off a cliff, making five bogeys in the last eight holes. Only Dustin Johnson's equally rough pressure play down the stretch saves the day for Koepka, who nearly blew the biggest final round lead in major history.
—2019 U.S. Open: Fights to within a shot of Gary Woodland on the back nine, but plays the last seven holes in over over, with no birdies, to lose by three.
—2021 PGA Championship: Takes a one-shot lead over Phil Mickelson on the first hole on Sunday, immediately makes double bogey, finishes with a 74, the second-worst score of anyone in the top 16, to lose by two.
—2021 U.S. Open: Shoots a respectable Sunday 69 to finish T-4, but was arguably never a real threat to Jon Rahm.
—2023 Masters: Starts Sunday leading by four strokes, and the final round leading by two, shoots 75—tied for the worst score among anyone in the top 33—to lose by four.
Even with the lone win in that stretch, that's clearly not the record of someone who plays his best golf under pressure, and I only list them all to illustrate how quickly things change in professional golf (and in Koepka's case, how that change can get worse). When we think of someone who "chokes"—a harsh word, and not very accurate even in the best cases—what comes to mind are players who have never won a major. What's harder to understand is that this particular phenomenon of choking can happen to anyone, including players who have previously won majors and been among the best pressure performers in the game.
McIlroy is the best possible parallel here. Like Koepka, he won four majors in a short span of time—in his case, just over three years, culminating in the two major season of 2014. Like Koepka, his game (when healthy) has remained at the upper echelons of the sport, and like Koepka, he's found himself in contention time and again. And like Koepka, he's managed to lose in what seems like every conceivable way, and is no longer what anyone objective would consider a strong pressure performer in majors.
Spieth's career has always been a little more chaotic, but he's another near analogue—he wins three majors in just over two years, and while his game dipped for various mechanical reasons (unlike Koepka whose form seems to have been almost wholly the result of a serious injury), he too hasn't been the same player under the gun. Spieth and McIlroy even seem to share the habit of making runs at majors late in the game when their surging momentum is exciting, but past the point at which they have anything beyond a faint hope of catching the leader. What Spieth accomplished Sunday Augusta mirrored Rory's late race up the leaderboard a year earlier.
The "why" here can be hard to discern. Why, everything else being equal, could a player who has proven his chops under intense pressure suddenly lose his nerve? Could it be a conscious or subconscious retreat from the intensity of life at the top, as we seemed to witness with Rory in 2015 and 2016? Could it be—getting really theoretical—natural changes in human behavior as we age into our late 20s, with our brains maturing to become more risk-averse but perhaps lose the warrior edge in the bargain? Could it be a single disastrous or near-disastrous result that sticks in the head, a la Koepka at the 2019 PGA?
Here, it's instructive to look at the example of Tony Jacklin, the English golfer famous for his Ryder Cup captaincies who won the Open Championship in '69 and became the first British golfer to win the U.S. Open in decades in 1970. At the '72 Open, though, a combination of bad luck (Lee Trevino chipping in from all over the course) and a ruinous three-putt at the 17th cost him more than just the claret jug; it cost him the ability to ever compete at a major again. "I was done after that," he told James Corrigan of The Telegraph years later. "It knocked the stuffing out of me...something, I don't know what, died inside me that day."
There are appeals and drawbacks to each of these explanations, supporting and contradictory evidence, and whatever combination makes up the truth is not only beyond us, but probably beyond the players themselves. What we know for sure is that when the pressure bug strikes, it can last a long time. McIlroy has said several times that his current quest to win now feels like chasing his first major rather than his fifth. His victories can't fortify him, because the failures are much closer in memory and resonate more when the pressure reaches a fever pitch. Time's erosive effect on the pressure centers of the brain can be even quicker and harsher than the physical ravages, with the one consolation being that "clutch" is something you might be able to get back.
McIlroy hasn't gotten it back yet. Neither has Spieth. Neither, clearly, has Koepka. These once-clutch players, among the best in their generation, are now mired in the struggle to find their best game when a major is on the line. They looked indomitable, just as players like Scottie Scheffler and Jon Rahm look indomitable today under similar circumstances. It could happen to them, too. In fact, it probably will happen to them. In this sport, at least, there is nothing constant in the character that makes you clutch for life. It may be an attribute you have for a little while, but consider it on loan from the universe; just as time steals distance, and strength, and endurance, it can also steal your nerve.