Tiger Watch
Masters 2022: Tiger Woods offers update on his status—'As of right now, I feel like I am going to play'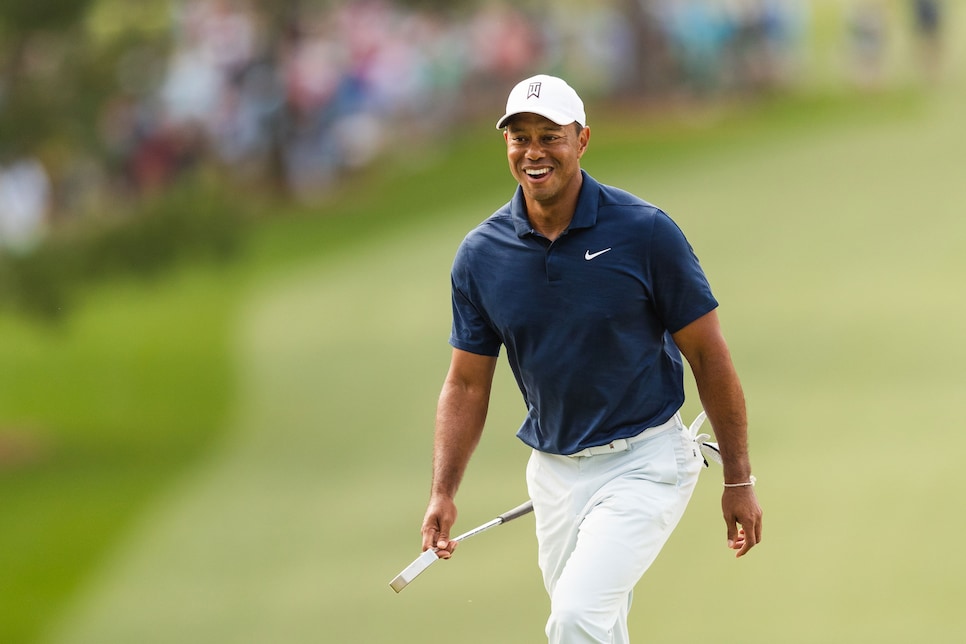 AUGUSTA, Ga. — Tiger Woods plans to play in the Masters, and he believes he can win.
The five-time green jacket winner conveyed as much without a hint of a smile on Tuesday morning, when he answered the collective golf world's prayers by confirming the increasingly obvious—that last week's practice round, a Sunday nine-hole sesh, a Monday afternoon game with Fred Couples and Justin Thomas, and a return trip to the range Tuesday morning were not, in fact, for show. Less than 14 months after his right leg crumbled under the weight of an SUV, Woods will all but certainly tee it up in the year's first major.
"As of right now, I feel like I am going to play," Woods said, his comments sending a near-palatable buzz and a very audible hum throughout a packed press room. "I'm going to play nine holes [Wednesday]. My recovery has been good. I've been very excited about how I've recovered each and every day, and that's been the challenge. That's why I came up here [last Tuesday] and tested it out for 27 holes, because we played the par-3 course. Charlie [his son] couldn't help himself. I was able to play 27 holes that day and at home testing it.
"But it's the recovery. How am I going to get all the swelling out and recover for the next day? My team has been fantastic and worked very hard. So we've got another day of nine more holes and then come game time."
Woods is scheduled to tee off at 10:34 a.m. ET on Thursday with Louis Oosthuizen and Joaquin Niemann.
Throughout his career, Woods has maintained that he will not enter a tournament if he does not feel he has a realistic chance to win it. He's a five-time winner here, has been coming since his teenage years, and deeply respects Augusta's countless traditions. He will not, however, follow in the footsteps of Arnie Palmer and Jack Nicklaus and Gary Player in one key regard: He will not show up to Augusta National as a ceremonial golfer. He has no interest in dinking his drives 230 yards, having 3-wood into every green and hoping to break 80. Woods is not delusional about his future prospects and is fully aware of his physical limitations and the tenuousness of his health. But he made it clear that he believes he can still keep up with Brooks Koepka and Rory McIlroy and Scottie Scheffler, at least for now. When asked if he thought he could win a sixth green jacket this week, he did not hesitate: "I do."
"I can hit it just fine. I don't have any qualms about what I can do physically from a golf standpoint," Woods said. "It's now walking is the hard part. This is normally not an easy walk to begin with. Now, given the conditions that my leg is in, it gets even more difficult.."
This seemed most unlikely just a few months ago. Rory McIlroy, part of Woods' tight inner circle of tour friends, visited the 15-time major winner at his South Florida home recently and concluded that he couldn't possibly play in the Masters. Not at Augusta, where the only flat lies are on tees. But sources close to Woods say he made rapid progress in the last few weeks and never stopped believing that, should he be able to tolerate the pain, his game would cooperate.
"I think the fact that I was able to get myself here to this point is a success," Woods said, "and now that I'm playing, now that everything is focused on: How do I get myself in ops where I'm on that back nine on Sunday with a chance? Just like I did a few years ago."
The mood was dampened somewhat by Woods' sobering assessment of his future rehabilitation process, which is far from over. He still walks with a visible limp, the product of multiple surgeries that have affected the length of his leg, the angle of his ankle and his range of motion.
"My movement probably will not get much better," Woods said."Will I feel better? Yes, I will. I'm going to get stronger, and the whole limb will get stronger. But as far as movement, probably not much more. I'm so limited with the hardware in there, I won't get much more."
It's the reason he turned up on Sunday with Footjoys on his feet, a borderline shocking sight as Woods has worn exclusively Nike footwear since turning pro in 1996.
"I have very limited mobility now," he said. "Just with the rods and plates and screws that are in my leg, I needed something different, something that allowed me to be more stable. That's what I've gone to.
"Nike's been fantastic over the years with providing me with equipment and work, and we have worked, we've been working on trying to find something to allow me to do this again and swing again. We're still going to continue doing it, and hopefully we'll have something soon."
And yet, no matter how ephemeral the feeling might prove to be, the belief is there. And belief is a prerequisite for winning any golf tournament no matter the circumstances.
"I love competing, and I feel like if I can still compete at the highest level, I'm going to," Woods said. "And if I feel like I can still win, I'm going to play. But if I feel like I can't, then you won't see me out here. You guys know me better than that."
More Masters 2022 stories from Golf Digest