Don't Get Comfortable
Masters 2022: A big lead is an enviable position—until it isn't
Players who have been there will tell you a three-shot cushion like Scottie Scheffler's might be what you want, but it causes its own challenges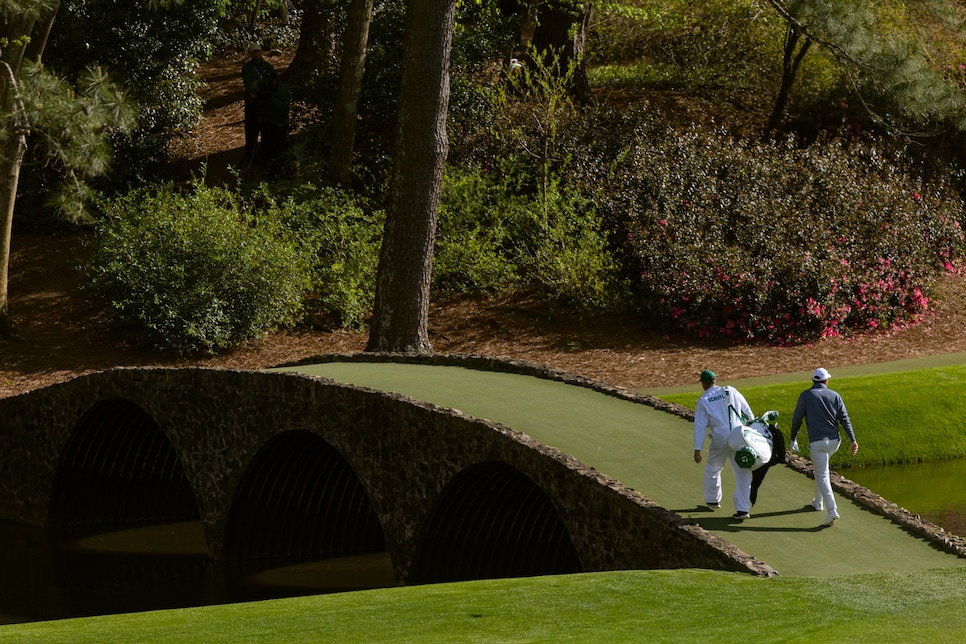 AUGUSTA, Ga. — A big lead in a big tournament is a beautiful thing. It also can be a big burden.
As Scottie Scheffler attempts to win his first major championship at the 86th Masters, he's had to contend with the growing pressure of the moment, even while further stretching his margin over his fellow competitors during Saturday's third round. The lanky Texan, the hottest player in golf, began the day with a record five-shot lead, extended it to six on several occasions, and settled for a three-stroke edge over Cam Smith after gutting out a one-under 71 at Augusta National Golf Club.
In the course of a few hours on a cloudy, chilly and blustery afternoon, the challenges that Scheffler faced of protecting such a huge advantage, staying on form and in the moment, and trying to retain that mental edge all were apparent in difficult conditions. Golf always is a battle within as well as against the golf course, but it's a strange circumstance to simultaneously play so well while also fighting a percolating sense of unease.
Sergio Garcia, who won the 2017 Masters, best assessed the task Scheffler, the World No. 1 player, is confronting as he goes for his fourth win in his last six starts.
"If he plays anywhere close to the way he's been playing all year, he should win it. It's as simple as that," Garcia said while Scheffler was ahead by six, though the assessment still holds true with his lead whittled in half with 18 holes remaining.
In the next breath, however, Garcia countered that it's far from simple. "You know, it's never easy because he's going for his first major, it's Augusta, and everything that that brings with it. But he's playing very well."
Well, sure, that's how he's surged into a commanding position with a nine-under 207 total. But there still is work to be done. Hard work. Heart- and gut-wrenching work.
Garcia understands. He once surrendered a six-shot lead after 54 holes at the 2005 Wachovia Championship at Quail Hollow Club in Charlotte, matching the largest collapse in PGA Tour history. Four other share the dubious mark, most notably Greg Norman in the 1996 Masters.
"Sometimes it's harder to play with a big lead," Vijay Singh, the 2000 Masters winner, said after he caught Garcia at Quail Hollow with a final-round 66 and then won in a playoff that also included Jim Furyk. "I've found that out myself. Instead of trying to win the golf tournament, you don't want to lose it. If guys are catching up . . . you kind of start to get nervous."
"Probably the most nervous nights I've had and the most nervous rounds I've had are on leads," said Justin Thomas, who will begin Sunday eight behind Scheffler in a tie for sixth after a third-round 72. "Still to this day, teeing off at the Sony [Open] in '17 was one of the hardest. All I kept hearing was, no one's ever blown a seven-shot lead on the PGA Tour. So it was tough."
Webb Simpson enjoyed a seven-shot lead at the 2018 Players Championship and with a pedestrian 73 cruised to a four-shot victory over Charl Schwartzel, who happens to be seven strokes behind Scheffler while seeking his second green jacket.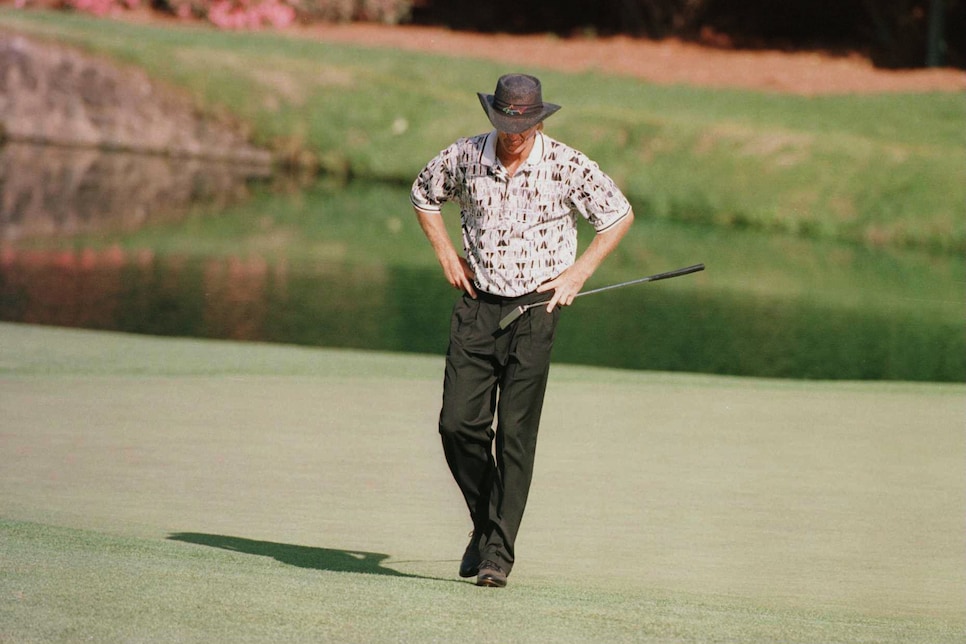 "You have to keep doing what you're doing, keep being aggressive and keep the hammer down, because that's how you played to get in such a great position—you've been smart and aggressive," Simpson said. "In Scottie's case, he's got a great caddie [Ted Scott] who will be a benefit to him, he's playing well, and he's had success recently. It would be hard to bet against him."
Simpson said his game plan at TPC Sawgrass was to play "normal golf" for a significant stretch of the final round and then reassess matters. "We wanted to get to 12 or 13 and see where we were, and if we needed to, we could adjust," he explained. "If we were up only two, then we wanted to keep making birdies, and if we were still six or seven ahead, then we were going to play more conservatively."
Just two years ago Dustin Johnson took a four-shot lead into the final round of that unique November Masters. He was No. 1 in the world and playing well, and he went on to win by five over Smith and Sungjae Im. But he revealed later that he had never been more agitated and uncomfortable in trying to close out his second major title.
Form matters, and Scheffler is unquestionably in a good place with his game. But so is Smith, recent winner of the Players Championship.
Tiger Woods, who knows a little something about closing out 54-hole leads and huge winning margins—12 strokes here at Augusta National in 1997 (after leading by nine), 15 in the 2000 U.S. Open—understands as well as anyone the value of taking care of business when business is good. Which, in his case, was uncannily often.
"The way he [Scheffler] has been playing … it's kind of what we were talking about in the practice rounds with … Fred [Couples] in '92, right? He had a little hot streak right before this. He won Bay Hill, lost in a playoff to Corey [Pavin], ended the West Coast hot, played Florida hot, ended up here, and won the Masters.
"Scottie's doing the same thing. We all wish we had that two, three-month window when we get hot, and, hopefully, majors fall somewhere along in that window. We take care of it in those windows. Scottie seems to be in that window right now."
Among players of recent vintage, Thomas was in that window in 2017. Johnson's been in that window. Jordan Spieth was in it in 2015, as was Jason Day. Woods hardly ever left that window in his prime.
Kevin Kisner on Saturday repeated the advice he gave Scheffler after falling to him in the WGC-Dell Technologies final. "Enjoy the ride as long as you can because you never know when it's going to come to an end," Kisner said. "It looks like he's heeding my advice pretty well."
Of course, no one can tell Scheffler how to get it done on Sunday. Yes, he's won plenty recently, but as Garcia said, this is different. This is Augusta, and all that comes with it is on the line. It has to be a lonely feeling.
"You kind of just have to take it for what it is," Thomas said. "I know one thing, any advice I have, I'm sure not going to say right now."
The opportunity is there. So is all of the pressure.
More Masters 2022 stories from Golf Digest