Must-See TV
Masters 2022: Our 7 favorite Thursday-Friday pairings at Augusta National, ranked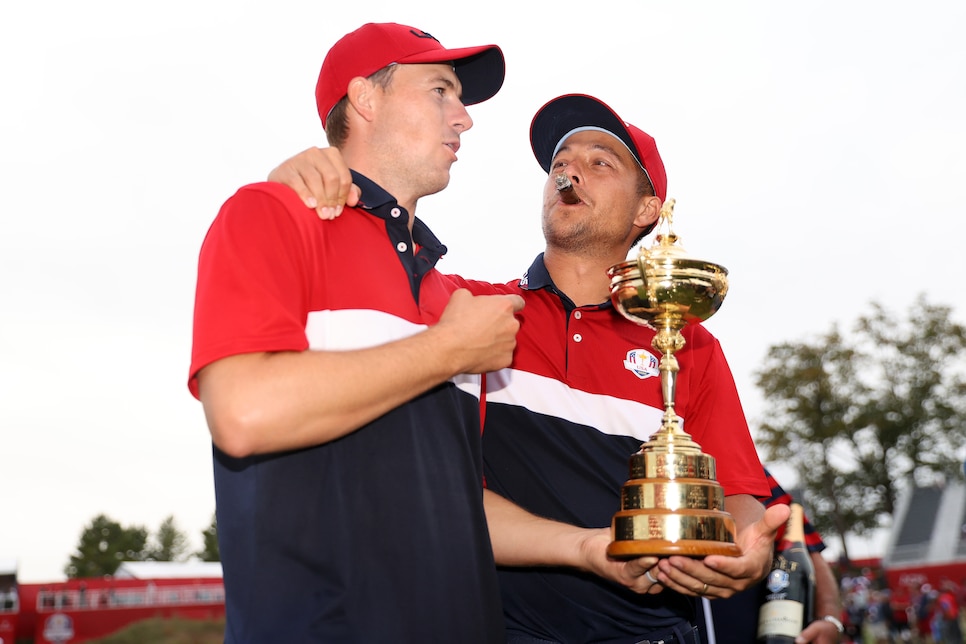 AUGUSTA, Ga. — If there's a silver lining regarding Tuesday's afternoon washout at Augusta National, it's that it happened on Tuesday. To be clear, we're not in the clear yet when it comes to weather, but the forecast for the rest of the week looks much better. And the pairings for Thursday and Friday look even better than that. Fingers crossed I get to leave the media center again at some point!
On that topic, we've picked our seven favorite threesomes to watch in the first and second rounds of the 2022 Masters. And we even ranked them, because, well, what else do we have to do today? (All Thursday times ET.)
1.) 10:34 a.m.: Tiger Woods, Louis Oosthuizen, Joaquin Niemann
Yeah, yeah, yeah, there are other golfers playing this week besides Tiger, but how could we not start with the five-time Masters champ? Especially with him paired alongsied major runner-up machine and one of the best young players in the game who already won against a major-caliber field earlier this year at Riviera. But, yeah, with all due respect to Louie and Joaquin, TIGER, TIGER, TIGER!
2.) 1:52 p.m.: Jordan Spieth, Viktor Hovland, Xander Schauffele
Would you believe golf's "Golden Child" in Spieth is the old man of this star-studded group that includes the reigning Olympic gold medalist in Schauffele, as well as the current World No. 4 Hovland? Time flies. Both Spieth and Schauffele, victorious Ryder Cup teammates in the fall, have experienced heartbreak here as well, while the 24-year-old Norwegian is hoping to contend for a first time. Spieth, meanwhile, thinks he's flying under the radar because of Tiger(!): "I don't even think I'm a top-10 odds (guy)," Spieth said on Tuesday, "so I didn't feel any pressure anyway." Except the 2015 champ has the sixth-best odds on FanDuel. Nice try, Jordan.
3.) 1:41 p.m.: Jon Rahm, Patrick Cantlay, Will Zalatoris
The World No. 1 and reigning U.S. Open champ, the reigning FedEx Cup champ, and the reigning rookie of the year on the PGA Tour. Now that's the good kind of "RAIN-ing," am I right? Sorry. We're just pretty darn excited for this tournament to get underway.
4.) 2:03 p.m.: Rory McIlroy, Brooks Koepka, Matt Fitzpatrick
Is anyone in the field benefitting more from Tiger taking (back) the spotlight than a guy trying to complete the career Grand Slam? Is there another four-time major champ who gets talked about less than Brooks? And is there anyone who has quietly improved his game more than Fitzpatrick (No. 5 in strokes gained/tee-to-green)? Those are rhetorical questions. Obviously.
5.) 1:30 p.m.: Dustin Johnson, Collin Morikawa, Billy Horschel
This afternoon wave is pretty stacked, huh? Another rhetorical question. We keep the late star-packed Thursday pairings with two two-time major champs and . . . Billy Horschel. Kidding, Billy. But seriously, you've got the 2020 (November) Masters champ playing alongside arguably the best iron player since Tiger Woods, as well as the entertaining Horschel, a past FedEx Cup champ who is playing well and closing in on the World top 10 for the first time. He's also fun to watch even when he's not playing well as we saw with his Sunday temper tantrum last year. Actually, he's a bit lucky he didn't get put in the penalty box for that—like these people.
6.) 10:23 a.m.: Bryson DeChambeau, Cameron Smith, Paul Casey
We've got the Mad Scientist, Mullett Man, and Smilin' Man going off in the group before Tiger on Thursday. DeChambeau has had an injury-riddled season and a relatively poor track record at Augusta National, but he's always good theater. Meanwhile, Smith is coming off the biggest win of his career (so far) at the Players, where Casey was contending for the biggest win of his much longer career. The theory that "PAUL CASEY ALWAYS SMILIN'!" will be tested, though, depending on how much time the group has to spend looking for Bryson's golf ball.
7.) 10:56 a.m.: Scottie Scheffler, Adam Scott, Tony Finau
This was a tough call over the Hideki Matsuyama/Justin Thomas/James Piot pairing, but we couldn't leave out the World No. 1, Scheffler, who also happens to be the hottest player on the planet. Also, Tony Finau is a big dude. A big dude who has been struggling this year, but also one who finished T-5 here in 2019. Oh, and then there's the sweet-swinging 2013 Masters champ in Scott. But back to Scheffler, who is looking for a fourth win in six starts. Man, that's, well, Tiger Woods-like. Wait, did we mention Tiger(!) has a 10:34 a.m. Thursday tee time?