The Loop
The pains of being a diehard Rory fan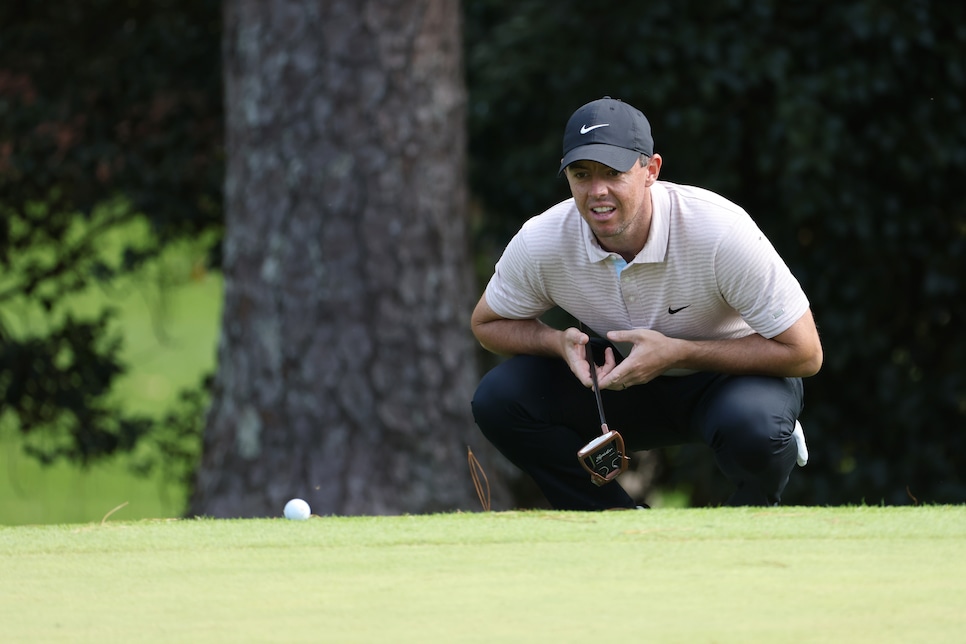 At this point, those of us who can't quit Rory McIlroy knew exactly what would happen on Sunday's final round at the Masters. When D.J. stumbled with bogeys at four and five, and Rory moved -11 and just four shots off the lead, we were nodding our heads in shared agony. I predicted that the hero of our uneasy cult would get as close as two strokes before he made some blunder, at which point dream would...well, not exactly shatter, but just sort of ebb and flow in the nether regions for the next few hours, never close but never too far, not quite tangible but not quite impossible either. In fact, it never got as close as two. D.J. birdied six, Rory bogeyed 10, and we were safely back in the realms of wishful thinking. At least this death was mercifully quick.
Still, the fact that the whole show played out again—filling us with hope after we nearly gave up in the wake of that ugly opening round 75—was half sad, half infuriating, half wearying. Yes, that's three halves. With Rory, we need them all. At least when Jordan Spieth fades, he has the courtesy to really fade, so you can reasonably set your expectations. Not Rory. Since his torrid 2014 stretch that made many of us think he was on the path to being on the game's ultra-goats, has simultaneously remained one of golf's absolute best players while missing that extra ephemeral something that makes a major champion.
That's the problem, of course. Not that he never had it, and not even that he had it and lost it. It's that he had it, and only kinda lost it.
When you combine his former glory with his personality—the following words have been written so much that they're practically a cliche, but Rory is very intelligent and introspective by golf standards—it makes this shadow phase of his career, in which he is neither superlative nor merely good, tough to bear. To vanish for a period of years, as Spieth has, or as Martin Kaymer or countless others have done, is understandable. Golf is a hard game, and a psychological game, and even its great players are prone to disappearances and burnouts. But to seemingly lose about 7% of what made you great, and for that 7% to starkly redefine your professional experience for six years and counting, has to be the sharpest form of frustration. It is for his fans, at least—clearly, we still hold a torch. But for every late charge, for every "Rory comin'!" .gif, there's always that errant shot to scuttle the fantasy, always that Thursday 75 to make the gap just a little too large.
Of course, there are worse things in the world for a player than to remain perpetually in the world's top ten (usually top five), and to win significant tournaments like the Players Championship, Tour Championship, the Race to Dubai, FedExCup playoff events, a pair of WGCs, and etc. Even typing that out makes me feel ungrateful for everything I've written above. Still, this is golf, and nothing gets the juices flowing quite like a major. It would have been impossible to guess after 2014 that we'd be sitting here six full seasons later, Rory into his 30s, without adding even one more.
There is so much time left. That bears repeating. Phil Mickelson didn't win his first major until he was 33 years old, and Rory is just 31. He still has the potential to reach ten majors, and it wouldn't even be that surprising. But he's also spent six years in the prime of his career without breaking through, and whether that's just a small sample size or it represents something bigger, the fact remains that every time the pattern looks like it might break, it's the pattern that prevails, not Rory. To his fans, he deserves more. Hell, I count myself a fan, and I believe he deserves more. It might be impossible to solve the mystery of what's missing, but the answer almost doesn't matter. What matters is that the mystery exists, and it gathers weight with every fleeting chance that dissolves on a major Sunday.
He's going to win again. It's ridiculous to think otherwise. But he's in his prime now, has been for a number of years, and there's no sign of a major breakthrough. The pains of being a Rory diehard are defined by wanting that to change, believing it will change, being able to see it on the verge of changing, and then settling right back into the old rut in a snap of the fingers. Can you imagine that he's had 12 top-tens in majors since 2015, with no wins? After winning four of the ten majors in which he placed in the top ten before that?
There's an invisible barrier between one of the best golfers of his generation and the highest achievement in the sport, and Rory and his fans have been banging their skulls against it for six years. Is it any wonder that the chief reward for keeping the faith is this low, throbbing headache?