News
Masters 2020 live updates: Second-round play suspended with Dustin Johnson and Justin Thomas sharing the lead, Tiger Woods lurking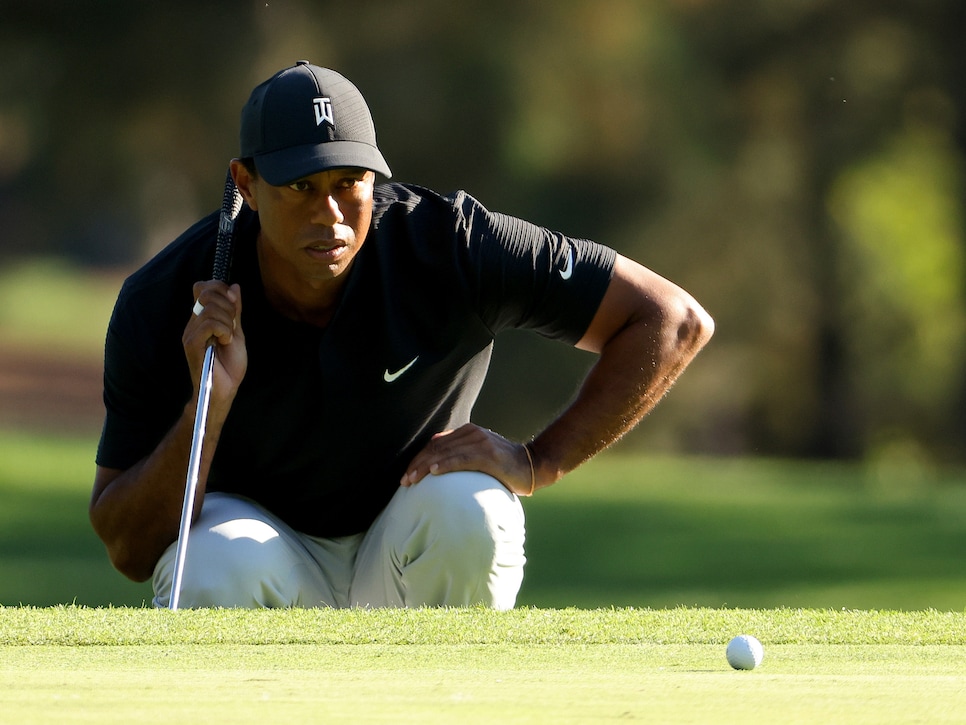 After waiting 19 long months for the Masters to return on Thursday, Mother Nature made us wait a few hours more. Our patience was rewarded with an electric first round of play, even without the patrons on hand to add to the buzz.
But the opening round isn't complete just yet. A number of players still have a full nine holes to play, including World No. 1 Dustin Johnson, who posted a bogey-free 33 on his opening nine Thursday evening. He was able to get his tee shot off on the 10th hole, but decided to pick up in the fairway instead of finishing out after the horn sounded (it was the right move, by the way, as there was a huge chunk of mud on his ball).
Just ahead of Johnson at the 11th hole is Justin Thomas, who is on pace to match or beat Paul Casey's first-round 65. Thomas turned in 32 and then birdied the 10th before his momentum was brought to a halt by the horn. Like Johnson, he was also able to get his tee shot off at No. 11, and he'll face a 210-yard approach out of the rough when play resumes.
(Scroll down for the latest, minute-by-minute updates)

First-round play is set to resume at 7:30 a.m. ET, with the second round getting underway at 9:35 a.m. The weather appears to be perfect on Friday morning, and more low scores are to be expected. Let's get it on.
5:45 p.m.: As it stands, we have a four-way tie for the clubhouse lead at nine under between Dustin Johnson, Justin Thomas, Cam Smith, and Abraham Ancer. Patrick Cantlay and Sungjae Im also finished their rounds and are one back. Joining them at eight under (for now) are Hideki Matsuyama and Jon Rahm, who will have a short birdie putt on 13 when play resumes. Tiger Woods remains at four under, five shots back. And Bryson DeChambeau is in danger of missing the cut at one over, although, he has a 15-footer for eagle coming up. OK, it was a long, exciting day and we're expecting more of the same on Saturday. So get a good night's sleep and we'll see you bright and early tomorrow!
5:40 p.m.: And. . . they've officially wrapped up play for the day. Hideki Matsuyama opted to hit his second on 15, hit a poor one, but got up and down for birdie to move to eight under, within one of the lead. In his group, Leishman hit a solid second to the middle of the green, but a poor lag putt leaves him with a six-footer that he opted to wait to attempt until Saturday morning when play restarts at 7:30 a.m. ET.
5:30 p.m.: And there's the horn, stopping play for the day. Players have the option to finish the hole they're on, but ESPN cameras catch Tiger shaking his head and smiling. He will begin Saturday with a difficult approach to the par-4 11th, which will be made even more difficult from the left rough.
5:26 p.m.: After Bryson's mammoth tee shot, he's left with 124 yards into the par-5 13th. Yep, 124 yards. And he takes advantage of it, spinning back a sand wedge to about 15 feet below the hole. He'll have that for eagle to move back into red numbers. Meanwhile, Rahm, after laying up to about 60 yards, pitches one to five feet. He'll have that to move into a share of the lead at nine under.
5:19 p.m.: OK, here we go. Bryson on No. 13. A day after a wild double bogey, DeChambeau takes a crazy line over the left tees and absolutely crushes one. He then turns and listens to hear if his ball hits anything. It didn't. It's perfect. Wow. He should have no problem improving from yesterday's score now.
5:15 p.m.: Jon Rahm continues to roll, draining a 15-footer for birdie on No. 12 to get to eight under. And finally, a little life from playing partner Bryson DeChambeau! He follows Rahm from 10 feet on a closer line for a much-needed birdie. The pre-tournament favorite moves to one over, but he still needs to do some work to make the cut, which is currently projected at even par.
5:05 p.m.: As expected, Tiger two-putts for par on No. 9. He'll make the turn at even par on the day, although he probably won't be playing much past that turn with daylight disappearing. Meanwhile, Casey finally drops a shot as he's unable to get up and down from a difficult spot. Casey falls back to six under, one shot behind Jon Rahm and Louis Oosthuizen, who both par the difficult 11th.
4:59 p.m.: As the sun continues to sink, Woods hits his approach shot right at the flag on nine, but comes up a bit short. He'll have a 30-footer up the hill for birdie. Up ahead, a rare miscue by Paul Casey puts him in a difficult spot left and below the 10th green. Casey is the only player in the field without a bogey thus far, but he also hasn't recorded a birdie through nine holes on Friday. He'll do well to keep a clean card here.
4:49 p.m.: Tiger converts for birdie at the par-5 eighth, getting back to even-par for the day. We're fighting darkness here but looks like Tiger will at least be able to finish his opening nine. We've seen a ton of good birdie looks at 9, so who knows, maybe he can get one more. Paul Casey made his ninth par of the second round with a two-putt par at the ninth ... he's parring this place to death on Day 2, which, again, is fine after that stellar 7-under 65 opening round.
4:41 p.m.: Oh man, looks like Jon Rahm just got a pretty terrible break from the 10th fairway. We've seen some players complain of mud on their ball at the 10th, and that's what happened to Rahm, as his ball ends up just above the bunker in the second cut. But wow ... Rahm plays an expert pitch shot to about 2 feet. No harm done there as he'll save his par.
In the same group, Bryson DeChambeau hits a horrible chip shot below the hole at the 10th. It was a pretty straight forward short-game shot with some green to work with, but his ball rolls about 20 feet by, leaving him with a difficult par. Bryson misses for an unforced error and another bogey as this round is getting away from him. He's now 2-over and in serious danger of missing the cut, though he'll have the 13th and 15th left (tomorrow) to get those shots back.
4:35 p.m.: Another hole, another par for Paul Casey. The Englishman had a tough angle from the right side of the par-5 eighth hole to this right hole location, and Casey couldn't convert the 18-footer for birdie, settling for another par. Hey, even par at the end of this day will still be two back of the clubhouse lead, which is not a bad place to be ... so steady golf is just fine for the 18-hole leader.
4:31 p.m.: Jon Rahm sticks his approach shot close at the par-4 ninth hole in the hopes of getting two back of the lead. And he jars the six-footer—that's Rahm's fourth birdie of his front nine as he's out in 32 as he's now firmly in the mix.
Dropping from the mix is Tiger Woods, who drops another shot, after making a nice par save at the sixth hole, misses a par putt at the seventh hole after finding the bunker with his second shot from the second cut.
4:17 p.m.: Bryson ... after hitting a fantastic second shot into the par-5 eighth, needing to hole just a six-footer for eagle. But like Hideki Matsuyama, Bryson misses the close putt. Bryson walks away with birdie—missing a golden chance to get back to even-par after his disastrious start. He's 1-over as he fights to make the cut now, though he has 11 holes left to get inside the cut line, still projected at 1-under.
Jon Rahm continues to quietly sneak up this leader board. The long-hitting Spaniard hit his third shot close at the eighth hole for an easy birdie, getting to 6-under, which is three back of the lead at current.
4:08 p.m.: 18-hole leader Paul Casey has been a par machine thus far on Friday. He opens with six straight pars and finds the green on the seventh hole about 24 feet away. He hasn't looked so sharp, but no blemishes thus far as the Englishman sits just two back of the lead.
3:53 p.m.: Oh my, Hideki. Matsuyama nearly holed out his pitch shot for eagle, and had just six feet above the hole for birdie—but a really bad stroke and Matsuyama didn't even touch the hole. That's a really disappointing par as the Japanese star stays at 5-under, four back of the lead.
3:49 p.m.: Sungjae Im birdies the ninth hole, his final one of the day, to get to 8-under for the tournament as he secures a late tee time on Saturday in pursuit of his first major title. Sungjae has played such good golf over the last two seasons, it's not necessarily a surprise that he's near the top of the leader board. We're seeing low scores for players who can control their golf ball around Augusta National, which is a little easier to do this week with the softer greens. Sungjae's one back of the four-way lead of Cam Smith, Abraham Ancer, Dustin Johnson and Justin Thomas.
3:29 p.m.: Jon Rahm, witness to the blow-up from Bryson DeChambeau at the third hole, has gotten a little momentum on his round—with birdies at 2 and 4—to get to 5-under, quietly just four back. He'll have about a 25- or 30-footer behind the hole at the par-3 sixth hole upcoming.
DeChambeau has compounded his mistakes after that really unfortunate lost ball at the third hole. Bryson then bogeyed 4 and 5, sitting at 2-over playing the sixth hole. And WOW, he almost holes his tee shot, but he'll settle for a tap-in birdie to get to 1-over. A lot of golf left for Bryson to get inside the cut line, which will likely be at 1-under.
3:23 p.m.: Tiger Woods had a decent look for a second straight birdie—below the hole at the third hole—but just doesn't hit it, and looked like he'd settle for par. But he missed the comebacker ... a really surprising miss for Tiger, who putted great on Thursday. That negates Tiger's birdie at the second hole to push him back to where he started, 4-under, five back of the lead.
3:15 p.m.: Dustin Johnson joins the leaders at 9-under with a sporty birdie at the ninth hole, his final one of the day—to wrap up a marathon Friday for DJ. DJ starts 65-70 to join Cam Smith, Abraham Ancer and Justin Thomas atop the leaderboard (-9).
In the same group as DJ was Patrick Cantlay for the opening two rounds. Cantlay is also in fantastic shape, sitting one back after a second-round 66 to follow up his opening 70. The recent winner of the ZOZO Championship at Sherwood is just one back, in pursuit of his first major.
3:04 p.m.: Tiger! He found the greenside bunker at the par-5 second with his second shot, but nearly holes his bunker shot ... setting up an easy birdie. That got a piece of the cup on the way by! That's an ideal start for Tiger Woods, who's now 5-under and four back of the lead of Abraham Ancer, Cameron Smith ... and Justin Thomas.
JT has been around the lead for most of Friday, though bogeys at 10 and 13 in his second round brought him down the board for awhile. But he made four birdies in a row (15 through 18) and made three more on his final nine (the front nine) to join Smith and Ancer at 9-under, punctuated by this 7-footer at his last hole.
3:03 p.m.: Bernhard Langer starts his 37th Masters 68-73, wrapping up at 3-under, safely making the weekend. The 63-year-old will become the oldest player to ever make the cut at Augusta National. Amazing. Even with the pursuit of speed going on in golf, Langer is a reminder that you don't need to hit it 320 yards to compete. What an amazing start from Langer.
2:55 p.m.: Oh my, we have some serious drama at the short par-4 third hole with Bryson DeChambeau. Bryson hit his drive left, but not so far left that it should've been lost. From the TV replays, it looked like Bryson's ball probably plugged in the soggy turf left of the fairway. Unfortunately for the U.S. Open champion, the search party never found the ball in the allotted three minutes.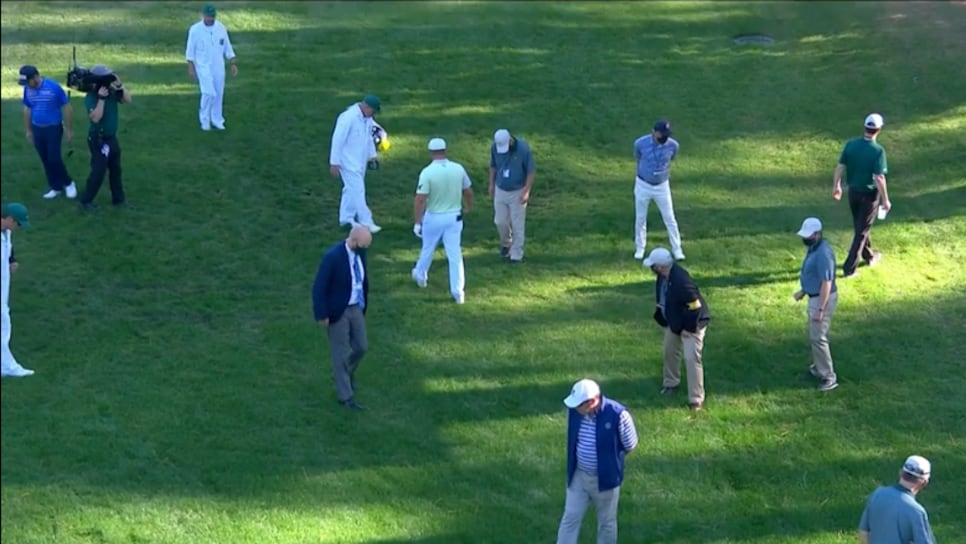 That's a really tough break for Bryson, who needed a ride back in the cart to go hit his third shot from the tee. That shot went left, too, but they found that one. Bryson had to hack it out from the thick stuff over the green to the right . . . this is gonna be a messy one for the incredible Bulk of golf.
2:45 p.m.: How about this birdie for Justin Thomas at the eighth hole? From the right pine straw, JT played a famous chip for his third and utilized the slope to take the ball close to the hole.
2:43 p.m.: Bryson DeChambeau just went driver/9-iron at the 575-yard par-5 second hole. But the 9-iron was off the mark, coming to rest about 60 feet left of this right hole location. But Bryson plays a great third shot to within three feet, which he converts for the birdie. Bryson moves to 3-under, which is now 6 back of Abraham Ancer ... and Cameron Smith.
Ancer's buddy from the Presidents Cup, Aussie Cam Smith, wrapped up his second round in spectacular fashion—playing the final four holes in 5-under, with an eagle at 15 and birdies at 16 through 18. There are a ton of birdies to be had at Augusta National if you can control your golf ball, and both Smith and Ancer are two of the most skilled ball-strikers in this field, and they find themselves atop this early leader board, though Dustin Johnson, playing the par-5 eighth hole, can still catch them from the early groups.
2:37 p.m.: Surprising result for Tiger Woods with a short iron in the first fairway, as he fans his iron shot wide right of the opening hole. But Tiger displays his deft touch early, playing a delicate chip shot to within 4 feet, which Tiger converts to save his par at the first.
2:35 p.m.: Tommy Fleetwood is officially lurking in another major. He finishes with a 6-under 66 in his second round to finish at 7-under overall, which is two back of the lead of Abraham Ancer. Fleetwood finished up right after Danny Willett, another Englishman who wrapped up his tournament at 7-under. Of course, Willett is the 2016 Masters champion, so he's used to being in this position.
2:31 p.m.: Tiger Woods striped his opening tee shot at the first hole down the middle, leaving himself with 163 yards in. Tiger's historically struggled at the first hole—any time he finds the fairway is a big deal.
2:24 p.m.: Bryson DeChambeau on the tee of the par 5s at Augusta National is must-see TV. OK, check that ... any tee shot he hits is must-see stuff. Here's the line he took at the par-5 second hole after parring No. 1.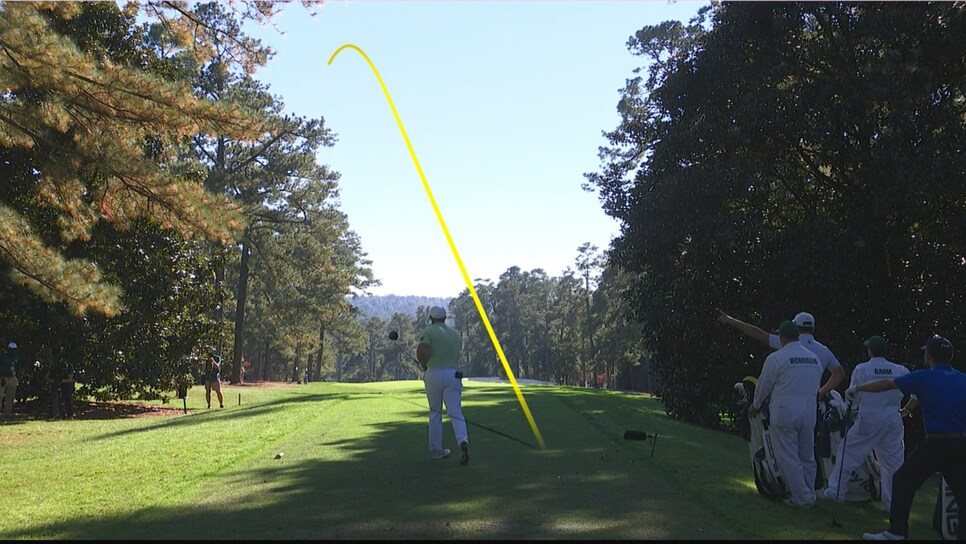 It was so left with such an aggressive line that his playing competitor Jon Rahm pointed left as if Bryson lost it left. No he didn't. It was so perfect—cutting the corner at the dogleg left par 5 exactly how you'd play it in a video game.
Sure, just bomb it 380 ... carrying it about 365 of those yards. Driver, 9-iron is just absolutely absurd at this 575-yard par 5.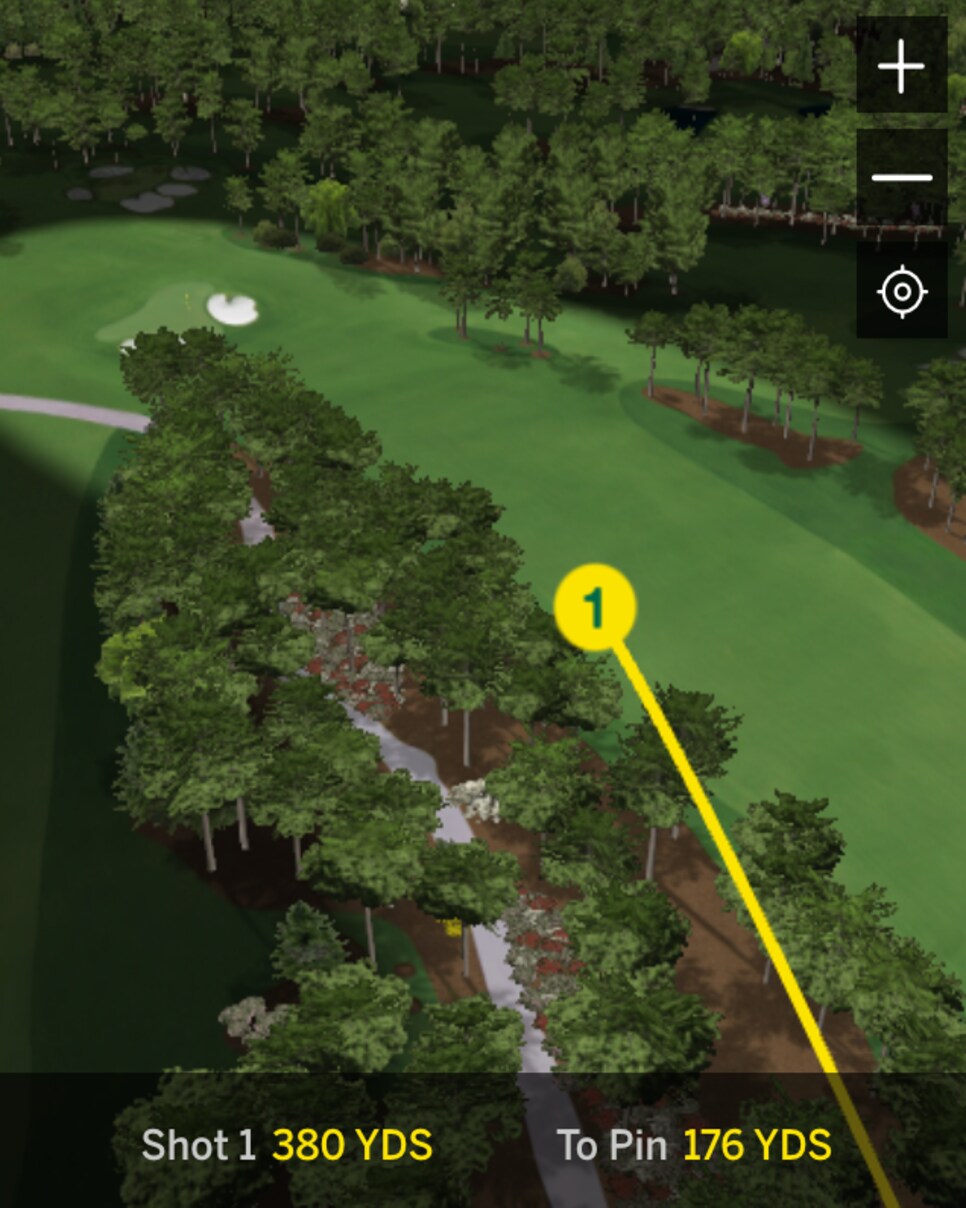 2:20 p.m.: Abraham Ancer is your new outright leader at the Masters. The 2019 Presidents Cupper is still looking for his first PGA Tour victory—and he's playing in his first Masters. In fact, he had never played Augusta National until last Wednesday. No matter: He's putting on a ball-striking clinic to take the lead at 9-under.
After opening with a bogey at the 10th hole, Ancer has birdied 6 holes since—and heads to the ninth hole (his final hole) with the lead by himself.
Here are his last two birdies:
2:12 p.m.: As Smith hits the birdie to get to seven-under, JT drives it right into a tree on the left side of the seventh hole. JT's still one shot back of the co-leaders, which includes Ancer and DJ.
And look who's teeing off? Bryson DeChambeau! Everyone's favorite player will start his second round on the front nine with a long chance for birdie on the opening hole. Bryson started the day at two-under and at T-30.
2:00 p.m.: Cameron Smith hits his first eagle at Augusta National on the par-5 15th hole after a phenomenal shot to get to the green. Smith is now T-8 and six-under. A strong showing from the Australian in his fourth Masters appearance.
Off the eagle, Smith proceeds to hit a great tee shot on 16 for a chance to birdie.Almost done for the day, Smith is certainly ending his round on a high note.
1:46 p.m.: PHIL! Mickelson is now just three off of the lead after back-to-back birdies. At 5-under, Lefty started the front nine poorly with two bogeys out of the first three holes, but is back in it. Abraham Ancer takes a share of the lead with a long birdie of his own. Ancer is now four-under for the day, a strong showing thus far.
1:41 p.m.: Not sure how that missed, but DJ can't sink a putt on the third hole to take a two-shot lead. JT misses a chance to become a co-leader after a missed putt of his own on the fourth hole that doesn't turn. Cantlay makes his birdie putt, however, and will jump up to T-2. A dominant showing from this featured group all atop or right near the top of the leader board.
1:35 p.m.: Rory with the break of all breaks. After what looked like a wayward shot to the right, a bounce off of a tree put him right back on track for the par-4 third hole. He's fifteen feet above the hole now after a second shot.
And Rory will narrowly miss the birdie putt, but he'll take the par after that tee shot.
1:29 p.m.: After a birdie on the first hole, Brooks bogeys the third to drop to four-under. JT also misses a big putt and ends up bogeying the third hole to stick at seven-under. Thomas birdied the second after the double-bogey on the first and is still at T-2 for the moment.
1:21 p.m.: Cameron Smith misses a chance for eagle and a birdie putt on the par-5 13th will get him to five-under. Im misses a chance for birdie on the 18th and ends up bogeying the hole to drop to T-2 with Ancer, Thomas and Frittelli.
1:10 p.m.: Sungjae Im, still tied for the lead, hits it over the green on the 18th hole. He'll have some work to do to maintain par here. Im has three birdies and a bogey on his front nine today. This is his first Masters appearance at the age of 22.
Brooks Koepka just misses a chance for birdie on the second hole. Almost went in twice. At the same time, Bubba Watson gets into red figures with an eagle on the par-5 13th hole. He is four-under over his last eight holes.
1:00 p.m.: Time to head over to ESPN for live coverage for the rest of the day, unless you're enjoying the quiet solitude that is the Masters stream. A bit of a catch-up: DJ and Im lead at eight-under, JT just dropped to six-under after a double-bogey on the first hole and Rory's storming back after a brutal end to his first-round this morning.
Justin Rose finishes the back-nine (where he started for the round) with a missed birdie opportunity to get to five-under. Rose started the day with two bogeys, but he seems to have righted the ship for now.
12:48 p.m.: Just when Thomas was getting rolling, he's run into a serious road block at No. 1. After missing way left in the woods, his second shot caught a tree and left him with a long way in for his third from the fairway. He proceeded to fly the green and now has to get up and down just to save bogey. Sheesh.
Just behind Thomas' group, DJ saves his par on 18 to turn in one-under 35. He's tied with Sungjae Im at eight under. Patrick Cantlay made a great sand save at 18 to stay at five under. Rory saved par as well.
The quietest, and perhaps best round of the day belongs to 2016 Masters champ Danny Willett, who withdrew from the Houston Open last week. He seems to be just fine right now, sitting at five under through 12 holes, six under for the tournament. Could be a big week for England.
12:33 p.m.: Less than an hour ago, DJ was running away with this thing. He's now tied at eight under with Justin Thomas, who just made his fourth straight birdie at the 18th to remarkably turn in two under after being two over through four holes. Sungjae Im just joined these two at the top as well with a birdie at No. 15.
Rory McIlroy's fight to make the cut continues at the 17th, where he rolls in a birdie to reach one under for the tournament. Climb Rory, climb.
12:21 p.m.: After an ugly start, Justin Thomas is cooking once again. A birdie at the 17th gets him to seven under, now just one off DJ's lead, which he holds alone after Sungjae Im made bogey at 14. Also making as move is one of DJ's playing partners, Patrick Cantlay, who just rolled in a birdie at the 16th to reach five under. DJ's birdie putt missed, in case you were wondering. As for the third member of that group, Rory McIlroy, he's three under on his round, even for the tournament. As of this typing, that's T-53. He's going to need, at minimum, 2-3 more birdies, and that's assuming he avoids any bogeys, to make the weekend. Lot of work to be done for the Northern Irishman, whose latest chance at the career grand slam is in serious jeopardy.
12:10 p.m.: After cleaning up his bogey at the 13th to fall back to eight under, Dustin Johnson hits one directly over the flagstick at the 16th. He's got about 10 feet left for birdie to get back to nine under. For now, he's tied with Sungjae Im, who just went birdie-birdie at the 12th and 13th holes. He has a tough up and down coming up at the 14th, though. His approach landed on the green but rolled all the way back down into the fairway. Augusta is starting to look like Augusta. At least the greens are.
12 p.m.: Oh no!! Dustin rinses one at the 15th on his approach. The door has just SWUNG open, folks. That's good news for Justin Thomas, who has gotten back to even on his round, six under for the tournament. He's tied with Smith, Ancer, and Augenstein, who would be the story of the week if he finds himself in one of the final groups in the third round.

Up at 17, Brooks Koepka just misses birdie and taps in his par to stay at four under. He's tied for 11th with 2016 Masters champ Danny Willett, Tommy Fleetwood, Patrick Cantlay, and Phil Mickelson, among others.
11:48 a.m.: OK, guess we can't hand Dustin the green jacket yet. He makes bogey at the 14th to fall back to nine under. Up ahead at the 15th, meanwhile, Brooks Koepka just got to four under with a birdie. Talk about lurking.
11:36 a.m.: With a birdie at the 13th, DJ now leads by three over Paul Casey, Sungjae Im and Cam Smith. Justin Thomas has taken quite a tumble down the board, falling to four under after his second bogey of the round at 13. Dylan Frittelli is in the same boat, going bogey-bogey-birdie-bogey on his first four holes of the front. He's at five under, tied with Phil Mickelson and amateur John Augenstein, who are each two under on the day. Abraham Ancer is also at five under.
11:22 a.m.: DJ has grabbed this tournament by the throat. He made his birdie at No. 12, and he's now got another kick-in attempt coming up at 13 to get to 10 under.
10:57 a.m.: Welp, now you're all in BIG, big trouble. Dustin Johnson just made birdie at No. 11 to get to eight under, which has given him the solo lead. And he just followed it by stuffing one at the 12th. Might be time for the Vince Carter "it's over" GIF.
Well, obviously not yet. Paul Casey doesn't tee off for another few hours, and he won't be laying down for DJ. Nor will Australia's Cam Smith, who just got it to six under on the front nine. People forget, Smith tied for fifth here in 2018 in just his second Masters appearance.
By the way, it's about time we put Rory McIlroy on the cut watch. It's far too early to start predicting the cut, but it will more than likely be in the two under (or better) range. Right now he's plus-two thanks to a birdie at 10. He has a good look at birdie at 12 that would go a very long way in helping his chances to make the weekend. Any birdie at 12 is like picking up a shot on the field.
10:42 a.m.: The par-4 10th is flexing on these guys right now. Justin Thomas got his second round started at 10 with a bogey to fall to five under, as did Patrick Cantlay, who is now at one under. Brooks Koepka, who did great work to post a two-under 70 this morning, bogeyed the 10th to begin his second round as well.
Couple guys we failed to mention earlier: Justin Rose finished a five-under 67 and is getting his second round started now. Sungaje Im shot 66, and Abraham Ancer and Cameron Champ shot 68s. Lot of great names in the mix, including amater John Augenstein, who shot a first-round 69 and just made birdie at the 13th to get to four under.
10:23 a.m.: Remember when Rickie Fowler came out and tripled the 12th to begin his day? He's worked it all the way back to three under, and just made par at 12 in his second round. Gritty stuff. Gritty Fowler.
Phil Mickelson, who bogeyed the 18th after lacing a drive down the middle, bounced back with a birdie at the 10th to begin his second round. He's at four under. Man, imagine Tiger and Phil are in the mix this weekend? Insane. Too bad the patrons won't be there to see it. Depressing.
10:02 a.m.: Dustin Johnson finishes off a first-round 65 with a birdie conversion at the 18th. What a round. Tip of the cap to Dylan Frittelli, too, as he finished off a 65 at the ninth. He and DJ are tied at the top with Casey, who doesn't get started until 2:19 p.m.
9:37 a.m.: The second round is underway at Augusta National, but the first round isn't over yet. Dustin Johnson, who is at six under, has one hole remaining - the 18th. Justin Thomas stuck one close at the 18th, but missed the short birdie putt and posted 66, his lowest round at the Masters. Over at No. 9, Bernhard Langer gets up and down for a four-under 68, matching the lowest opening round of his Masters career (37 appearances). What a freakin' legend.
9:28 a.m.: Let's check in on Rory ...
Not great, Bob. He did save bogey, dropping him to three over, which is tied for 77th.
9:13 a.m.: Here comes Brooks! After his eagle at the 15th, he makes birdie at 16 to get into red figures. One more on 17 or 18 would be like stealing, but after the way he started, anything under par would be huge. Just behind him is DJ, who rolled in a long birdie putt at the 15th to get to five under. We have got ourselves a leader board, folks.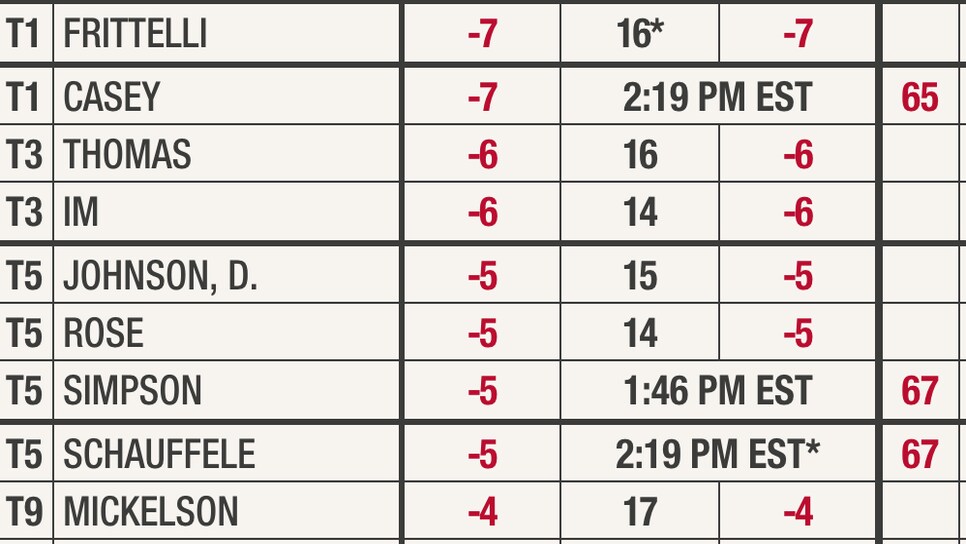 9:03 a.m.: Quite a bit of action in the last 10 minutes, much of it at the par-5 15th. Thomas makes birdie to get to six under, and Brooks Koepka makes eagle to get back to level par. Justin Rose is also surging, having gotten it to five under through 14 holes. And don't look know, but Phil Mickelson is at four under and he just piped one down the middle at the 18th.
8:52 a.m.: Oh dear. Shades of Tiger Woods at the 15th for Adam Scott. After coming up short on his second and putting it in the water, he took his drop and hit a perfect fourth shot that bounced, hit the pin and rolled all the way back into the water again. That led to a double. Woof. He's still at two under, though, so not all bad.
8:35 a.m.: My goodness. What a par from Bernhard Langher at the fifth! A poor chip on his third shot left him with a 17-foot, right-to-left swinger to save par and he buries it to stay at four under. What a round the 63-year-old is putting together.
Speaking of great rounds, the sneakiest round belongs to Sungjae Im, and we say sneaky because we haven't mentioned it yet. He's five under through 12, and could get to six or even seven with a few good shots at the 13th.
8:30 a.m.: Rory wound up finding his tee shot, but took an unplayable and hacked one back out into the fairway. From 136 yards out, he put his fourth to about 15 feet and then juiced the par putt past and makes six. Bogey is pretty bad at No. 13, but it could have been much worse.
8:22 a.m.: For all the talk of the 13th being a joke of a hole for these players, it's giving them absolute fits this morning. Obviously, you saw what Rory did below. His playing partner, Dustin Johnson, had to punch out of the pine straw and will have to grind for birdie. Justin Thomas, who is on fire, made par. Yes, it's extremely short for these guys now, but that's if they blast a perfect tee shot, which is no guarantee.
8:13 a.m.: It's been an extremely quiet first round for Brooks Koepka and Rory McIrloy, who have a combined eight majors between them. McIlroy bogeyed the 10th to start his day and has since gone par-par to remain at one over. He should be able to get one, or two, back at 13 aaaaaaaand wait a second. He just hit the worst shot in history at the 13th. Good LORD:
What on earth? That is a snipe hook normally only seen on Saturday morning at your local muni, usually by someone with the shakes from a raging hangover. He re-teed and put it in play. Playing for bogey now. As for Brooks, he nearly holed out for eagle on his approach at 13, then missed the short birdie putt. Rough start for these two studs.
8:07 a.m.: Birdie at the second for Frittelli. He's now six under, one off Paul Casey's lead, with seven holes to go. With the short par-4 third and the par-5 eighth still left, you have to figure he has two more birdies in him. If he gets those and goes bogey-free, he could be your solo first-round leader.
7:57 a.m.: Couldn't have asked for two better shots into the green at the 13th from Phil Mickelson. He set himself with a prime look at eagle, but it slid past the left edge. He settled for birdie to get to two under.
At No. 12, Justin Thomas two-putts for par to remain at five under. He's joined at five under by Dylan Frittelli, who is about to get to six under if he converts on a short birdie putt at the par-5 second. Excellent opening round from the South African, so far.
7:48 a.m.: Not sure anyone had a tougher restart than Justin Thomas, who had 210 left into the 11th green. It was no issue for JT, though. He found the green and nearly made a bomb for birdie. At the 12th, he hits a beaut, setting up a 15 footer for birdie. He's cooking.
All the way back at the par-5 second, two-time Masters champ Bernhard Langher makes birdie to get to four under. He always seems to pop in the first two rounds, but that doesn't make it any less stunning every time. The man just turned 63 and he's trying to chase down Paul Casey. Unbelievable.
7:41 a.m.: Great recovery from Phil at the par-3 12th. He gets up and down with ease to save par, then takes a swig out of his gigantic Yeti with his logo on it. Peak Phil. Back at 10, Dustin Johnson grinds out a par after his birdie putt slipped a few feet past. Greens are looking a little bit slicker this morning. Love to see it.
7:36 a.m.: We're off and running aaaaand, it's a bit of a chop fest. Turns out, even for the pros it's hard to roll out of bed and get warm by 7:30 a.m. Some lowlights: Phil Mickelson pulled his first shot badly at No. 12 but stayed dry, Dustin Johnson hit a not-so-great approach into No. 10 green, and Rickie Fowler tripled the 12th, though most of that was due to rinsing one yesterday. These guys will settle in, but it's going to take a few swings first.