News
Masters 2020: Alert! Augusta National legend Jeff Knox has been called into action earlier than usual this week!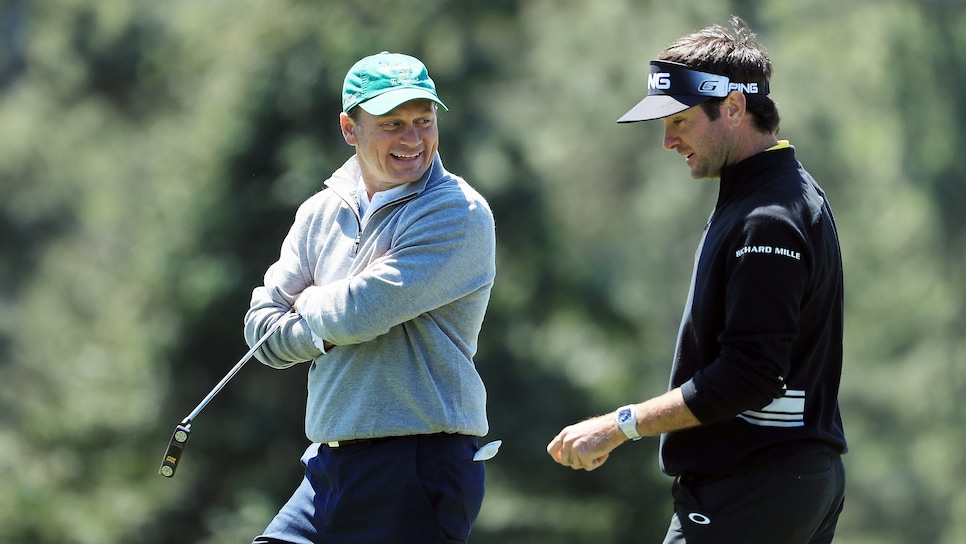 Jeff Knox playing alongside Bubba Watson during the third round of the 2016 Masters.
David Cannon
There's a moment at the conclusion of 36 holes every year at the Masters when golf fans take a long gaze down the leader board. No, not to see which golfers made the cut, but rather, how many golfers made the cut. Because, fingers crossed, it's an odd number.
Such a situation means Masters legend Jeff Knox will get to tee it up on the weekend as a marker. Call it the tradition unlike any other within a tradition unlike any other.
But as with so many things this year, 2020 has thrown a wrinkle into things. This year, Knox has been called into action earlier than usual.
Due to injury, Erik van Rooyen withdrew from the tournament following his first round. And since the South African was paired with Sung Kang as the only twosome the first two days (due to their being 92 players in the final field), tournament officials decided it didn't make sense to send the South Korean out as a single behind a bunch of threesomes.
In stepped Knox, and in case you aren't familiar with his history, Kang could be in some trouble if they decide to play a match. Among the longtime Augusta National member's notable conquests in recent years are 2017 Masters champ Sergio Garcia and Rory McIlroy in 2014. When Rory was World No. 1. Yeah, the dude can play.
Now 57, Knox holds the Augusta National course record from the members tees with a 61, and he was inducted into the Georgia Golf Hall of Fame in 2017. He was rumored to have been replaced last year, but when an odd number of players made the cut, there he was. And there he is today. Golf Twitter, rejoice!
Of course, if an odd number of players make the cut again this week, Knox could wind up playing three rounds. Let's hope that's the case. And let's hope the Masters app gives us a glimpse of our hero at some point.