News
Masters 2019 Live Blog: Tiger Woods redefines record books with historic 15th major title and fifth green jacket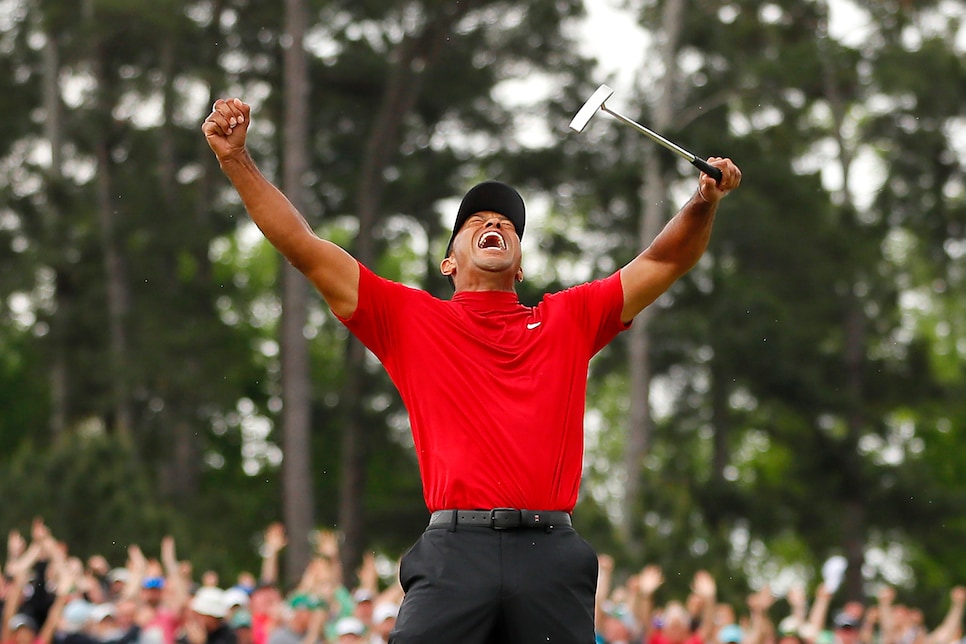 Sunday marks a first in Masters history—the only time ever at Augusta National that the final round started in threesomes off split tees. As Jim Nantz just eloquently said on the CBS broadcast, this is a final round unlike any other.
What should we expect today at Augusta? Already, Jordan Spieth is 4-under through four holes and now at 7-under, Rory McIlroy is 3-under through his first four holes—so we could have low scoring. We had three players shoot 8-under 64s (Patrick Cantlay, Webb Simpson and Tony Finau), so is a similar score in the cards on Day 4? Some of the pins are tucked, and the conditions will get more difficult as the thunderstorms get closer.
Rickie Fowler misses a short birdie putt at the 16th. That's all she wrote for him. Up at 18, Jason Day rolls in a birdie to post a five-under 67, putting him at 11 under. That's the clubhouse lead at the moment. Dustin Johnson holes his birdie putt at 16 to get to 11 under.
2:53 p.m.: Some of our favorite scenes from the aftermath of this historic win. The green jacket ceremony in Butler Cabin (the green-jacket ceremony on the practice putting green was canceled due to the weather).
Twenty-two years after the celebration with his late father, Earl, Tiger gets to celebrate this moment with his son, Charlie, and daughter, Sam.
2:27 p.m.: Tiger cozies the bogey putt in the hole—and clinches his 15th major title, his fifth green jacket, and gets to celebrate with his mother, Tida, and his two kids. What an amazing moment in the history of the game—Tiger is rewriting history with this historic title. Simply amazing stuff.
An emotional Tiger strides up the 18th and into the clubhouse to celebrate his victory. Tiger Woods is the 2019 Masters champion ... this is right up there with the best moments in golf.
How about this for a start to golf's major championship season? Next up: The PGA Championship at Bethpage Black, where Tiger won Major No. 8 and his second U.S. Open. And of course, the U.S. Open will be at some of Tiger's most familiar confines, Pebble Beach—venue for Tiger's historic 15-shot victory. What a season for golf will be.
Tiger will move up to sixth in the world with the victory, and he'll undoubtedly be the favorite at the PGA Championship at Bethpage.
2:22 p.m.: Tiger's on the green safely and played the slope nicely. He'll have a slick downhiller ... two-putts gives him his fifth green jacket. And his first major in 11 years, and 15 major titles.
2:20 p.m.: With a little tree trouble, Tiger elects to play a little slicing lay-up up near the hole. Tiger knows he just needs bogey for the win—this won't be an easy up and down ... but anywhere on the green, and a two-putt wins it.
CBS is showing Tiger's kids, his mother, Tida, his girlfriend, Erica. All the feels — his kids have never seen him win a major. This would be an incredible moment.
2:15 p.m.: Brooks Koepka pulls the birdie putt at 18—never really scaring the hole. That means a bogey will give Tiger Woods his fifth green jacket as he approaches his ball in the fairway.
2:13 p.m.: And Tiger finds the fairway with his fairway wood on 18. He's back a ways and will be semi blocked out with the trees. A par will give him a win, and if Koepka can't convert the birdie, then a bogey will even give Tiger his 15th major title.
2:11 p.m.: Tiger lags his 10-footer down close to the hole, giving him a tap-in par to stay at 14-under and a two-shot lead heading to 18.
Brooks Koepka just hit one of the longest drives you'll see at 18: He hit it 323 yards at this uphill par 4 finisher. He'll have 123 yards in—and needs a birdie to really force Tiger's hand. And Koepka hits a terrific approach to about 11 feet at the 18th hole. A birdie and it forces Tiger to make par for the win.
2:04 p.m.: This truly looks like the Tiger Woods of old. From 143 yards at the 17th hole, Tiger puts it within 10 feet for yet another birdie. That would give him a three-shot cushion heading to 18.
1:56 p.m.: It's a smoked driver down the middle at the 17th hole for Tiger Woods. You can tell he can taste the history—he took a moment to himself after that shot and gathered his thoughts. He knows the job isn't done ... but he's in an amazing position to pull off one of sports' best comeback stories.
That 16th hole might end up being one of the great moments in golf in the past couple of decades. Perhaps as memorable as the Verne Lundquist's "Yes, sir" call on Jack Nicklaus' birdie at the 17th hole. Right up there, absolutely.
1:53 p.m.: It's two-shot lead with two holes to go for Tiger. He's the first to 14-under. You would think 14-under would be enough to take this title home. First, he needs to get home. Two pars will likely do it.
1:46 p.m.: 8-iron at 16 is nearly perfect for Tiger. It rides the slope beautifully and cozies down to within 4 feet. This appears like it'll be another tap-in birdie for Tiger ... that would bring the lead to two shots. Simply unbelievable—this would be Tiger's third birdie in his last four holes.
1:43 p.m.: Dustin Johnson had a chance to tie Tiger Woods atop at 13-under with an uphill 20-footer at the 18th hole, but DJ comes up shy. He shoots a 68, which was too little too late.
1:41 p.m.: The birdie is official at 15. Tiger Woods has sole possession of the lead heading to the 16th hole.
1:39 p.m.: Tiger cozies the eagle bid up close to the hole, so that'll be a tap-in birdie to grab sole possession of the lead. Molinari's fifth shot from the drop area came up short of the hole, so he'll be chipping up with his sixth shot.
Molinari plays the sixth nicely, but it'll be his second double bogey of the back nine—after playing so many holes bogey-free. The Italian looked so fearless the past couple days, this collapse is quite unexpected.
1:33 p.m.: Tiger puts it on the green from 234 yards at the top of the hill at the 15th hole—so he'll have an eagle look. An eagle would get Tiger to 14-under ... a birdie still would give him the lead by himself.
His playing competitor, Francesco Molinari, is collapsing in front of his. His poor layup went into the left rough—and his third shot just went into the water. It appears the Italian hit it fat and it hit a tree on the left side. This might take him out of this race.
1:28 p.m.: We have one more player at 12-under: Dustin Johnson birdies the 17th hole—his third birdie in a row—to join Molinari, Tiger and Schauffele atop the lead. DJ! Out of nowhere—it hasn't been his week until the back nine on Sunday. As the great Dan Jenkins said, of course, this is where the tourney really starts.
Koepka nearly holes his eagle putt at 15, but settles for the easy par to tie the lead.
With Schauffele in at par at 16, we have five atop the lead now at 12-under.
1:23 p.m.: Brooks Koepka just hit a glorious approach to the par-5 15th hole, setting up an eagle putt that would get him to 13-under, which would be the solo lead as of now.
Tiger and Molinari are teeing off on the same hole—Tiger threads a cut down the right side—the ideal position for his approach. And Molinari finds the pine straw way right after a slice. A punch out will still give him a chance at a birdie, but advantage Tiger here.
1:17 p.m.: Xander's birdie putt comes up short at the par-5 15th. He'll head to 16 at 12 under. Tiger's birdie putt misses on the low side at 14, and he'll settle for par. Same goes for Molinari. Still a three-way tie at the top. Up at 17, the dream is dead for Patrick Cantlay, who makes his second straight bogey to fall to 10 under. Hell of a run for a guy that barely made the cut.
1:12 p.m.: Xander flies it well past the flag at 15 and it just skips through the green. Going to hurt if he walks off with a par here. At 16, Dustin Johnson and Rickie Fowler are both tight, each with a good chance to get to 11 under.
Tiger and Molinari hit identical approach shots at the 14th. Both will have inside of 15 feet for birdie. Massive moment coming up (says Captain Obvious).
1:10 p.m.: Tiger and Molinari both hit good drives at the 14th. Xander Schauffele pushed his drive a bit at the 15th, forcing him to lay up to 104 yards.
1:08 p.m.: At the par-5 15th, Rickie Fowler drops a bomb for birdie to get to 10 under. He'll need to birdie two of the last three if he wants to have any chance. Same goes for Dustin Johnson, who also birdied 15 to get to 10 under.
1:05 p.m.: Cantlay misses his par putt and drops back to 11 under. At 13, Tiger and Molinari two-putt for birdie, putting them in a three-way tie with Xander Schauffele at 12 under.
1:01 p.m.: Real nice effort from Cantlay at the 16th, but he still has some work to do for par.
1 p.m.: This is absolutely bananas. Xander Schauffele holes a birdie putt at 14 to tie Cantlay at 12 under. At the 13th, Brooks Koepka makes eagle to get back to 11 under. Tiger and Molinari both find the green and will have looks at eagle.
12:55 p.m.: Huge mistake from Cantlay at the 16th. He pushes his tee shot on the far right part of the green. Not going to be a fun putt at all.
12:53 p.m.: The normally reserved Patrick Cantlay drains his eagle putt and lets out a fist pump. He's the solo leader at the Masters. To steal a line from Verne Lundqvist from yesterday, is anybody enjoying this?
12:49 p.m.: Oh my GOODNESS. Up at 16, Jon Rahm nearly makes an ace. His birdie will get him to 10 under. Following him was Justin Thomas, who DID make a hole-in-one to reach nine under. Behind them at 15, Patrick Cantlay just put his second shot inside 15 feet and has a chance to take the out right lead. It's utter chaos right now.
12:46 p.m.: Boom. Tiger makes. He's tied for the lead at the Masters on Sunday.
12:45 p.m.: Tiger's birdie putt comes up well short, like six feet short. Yikes. He may not even make a par. But he will gain at least a shot, as Molinari misses his bogey putt and makes double to drop to 11 under. If Tiger makes, there's a three way tie at the top ...
12:42 p.m.: Believe it or not, there are other groups on the course, and with Molinari about to drop a shot, a bunch of guys are back in it. One of them is Bubba Watson, who eagled the 15th to get to 10 under. After a par at 16, he just pulled his drive badly to the right at 17, so he's going to need a miracle just to save par. At the 13th, Xander Schauffele makes birdie to get to 11 under. Jason Day is also at 10 under through 16 holes.
12:40 p.m.: Pretty good third from Molinari, setting up about a 12 footer for bogey. This would be the bogey of his life if it drops. Finau's third was even better, and it looks like he'll easily save a bogey and only drop to nine under
12:38 p.m.: How quickly things can change. Molinari goes first at the 12th and puts it in Rae's Creek. Everyone is now back in the mix. Tiger smartly plays it well left and safely finds the green. Finau goes third and puts it in the water as well. This hole always delivers the drama.
12:29 p.m.: Tiger's putt was a slick one and it rolled past a few feet, forcing him to grind over the par putt. He makes, and everyone breathes a sigh of relief.
12:26 p.m.: Molinari's putt was TRACKING, but it just barely slid by the left edge. Hell of a par to stay at 13 under.
12:24 p.m.: Unbelievable stones at the 11th from both Tiger and Molinari. Francesco went first, cutting one low to avoid the tree branches and getting a great hop forward onto the green. Tiger's drive left him with a lane to the green if he hit a hook and he executed to perfection. They'll both have makable birdie putts coming up.
12:19 p.m.: Woah. Brooks Koepka goes pinseeking at the 12th and it costs him, as he came up well short and rolled back into Rae's Creek. That could be curtains for him. Up at the the 13th, a poor drive from Patrick Cantlay forced him to punch out with his second, then hit his third over the green. He's going to settle for par to stay at 10 under. Big missed opportunity there.
12:16 p.m.: Oh boy. Tiger misses his drive wildly to the right for the second straight day at the 11th. He needs a huge break here.
12:13 p.m.: From left of the 10th green, Molinari and Finau hit all-world wedge shots to a few feet. Finau missed his par putt though, dropping him to 10 under. Molinari of course made, because he simply doesn't miss. Tiger's par effort came up a foot short, and he makes his third bogey of the day to fall back to 11 under, two back. Also at 11 under is Koepka, who just missed a birdie at 11 and has a tester coming back for par. Earlier at 11, Xander Schauffele dropped a bomb for birdie to reach 10 under. He just parred the 12th to stay at 10 under.
12:06 p.m.: Big miss from Molinari here from the 10th fairway -- his approach hooks left and down below the hole. He's going to have his work cut out to get up and down.
Tiger's third after the chip out skips to the back of the green. It'll be a tough putt for par but he's in OK shape.
12:00 p.m.: Potential momentum swing here at the 10th hole, as Tiger's fairway wood sails to the right. A bad kick off a patron's leg stopped its roll, so he'll likely be blocked out by a tree. Molinari piped his fairway wood in the fairway, so advantage goes to the Italian here at 10. Finau popped up his tee shot and is way back.
11:52 a.m.: What a fantastic putt from Tiger Woods to finish his outward nine. From 70 feet above the hole at the ninth hole, Tiger nearly holes it—coming just a fraction from it finding the cup. He's out in 1-under 35 and one back of Molinari, who has a slippery 37-footer upcoming.
Molinari gets a little excited with his 37-footer at nine, and he leaves himself with a tricky, sliding six-footer at nine. The Italian shows his nerves of steal, and remains with just two bogeys to his credit. And he heads to the back nine with a one-shot lead over Tiger, and two up on Brooks Koepka and Tony Finau, who made a great up and down from the left bunker.
11:46 a.m.: First to play at the ninth is Tiger Woods from 168 yards, and his approach on the downhill lie sails way to the back of the green. He's lucky to have made it onto the green—and he'll have one of the tougher approach putts you'll find here on property.
Molinari's approach is slightly better but he'll also have a tough two-putt upcoming—about 35 feet slightly above the hole.
11:43 a.m.: Tiger and Molinari both hit great drives at the ninth hole, necessary in approaching this treacherous green complex. Tony Finau overcooked his tee shot, and he'll be way left in the pine straw.
We just saw another errant tee shot over at 10, as Brooks Koepka, two back of Molinari, hit a monster slice. That's an odd sighting from the three-time major champ whose driver is usually such a strength.
Patrick Cantlay, meanwhile, just made his fifth birdie in 10 holes (to go with one bogey) to get to 10-under. Cantlay had a historically good round on Saturday, carding an 8-under 64 by only birdieing one of the four par 5s. And the young American is making a move on Sunday, too.
11:38 a.m.: Francesco Molinari converts his birdie putt from 13 feet to extend the lead to 13-under. But Tiger follows suit—converting the birdie, his second straight, to remain one back of the Italian.
On Sunday at the 1997 Masters, Tiger was paired with Italian Constantino Rocca as he made history with the "win for the ages" at Augusta National for his first green jacket. Will an Italian play spoiler for Tiger's next bid at history, or will Molinari have a similar seat to history?
11:34 a.m.: Tiger, from behind the TV tower at the par-5 eighth hole, plays his third shot low behind the green to about 7 feet. He'll have that uphiller for a second straight birdie. He should be just inside Francesco Molinari, who has about 10 feet for birdie.
At the ninth hole, Brooks Koepka nearly holes a long downhiller but settles for a par, as he's out in 35—remaining one back of the lead of Francesco Molinari.
11:32 a.m.: Francesco Molinari hits a smart layup out of the bunker to 123 yards, which covers the mound on the right side. So he'll have a good look at the green with his third shot.
Now Tiger with a view of the green from the right second cut and 258 yards away, smokes his 5-wood through the green and will be past the green on the right side. It won't be the easiest up and down, but doable.
Molinari's approach from 123 yards settles 10 feet from the pin. He'll have a makeable birdie putt upcoming as Tiger has a long pitch—but a lot of green to work with hitting his third shot.
11:22 a.m.: Interesting turn of events here at Augusta. Molinari's tee shot has found the right fairway bunker, which means he'll be forced to lay up back with his second. Tiger's drive misses the fairway right but also misses the bunkers right, so he'll have a path to the green.
With just a one-shot lead now for Molinari, things are getting very interesting. And Brooks Koepka has just birdied the eighth hole up ahead, so he's within one of the lead now as well.
11:15 a.m.: It has happened—Francesco Molinari finally makes a bogey after a remarkable run of 48 holes without a bogey, and 19 of 19 in scrambling. Molinari's 15-footer from above the hole missed on the high side, and with Tiger's tap-in birdie, we have a two-shot swing.
Tiger's now one back heading to 8 after this great shot at 7:
11:11 a.m.: For a second straight day, Tiger Woods throws a dart at the seventh hole, as he uses the backslope beautifully as his second shot rolls within a foot of the hole. That'll be a tap-in birdie for Tiger to get back to even-par for the day.
Molinari, meanwhile, will have to get up and down from just in front of the front right bunker. He did well to escape the trees to this point—but it'll be a difficult up-and-down, though he'll hope to play the pitch up to the backslope so it rolls back down near the flag.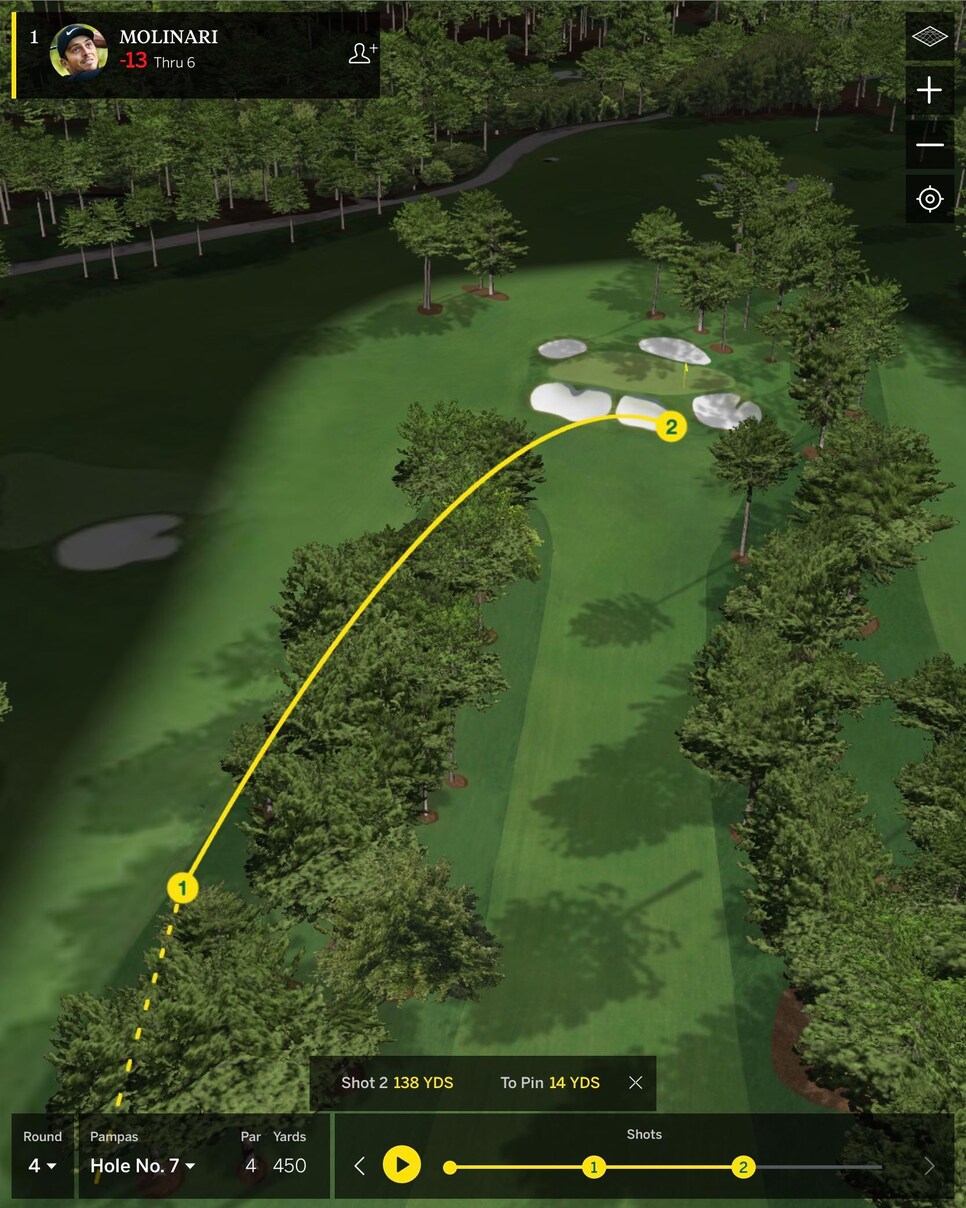 11:04 a.m.: Francesco Molinari will need his scrambling skills again as his tee shot hooks left at the seventh hole. As Nick Faldo pointed out, that could be a reaction to his slice at the fifth hole. The driver might not be on, but his scrambling skills certainly have been with 48 holes without a bogey, going 19 for 19 on scrambling this week.
Tiger Woods finds the fairway after backing off initially with his fairway wood.
11:01 a.m.: Time after time, we've seen Molinari's abilities to grind out pars. He has five already today. And he has 47 straight holes without a bogey. From the treacherous position behind the green, Molinari shows off his deft touch and it settles about seven feet from the green for another par.
And Tiger misses the birdie opportunity from 14 feet. That feels like a crucial miss, especially with Molinari's par, as the lead is still three going to the seventh hole.
10:51 a.m.: It's gut-check time again for the Italian. Molinari's tee shot hit the green and rocketed off the back into the patrons. He's 18 of 18 in scrambling this week, and he's working on 47 straight holes without a bogey.
Tiger, meanwhile, hits a crafty tee shot that works off the side slope on the right side and settles about 14 feet from the pin. Tiger ignited his round yesterday with a birdie at the sixth. Can he do the same today?
10:46 a.m.: The carnage continues at the newly redesigned fifth hole for Tiger Woods. For a fourth straight day, Tiger bogeys the hole. This bogey gives him two bogeys in a row to drop him to 1-over on the day.
And Molinari makes the 8-footer for par. It's a three-shot lead for Molinari over Tiger and Koepka.
10:40 a.m.: Fantastic touch from Francesco Molinari on his third shot from just short of the green. He takes it sky high and nearly holes the pitch shot, as it rolls 8 feet past.
And now we see why: Tony Finau, on the green in a position in front of Molinari, lost his putt across the ridge, and will have 30 feet now for his par. This is not a good diagram: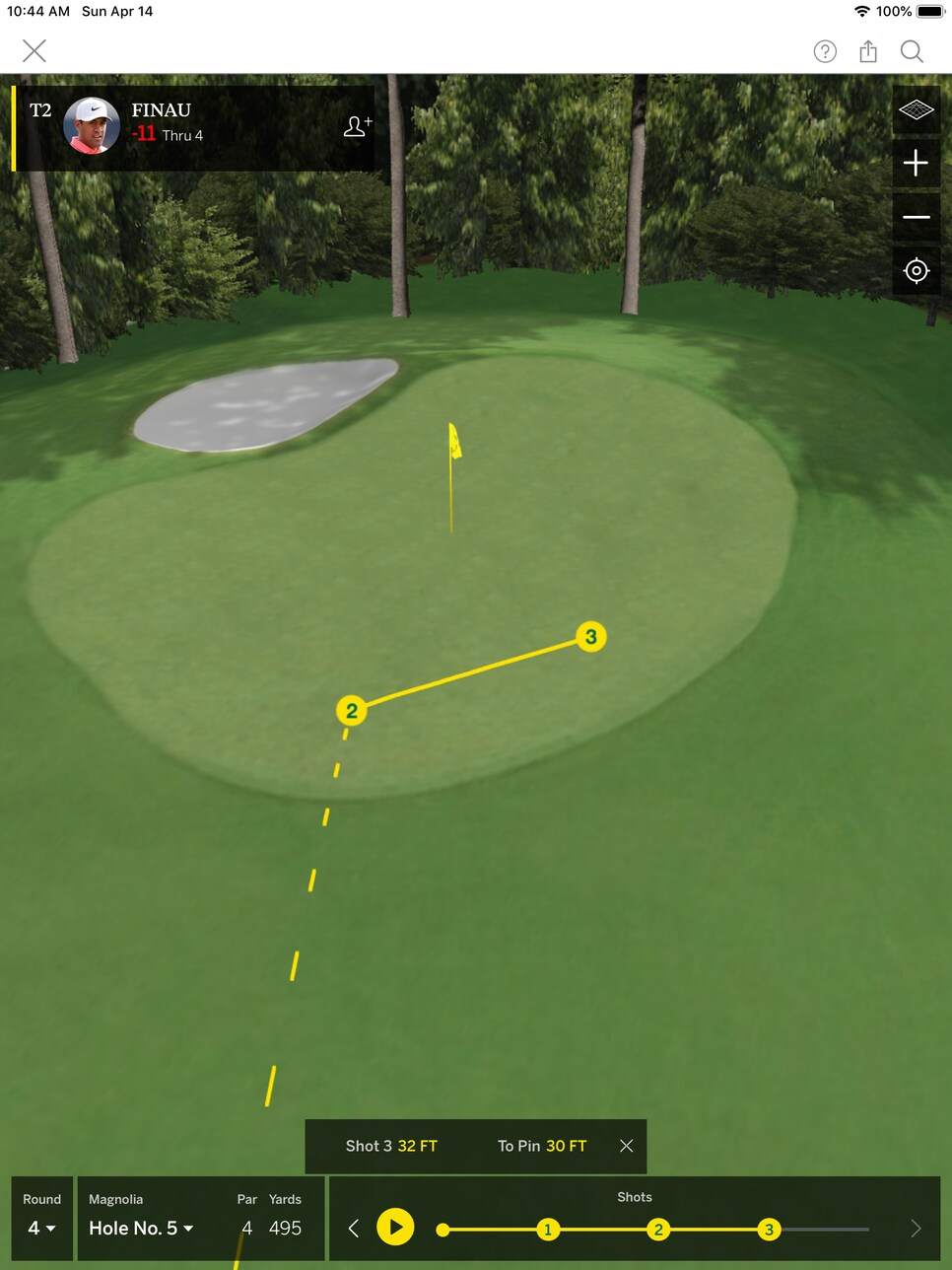 10:34 a.m.: Francesco Molinari gets someone fortunate to have a clear path to the hole right of the fifth fairway, from 217 yards out. He puts his metalwood in front of the green, leaving him with a tough but do-able up-and-down.
Tiger, from the middle of the fairway 219 yards out, finds the front right part of the green, but he'll have a difficult 39-footer upcoming along the ridge line to this hole location. Finau also finds the front part of the green
10:30 a.m.: We have the first mistake for Francesco Molinari at the fifth hole. It appears that his drive has went way right over the patrons. We've seen a couple shots over there the past couple of days, and players are getting fortunate with where they end up. So Molinari might be OK, but he'll be way back and he'll have to use his deft skills to keep his bogey-free streak of 46 holes in a row alive.
10:25 a.m.: Seeing some pretty defensive putting from Molinari, as he's coming up just short on a lot of his birdie tries like he just did at No. 4. Good strategy by him, as he's now made four straight pars to begin his round and keep the lead, which is now back to two shots as Tiger's par putt lips out. That's a big-time momentum killer. Back to a two-shot deficit for Tiger.
Tom Brady asks a great question ...
10:23 a.m.: Tiger's chip was okay, not his best. He's going to have 10 feet left to save par. Big moment.
10:19 a.m.: At the par-3 fourth, Tiger's tee shot hits the front of the green but rolls back off the false front. Loooong birdie look coming up. Molinari and Finau both go long and left but have much shorter looks at bird. Up at No. 7, Phil Mickelson has another great look at birdie that just misses. He needed that if he wanted to make a real push. He's still only five back at eight under, but things would have got real interesting had he got to nine under before the par-5 eighth.
10:11 a.m.: Molinari's birdie effort comes up a foot short and he cleans it up for a par-par-par start. Tiger follows with a slick birdie putt right of the pin and DRAINS it. Folks, it's GAME ON !
10:08 a.m.: Speaking of the Tiger party, there could be a party at the short par-4 third shortly after Woods' approach. He sticks one to about 10 feet from the fairway. Molinari, meanwhile, is just off the back of the green.
10:07 a.m.: In case we missed this (of course we did, it's Brooks Koepka, he gets no respect!), Brooks Koepka made birdie at No. 2 and par at No. 3 and is now tied with Woods and Finau at 11 under. This is last summer all over again with Molinari and Koepka looking to spoil the Tiger party.
10:02 a.m.: Interesting strategy at the third from Molinari, who laid well back with an iron off the tee to avoid the bunkers down the left side of the fairway. After Finau piped a driver up near the green, Tiger also played an iron off the tee and found the fairway with Francesco. They'll each have about 140 into the green.
9:56 a.m.: After Tony Finau and Francesco Molinari each hit their third shots inside 10 feet of the hole, Tiger's long birdie effort rolls past a few feet, leaving him with a testy comeback par putt. He buries it right in the center shortly after Molinari misses his birdie putt. Huge turn of events there. Tiger should have lost at least one, maybe more, and instead is still only two back. Finau missed his birdie putt as well and remains at 11 under.
Up at the sixth, Phil Mickelson makes his third birdie in his last four holes, putting him at eight under for the tournament. LURK!
9:50 a.m.: Tiger cuts in a long iron and hits an almost perfect shot. Had it gone one yard further it likely takes the slope and ends up close to the hole, but it took an awkward hop and stuck on the front of the green. He still has a birdie look, but it's from 60 feet.
9:48 a.m.: Up ahead at No. 5, from 215 yards out, Phil Mickelson almost holes his second shot for eagle. Hell of a birdie for Lefty on one of the hardest holes on the course to get to seven under for the week.
9:46 a.m.: Okay everybody, take a deep breath, Tiger is safe and sound. Woods' ball ended up in a spot that gave him a lane to punch out back into the fairway and set up a look at the green from 217 yards for his third. Birdie would be miraculous, and a par would feel like a small victory after that drive. This has not been his hole this week, as he's made only one birdie. Meanwhile, Molinari is up near the green in two and you can basically guarantee he makes birdie.
9:40 a.m.: Trouble at No. 2 for Tiger Woods, as his tee shot has hooked into the trees. We'll see if he got lucky and didn't roll into the creek ... but he's going to have his work cut out for him just to make par.
Francesco Molinari's short drive comes up short of the right fairway bunkers. We haven't seen anyone hit it short of those bunkers on that line with their driver this week.
Tony Finau was not short. He bombed his 321 yards down the middle, leaving him with 265 yards left to the second.
9:35 a.m.: Xander Schauffele has a birdie-birdie start to his final round. That's a dream start for the 25-year-old American, who stumbled with two bogeys coming home on Saturday at the 15th and 18th. Schauffele's now 10-under and three back of the lead.
9:33 a.m.: Just as he's done all week—and really, since the Open Championship, Molinari proves he has nerves of steel. The Italian rolls in the 13-footer for par at the first to maintain his two-shot lead over Tiger and Finau.
9:31 a.m.: Molinari's putt from off the green slides way past—13 feet past. That's going to be an early tester for the Italian.
Tiger's birdie putt slides by on the low side, he'll have about 2 feet left for par.
9:28 a.m.: Finau's drive ended up next to a tree at the first, leaving him with an abbreviated backswing off the pine straw. He punched it up near the green, but a drainage board took a little distance off it. He chips it close to within two feet for an easy par to start.
Molinari's approach misses the green just barely to the left side, but with the back left hole location, Molinari will have less than 30 feet for a doable birdie.
9:22 a.m.: The final pairing is off the tee—Francesco Molinari's fairway wood hits the fairway, Tony Finau's driver goes through the fairway into the left trees and Tiger hits the fairway with his metalwood. We're off!
9:19 a.m.: The Sunday pin at 16 tends to create opportunities for a hole-in-one. And we have one early today.
9:14 a.m.: The penultimate group (Brooks Koepka, Webb Simpson and Ian Poulter) is now off the first tee. Brooks Koepka just bombed it 318 yards down the middle at this uphill opener, leaving him just 128 yards in. That's an amazing drive. Koepka disappointingly hits his approach to 37 feet.
For those keeping track at home, Koepka outdrove Simpson by 47 yards at the first hole. Wow.
9:00 a.m.: With TV coverage starting early on Sunday, there's already a lot to catch up on. As we mentioned, Jordan Spieth is off to a hot start—birdieing 1, 2 and 4—and he's now up to 7-under through his first four holes. There are a ton of low scores already
Here's Rory's eagle putt at 13 (he started at 10):