News
Masters 2019: After close call on 16, Bryson DeChambeau says he's "never, ever" had a hole-in-one. Seriously.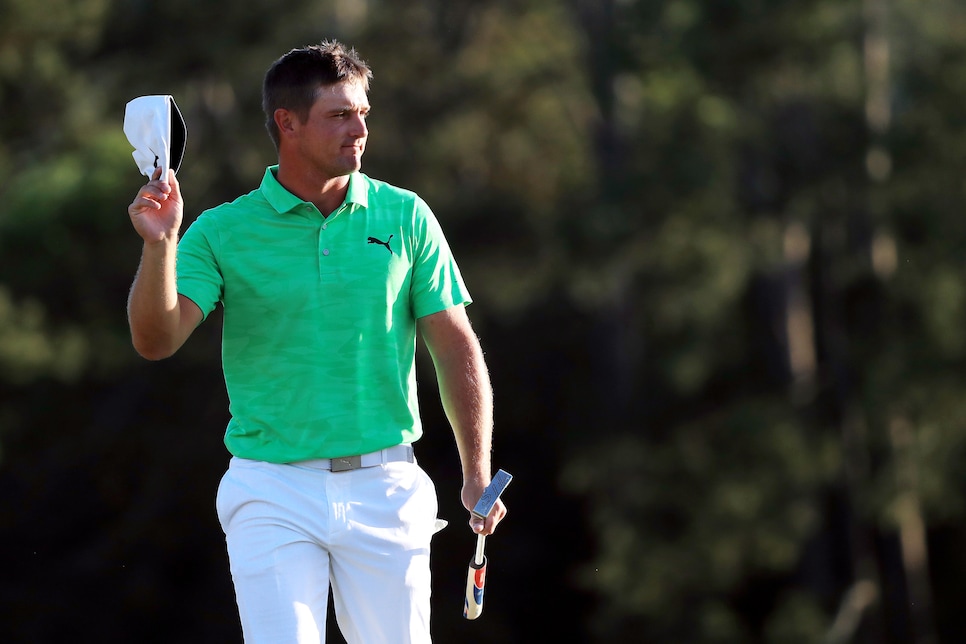 AUGUSTA, Ga. -- If you've never made a hole-in-one, you're about to have your spirits lifted. Bryson DeChambeau is aceless as well. Yep, the same Bryson DeChambeau who won the NCAA individual title and U.S. Amateur in the same year. The same Bryson DeChambeau who has five PGA Tour titles at 25. And the same Bryson DeChambeau who shot an opening 66 at the Masters to share the lead with Brooks Koepka.
Feel better? Just a little? Well, I tried. In fact, without an ace of my own, I'm also trying on myself.
Regardless of your hole-in-one résumé, though, you have to be surprised to learn a golfer of DeChambeau's caliber has yet to record one. Heck, one would think the physics major would have come up with some mathematical formula to find the bottom of the cup from the tee. Instead, he's left with a litany of close calls—and none closer than what happened on Augusta National's par-3 16th on Thursday. Seriously, check this shot out:
How did that not drop? And you can tell how bummed he was by the shaking of the head after his golf ball came to rest a couple inches away.
"The whole time it was rolling," DeChambeau said when asked after his round if he was thinking about an ace as the shot unfolded. " I've never had an ace, ever, unfortunately. I was really hoping it would go in."
Moments later, DeChambeau reiterated that he really meant "ever."
Q. When you said no hole‑in‑ones ever; is that in competition?
BRYSON DeCHAMBEAU: Never. Ever.
BRYSON DeCHAMBEAU: Xander doesn't have one either two. Top‑10 players in the world not having hole‑in‑ones, at least that's what I was told. I may be wrong on that but that's what I was told. Pretty unique.
Wow. Bryson AND Xander don't have aces? Now I really feel better.
And while DeChambeau was disappointed to go another day on the course without his first ace, he took a pretty big step toward winning a first major. We're guessing he'd settle for that instead.