News
Masters 2018: Ian Poulter's enjoying his new lease on Masters life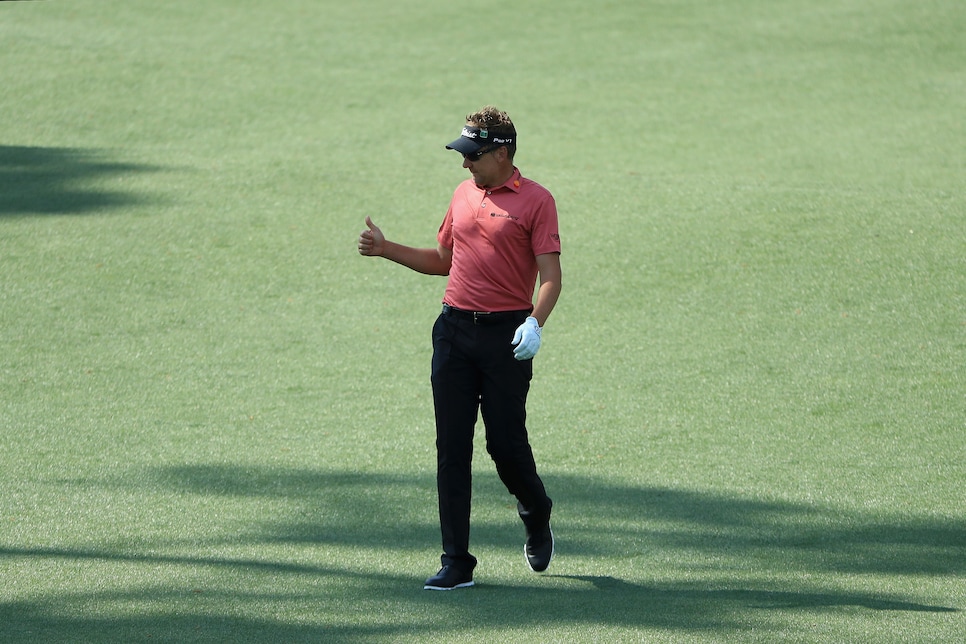 AUGUSTA, Ga. — Tiger Woods and Phil Mickelson traversing Augusta National's back nine together on Tuesday was surreal, something many thought they'd never see. But it wasn't the practice round's most surprising sight. That honor belonged to Ian Poulter, who, on the 10th tee, was hamming it up with patrons. He was delivering his share of laughs, garnering shouts of encouragement and applause, the type of back-and-forth usually reserved for Fred Couples and Phil Mickelson. It was a scene that, if you know anything about Poulter, seemed as plausible as Augusta National dying Rae's Creek purple.
Golf has no true villains, save for ominous weather forecasts. There are, however, varying levels of affection. In America, Poulter is low on that totem pole. A position partly derived from a cold exterior: his forwardness, conviction, gruffness far from engaging attributes. A handful of unflattering fan interactions haven't helped. Nor has his flamboyancy, in style and being. Tell the truth, lot of it stems from the Ryder Cup, as his stout, resounding performances at the biennial event have been the bane of Team USA's existence.
Understandable then when word leaked of Poulter's Match Play Masters snafu—he had been told he had qualified, only to discover moments before a pivotal match he had not—the news was draped in a bit of schadenfreude across social media.
But then a second emotion waved in, one of empathy. Poutler's occasionally a pain, but no one deserves their passport to paradise snatched. People felt for the guy. He wasn't a crowd favorite in Houston—not when battling Texas native Beau Hossler—yet Poulter had a level of support he hadn't seen in these parts in, well, ever. When he knocked off Hossler in a playoff, overcoming a first-round 73 that left him in 123rd place, the response was universal: Game got to recognize game.
"It's been a rollercoaster ride, I'll be honest with you," Poulter said after his victory.
So now, a year after temporarily losing his tour card, he's in the Masters. Which brings us to a twilight stroll on the back nine on Tuesday, featuring a friendly rapport between Poulter and a host of patrons. True, Augusta National's galleries are the nicest, most well-behaved in the game. Everyone insides the ropes is given respect. But this wasn't etiquette, and the group following Poulter weren't British backers. They knew the obstacles he's hurled. His perseverance merited, earned, their warmth.
Better still, Poulter reciprocated. Perhaps the 42-year-old was just playing along. He is an entertainer: the chest pounds, the animated and adrenaline-fueled Ryder Cup gestures, needling folks on Twitter. He knows the game.
Yet much been made about a kinder, gentler Tiger, his transformation from stoic terminator to one of the guys. While it's a stretch to say Poulter's undergone the same turnaround, he noticeably lowered those infamous walls around him on Tuesday. And why not? It's Masters week at Augusta National; there's no room for enmity here.