News
Masters 2017: Live Updates -- Can Spieth make history?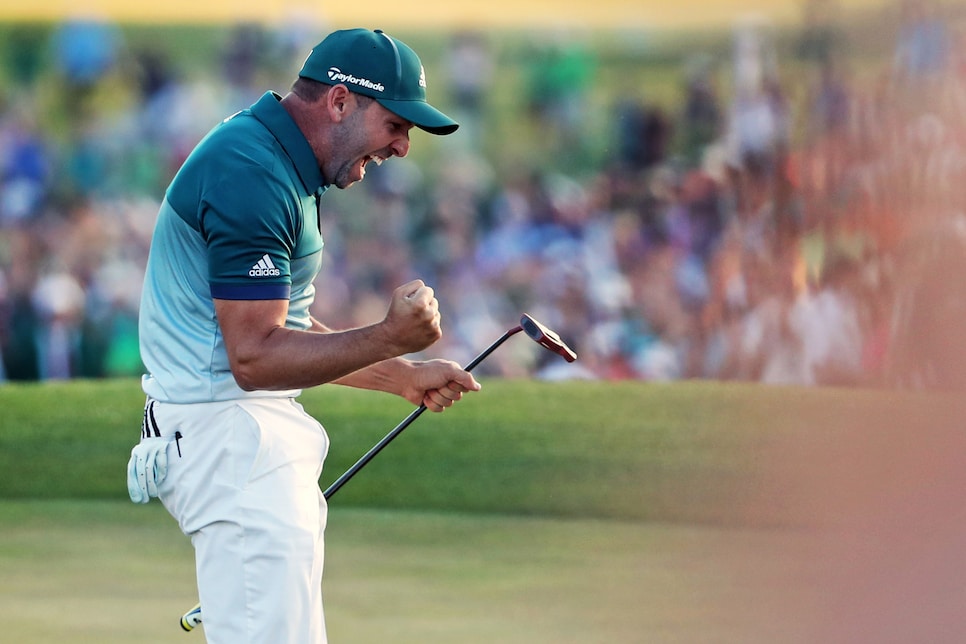 Golf Digest/Golf World will be keeping you up-to-date on all the action from Augusta National throughout the week, starting with the ceremonial tee shot on Thursday to the awarding of the green jacket Sunday night.
10:15 AM: A commentator, one who gets paid really, really good money to make informed opinions on television, just said Sergio Garcia's lucky break on No. 13 yesterday -- where his ball defied gravity and stayed on the bank -- was correlated to Garcia's improved attitude. Less talking is more, fellas.
10:11 AM: In the command center, I have three Masters preview telecasts above, and within the past 15 minutes, each has mentioned Seve Ballesteros, Seve's birthday, and what a theoretical win for Sergio Garcia on Seve's birthday would mean roughly 11 times. To those at home planning a drinking game around this trend throughout the fourth round, please don't. You will die.
10:05 AM: Ernie Els, likely playing in his final Masters, tees off with fan favorite marker Jeff Knox. Our Alex Myers followed around Knox yesterday for all 18 holes. Read about it here.
10:03 AM -- Today's pin sheet:
10:00 AM: Justin Rose and Sergio Garcia enter the final round of the 2017 Masters in the final group, Rose off the back of a sterling 67, Garcia via a third-round 70. But it will be more than a two-horse race at Augusta National on Sunday. Jordan Spieth, he of a 2-1-2 track record in three previous Masters appearances, mounted a Saturday comeback to earn a spot in Sunday's penultimate pairing. Joining Spieth is Rickie Fowler, searching for his first major just a shot back of the leaders. Charley Hoffman's had a rough-go the past two days at Augusta yet remains in the swing of things, as does Ryan Moore, who's only two strokes behind Rose and Garcia.
This should be a fun day, eh gang?
7:11 PM: We thought Friday was a fun afternoon at Augusta National. And it was.
But Saturday gave us a great leader board -- with Jordan Spieth making a big charge, Justin Rose carding the round of the day to tie the lead, Rickie Fowler, Sergio Garcia both looking for their first majors.
Sergio and Charley Hoffman both had strong par saves on their 54th holes to end the Saturday action -- and set us up for what will be an awesome Sunday at the Masters.
6:55 PM: Just as he has all day, Rickie Fowler has made clutch par putts to minimize the damage of some mistakes.
A six-footer for par puts Rickie in with a third-round 71 -- just one off the lead of Justin Rose and Sergio Garcia.
For someone in this position for a first time, holding a share of the lead after 36 holes, Rickie stayed strong with a couple clutch bogey putts at Nos. 3 and 7, and there on 18 with a big-time par -- to stay within ear shot of his first major.
6:36 PM: Here, we have Charley Hoffman in a rare sense of vulnerability on the 16th tee.
The 40-year-old has been so strong with the lead all day, until this water ball -- which would lead to a double bogey, and dropping Hoffman out of the lead for the first time since Thursday.
6:17 PM: What an unbelievable inward nine for Justin Rose.
The 2013 U.S. Open champion birdied five of his last seven holes of the day to grab a share of the lead -- and who knows -- he might lead outright by the end of the day.
What a round from the gold-medal winner!
6:13 PM: Rickie Fowler's now one back! This isn't exactly how you script up birdie at 15 . . . what a putt!
6:04 PM: One of the hottest back nines on the course is Justin Rose. He's got three birdies on his inward half to tie for second place, two back of Charley Hoffman, whose in some trouble at 14.
5:53 PM: Sergio Garcia, getting some love from the golf gods. Yes, you read that correctly.
The Spaniard's ball somehow stayed out of the water at the 13th hole . . .
Sergio would pitch the ball close for birdie, getting him to 5-under. His playing competitor, Charley Hoffman, would also birdie, putting the Californian at 7-under.
5:44 PM: This perfect stretch for Spieth has come to an end. Spieth came up on the front part of the green with the back pin position at the 16th -- leading to a three-putt bogey.
It's the Golden Child's first bogey in 30 holes.
5:31 PM: After an errant drive for Spieth at the 15th tee, he wasn't very pleased. It forced him to lay up . . .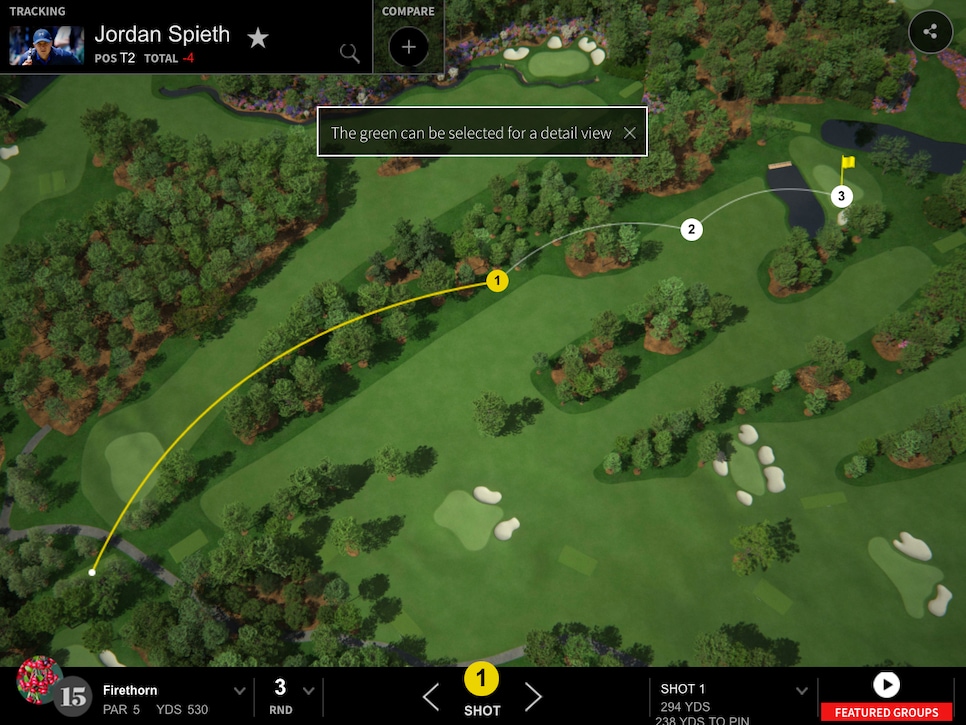 But that might've been a blessing for Spieth, who just hit another amazing shot for another birdie at No. 15. That puts him one back now.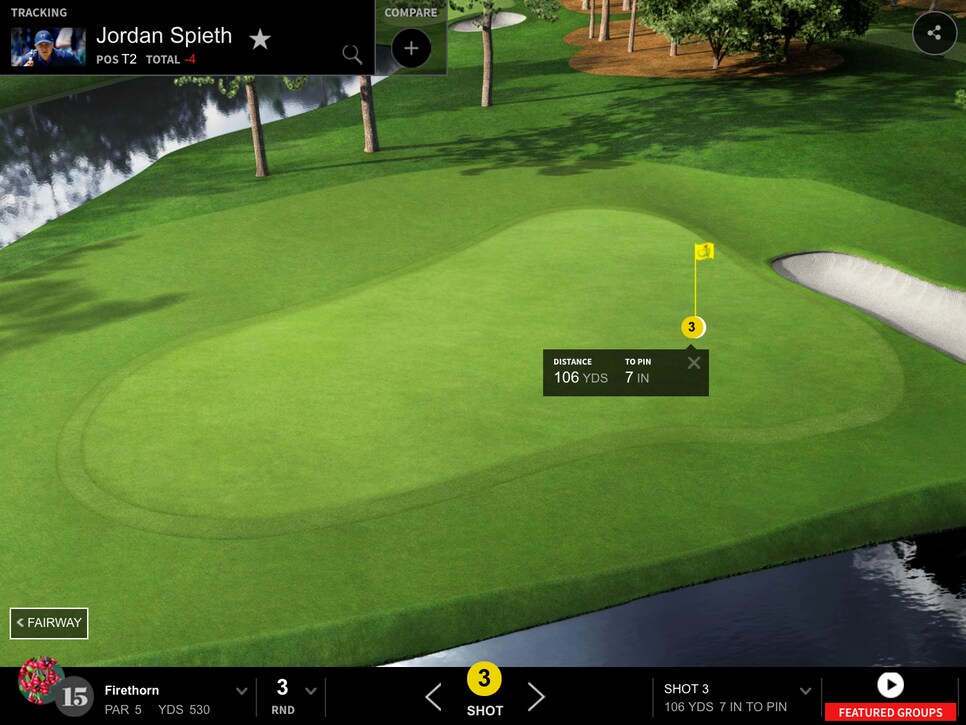 5:24 PM: What are these guys vying for? Only an INSANE first-place price . . . almost $2 million, reports our Ryan Herrington.
And look at the ninth-place amount -- it'd be even more than Arnold Palmer made in his career.
5:16 PM: 2013 Masters champ Adam Scott just knocked in a birdie at 13 to get to 3-under -- just three back of the lead. His playing partner, Justin Rose, has three straight birdies to also get to 3-under.
There's some major experience lurking on the leader board now . . .
5:09 PM: Jon Rahm finally shows his inexperience for one of the first times all week. He hits his tee shot at 12 into Rae's Creek, leading to a double-bogey, and negating a strong birdie at No. 11. He's back to 1-under.
5:01 PM: The shot Jordan Spieth just pulled off from the pine straw on 13 -- from 230 yards out -- is yet another highlight-reel play in what's becoming a special third round from the 2015 Masters champion.
Look at where he was playing from, and where he ended up.
Spieth nearly holed the eagle putt, but settled for a two-putt birdie and move to 4-under.
And what he said before hitting the shot makes it even more special.
4:45 PM: Now it's time to breathe.
Jordan Spieth just got through the 12th hole at Augusta on the weekend with a par.
And what an up-and-down he needed for that par. Check out where he had to chip from.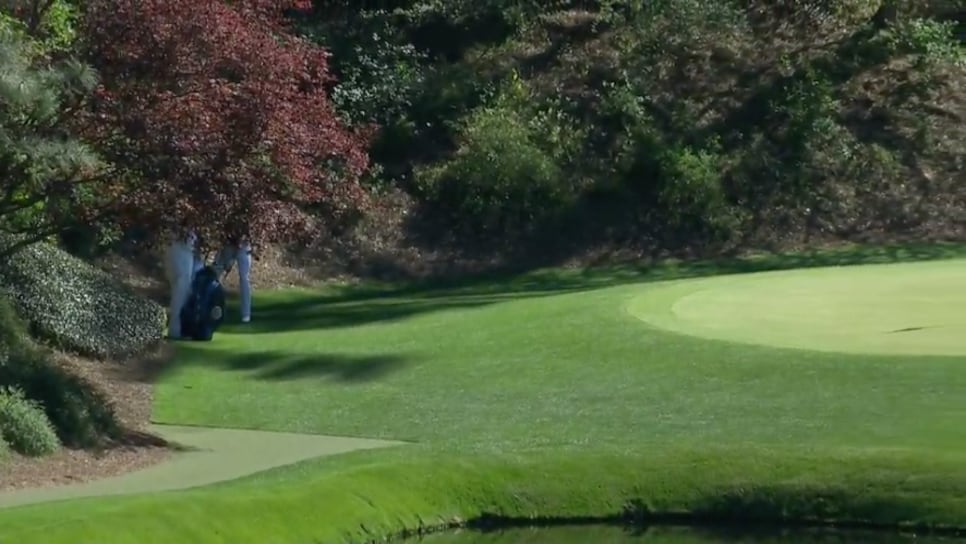 Then he drained a testy 10-footer. Ho-hum for Spieth, who remains bogey-free on Saturday. He's two back of the lead of Sergio Garcia (who just birdied eight) and Charley Hoffman.
4:39 PM: Rickie Fowler just picked up an unlikely birdie after a poor layup at the eighth hole to get back to 4-under, or one off Charley Hoffman's lead. Rickie's back to even-par for the round.
Ryan Moore has two birdies in a row now (at 8 and 9), too, to move to 3-under.
4:21 PM: With Jordan Spieth surging to the top of the leader board (now just two back of the lead), consider this amazing bit of trivia:
No Masters champion has ever won with a triple bogey or more on their scorecard. Spieth had a quadruple bogey on the 15th hole Thursday.
Imagine if Spieth could rebound from last year's Masters disappointment -- and the quadruple at the 12th hole -- and get his redemption win this year . . . with a quadruple on his card?
We're just imagining at the moment. But it's a real possibility with the 24-year-old 3-under on his round through 10.
How about this up-and-down at 10? From this spot deep and left of the 10th green, this was a special up-and-down.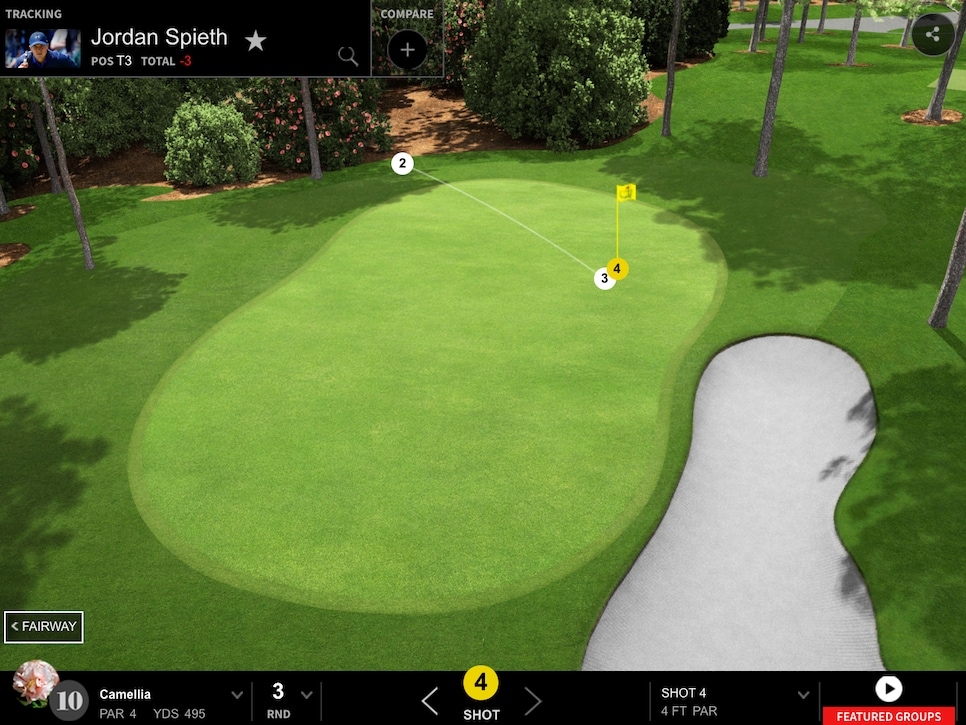 4:11 PM: McGrit (new nickname?) rolls one in from DEEP on No. 7 to save par, remains three back. Amazing that, surrounded by all these enticing names, McGirt is keeping his composure. Very endearing to watch.
4:10 PM: Adam Scott moves to two under thanks to back-to-back birds, heads to No. 9 looking to make some moves.
4:02 PM: The hell with par; Spieth puts his approach to two feet on nine, will have that left for a 33. Meanwhile, Sergio sinks one from Atlanta to move to five under. When the paramedics find me, know that I'm okay going out due to Augusta overstimulation.
4:00 PM -- Also close to falling out of the mix: McIlroy, who puts his drive on 10 into the pine straw. Spieth stays strong with a smooth drive on No. 9. A par gives him a 34 on the front.
3:58 PM: Mickelson bogeys the relatively easy eighth, is now four over in his last six holes. At two over, he's now eight back and needs help getting back in it.
3:53 PM: Hoffman hits the shot of the day at No. 4 with a hybrid, putting his tee shot to eight feet. Makes the birdie, grabbing a two-shot lead. It was the first birdie of the day at No. 4, and gives a nice "NOW WHAT" to all those that thought Hoffman would wilt on the weekend.
3:48 PM: Spieth finds the eighth in two, presenting a 15-footer for eagle. If that drops, things get very, VERY interesting.
3:47 PM: McIlroy going the wrong way, doubles seven to go to two over. Birdie on eight gets him to one over, but not the front nine he's needed.
3:44 PM: McGirt makes a birdie, goes to four under. They journeyman is making the most of his first Masters experience.
3:39 PM: Paul Casey, who started the day at three over, is now in red figures thanks to a birdie at the 14th. Given the lack of movement early, a one, two under figure could translate to a late Sunday pairing.
3:31 PM: Few updates: Fowler saves bogey by rolling in a 15-footer, Spieth hits a remarkable second shot at the 7th from under the pines, McGirt jumps up with a bird and Hoffman takes the lead at five under. I think I blacked out.
3:28 PM : Sergio misses the birdie putt, while Fowler again chunks his shot, throwing his fourth long. Fowler's looking at double.
3:26 PM: Fowler leaves his drive on No. 3 in a satanic spot, chunking his chip which falls off the front. Tricky up-n-down awaits. On No. 2 Garcia puts his third 10 feet past, leaving a difficult downhill birdie opportunity.
3:23 PM: HUGE putt from Spieth for birdie at No. 6, moves him to one under. Despite missed opportunities at the first three, that's one that most of the field won't get.
3:17 PM: Both Fowler and Pieters make birdie at No. 2, moving Fowler to the top of the board.
3:13 PM: Rahm moves to three under with a birdie on No. 3, now just one back. Meanwhile, Hoffman makes an unbelievable save at No. 1 for par, while Sergio makes a testy six-footer for par. The field is on the board.
3:11 PM: Fowler leaves his approach short right on No. 2, will have some work to make birdie. Speaking of Fowler, this was a cool look at his yardage book:
3:09 PM: Both Phil and Spieth reach the second tier of No. 5, setting up makable birdie putts. Also, Will McGirt -- remember him? -- birdies No. 2 to get to three under, while Ryan Moore adds a birdie to get to two under. IT'S ALL HAPPENING.
3:04 PM: Even for a three-putt, an ugly affair for McIlroy on the fifth. Drops back to even.
Back on No. 1 Rickie Fowler makes a two-putt par while a wayward drive dooms Pieters to a bogey. Sergio Garcia and Charley Hoffman tee off, with Hoffman in the sand and Sergio in the fairway.
3:02 PM: Spieth makes a knee-rattling 10-footer for a sand save at No. 4. That could be what gets him going.
2:59 PM: Both Rahm and Couples move to two under with birdies at the second. Couples is obviously the sentimental favorite, but watching Rahm navigate the course for the third time is what we're watching. Made a ton of rookie mistakes the first two days, yet remains in the hunt. Let's see if he's learned from the miscues.
2:56 PM: Justin Rose, who always seems to be in the swing of things on the weekend before quietly going into the night, bogeys the second to fall to even. He can go low with the best of 'em, yet will need to break his weekend curse if he wants to see his name on the Sunday leader board.
2:52 PM: He's even through three, but Spieth had birdie looks on each of the first three greens. Not an ideal start.
As for Mickelson, he gives back the birdie-birdie start with a double at No. 3.
2:48 PM: If it can happen to the world's best short-game specialist, it can happen to anyone. Mickelson, after coming up short with his approach from the sand, chunks his pitch, watching it roll down the front of No. 3 green. Big number could be coming.
2:45 PM: Here's the eagle from Chappell that was mentioned before:
2:41 PM: After putting his drive greenside, Rory gets up-n-down for birdie at No. 3, moving to one under. These next four holes have given McIlroy fits throughout his career. If he can hover around one under or even, he'll be in prime position to strike.
2:37 PM: Meanwhile, Mickelson goes birdie-birdie to catapult to two under, and just two strokes back. Mickelson admitted he was a bit tired after yesterday's round, but it showing zero signs of exhaustion coming out of the gate.
2:36 PM: After his drive found the sand on No. 2, Spieth was forced to lay up, and his approach was not ideal, leaving 25 feet for bird. His putt comes up just short, and has to settle for par. At No. 2, that's giving one back to the field.
2:32 PM: Now on the Fred Couples and Jon Rahm. Couples won the 1992 Masters, two years before Rahm was born. Golf, it truly is a game for life.
2:26 PM: Mark your calendars, ladies and gentleman:
2:25 PM: McIlroy's eagle bid comes up short but leaves with birdie. Remember, started at one over for the day, so needs something low to give himself a chance on Sunday.
2:21 PM: Phil sinks his birdie to move to one under. This is going to be a fantastic Saturday, isn't it?
2:19 PM: Rory does things with his 3-wood that are cruel and unusual. Lands his approach on No. 2 with feet, although ball trickles down the right side of the green. Still, he's dancing and will have an attempt at eagle.
2:14 PM: McIlroy plays it safe, hits 3-wood off No. 2 and finds the fairway. He hasn't had his "A" game through two days but has held tight. With subdued conditions, needs to bring out the heat on moving day.
2:11 PM: Right behind Rory is Jordan Spieth and Phil Mickelson. Spieth hits a 3-wood and finds the fairway, while Mickelson gets into the first cut on the left. Both will suffice.
2:08 PM: Rory McIlroy, at one over, is on the first hole. Let's see how his first drive went: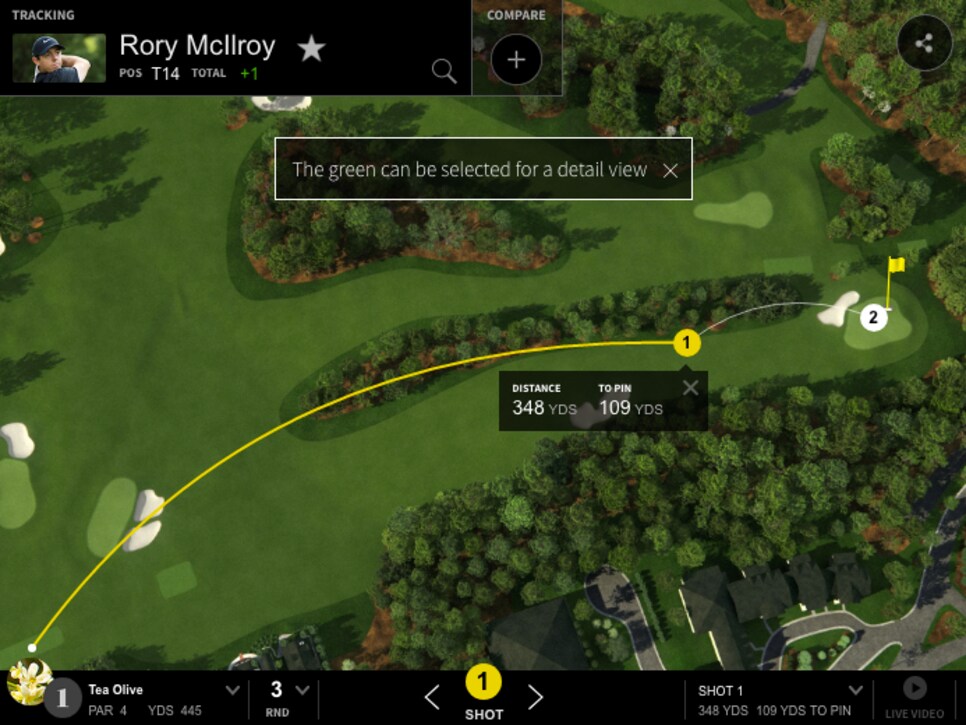 McIlroy fails to take advantage of the drive though, and will have 30 feet for birdie. Still par is your friend on the first.
2:04 PM: Wayward drive on No. 17 leads to bogey for Day, dropping him to three under for the day, three over for the tournament. Had a nice birdie run, but that stops any top-10 aspirations in their tracks.
2:00 PM: According to Shot Tracker, Kevin Chappell's now at one over thanks to an eagle hole-out on the 7th.
1:56 PM: One narrative that needs to stop, ASAP: "Sergio's found peace off the course!" with his upcoming wedding. I'm sure marriage has its benefits, but -- from what I've heard -- your golf game ain't one of them.
And yes, that's getting me in trouble with the fiancee.
1:51 PM: In case you missed the past two days, here's everything you need to know before Round 3 gets underway at the 2017 Masters.
1:48 PM: Jimmy Walker birdies the second, now at two under for the day and one over for the tournament. Just five back of the leaders, jumps to T-13.
1:44 PM: Yes, it's early, but for what it's worth, there are 18 groups on the course. Only six players are in the red for the day. Might be tame out, but only Day (-4) is proving that true.
1:34 PM: -- Day has a 30-footer for eagle on the 15th that comes up just short. Still, that's four birds in a row, down to two over for his tournament. Another birdie or two and he's suddenly in the peripheral conversation.
1:30 PM: Taking a peek at the driving range, Jordan Spieth has the stride of a 17-year-old whose parents are leaving town for the weekend. That seems like an omen, yes?
1:21 PM: Jimmy Walker, the reigning PGA Champion, birdies the brutal first to get it to two over. Only Walker's fourth Masters start, but does have a top 10 on the resume. Wouldn't be surprised if he works himself into one of the five final groups tomorrow.
1:15 PM: Day makes this third birdie in a row to get it to three under on the round. Tragically, Jeff Knox's score or shot tracker is shown. For all of the Internet's glory, the road ahead remains long.
1:07 PM: For all the talk about easier pin positions and calmer weather, the scores aren't reflecting that sentiment in the early going. Jason Day is the low score of the day thus far, birding the last two hole to get to...two under on his round.
12:57 PM: It's almost time for the late groups to tee off at Augusta National.
Who do you think will make a big move Saturday? Phil Mickelson tees off in less than an hour. If it wasn't for three bogeys in his final five holes in his second round, he might be even higher up the leader board.
Can the 46-year-old pick up his sharp game on Moving Day?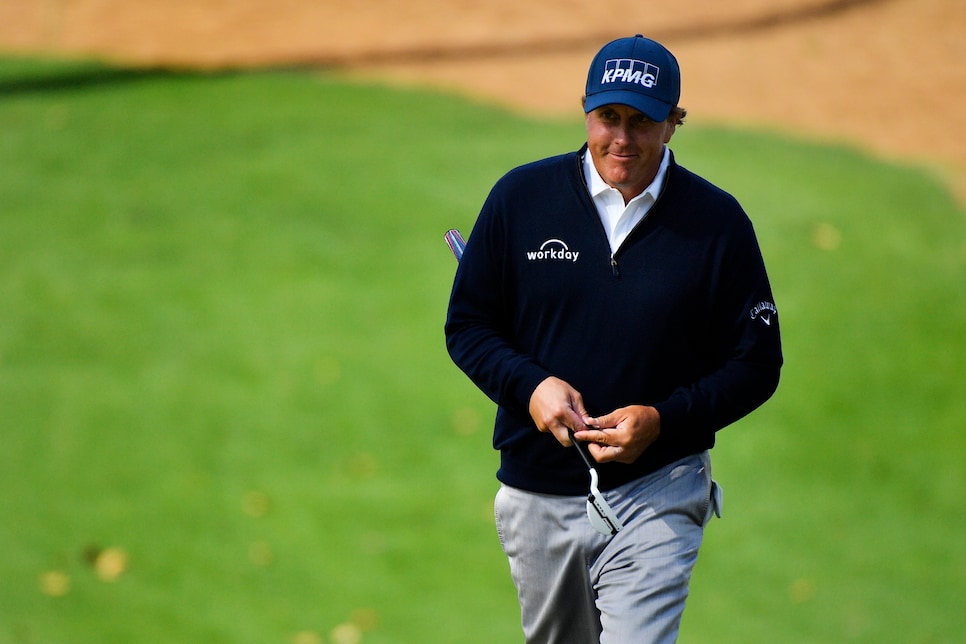 12:39 PM: For all the talk about how benign these conditions are Saturday on Moving Day at Augusta, there aren't very many low scores on the leaderboard yet.
12:15 PM: Rarely do we see an ace at the sixth hole. But we almost had one, courtesy of Jason Day.
11:58 AM: Justin Thomas is on the course (+5) in his pairing with Emiliano Grillo.
And JT stuck one as close as you'll see on the first hole all day.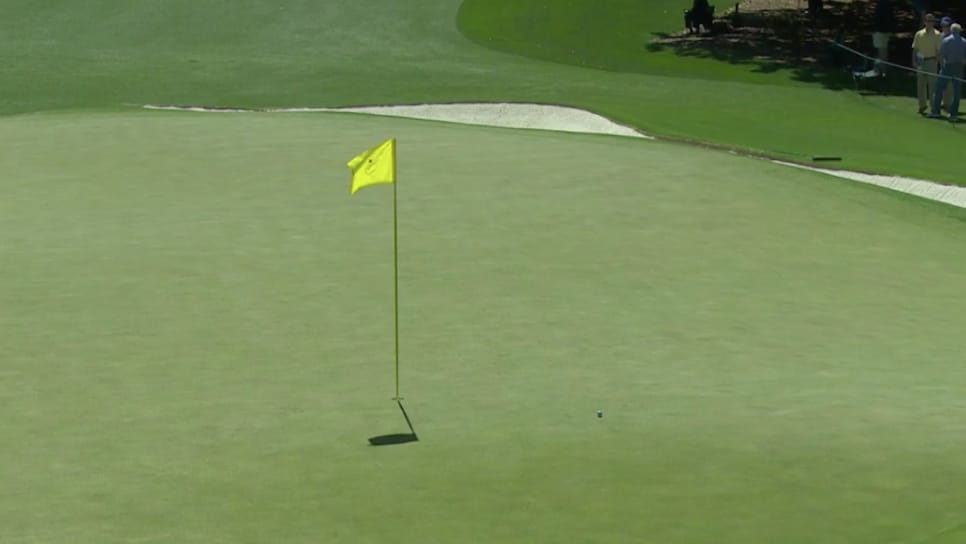 Thomas hit the putt for a rare birdie at No. 1 to move to 4-over.
11:36 AM: One of Saturday's intriguing storylines is Stewart Hagestad, the first Mid-Am to make the Masters cut. I had a pro email me Friday night: "If I were his boss, I'd fire his ass. No one swings like that and puts in 40 hours of work a week." Well, this is true; Hagestad actually quit his job to focus on golf in the fall, kind of taking the "amateur" part out of the equation. Still, after the Walker Cup, Hagestad plans on returning to school. Who knows, maybe a 67 or 66 gets him into top-10 range.
11:25 AM: After birdieing No. 1, Grace doesn't take advantage of the par-5 second, making a pedestrian par. However, he bounces back with this approach on No. 3:
He moves to two under on his day, now at four over.
11:19 AM: For those seeking to quench their Masters' thirst, Ben Crenshaw's annual tournament analysis on the Golf Channel is phenomenal. Extremely knowledgeable, far from trite. Why he isn't a part of Masters broadcast is beyond me.
11:13 AM: The geriatric attention is on Fred Couples, and rightfully so. But how about Larry Mize? Playing in his 34th Masters, the 58-year-old made the cut at six over. His Saturday round is off to an unfavorable start, doubling No. 1. No matter; that Mize is still playing on Saturday is noteworthy in itself.
11:06 AM -- Some intriguing names to keep an eye on in the morning wave: Matthew Fitzpatrick, Kevin Kisner and Emiliano Grillo. Clearly a huge deficit between there current standing and the leaders, but this trio is agile enough around the greens to post a streak of birdies and at least get in shouting distance. With benign conditions expected, it's an atmosphere that works against them, as a group of guys could go low. Nevertheless, if you have to start somewhere, and submit red on the score board early and often can send a message.
10:53 AM: Branden Grace, who holed out from the fairway at the 15th for an eagle on Friday, makes a birdie on the difficult at No. 1 to go to five over. Grace's had four top 5s in the past seven majors, and although he's missed the cut at his last three Masters appearances, he has the ball-striking flair to do put a number up early.
10:40 AM: For those wondering, Masters television broadcast doesn't start until 3 PM on CBS, while streaming coverage on Masters.com starts at 11:10 AM. But why would you need those platforms when you'll be reading along with us, right? RIGHT?!?!
10:34 AM: Here are the pin positions for Saturday. Check out No. 4:
That...that could be interesting.
10:27 AM: Balls are in the air, as Day and Knox tee off on No. 1. Day, at six over, needs something ridiculous -- think 65, 64 -- to get into the conversation. Highly unlikely, given his lack of prep before the tournament to attend to his ailing mom. But Day certainly has the capability, when he's at his best, to conjure a charge.
10:20 AM: Just in case you needed some context on today's leader board, the PGA Tour's Sean Martin lays it out:
10:10 AM: Jason Day is in the first group with a marker, meaning...you got it...Jeff Knox is in the house! Overheard someone on TV say, "It's truly an honor to play with Knox." Except for, you know, the players. A date with Knox means you're in last place on the weekend board.
That said, at least you get to say you teed it up with the greatest player who ever lived. Not a bad consolation prize.
10:03 AM: This should set the mood for our Masters morning together:
9:50 AM: Welcome to "moving day" at the Masters? There's a four-way tie at the top, with a host of the game's top talent -- and one cagey Masters veteran -- chasing right behind. Stephen Hennessey and Joel Beall will guide you through all the news, notes and action from Saturday at Augusta National.