fishy
Mardy Fish heckler allegedly bet on Stephen Curry to win American Century Championship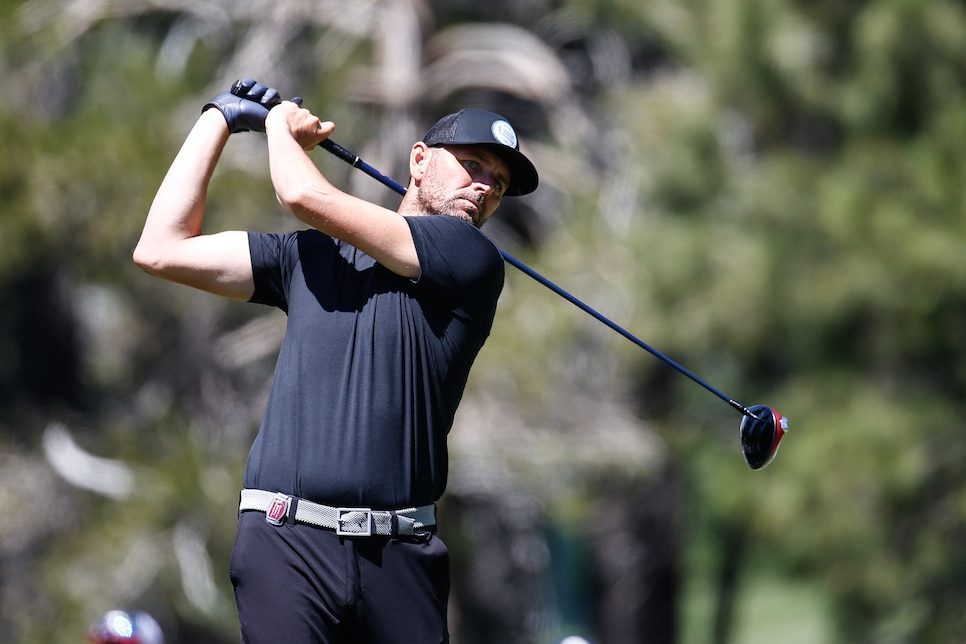 This is real sicko behavior. The man who shouted during Mardy Fish's backswing on No. 18 at the American Century Championship on Sunday apparently had money riding on Stephen Curry to win the event. The heckler yelled at the perfect time during Fish's drive and the former tennis star ended up hooking his tee shot, eventually taking him out of contention.
Fish broke down the entire story on The Ryen Russillo Podcast, from the horrendous decorum to the valid question: "Why doesn't this happen more often?"
Fish wasn't just in the mix at Edgewood Tahoe Golf Course, by the way, he had the lead for a moment before this swing. We can't really argue with the announcer's analysis in the moment when he says "That was awful."
"So we get to 18 and there's a guy, I'm just about to pull the club back, and this is before somebody yelled in my backswing, and he yells out, 'Hey Fish, eff you, you suck,' when no one is talking," Fish explains.
"And there's thousands of people there, and I'm just about to tee off and he says, 'Hey Fish, eff you, you suck,' right next to my wife and kids, and just out of nowhere. It's just weird, right? I've had people say stuff like that when I'm playing tennis and I'm like whatever I'll deal with that another time or just let it go. That stuff doesn't really bother me that much.
"But I'm just about to take the club back and this guy says it and Steph's like, 'Whoa dude. What are you doing?' And my buddy who's caddying for me was pretty pissed. So he's got his eyeballs on this guy and probably going to say something after I hit. So I reset.
I take the club back and right at the top of my backswing, it wasn't at my downswing, it was right at the top, and he yells, I don't know what he yelled, some sort of bird sound or something. He got me good. He really did. He got me to where it was like that perfect time, and golf is so technical. Everything has to be on point if you're swinging. So if you're off by a little bit, things could go bad.
"So he did that, my buddy goes after him, Steph's guy goes after him, it was kind of cool to see the camaraderie of everyone being like, 'That's not cool man.' And you could tell that with Steph, it actually bothered him to where when we got down to the green and I walked up to him and I said, 'Just make the putt. I hope you make the putt.' I felt like maybe, because he's such a good dude that maybe he felt really bad that that happened, and I know he did."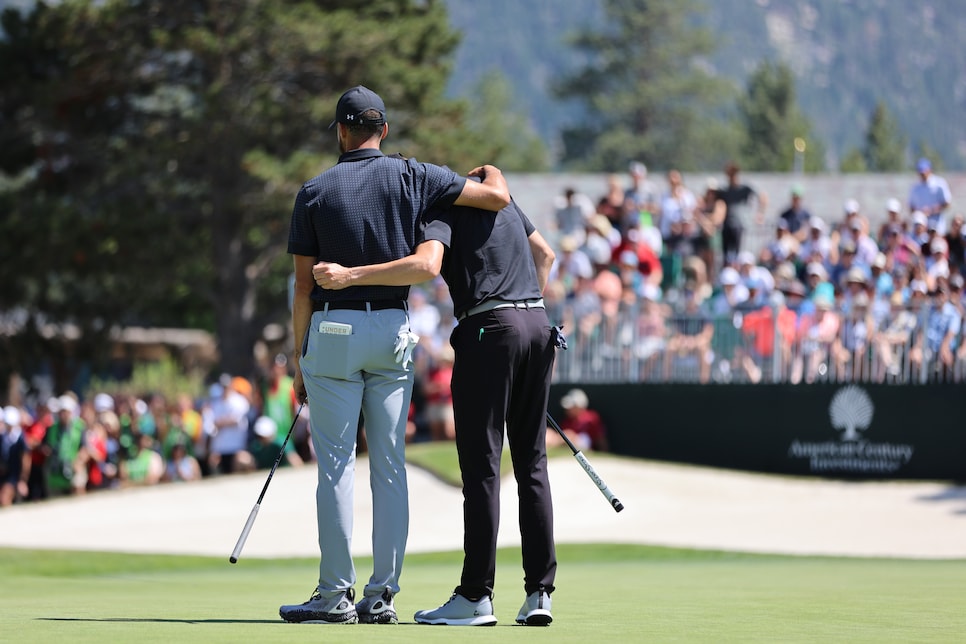 Mardy Fish went on to say that the reason the heckler was so gung-ho to hurt his chances is because the guy had a good deal of money on Curry to win the event.
"Well, he said he bet on Steph to win, and so he wanted him to win. And you start thinking about it, and you're like surprised this stuff doesn't happen more often with all the betting nowadays. Certainly in golf, right? Like, you could really, pay some heckler or something like Happy Gilmore and go out there and 'Shooter, I'll see you at the Red Lobster after kind of thing."
It's nice to hear that Curry and his camp didn't want to win this way, but this is a real slippery slope with gamblers attending professional (or semi-professional) events with a lot riding on specific outcomes.
"Mardy is such a class act," Curry told reporters after the round. "I complimented the way he bounced back to give himself a chance to make a putt on the last hole. It's kind of hard to acknowledge that and also understand that, if I make that putt, like you said, we go to a playoff, and if he makes that putt on the green, he wins.
"It's tough. Like I said, I hated it. In that moment, I felt just embarrassed for like all the other fans because there's so much great love for the 99.9 percent of the other people that come into this environment and are so supportive and bring so much energy, and you got one guy that loses his mind for a second."
A second-place finish for Fish isn't the end of the world, and the athlete really showed his rise in the golf game, but it's certainly a let-down—for Fish, Curry and the fans in attendance—for one rando to have such a say in an event they're not supposed to be a part of. We're pretty sure that Fish will be back next year ready for glory, but we'd be very surprised if that heckler is invited back.