The Loop
March Madness re-primer: Who's left, who's not, and where the hell do we go from here?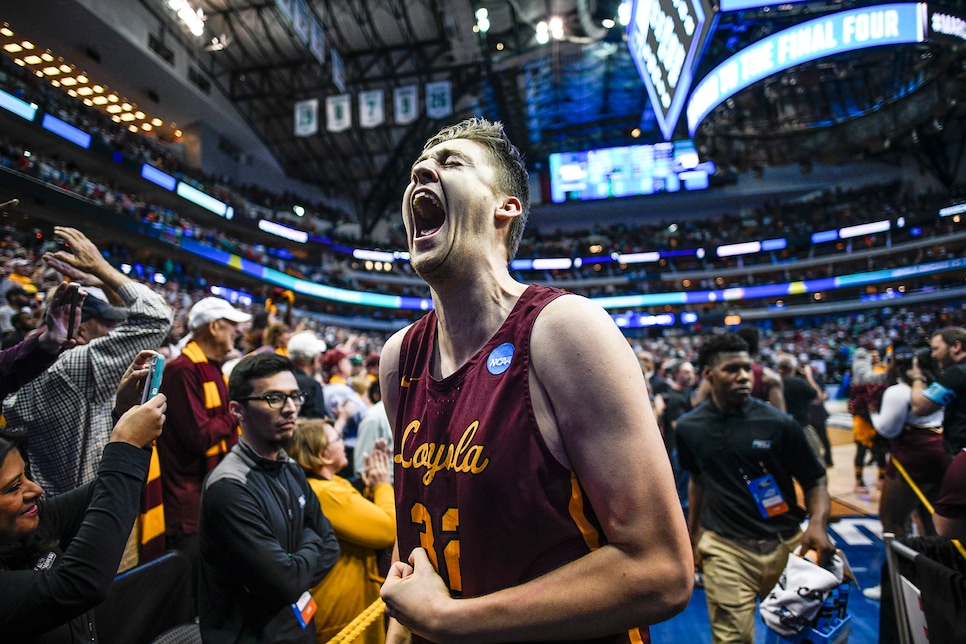 It's been four excruciating days since the most cartoonishly insane opening weekend in March Madness history rattled its way to a close like the Acme-sponsored end of some Wile E. Coyote chase scene. And while it was all pretty unforgettable, the problem is we already kind of forgot. So with the Sweet 16 set to tip-off on Thursday and the age-old battle to remember our own name each and every morning raging on, we figured a quick refresher on what (and who) went down—plus everything that's on the way—wouldn't exactly hurt. So roll up those sleeves if you didn't already tear them off and start prepping that second-chance bracket (a real thing), because the madness has only just begun.
So how's Virginia doing? Gone.
Wow, so the West really opened up for UNC? Well, yes, except they're gone too...
... also Michigan State, Arizona, Cincinnati, and Tennessee.
So what you're saying is I shouldn't check my bracket right now? Probably not, unless degradation and humiliation are big turn-ons for you.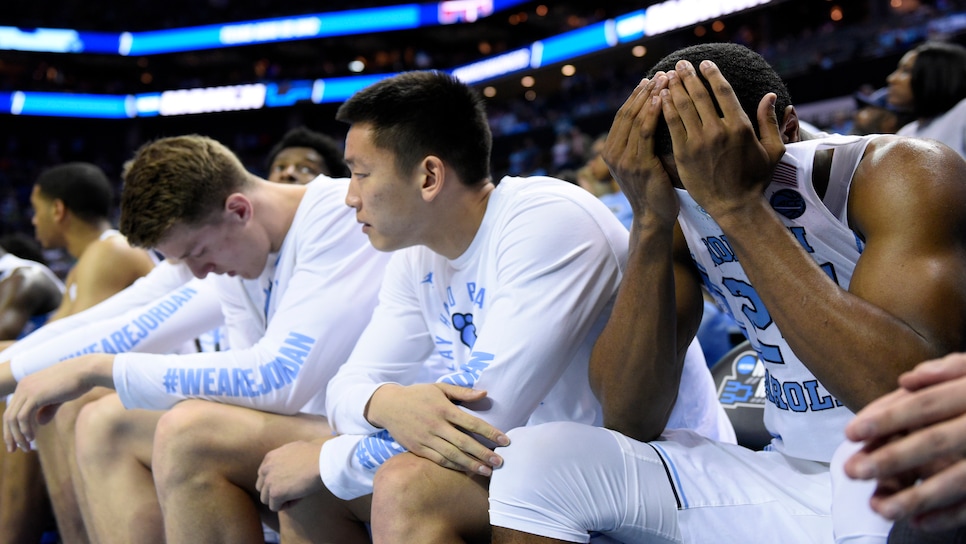 Is there any school left I'd actually know if I saw on a resume? Absolutely. Of the four one seeds, both Villanova and Kansas remain, as does two-seed Duke, three-seed Michigan, a sleeping-giant Kentucky squad, and perennial mid-majors like Gonzaga and Syracuse (don't @ me, Orange Men Persons). Traditional football powers like Clemson, Texas A&M, and Florida State could yet player major roles as well.
What about the dogs? Love me a good dog...GO BIRDS The biggest underdog left is unquestionably Loyola-Chicago, whose 98-year-old superfan/chaplain, Sister Jean, has become the tournament's unofficial mascot so far:
On Thursday the Ramblers will take on psycho-shirtless-coach-team, Nevada, in an unlikely, slushie-friendly 7-11 matchup that is sure to send one dark horse galloping into the Elite Eight. Also keep your eye on 11-seed, Boeheim-led 'Cuse—literally the last team into the field, besting Arizona State in last week's final play-in game—and Texas A&M, who scorched the defending National Champion Tar Heels for 86 on Sunday.
Awesome, just bet my wife's car on Loyola. When can I stream these things at work? Alas, your mission to get fired from the job you really want to quit just so you can collect two measly weeks of severance will have to adapt this week, as the Sweet 16 doesn't tip-off until Thursday evening. Here's how that schedule shakes out:
Loyola-Chicago vs. Nevada - 7:07 p.m. (CBS)
Texas A&M vs. Michigan - 7:27 p.m. (TBS)
Kansas State vs. Kentucky - 9:37 p.m. (CBS)
Florida State vs. Gonzaga - 9:59 p.m. (TBS)
Clemson vs. Kansas - 7:07 p.m. (CBS)
West Virginia vs. Villanova - 7:27 p.m. (TBS)
Syracuse vs. Duke - 9:37 p.m. (CBS)
Texas Tech vs. Purdue - 9:59 p.m. (TBS)
Meanwhile, Elite Eight action gets underway Saturday 2/24 at 6:09 p.m. on TBS.
Calendar cleared. So who's still standing come Sunday night? Funny you should ask, because we have no freaking idea. Just look at our brackets if you think we're holding out on you. That said, if we had to guess (which we kind of do), here's how we see the Final Four taking shape:
Mark our words, at least one of those will probably be right.