Monday Superlatives
Everything about the seven-inning no-hitter is a bummer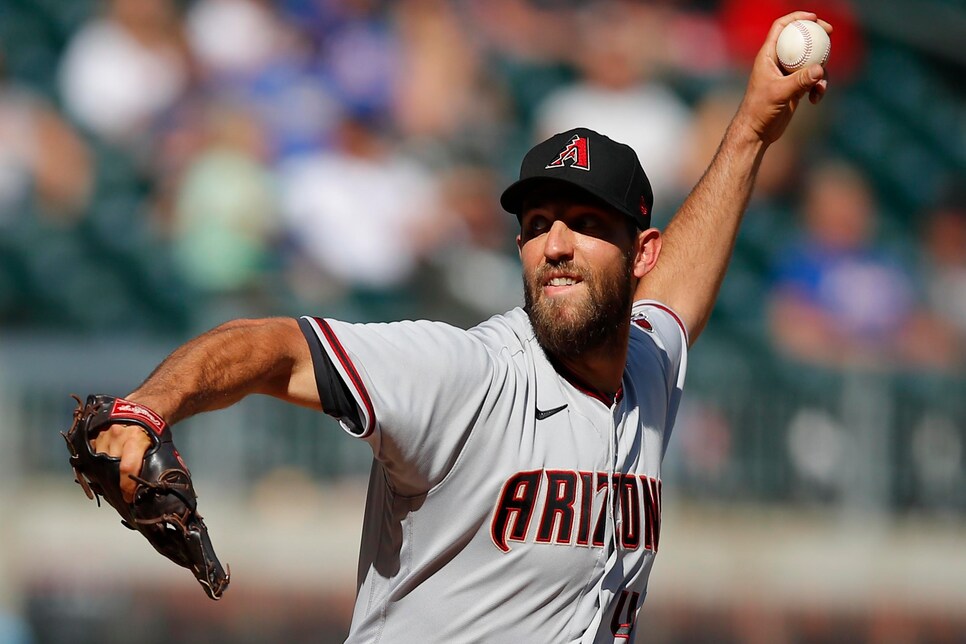 Sunday afternoon, Diamondbacks stud Madison Bumgarner pitched seven hitless innings, which is the maximum amount of hitless innings he could have pitched against the Braves in the second game of their doubleheader. His team had the gall to actually score runs, meaning there were no extra innings, and under the current doubleheader rules, seven innings is the max.
Under normal circumstances, when a pitcher starts and finishes a game while allowing zero hits, we call that a no-hitter. Some outlets are still using that term to describe Bumgarner's effort, but by the letter of the law, they're wrong. Along with shortening the game, MLB decided that any seven-inning no-hitter is actually not a no-hitter, unless it goes into extra innings. (More on this below; it's not quite a settled question.) Fans would probably think a seven-inning no-no was kind of cheap in the first place, and MLB has validated those feelings by essentially saying "we agree, it's not legitimate."
It's hard to argue with that decision, but at the same time, it creates a terrible situation for everyone involved. First and foremost, it sucks for Bumgarner. He handled the whole thing with humor, thanking Rob Manfred for seven-inning games and the shadows in Atlanta for making it difficult for batters to see his pitches, but the truth is, he had a chance to make history . . . or he would have, on any other day. Instead, despite doing everything right and finding himself six outs away from a no-hitter, he's just . . . done. It's not like he can come out in his next start, go two hitless innings, and claim the wraparound no-no. He simply gets robbed, and has to live with it. I mean, look at this pathetic celebration:
So tame, so sad. Apparently MLB and Elias are still discussing whether the seven-inning no-hitter should be official, but the truth is, to do that would devalue the real accomplishment. Plus, it's super hard to get those last six outs, as one Twitter user noted:
Even though I feel bad for Bumgarner, it's also true that a seven-inning no-hitter is BS. Which also means it sucks for fans, for media, for the record books, and for baseball itself. It's a massively unfortunate, massively stupid situation.
Which brings us to the root cause: The seven-inning game. Ban it. Abolish it. Stop trying to save like 45 minutes for no good reason in ways that completely distort statistical evaluations of baseball. Stop penalizing teams who build good bullpens designed for nine-inning games. Stop skewing cumulative stats by arbitrarily giving some players fewer at-bats. You're not improving anything, and you're ushering in these ridiculous Catch-22 situations where a guy like Madison Bumgarner is getting punished for being extremely good, but not punishing him would somehow be worse. Simplify, MLB: the pandemic scheduling of 2020 is over, you're running a "normal" season, and it's time to get back to basics. Nine or nothing.
The Stupid-Fun Basketball Video of the Week: Draymond's Assists
This is part Draymond being an insane passer, and part Charlotte looking totally hapless on defense, but the court vision is on point:
I also loved his quote when he was asked if passers can get into the zone the same way a shooter does:
"Absolutely," Green said. "You definitely can find that zone and feel like you can make any pass. Some of those crazy-ass passes you see me make, it's like a heat check. You see a guy coming down from 35 feet and heat-checking that thing -- I feel like that with my passes sometimes."
"Crazy-Ass Passes: The Draymond Green Story" is a movie I would pay to watch.
The Quiet G.O.A.T Quest of the week: Rafa and the Hunt for 21 Slams
It has somehow gone under the radar that Rafa Nadal is one grand slam away from becoming the only man ever to win 21 big ones, and he's now just a month from playing at the French Open, where he is as close to unstoppable as anyone can be in sports. However—big however—he's being tested mightily so far in the clay court season, and it appears that this could be a particularly hard mountain to climb. Andre Rublev took him down in Monte Carlo, a place where he's won 11 titles, and in the final at Barcelona this past weekend, Stefanos Tsitsipas had match point before Rafa prevailed. Look at the kinds of points they were playing:
And now watch championship point, and see if you think this "minor" tournament means anything to Rafa:
Clearly, this is a guy overjoyed to be back in the winner's circle, and though he famously never takes anything for granted, you wonder if he questioned whether he'd get there again. Nadal is 34 now, and even in this win at Barcelona he hasn't necessarily looked his best. With Federer at least unlikely to ever win another major, you wonder how many chances Rafa has to reach that magical 21 number. Whatever the answer, there's no doubt that next month in Paris represents one of his best hopes, and with Djokovic breathing down his neck, his attempt to seize that chance will be especially dramatic. Can't wait.