The Grind
Lydia Ko's record-setting haul, one of the world's most famous courses gets flooded, and one of the biggest golf sponsors gets embarrassed
Welcome to another edition of The Grind, where we are still reeling from being on the wrong side of one of the most lopsided displays in coaching history. Kudos to Will Fullerton for exploiting a ridiculous decision to override USGA guidelines for a two-man scramble and use an 80-percent handicap format (ridiculous, trust me) instead of the suggested 35/15 formula. Will, a fellow Wake Forest guy so you know he's pretty sharp, then constructed all partnerships of high-low handicaps to maximize the Young Team's advantage for this year's Golf Digest Seitz Cup. And it was an absolute bloodbath.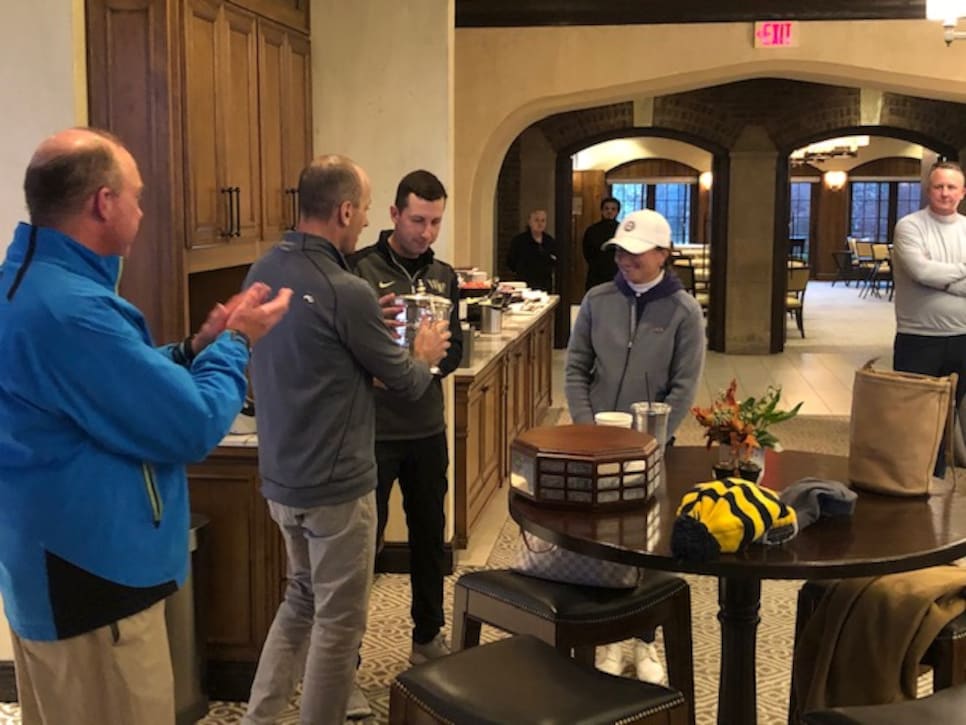 As for the Old Team's captain, we won't mention names. OK, fine, we will. It was Sam Weinman (pictured above handing Will the trophy). Again, this has nothing to do with Sam's leadership or his ability to strategize. He just didn't realize this absurd 80-percent rule was in place and how much it changed things. As a result, he led us old peeps into a slaughterhouse. A freezing cold slaughterhouse, so it was a tough day at an otherwise spectacular Mountain Ridge. And, yes, we take this annual event pretty seriously around here:

Anyway, congrats to the Young Team. Fortunately, the golf being played around the rest of the world was a lot more competitive so let's talk about that instead.
Jon Rahm: In what might be the most quiet three-win campaign ever, the Spaniard finished strong at the DP World Tour finale by holding off a stacked leaderboard (more on that later). And after, he revealed the big chip he's been carrying on his big shoulders. "Hopefully, people can stop telling me that this was a bad year," Rahm said. "Three wins worldwide. Three wins on three different continents. Yeah, there wasn't a major championship, but it was still a really, really good season."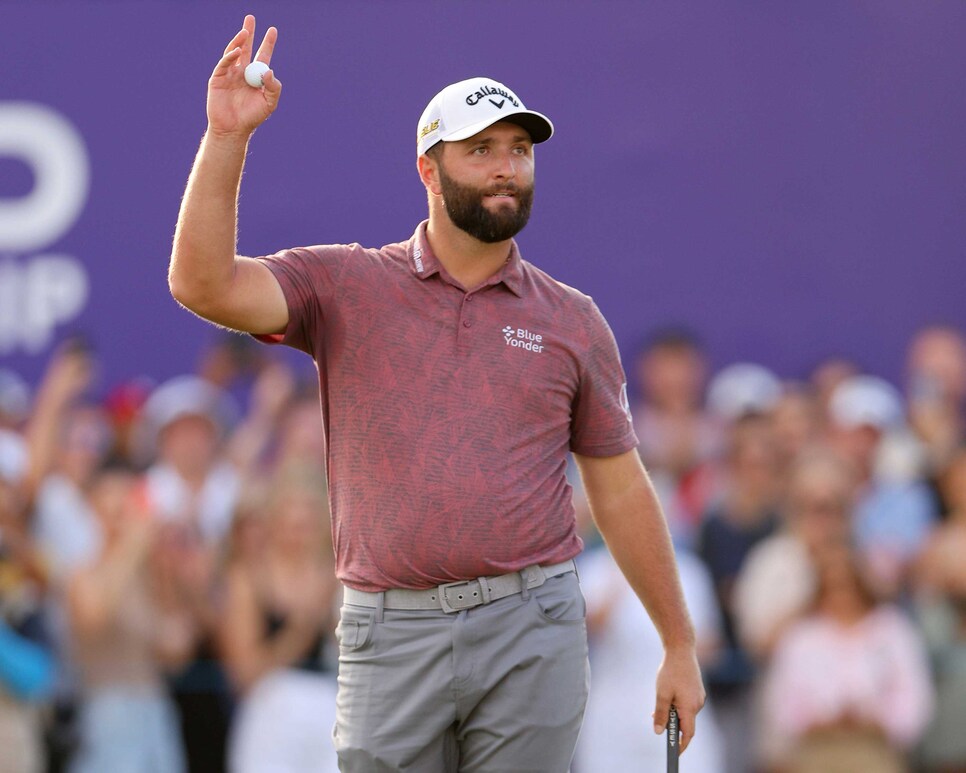 Of course, we'd counter by telling Jon that any criticism this year should be taken as a compliment because we know what he's capable of. And if he keeps on leading the PGA Tour in strokes gained off the tee next season, there's no way he won't win even more while probably picking up at least a second major. Especially after having a second kid. There will be even more perspective—even if there's less sleep.
Lydia Ko: Similar to Rahm, without a major victory, Ko's incredible year was a bit overlooked. But how about this final tally of dominance?
Ko wrapped things up by winning the CME Group Tour Championship to also claim the LPGA's Player of the Year, and the biggest prize in women's golf history. A check for $2 million, plus trophies, Rolexes, you name it. Look at that haul!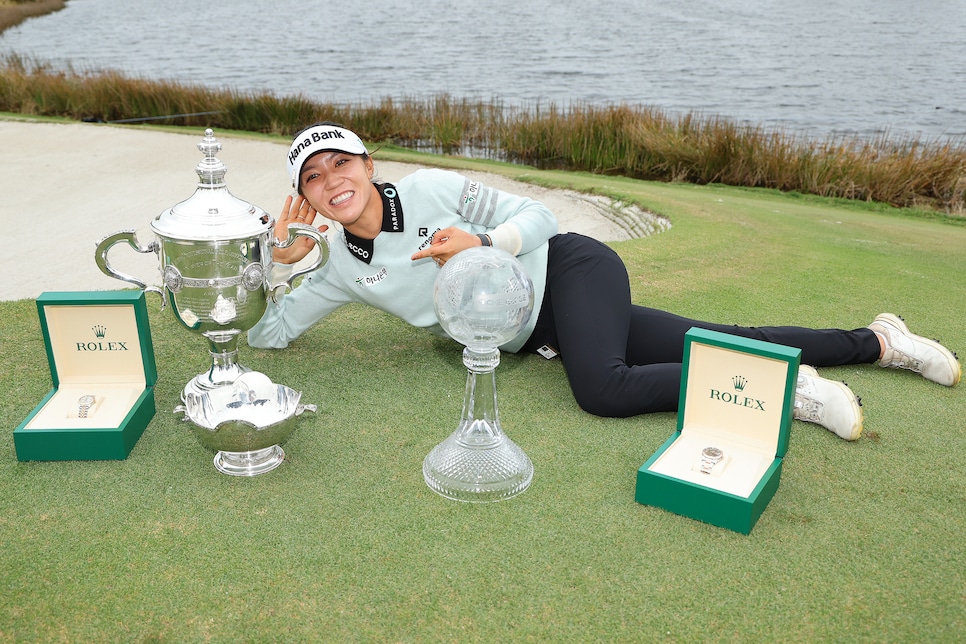 Perhaps more amazingly, she's still only 25 and has 19 wins despite having a five-year span in which she only won once. And she's now just two points shy of qualifying for the LPGA's Hall of Fame.
Hey, it helps to start winning when you're not even legally allowed to drive yet. Now she can drive—and buy—whatever car she wants.
Adam Svensson: Congrats to the Canadian for picking up his first PGA Tour title at the last full-field event of 2022. Svensson shot a final-round 64—making up for an opening 75—at Sea Island to claim the RSM Classic: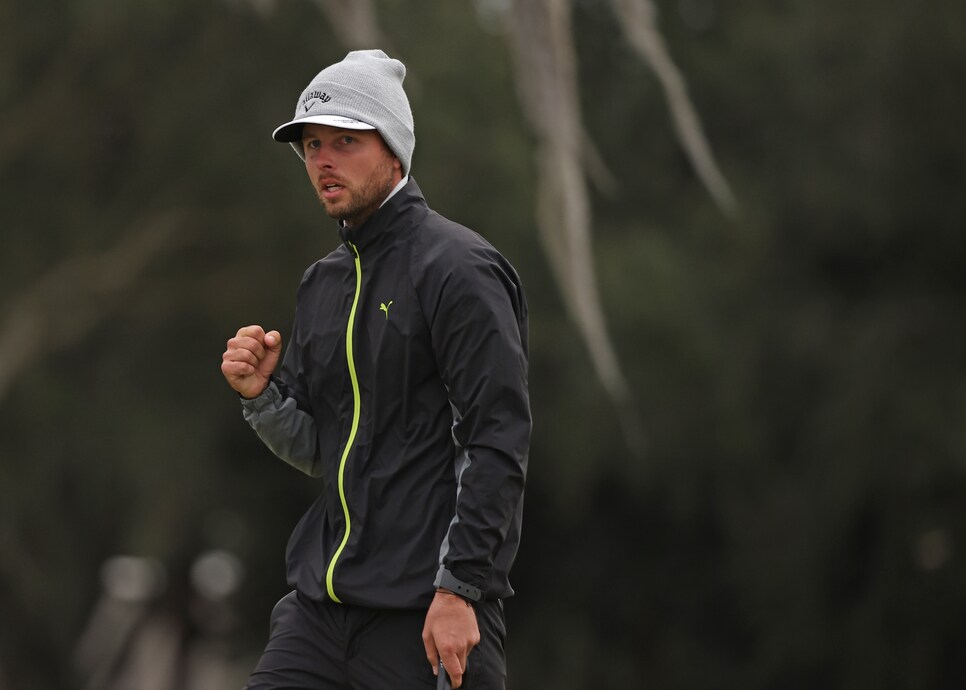 No surprise the chilly weather suited him. But seriously, it's a big win for Canada—especially in the wake of that 0-8 performance at the Presidents Cup. And it's looking more and more like Svensson could join that squad in a couple years.
This Tiger shirt: Well, we would be buying it if we could. We've seen a lot of Tiger-related items through the years up for auction, but this might be the coolest. A Sunday red shirt from the 2010 Masters. And it's signed to boot.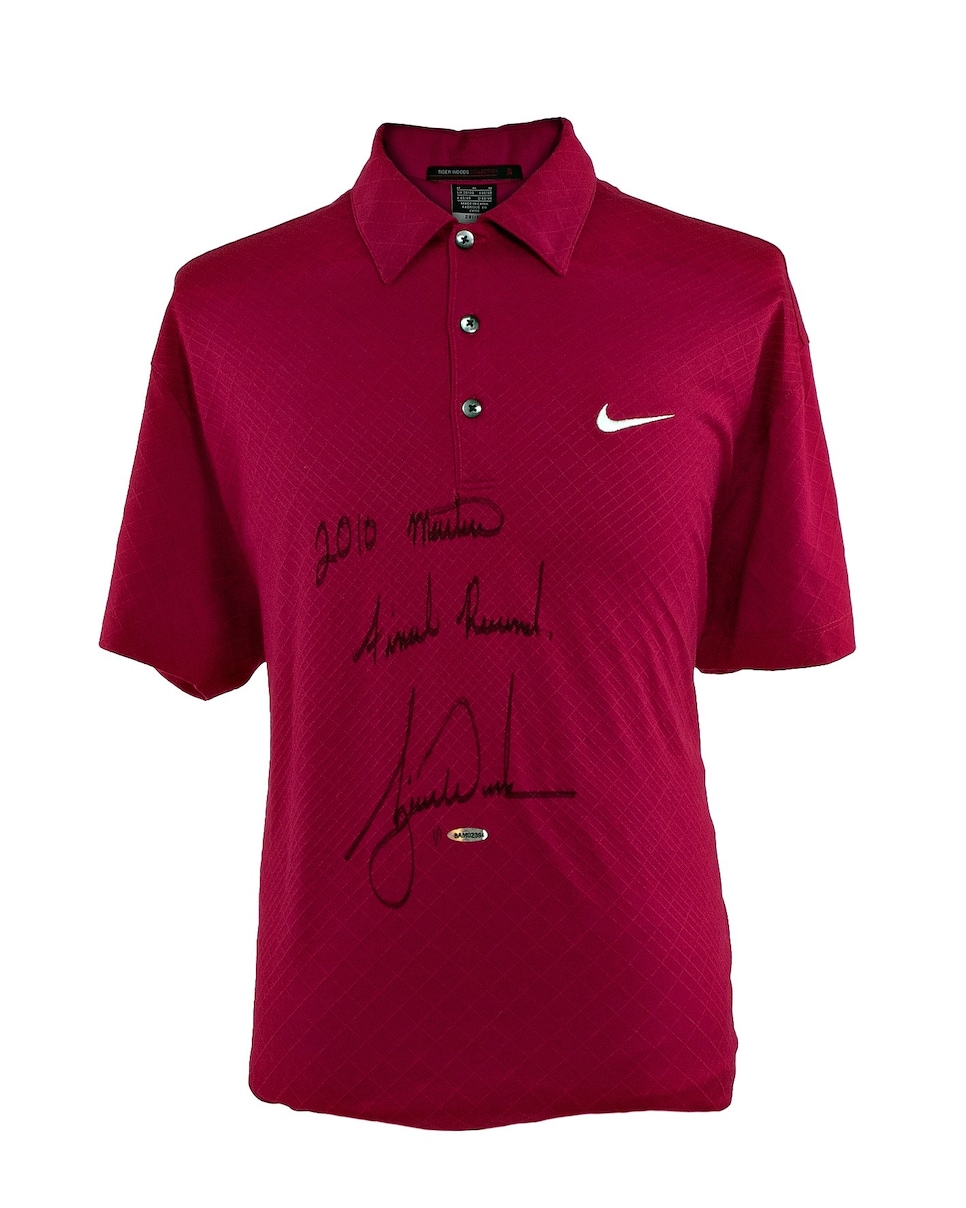 Of course, it'd be even better if it was a Sunday red shirt he wore for one of his five Masters wins, but this is as close as it gets. And I'd ask if anyone wants to go in on this with me, but it's tough to share an autographed shirt.
OWGR points: In general, I agree with the changes to the Official World Golf Ranking this summer that penalized tournaments with stronger fields. However, it created a situation that was almost as unfair as the one Golf Digest's Old Team faced at last week's Seitz Cup. The RSM Classic featured zero top-20 players following Tony Finau's WD, yet the winner received 37 points. In comparison, Jon Rahm received just 21.8 points for beating a bunch of better players (seven in the top 20) in Dubai. Before the tournament even started, Rahm called the situation "laughable." We're not sure what the solution is, but Rahm is right.
Race to Dubai: People knock the FedEx Cup all the time—especially for the weird staggered leaderboard at the Tour Championship—but you can't deny it produces more deserving champions than the DP World Tour. Look, Rory McIlroy has been the world's best player for the totality of 2022, but he wound up winning this race again despite not winning a single event on the DP World Tour. How is that possible?!
(By the way, Rory wound up earning about $45 million this year... decent!) And this after last year, where Collin Morikawa decided to show up for the finale because he was leading the race despite not winning a regular DP World Tour event all year. Like with the OWGR, the numbers need to be fixed.
LPGA-sponsor dinner drama: The CEO and chairman of CME Group, Terry Duffy, had some pretty spicy words for the LPGA after an awkward situation at a pre-tournament event at the Ritz-Carlton's Triburon Golf Club. Apparently, Duffy wanted to highlight some of the best golfers in the world during a speech, but when they panned to the audience, none of the 11 who had RSVP'd were there. Ouch. "It's an embarrassment to a company of my size and an embarrassment to me personally," Duffy told Golfweek's Beth Ann Nichols. And he added, "I am exceptionally disappointed with the leadership of the LPGA. They better get their act together because they're going to lose people like me over stuff like this."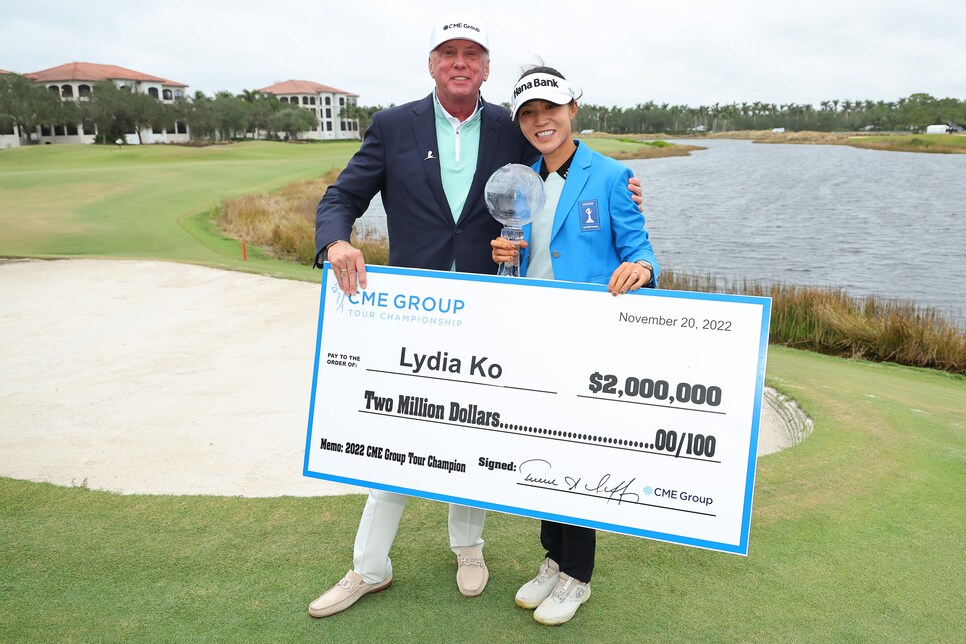 Look, no one likes going to corporate gigs, but it's part of the gig. And people like him are the reason they were handing out $2 million to the winner on Sunday. In fact, that's him actually handing out that check. And when you're a tour fighting for more recognition/exposure/prize money, you should go even more out of your way in this area. Of course, LPGA commissioner Molly Marcoux Samaan deserves most of the blame. Just like Sam for us old guys getting trounced at the Seitz Cup. That's just how it goes when you're in charge.
The PGA Tour heads to . . . Hey now, what's this?! A week off?! Same for the LPGA. And the DP World Tour. And the PGA Tour Champions. And, well, I'm sure there's golf being played somewhere, but maybe let's just take the week off from watching golf, folks. You deserve it—especially after all that's happened this year.
Random tournament fact: This Thanksgiving weekend marks the 13th anniversary of, well, Tigergate. Or, really, Tigerhydrant. Anyway, I figured I'd mention it with such an unlucky anniversary number in order to help jinx something similar from happening this year. But I probably just reversed jinxed it and now an even bigger golf scandal will come to light. Kidding. That would be impossible.
RANDOM PROP BETS OF THE WEEK
—We will use that 80-percent handicap rule at next year's Seitz Cup: 1 MILLION-to-1 odds
—Sam Weinman will still be the Old Team captain next year: 10-to-1 odds
—We will still play way too late in the season and it will still be freezing: LOCK
Tyrrell Hatton seems to have a problem with every golf course, but swimming pools—especially when he's got a drink in his hand—are a different story:
I had forgotten about the ripped shirt! Rory should put that up for auction!
VIRAL VIDEO(S) OF THE WEEK (MOTHER NATURE EDITION)
We start with a crazy ice storm wreaking havoc on a driving range in Fargo:
Although, maybe it's not so crazy considering it's Fargo. And how about what happened at Carnoustie? In case you missed it, the Open Championship venue was underwater after heavy rains:
We'd make a Jean van de Velde joke, but that's scary stuff. Our seaside golf courses—and our planet in general—might be screwed.
VIRAL VIDEO(S) OF THE WEEK (PET EDITION)
OK, here's a pick-me-up after all that destruction:
THIS WEEK IN PUBLIC DISPLAYS OF AFFECTION(?)
Lydia Ko's mom keeps telling her she was better when she was 15:
Moms can be tough! (But she might have a point!)
"I've been playing with fear since forever, since I got my tour card really. I'm scared to death of having a job." —Joel Dahmen. And Joel said that after he got to be a guest editor for Golf Digest's latest issue when he worked on a specific project with . . . you guessed it, Sam Weinman. Coincidence? (Actually, check that story and video out because they're really good.)
Wales soccer star Gareth Bale got around his country's World Cup golf ban by reportedly having a simulator installed in his Qatar hotel room. And now I'm rooting for Wales to win the World Cup. … Steve Williams is coming out of retirement (again) to caddie for Adam Scott. Also, shocking, I know. … And, finally, whoever is stocking our office floor's kitchen area decided to separate the Famous Amos cookies from the rest of the snacks: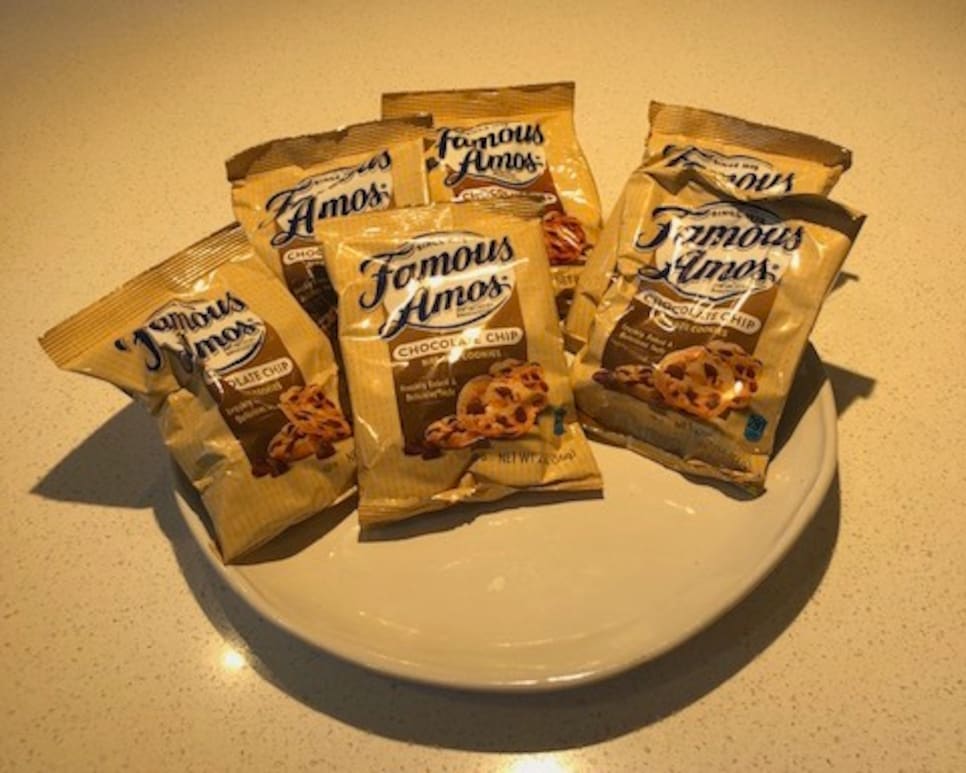 Well done. Always good to see an ELITE snack get the proper respect it deserves.
RANDOM QUESTIONS TO PONDER
How much is Patrick Reed paying wasting in legal fees?
How much will Tiger's 2010 Masters shirt go for at auction?
How many Famous Amos cookies have I eaten in my life?