News
Luke List putting with wedge after bending his putter during match against Justin Thomas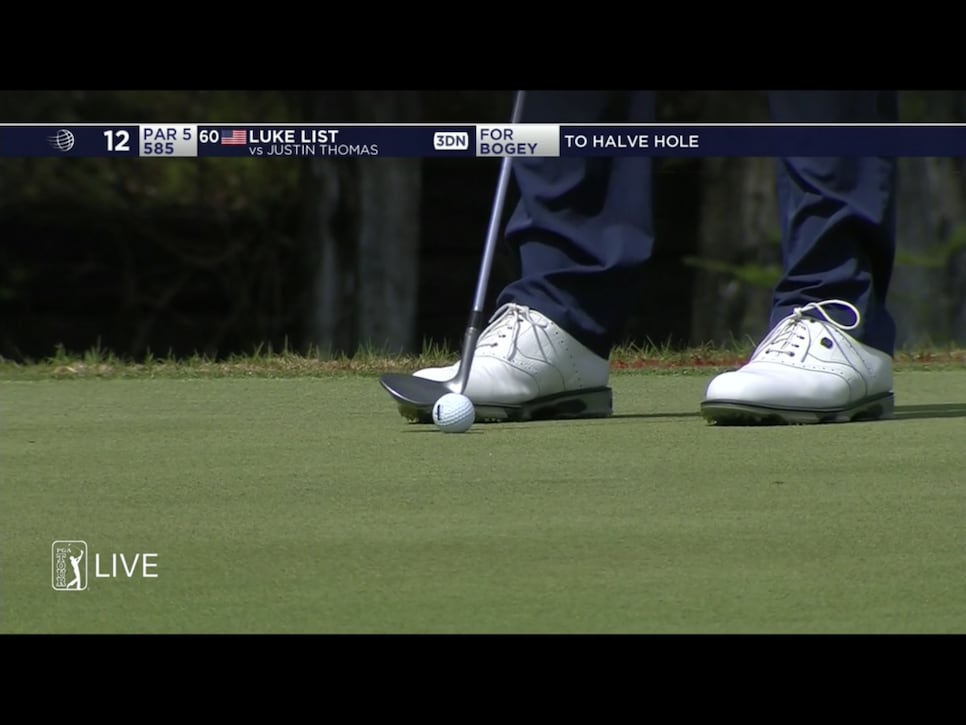 Luke List knows better than anyone how difficult a task it is to take down Justin Thomas, having lost to him in a playoff last month at the Honda Classic. Not to mention that the playoff was forced by Thomas making a birdie at the 72nd hole after nearly jarring his third shot for eagle to win the tournament outright. In other words, there was no way the reigning PGA champion was losing on Sunday at PGA National.
This week at the WGC-Dell Technologies Match Play, List was awarded a shot at revenge when he was grouped with Thomas, who he's facing on Wednesday morning at Austin Country Club. After trading wins on the first two holes, things went backwards for List, with Thomas grabbing a 3-up lead through seven holes. As if coming back from that deficit wouldn't be enough of a challenge, List bent his putter and now has to use a wedge on the greens for the remainder of the match. It's not clear how List bent his flat stick, but it seemed to have happened before the seventh green, where he began putting with a wedge.
Since that time, List has managed to keep the match at all square, halving four straight holes, and he might have won the ninth had Thomas not pulled off this ridiculous recovery shot. Have to imagine List isn't at too big of a disadvantage though, considering he ranks outside the top-100 in strokes gained/putting, total putting and putts per green in regulation this season. We'll keep you updated if video surfaces and if List is able to make this match interesting without the use of his putter.
UPDATE: After nearly driving the green at the short par-4 13th, List easily got up-and-down for birdie with his wedge to cut Thomas' lead to 2-up, but he gave it right back by making bogey at the par-4 14th. Then, at the 15th, List bellied a wedge for birdie to get it back to 2-up. Check it out:
Since losing his putter, List has played the match all square, having made two birdies along the way. Impressive stuff, but at 2-down with three to play, he's going to need some more wedge heroics just to halve this match with Thomas.
UPDATE: We may be witnessing one of the great moments in match play history at Austin CC. List is now just 1-down after making another birdie at the 16th!
Unbelievable. With two holes to play, List still has a chance to win the match, rather than just halve. If he does, he has to use the wedge again on Thursday, right? Okay, let's not get too crazy.
UPDATE: Valiant effort from List, taking the match all the way to the 18th green, but his final birdie effort slides by and Thomas wins the match 2-up.
After the round, List provided an explanation for how his putter got bent:
"I was walking off the 6th tee, and I was a little unhappy about the way I was feeling, a little under the weather. And I thought it was like a brush area and I just kind of swiped my putter, and it turned out to be a wall. It bent like a fraction of an inch. So unfortunately I couldn't use it the rest of the way. Stupid on my part."