Waiting game
Luke Donald is ready and willing to be the next European Ryder Cup captain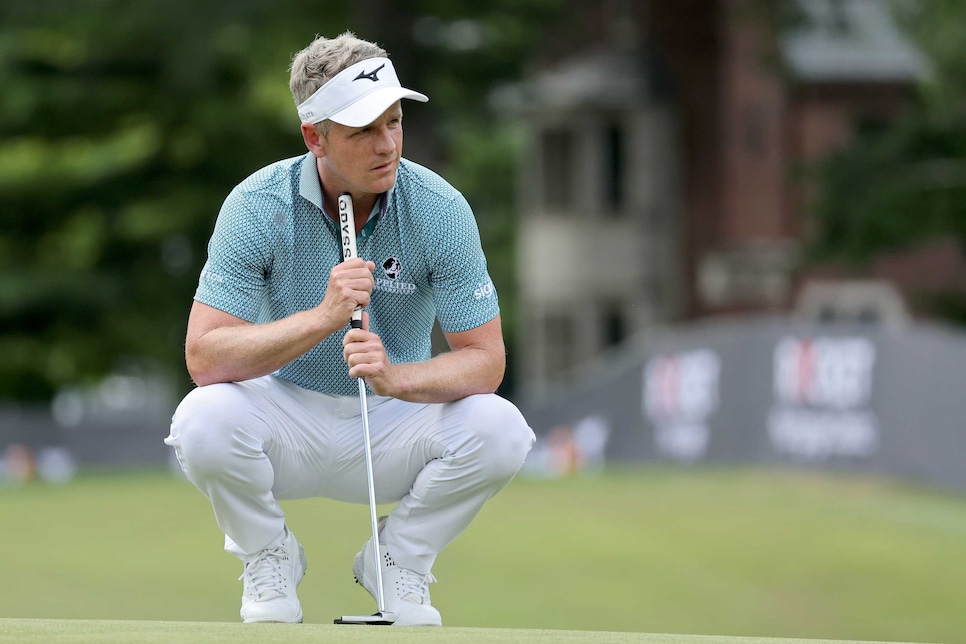 Luke Donald lines up a putt on the eighth green during Friday's second round at the Rocket Mortgage Classic.
Gregory Shamus
DETROIT — After closing the Rocket Mortgage Classic Sunday morning with a six-under-par 66, his lowest final round of 2022 and tying his lowest round since the Butterfield Bermuda Championship in October, Luke Donald was heading home to Florida and then on to the Wyndham Championship, the final regular season event on the PGA Tour.
"Still nothing official," Donald said with a grin that was more sheepish than sly. "I think we should be hearing something soon."
Donald, who twice has served as a vice-captain and played on four winning Ryder Cup teams, is expected to get the nod over Thomas Bjorn, who led Europe to victory in 2018 in Paris, and Paul Lawrie.
Whether or not he is selected to be Europe's captain won't change Donald's plans appreciably in the near term. He hopes to play well enough at the Wyndham Championship to qualify for the FedEx Cup Playoffs. With his strong finish at Detroit Golf Club, Donald finished at eight-under 280 and was projected to move up to 160th on the points list.
Regardless of his performance in Greensboro, N.C., he'll head to Europe in late August and play perhaps four events on the DP World Tour, "so that I can fulfill that obligation," he said.
"But I would probably stay over and play a few more in Europe if I should happen to be gifted the captaincy," the 44-year-old Englishman added. "Yeah, I would want to keep an eye on some of the players. Obviously, plenty of them play over here, too. But I would definitely be making more trips overseas."
No determination has been made whether European players who have become affiliated with LIV Golf will be eligible for the 2023 Ryder Cup. The fact that Stenson was stripped of his captaincy after he agreed to compete in this week's event at Trump Bedminster in New Jersey provides some indication, however.
Donald said he wasn't going to worry about the unknowns. "Obviously, there are some decisions to be made, and I'm sure we'll have discussions about it," Donald said, perhaps alluding to the fact that he'll likely have some role in the upcoming Ryder Cup. "There are some legal issues going on, and it's not clear yet what's going to happen, so, yes, we'll have to wait and see how it pans out."
The former World No. 1 was certain of one thing, however, and that is the strength of the Ryder Cup as one of the most popular sporting events in the world would not be diminished.
"It's a huge event in sports, and it's probably the only event in golf that brings in outsiders that don't really watch that many golf events," Donald said. "No matter who's there, we're going to have 24 great players from Europe and the United States. It's going to be a great spectacle. Plus, Rome is a special place to have a Ryder Cup. Whatever is going on in golf, it's not going to take away from what is such a great team competition."