Ryder Cup
Luke Donald set to be named 2023 European Ryder Cup captain, replacing Henrik Stenson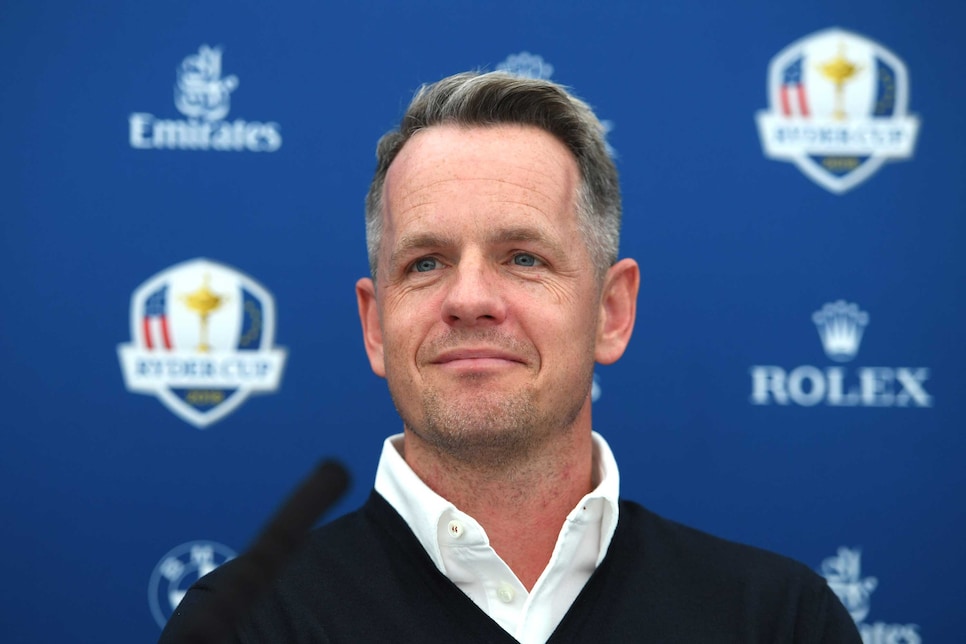 Luke Donald speaks at a press conference after he is announced as a Vice Captain for Thomas Bjorn at the 2018 Ryder Cup.
Ross Kinnaird
Ryder Cup Europe appears to have its man. Again.
According to reports in multiple British newspapers, subsequently confirmed by a Golf Digest source with intimate knowledge of the issue, Luke Donald is expected to be named the captain of the 2023 European Ryder Cup team that will compete in Italy. His appointment comes following the removal of LIV Golf-bound Henrik Stenson from the role last week. An official announcement is expected to be made on Monday, according to a second source. Donald would be the first Englishman since Nick Faldo in 2008 to assume the non-playing position.
All of which comes as no real surprise. When Stenson was given the job in March, Donald was widely held to be a close-run second choice for the post to oversee the squad playing at home at Marco Simone Golf Club outside Rome. Indeed, the 44-year-old, four times a winning Ryder Cup player and an assistant captain to Thomas Bjorn in 2018, was known to be unhappy at missing out despite saying nothing untoward publicly.
Approached after his first round at the PGA Tour's Rocket Mortgage Classic in Detroit, Donald said that he has yet to be told whether he's gotten the job or not. "If I don't get it this time, then hopefully in 2025 in New York," Donald said. "I would say that if I am selected I would fulfill my obligations."
This time round, if anyone is going to be equally frustrated, it would appear to be former Open champion Paul Lawrie. Just last week the Scot publicly expressed his annoyance at the prospect of Bjorn getting the captaincy for a second time, going as far as saying the Dane's appointment would be nothing more than "a joke."
"My situation has not changed, I assume they just go back to the way they did it before, with the five guys voting on the other three people who were up for the job initially," Lawrie said. "I'm led to believe that might not be the case. And if it's not the case then it's a joke, to be honest. You hear Thomas' name being bandied about now. I don't see how that can be the case. He's voting. How can you get the job when you are voting? Now that Henrik is out of the picture, surely the same five people vote for the three who were up for the job in the first place [Swede Robert Karlsson was also in the frame]. You can't change the rules. The process is the process. Let's see. It'll be fun and games if it's not, I'm telling you."
As Lawrie intimated, Bjorn is one of the five men—alongside fellow former captains Padraig Harrington and Darren Clarke, DP World Tour chief executive Keith Pelley and David Howell, chairman of the tour's tournament committee—charged with selecting the man who will lead the Old World team in Italy 14 months from now.
As things turned out, however, the point was moot. A source close to the process confirms that Bjorn did not put himself forward for the post he filled so successfully at Le Golf National in France four years ago. Had Stenson's departure been confirmed closer to September 2023, a stronger case could have been made for Bjorn, the ultimate safe pair of hands, taking over in what would have been seen as an emergency situation. But with time hardly a factor and the qualifying period yet to begin, the five-strong committee clearly felt that due process should be followed and respected.
So, in the end, it became a straight choice between Donald and Lawrie.