The Grind
Ludvig Aberg makes history, Team USA riles up the British press, and the worst break (literally) in golf history
Welcome to another edition of The Grind, where we have never shown so much guts in writing this weekly column. As if coming back from Labor Day Monday wasn't enough to overcome, I had to battle the emotional grind that is sending my first kid off to her first day of (gulp) Kindergarten: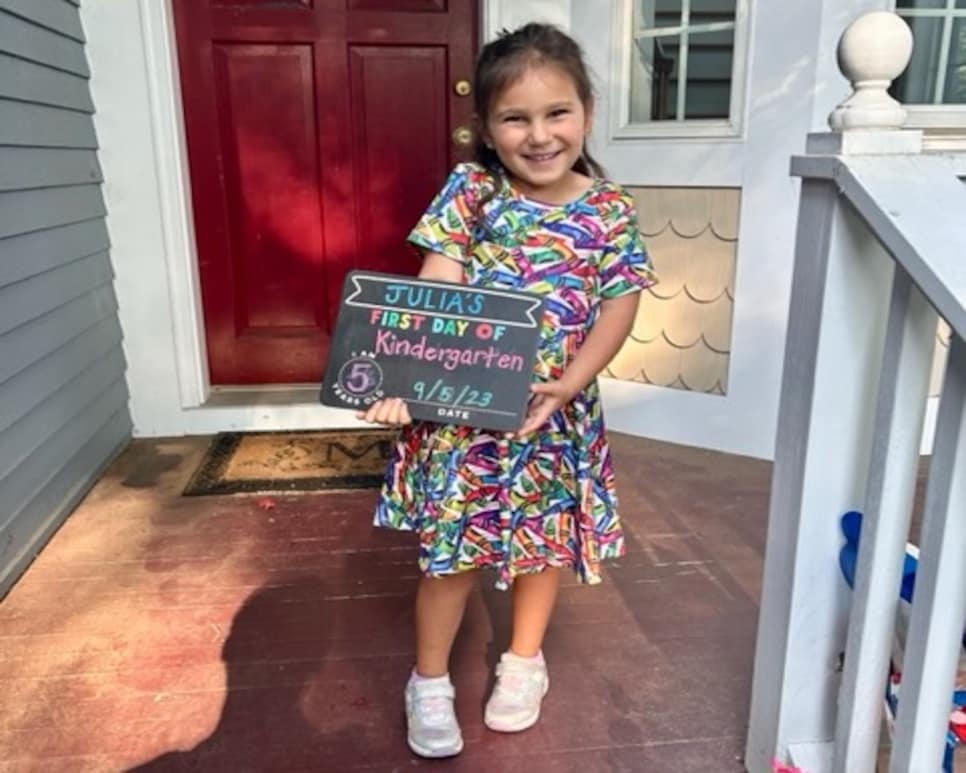 I'm in a glass case of emotion right now! And yet, I'm pressing on. Talk about grit. Anyway, let's get to it before it gets a bit, um, dusty in here again.
Ludvig Aberg: This young man will be headed off to his first Ryder Cup soon despite the fact that he just turned pro three months ago after "graduating" from the PGA Tour University program. THEY GROW UP SO FAST, don't they?! Aberg's stunning Ryder Cup rise culminated with his first victory at the Omega European Masters, prompting an obvious captain's choice from European captain Luke Donald: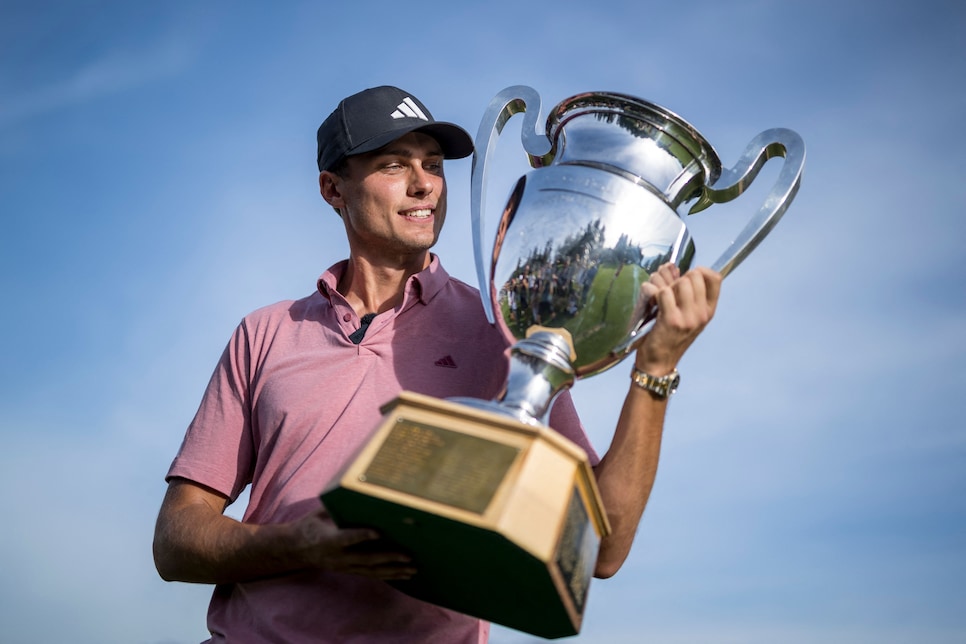 The former Texas Tech star is a generational driver of the golf ball, but there's a lot more to his game as evidenced by birdieing four of his final five holes to close out the win in Switzerland. And now he's made history before ever taking a single swing at a Ryder Cup by becoming the first player to get into the biennial event before playing in a major championship:
Incredible. Between Ludvig and Viktor, Chipotle-loving Scandinavians are taking over professional golf.
Team USA/Gordon Sargent: It wasn't a breeze, but one of the most loaded Walker Cup teams ever got the job done in the 49th edition of the biennial event. The Americans arrived at St. Andrews with eight of the top 10 players in the World Amateur Golf Ranking, but trailed by three points after Day 1. A resounding final day, however, gave captain Mike McCoy and his crew the victory: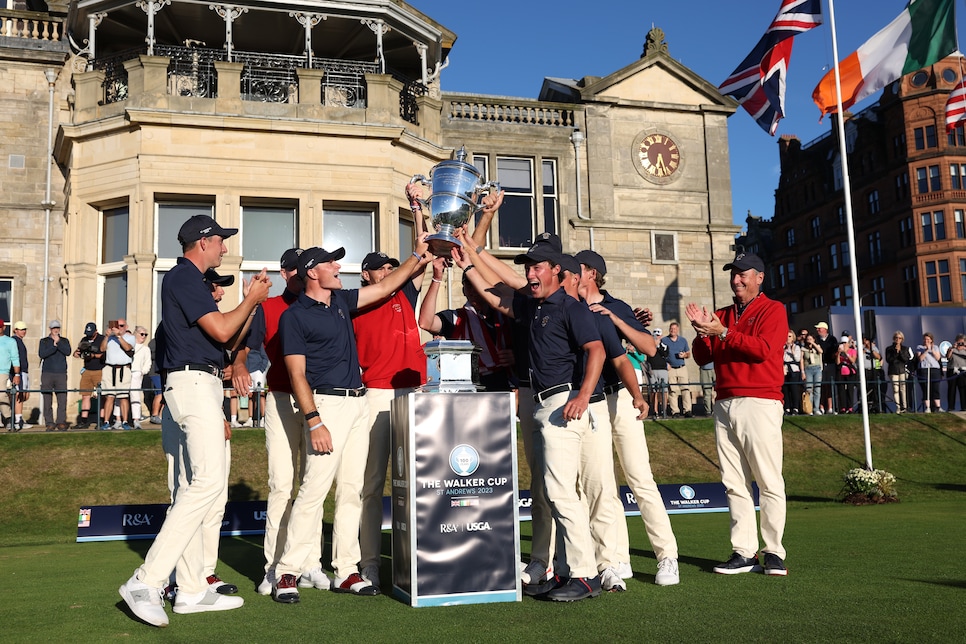 And while it was such a stacked team, it's hard not to single out the efforts of World (Amateur) No. 1, Gordon Sargent, who went 4-0 in the matches and routinely did stuff like this:
What a stud. Is it too late for Zach Johnson to switch one of his captain's picks?
Chanettee Wannasaen: The underdogs couldn't pull it off in the Walker Cup, but we got one of the great underdog stories of the year in golf on the LPGA. The 19-year-old Thai golfer had missed nine consecutive cuts on the top tour and had to Monday qualify into the Portland Classic. But she shot 26 under, including a final-round 63 to capture her maiden victory and become just the third Monday qualifier to win in LPGA history.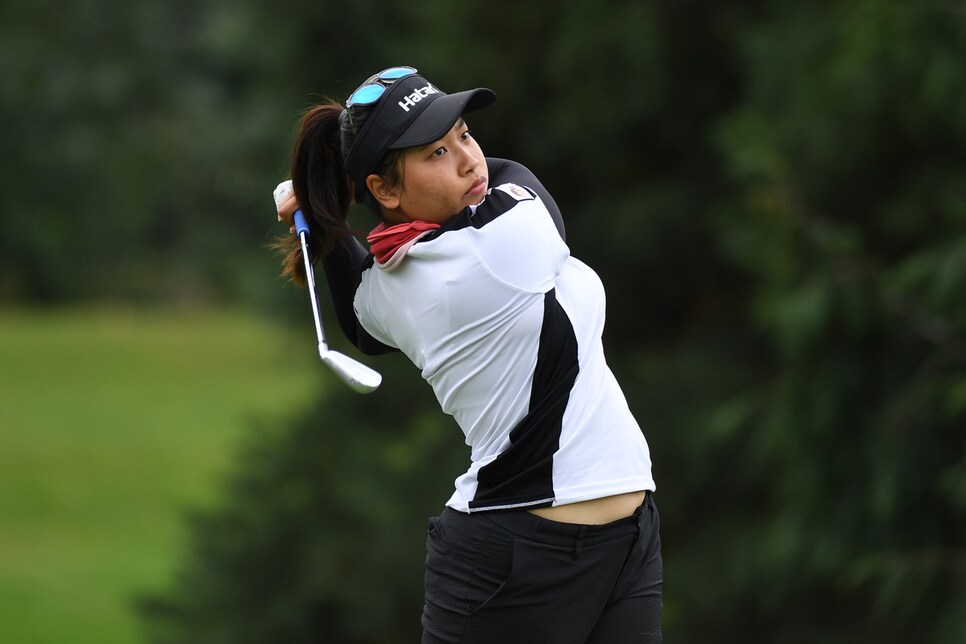 Her parents must be so proud. After all, it wasn't long ago when they were probably loading her onto a school bus for the first time . . . and, hang on, I think someone started cutting an onion in here!
Adrien Meronk getting snubbed: I don't have the right answer to who Meronk should have made the Euro Ryder Cup team over, but like Keegan Bradley last week, my heart goes out to this guy. He seemed like a total lock to make history himself as the first Polish player in the Ryder Cup after winning a third DP World Tour title within a year at the Italian Open in May.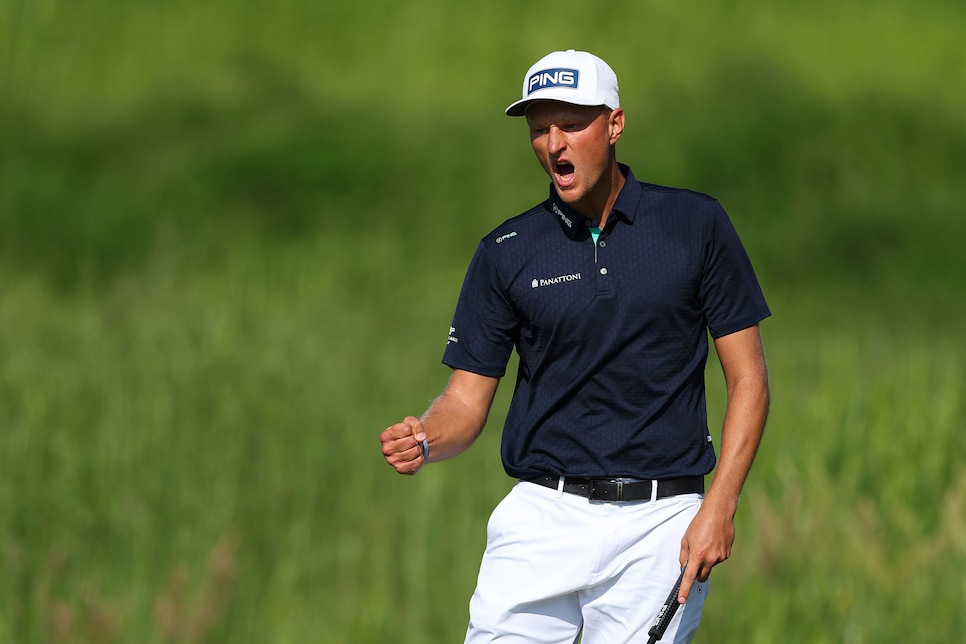 Even crazier is the fact that event is held at Marco Simone Golf & Country Club, the freaking Ryder Cup venue! And yet somehow he won't be one of the 12 Europeans heading back to Rome. That's rough. Let's see how he's handling things.
Translation (in Jim Carrey's voice from "Dumb and Dumber"): I'm. So. Happy. For. You.
Walker Cup hat "controversy": And you thought the whole hoodie controversy was dumb. Well, it was, but this was something else. Apparently members of the British press covering the Walker Cup were determined to twist the "W" hats worn by Team USA during a practice round into something it wasn't.
Keep in mind the Americans have been wearing a version of this hat for a decade and that they stand for WALKER to honor former USGA President George Herbert Walker for whom the event is named. And that they first broke them out when his great grandson, President George Herbert WALKER Bush attended the matches in 2013. That's all the "W" meant, people. And after it was over, the press found something else to unfairly make a big deal about:
Imagine a bunch of mostly college kids being excited about winning a huge team event? Good grief. Now I kinda wish the guys had worn those "W" hats to the WINNING press conference when it was over.
Having your driver snapped: During a tournament. As my colleague Chris Powers would say, THIS IS IT, this is the unluckiest break in golf history. And it's a literal one at that. The stunning situation occurred while Anne Van Dam was getting a ride back to the 18th tee for a playoff at a Ladies European Tour event, the KPMG Women's Irish Open. And if her driver snapping in two after getting caught on a gallery rope wasn't caught on camera, we wouldn't have believed it:
That's rough. And it gets even rougher! Van Dam could have put a replacement driver in play, but that was already her replacement:
Despite two brilliant shots on the first extra hole, the 27-year-old Dutch golfer lost to Smilla Tarning Soenderby (Congrats to her, by the way!), who made eagle to claim her first career victory. Wild stuff. The lesson here? Watch out for those gallery ropes. As Anne's driver—and Bryson DeChambeau's face last year—found out, they'll get you.
The PGA Tour is off again, but the DP World Tour rolls on with the Irish Open, featuring Rory McIlroy. And for a second consecutive week the LPGA Tour gets the spotlight, this time with the Kroger Queen City Championship, AKA that one that's played in Cincinnati. I add that clarification because—and no offense to Cincy native and co-worker Joel Beall—I always thought that Charlotte was the QUEEN CITY. In any event, my little queen is now a Kindergartener. And why is this box of tissues so small?! I swear this isn't regulation size.
Random tournament fact: Ally Ewing won last year's inaugural event at Kenwood Country Club. OK, so that's not much of a random tournament fact but more like the only tournament fact.
RANDOM PROP BETS OF THE WEEK
—This will be Ludvig Aberg's only Ryder Cup appearance: 1 MILLION-to-1 odds
—There will be a Viktor-Ludvig pairing at the Ryder Cup: Even odds
—Neither will get as emotional as I am today: LOCK
PHOTO/TWEET/INSTAGRAM OF THE WEEK
Poor Keegan just pouring his heart out. And on top of that, I think he just had a first Kindergarten dropoff as well. Dude must have been openly weeping. But seriously, I hope there aren't actual dirty clothes in there from 2012. That would be insane.
CLUB PRO GUY TWEET OF THE WEEK
VIRAL VIDEO OF THE WEEK (WOO! DIVISION)
Former "Big Break" contestant and tour pro Brent Long made a hole-in-one that propelled him to a club championship, but members seemed even more excited about the cart girl's perfect timing:
VIRAL VIDEO OF THE WEEK (PHEW! DIVISION)
A toddler went for a joyride in a golf cart and gave one mom the scare of her life before being tracked down:
Remind me not to show this to my daughters. I don't want them getting any ideas.
THIS WEEK IN PUBLIC DISPLAYS OF AFFECTION
Here's Collin Morikawa playing the role of dutiful husband by helping his wife buy a bunch of . . . yarn: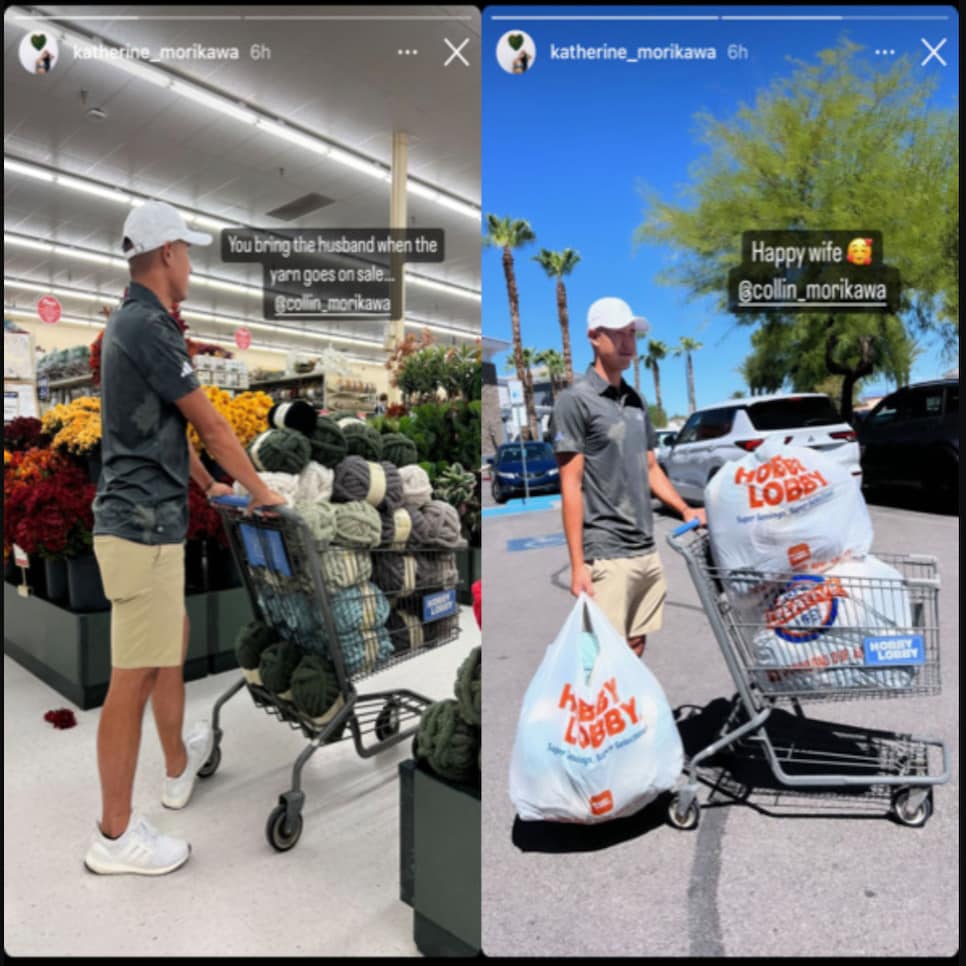 Don't worry, Collin. The off-season is almost over.
THIS WEEK IN PUBLIC DISPLAYS OF AFFECTION AWESOMENESS
Here's former PGA Tour pro-turned PGA Tour caddie Willie Wilcox flushing a fantastic-looking recovery shot:
Still got it, Willy. Still got it.
THIS WEEK IN PUBLIC DISPLAYS OF AFFECTION INJURIES
Yikes. That looks like it hurts. A LOT.
"I think he can go to the very, very top. Everything about his game is absolutely amazing. If he keeps working hard, I can see his career going only one way." —Alan Tulleth, a St. Andrews caddie on Gordon Sargent after looping for him at the Walker Cup. We're guessing Alan would relocate to accompany Gordon on that one-way journey.
Gary Woodland announced he's undergoing surgery to remove a lesion on his brain later this month. We wish all the best to the popular 2019 U.S. Open champ. . . . Speaking of popular, these new social media analytics prove that Rickie Fowler still has his fastball:
Rickie can turn any event into the fifth major. That's just amazing. . . . Shadow Creek is raising its notoriously high green free from $1,000 to $1,250. That's just disgusting. . . . The former PGA Tour Byron Nelson event is being renamed the CJ Cup. Is nothing sacred anymore?! . . . I'm happy to announce my handicap is the lowest it's been in a decade. So happy in fact that I decided to "write" a song about it:
Apologies to Taylor Swift, but I'm feeling 22 4.2. . . . And, finally, in related news, I had a great time being part of The Loop's sitdown interview with Jon Rahm—and getting to show him my green jacket for winning the 2023 HGGA Championship up close: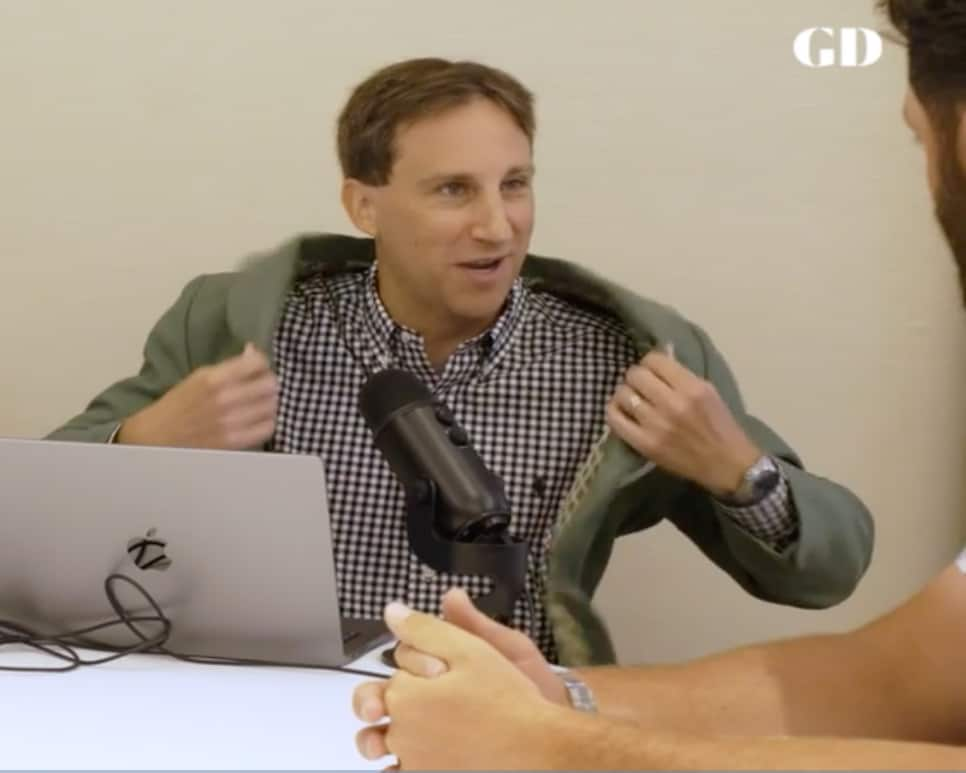 I don't think he was too impressed.
RANDOM QUESTIONS TO PONDER
How many Ryder Cups will Gordon Sargent play in?
How much is Rickie going to get paid in PIP money?
How long until the school bus comes back?