News
UPDATED: Two LPGA Tour pros withdraw after caddies test positive for COVID-19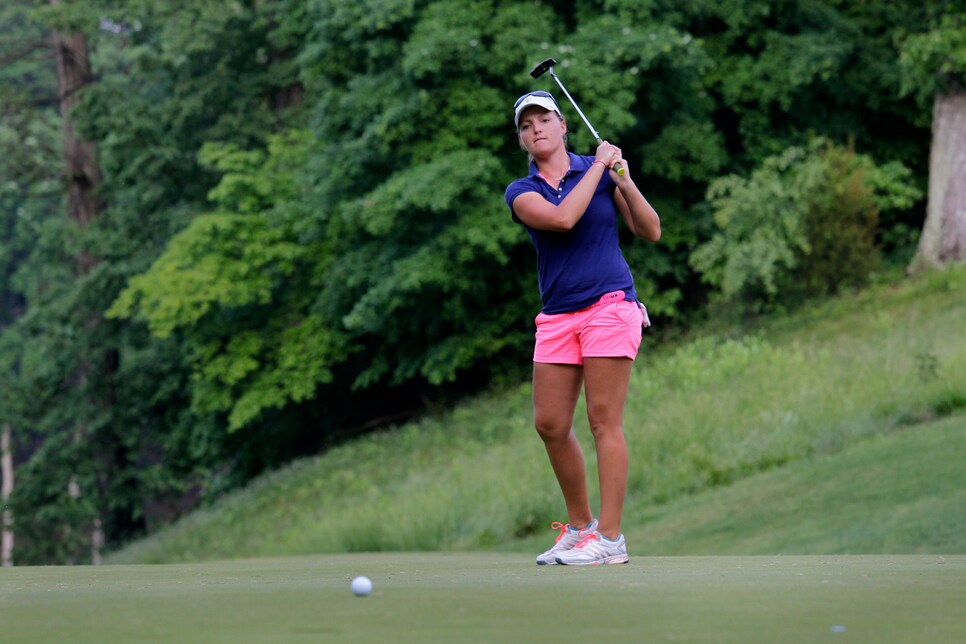 Perrine Delacour hits a shot during final round of 2015 Kingsmill Championship.
Hunter Martin
With the LPGA's second tournament week since the restart comes the tour's second week of on-site COVID-19 testing. And one caddie has tested positive for COVID-19 ahead of the Marathon LPGA Classic
The caddie, unnamed by the LPGA Tour in its statement, carries for Perrine Delacour. Because her caddie tested postitive, Delacour has withdrawn from the event and will begin quarantining.
"After learning that my caddie tested positive today despite not having any symptoms, I have withdrawn from this week's event in order to self-isolate following CDC and LPGA guidelines," the 26-year-old Frenchwoman said. "I feel perfectly normal and I wanted to do the right thing. I am looking forward to be back competing as soon as it is safe to do so."
A similar situation arose on the PGA Tour at the Travelers Championship in Connecticut when Brooks Koepka's caddie tested positive, resulting in both Koepka and his brother, Chase, who had Monday qualified, to withdraw from the event.
In the LPGA Tour's first event back last week, the Drive On Championship, two players tested positive: Marina Alex before she traveled to the event and Gaby Lopez while on-site at Inverness. Alex has shared on Instagram that she has since tested negative for COVID-19.
The day following Delacour's withdrawl, the LPGA Tour announced another caddie tested positive for COVID-19, putting his player, Allie White, in the same position as Delacour.
"Of course, I would love to be playing this week but mostly I am just hoping my caddie gets back to COVID-19 negative as soon as possible," said White. "Although he and I spent limited time together, I needed to withdraw so that the LPGA could take the precautions required during these difficult times. In the grand scheme withdrawing is a small thing in a year like this. I hope people will do their best to meet the everchanging 2020 with flexibility, understanding and kindness."