La La Land
Trading for Russell Westbrook makes the Lakers look desperate ... and that's because they are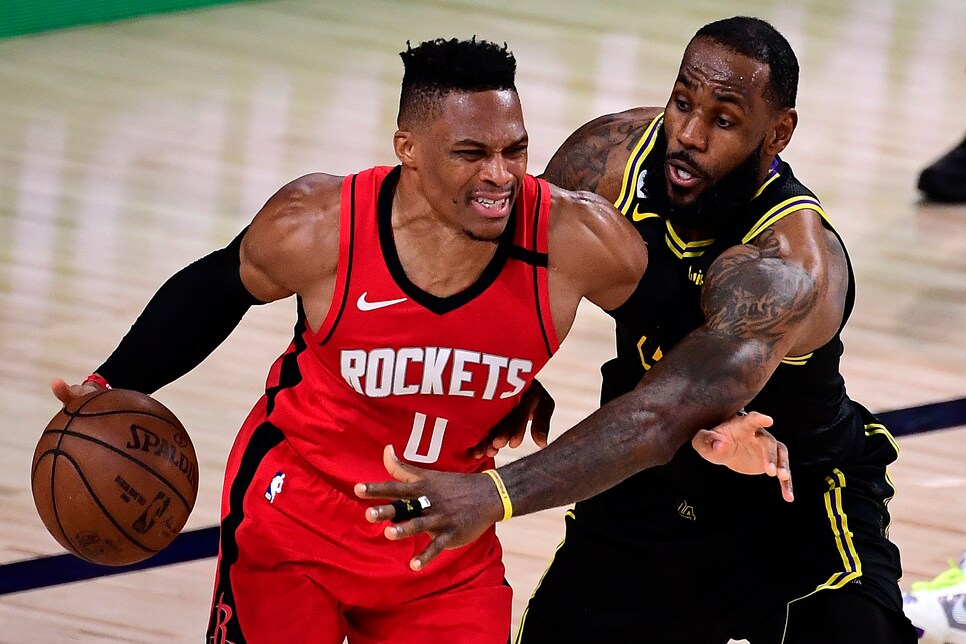 Last night, at the NBA draft, Kendrick Perkins insisted on ESPN that LeBron James is ready to take a backseat with the Los Angeles Lakers, which is quite an opinion to have about a guy who averaged 25 points, eight boards, and eight assists per game last season, was top 15 in most advanced stats despite only playing 45 games and battling through injuries, and who is just one year removed from an NBA championship. It's not quite calling him "washed," but it's at least adjacent.
Now, let's be super clear: I don't think for a second that Perkins knows what the hell he's talking about, and it seemed like the thrust of his argument was not just that LeBron would become a support player, but that he'd become a support player for Russell Westbrook, who landed with the Lakers last night in a blockbuster trade involving four players and a bunch of swapped draft picks. So I'm not indulging whatever Perk's on about, in the least.
Stephen A. Smith voice: AND YET!
LeBron is 36. He was just hurt last year, which is incredibly rare in his long career. The man is going to slow down, to the point that in, say, three years, you can reasonably expect that he won't bear much of a resemblance to capital-L LeBron as we know him now. Which means the Lakers are in a good position to gamble. As we've seen from other top-heavy teams, like the Brooklyn Nets, the gamble is real, and for various reasons you may not have very long before the window of opportunity shuts. The Nets got very unlucky this postseason with injuries, still almost won, but finally bowed out to the Bucks, and in theory they should have all pieces clicking in unison next year, but also Kyrie Irving and James Harden are each volatile in their own ways and there's no telling how it will affect chemistry over a full season. We won't know for a while, but it's not impossible that their window has already shut.
The Lakers are in a similar position. Yes, they're losing Kentavious Caldwell-Pope, Montrezl Harrell, Kyle Kuzma, and a draft pick, but they also know the clock is ticking, and if they don't win now before LeBron stops being LeBron, they could go a very long time without winning another title, or even getting very close. It may look a little desperate in theory, but they probably should be desperate. If you've got two years to seal the deal, well, you better sell out the farm to give yourself every chance to get it done. By bringing Westbrook on board, and teaming him with LeBron and Anthony Davis, that's just what they're doing.
Of course, it already looks very iffy. Westbrook has never won a title, including in long stints with other superstars (he's failed to truly mesh with KD, Harden, and Bradley Beal, for starters), he's the "worst high-volume shooter in the NBA," per NBA.com, and despite his electric qualities, he's not very efficient and it would be foolish for the Lakers to think that age 32, he can suddenly become Chris Paul. It's not clear that he's a great fit ... and yet, the guy averages a triple-double.
I don't love the trade for the Lakers, but then again, you're never going to love a desperate trade; that's why it was desperate. If Russell Westbrook was a perfect fit, they wouldn't have been able to get him, or at least not at any price below "franchise debilitating." LeBron and AD alone probably can't win another title without a guard with a serious scoring punch, and now they have it. Bad fits and bad luck happen to everyone, and it will be easy to dunk on this trade if it turns out badly, but right now, in the present, I'm not sure the Lakers had many better moves. That's the price of having to chase a title ASAP.