AIG Women's Open
A week of firsts at Muirfield includes this special one for the Honourable Company of Edinburgh Golfers
GULLANE, Scotland — Bob Dylan was nowhere in sight, but at Muirfield times are definitely a'changing. Mark it in your diaries. We're talking historically significant here. In the place where "men only" was loudly screamed for more than a quarter of a millennium, on Saturday, a female member of the Honourable Company of Edinburgh Golfers "played" in the third round of AIG Women's Open.
No, that is not a misprint.
Some context. Eight amateurs were amongst the 144-strong field for the first two rounds of the year's final major championship. The number shrunk to just one, World No. 1 Rose Zhang, for the weekend. But the former U.S. Women's Amateur champion isn't the only "non-pro" who will complete the final 36-holes. Playing as a marker, Lindsey Garden teed-up for the third round alongside Welshwoman Lydia Hall and will do so again in the first group off the first tee in the final round Sunday.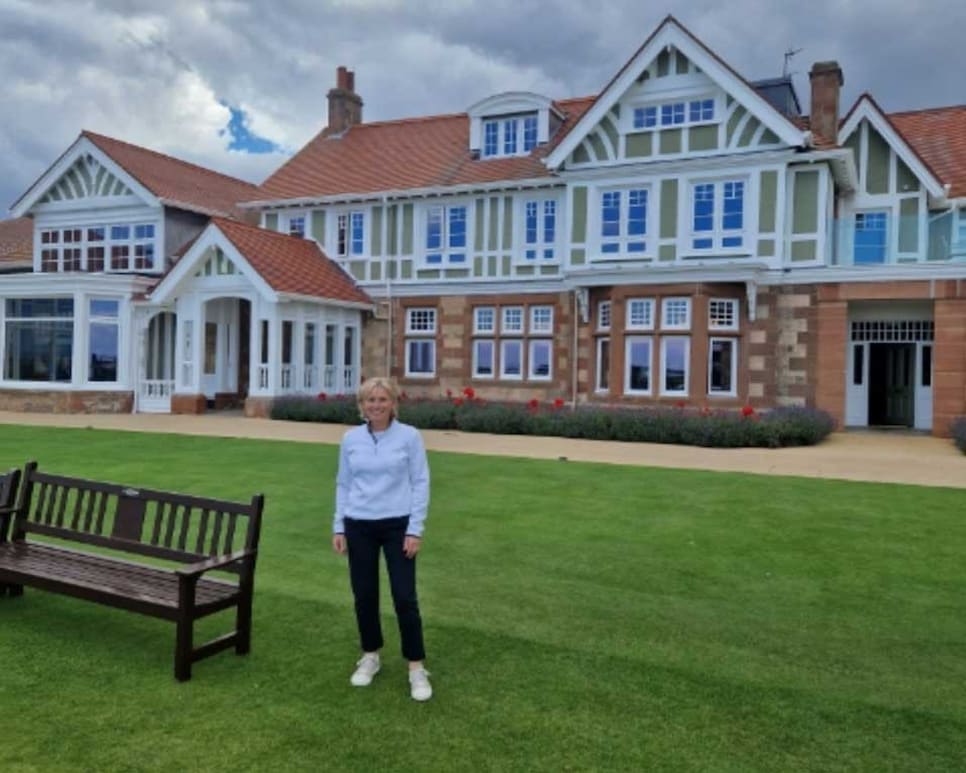 Lindsey Garden stands outside the clubhouse at Muirfield ahead of the 2022 AIG Women's Open.
Garden, an HCEG member since 2021, is well qualified for the role. The diminutive Tain-native was part of the Scotland Ladies team seven times back in the late 1980s and mid-1990s and reached the final of the Scottish Championship in 1989. So she can play, her handicap still a commendable 1.6. And, having had a few weeks prior warning that she might be required to tee-it up almost for real, Garden wasn't taken by surprise even if she did admit to feeling "very nervous" before the off.
Between those two stints representing her country, Garden worked as a caddie for three years on what was then the European Tour. Her most significant bag was probably that of former Ryder Cup player, Howard Clark (who she eventually fired), but her biggest moment came at the 1991 Australian Open at Royal Melbourne.
On the bag for now Sky Sports on-course commentator, Wayne Riley, Garden watched as the then 29-year-old Aussie rolled in a huge putt across the 72nd green to claim his national title by a shot from compatriot Robert Allenby (then, wouldn't you know it, an amateur). His caddie did her bit to get him Riley that momentous point though.
"With a few holes to go, 'Radar' was getting more and more agitated and walking faster and faster," recalls Garden, now a mother of two teenage girls. "So I had to find the right moment to say the right thing and calm him down. Eventually, I got him to listen on the 15th hole. 'We're getting down to the wire here and this has the potential to be really special. How about we slow down a bit?' I said. And he did."
Similar advice wasn't required from husband/caddie, John ("a novice on the bag but he came through"), as Garden made her way round the familiar terrain that is Muirfield. A lovely drive off the first tee into the strong westerly breeze settled things down and, although no birdies were made, Garden did manage to steal the honor "a couple of times" and "not get in the way."
"I played OK," she continued. "I didn't embarrass myself off the first tee. If I had topped it there, I would have swapped places with anyone. But it came off alright. And I almost reached the green in two. Then three-putted as usual. I should have made a birdie at the second, too. Knocked it close but missed."
All of which was merely the final installment in the role Garden has played in the run-up to this championship. Charged with dealing with all things media, she has been prominent in the arrangement of many stories that have run over the last few days.
"Being a member here is just the same as it for a man," she declared. "We're equal."
Actually, not quite. Only one member of the HCEG has ever teed-up in a Women's Open. So far anyway.