Ryder Cup
Lee Westwood is passing on being Ryder Cup captain in 2023 and here's why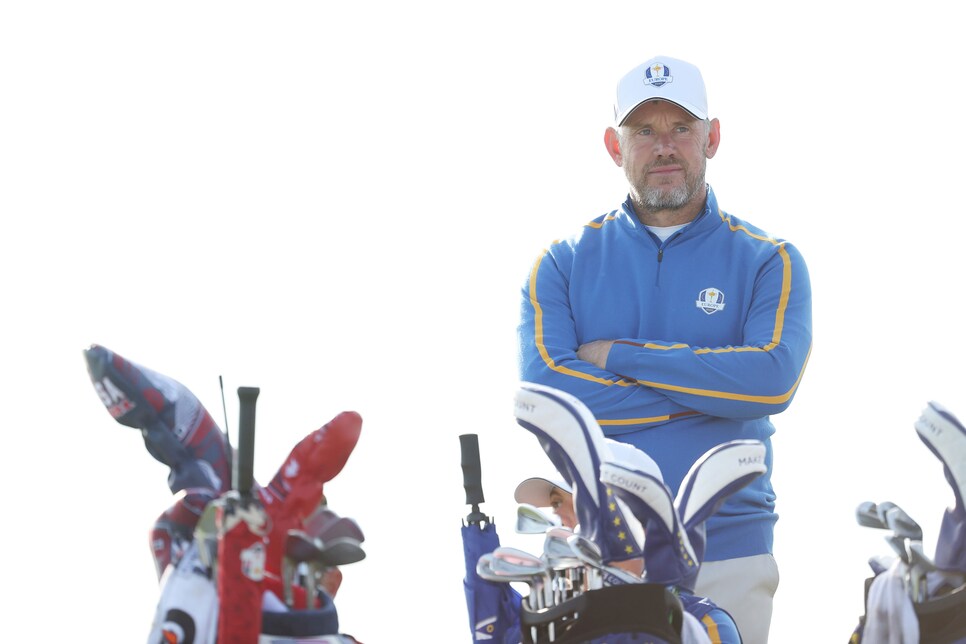 Lee Westwood looks on during Friday morning foursomes at the 2021 Ryder Cup.
Maddie Meyer/PGA of America
Lee Westwood, who many considered the front-runner for the job, isn't going to be captain of the next European Ryder Cup team. When golf's most anticipated biennial contest goes to Italy in 2023, someone other than the 48-year-old Englishman will be leading the Old World against the Americans. As first reported by the Daily Telegraph, Westwood, much to the surprise of those who assumed he was something of a shoo-in for the position, told Golf Digest on Monday that he wishes to focus on his playing career.
Which is fair enough, at least in one respect. None of the recent European skippers have been anywhere near Westwood's level of play when they took on the job. Currently, the 11-time Ryder Cup veteran is the 38th best golfer on the planet. Only six European players are ranked higher.
"I was surprised at how much fuss my 'announcement' caused," Westwood told Golf Digest. "There is no process for applying for the job. Plus, if this is something I'm not going to do, why do I need to tell everyone that? I should have just stayed quiet about it."
Still, there are other factors involved in Westwood's decision. Over the last 18 months or so, if only because his name was perpetually linked with the position, he has been talking to officials with the now DP World Tour (formerly Eurropean Tour) about the captaincy role. A bit older than Ian Poulter and Henrik Stenson and still a bit younger than the most recent skipper, Padraig Harrington, it was assumed that Westwood was a good fit this time round. But what he learned about the role wasn't settling with what he was ready to commit to.
"They were telling me the Ryder Cup captaincy is a full-time job," Westwood says. "I'm not going to argue with that; I don't know if it is or not. But I spoke to Thomas Bjorn [2018 captain], and he told me I would definitely have to forego my career if I did become captain, which made me feel like another year would be a better fit for me. Anyway, I asked the tour to get back to me after a couple of weeks and tell me what is actually involved. Three weeks went by. So I rang up [Ryder Cup director] Guy Kinnings. I asked him if he had the list. He hadn't, which immediately irritated me. So I told him I was going to take myself out of consideration.
"I mean, they told me it was a full-time job, but they couldn't tell me what the job entailed," Westwood continued. "That was no good to me. If and when I do the job, I want to give it 100 percent. But right now, I don't feel like I could do that. It would almost feel like the captaincy was getting in the way of everything else I want to do, which is hardly ideal. So I told them there must be someone better suited, right now at least, to the job than me. Someone who isn't playing as much. I'm not dismissing the Ryder Cup captaincy completely. Only this time round. In a way the captaincy is an admission that you are done as a player. I'm not ready to do that."
Of course, Westwood's name also has been cropping up regularly in another context. Along with the likes of Phil Mickelson, Adam Scott, Poulter and Stenson, he is one of the players most often mentioned when the subject of breakaway golf leagues are mentioned. Not surprisingly then, Westwood has signed up to compete in the controversial Saudi International in February. Once a European Tour event, it is now part of an Asian Tour that has been virtually black-listed by the European Tour and the PGA Tour as part of their recent "strategic alliance." The potential for legal conflict is therefore obvious.
"I've played in Saudi Arabia in each of the last three years," says Westwood, who will, "assuming I'm not suspended or banned," compete on the DP World Tour in Abu Dhabi and Dubai in the two weeks before the Saudi event. "What really bugs me is that, until now, the European Tour has actively encouraged us to play in the event. Now it's on the Asian Tour and we can't get releases? It is an event on another recognized tour, one offering World Ranking points and they're not going to let us play?"