Suzann Pettersen has played a few different roles over the years at the Solheim Cup. But the two-time major champion says the job she's just been assigned tops them all. In 2023, at Finca Cortesin in Spain, Pettersen will serve as Team Europe's captain. The 40-year-old Norwegian takes over for Catriona Matthew, who was the victorious European captain in 2019 at Gleneagles and 2021 at Inverness.
"I am simply thrilled to be named Solheim Cup captain. This is the biggest honor of my career," Pettersen said. "My best golfing memories are from the Solheim Cup. You are out there with your teammates, your friends, and you all work for one goal. You fight for your friends, and you share incredibly precious moments."
This is a fitting next chapter in what has been a compelling Solheim Cup career that traces back to her first appearance in 2002. Pettersen trails only Laura Davis for the most appearances by a European as a player with nine (she was selected for a 10th team in 2017 but had to withdraw), and twice she has been a vice-captain. In that time, Europe won five times and Pettersen has found herself in the midst of controversy and the focal point of one of the most iconic moments in Solheim Cup history.
In 2015 in German, Pettersen was paired with Charley Hull, in a fourball match against Americans Alison Lee and Brittany Lincicome. Lee missed a putt on 17 and picked up the short par putt coming back as everyone in the group walked to the next tee. Pettersen, however, said she'd never given the putt to Lee. The hole went from a halve to a win for Team Europe, putting them 1 up with one to play. Lee was in shock and began crying, as did Hull, and European captain Carin Koch questioned Pettersen. The entire scene was chaotic, heated and emotional. Pettersen didn't waver on her call. She and Hull went on to win the match. Team USA was able to use that moment as motivation in pulling off the biggest comeback in Solheim Cup history the following day. Pettersen left the competition facing heavy criticism.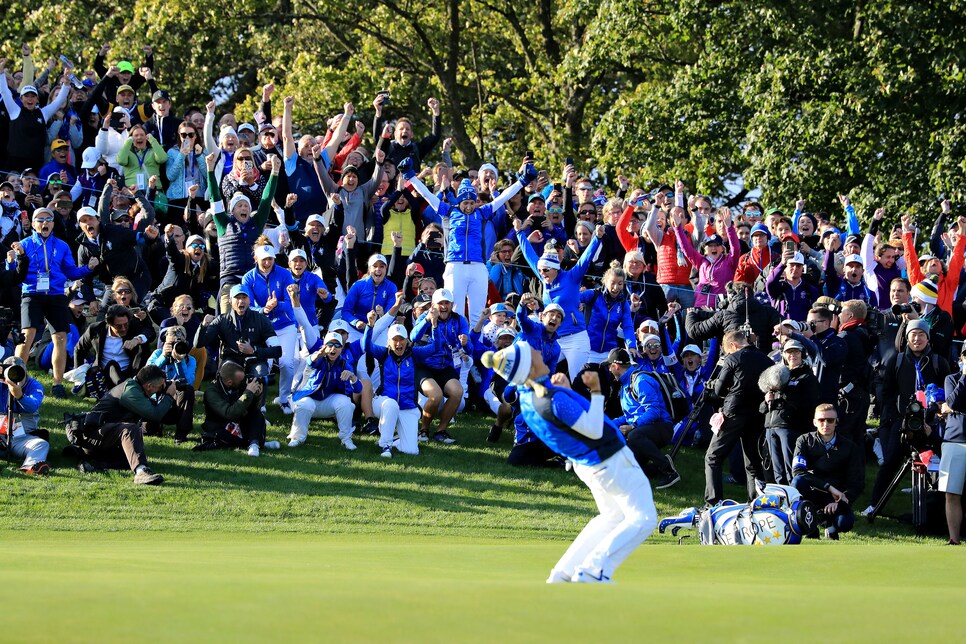 David Cannon/Getty Images
Fast-forward four years, and Pettersen is playing in the Solheim Cup in Scotland as an unlikely captain's pick. She hadn't been playing much competitive golf since the birth of her son earlier that summer, but Catriona Matthew took a chance on the veteran who was then ranked No. 635 in the world. It paid off. The competition came down to Sunday singles, the 18th hole at Gleneagles, and Pettersen's seven-foot birdie putt against Marina Alex. Hole it, and Europe win the deciding point. Pettersen was fist pumping before the ball dropped; she knew it was in. Her team and captains rushed the green, surrounding her in what was one of the most memorable scenes of any Solheim Cup. Promptly, Pettersen announced her retirement, saying it was never going to get any better than that moment. The drama of 2015 was forgotten; Pettersen was a bonafide hero.
As Pettersen prepares to captain Europe in 2023, she'll no doubt bring her unapologetic competitiveness, passion and an incredible amount of experience. And as always with Pettersen, don't be surprised to see some fireworks, too.