Jacked Up
This technically-not late hit in an FCS playoff game could still be considered a murder attempt
In case you forgot (we all forgot), the FCS season was pushed back to the spring due to COVID-19. It was an abbreviated one, with some teams playing as little as three games and others as many eight.
Jacksonville State, however, was the outlier, as the Gamecocks played half their season in the fall and the other half in the spring. They compiled an overall record of 10-3, rose to No. 8 in the rankings and earned one of the top four overall seeds in the FCS playoffs, which began two weeks ago. After winning their first round game over Davidson, 49-14, they met up with the Delaware Blue Hens on Sunday afternoon, a game that took a chippy turn early in the second half.
On what turned out to be a crucial 2nd and 18 at midfield, Delaware quarterback Nolan Henderson scrambled toward the sideline and looked to duck out of bounds. His Blue Hens held a 14-7 lead at the time, and would have likely be fine punting and playing the field position game had they not converted on 3rd down. Jacksonville State's Markail Benton handed them a first down and ultimately a field goal instead with this unbelievably unnecessary and controversial "late hit" on Henderson:
Right away, because its Twitter, a ton of people started pointing out that this was technically not a late hit. Technically, they were right: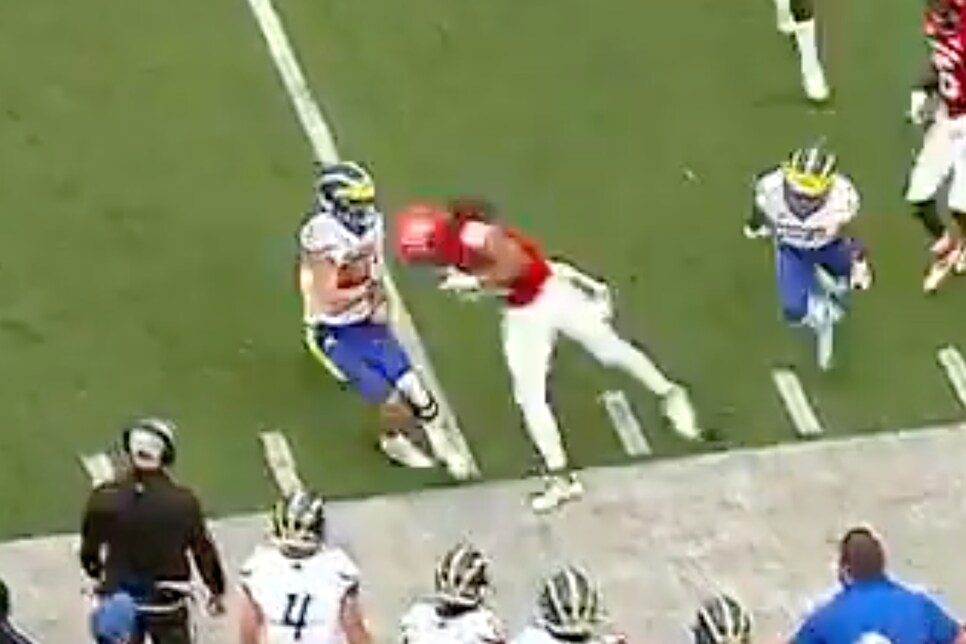 Having said that, arguing that because it wasn't late means it wasn't dirty is point-missing of the highest order. This is textbook unnecessary roughness. Benton leads with the crown and straight up attempts to murder Henderson, which is precisely why he was ejected from the game. Just because Henderson is barely still in bounds doesn't change how dirty this was.
Benton's incredibly dumb move made it 1st and 10 at the Jacksonville State 20-yard line instead of 3rd and 14 at the 30-yard line. Delaware was able to add a field goal at the end of the drive, and went on to win the game 20-14. Next up for the Blue Hens - a semifinal tilt with No. 1 overall seed South Dakota State.