Opening Night
Before you die, you need to bet the over at a Vegas Golden Knights game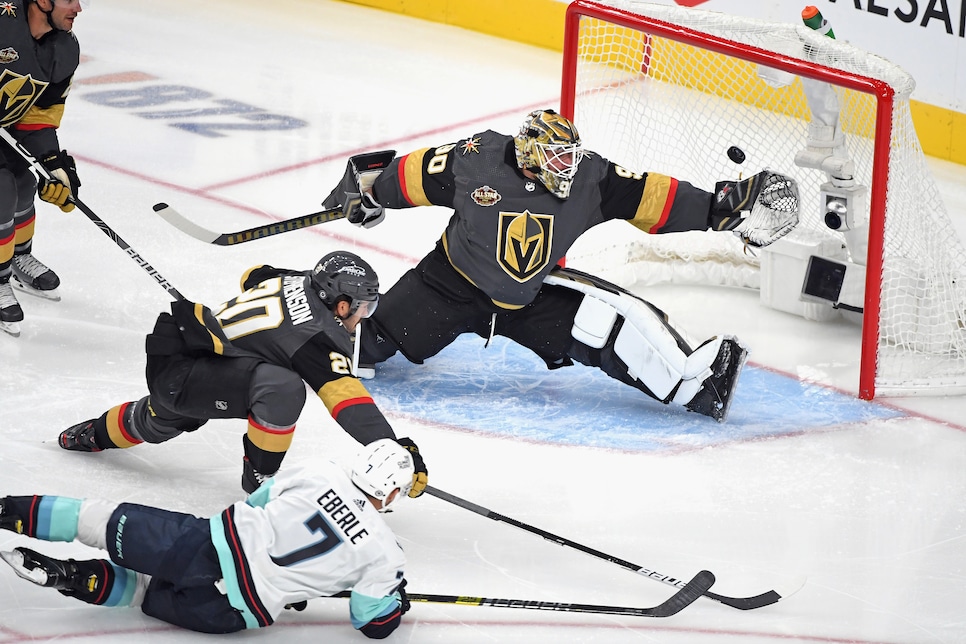 LAS VEGAS — On my way to the hockey game, I (sort of) crossed paths with Lady Gaga. This is a collection of words that only makes sense in maybe three cities in America.
One of them, of course, is Vegas, where the NHL's former new kid on the block, the Golden Knights, faced off with the NHL's new new kid on the block, the Seattle Kraken, on Tuesday night. Being that I was in Sin City for the PGA Tour's CJ Cup at The Summit Club this week, I figured it would be downright foolish to not be in the building for this historic hockey occasion. Also, my boss said I could expense the ticket and possibly write something about it. And here we are.
With puck drop slated for 7:15 p.m. PT, I figured I was cutting it close hopping in an Uber at 6:45 p.m. from my hotel about 10 minutes away from T-Mobile Arena. But I forgot this was Vegas, where everything moves in a swift, seamless motion. Just before making the left turn toward T-Mobile well before 7 p.m., my Uber driver pointed out that someone very important had to be in the car next to us based off the tinted windows and the motorcade ahead of her. It was at this moment we both simultaneously said "is that.... LADY GAGA?!?!"
Turns out it absolutely was, as Gaga is in Vegas this week for a three-night Jazz & Piano performance starting on Thursday. Perhaps she was here early to rehearse, or maybe she was going to the game. No clue. Don't care. Saw Gaga in the flesh.
What we're we talking about again? Oh, RIGHT, the hockey game. From the moment I hopped out of the Uber, getting into the arena, my seat, out of the arena and everything in between was by far the easiest experience I've ever had attending a sporting event. It took all of 15 seconds to get through security and for someone to check my ticket. It then took just ONE escalator to get to my section, as opposed to the 19 escalators that double as a maze, a mind-numbing feature at the arenas and stadiums I regularly attend in the New York/New Jersey area. I acquired a Bud Light in less than a minute, making the $17 price tag semi-worth it. I sat down in my seat before they even started the 15-minute-to-puck-drop clock. In New York, if I left for a 7 p.m. game at 6:45 p.m. from 10 minutes away from the arena or stadium, I'd be lucky to be there before 8 p.m.
As for the game itself, it's everything you've heard or seen about Vegas Golden Knights games and more. The pregame show is worth the price of admission alone. Part rave, part night club, part hockey game. That Kraken video circulating on the internet was one of the wildest things these eyes have ever seen:
Soon after this, the Knights helmet comes down from the rafters and the players come through it while fans wave those glow sticks around in unison. It's truly a scene.
After all the pomp and circumstance, there are two final matters to attend to—the national anthem, which includes the entire arena (aka the Medieval Maniacs) screaming "KNIGHTS" during the "gave proof through the night" part, and the cranking of the horn. At long last, the hockey game starts, and it all feels a little secondary to what you just witnessed.
That is, until, the Knights score first, and the place erupts. Then they score second, too, jumping out to a 2-0 lead, great for an over bettor like myself. It was at this point the people next to me—shoutout Anna, Pilar, Katie and Cole—asked if I was there alone. Hell yeah I was, a move they respected the hell out of. Suddenly, I had a few friends, making my solo journey a little less awkward.
The game enters romp territory when Max Pacioretty scores his second goal of the night early in the second period, making it 3-0 Knights. "I just want one goal, please," says a Kraken fan in the row ahead of me. That goal finally comes 11 minutes and 32 seconds into the second, causing said Kraken fan to Google who scored it. That's expansion team life, for ya. It was Ryan Donato, by the way.
Seattle scored the next two as well, knotting the game at 3-3 with just over 12 minutes to go (cashing the over!) and giving the fans exactly what they want, an edge-of-your-seat third period. Vegas scored soon after, then held on to the lead for dear life to win 4-3 on Opening Night, a finish worthy of everything that preceded it.