CFB MVP
Lane Kiffin latest to pour dirt over Jimbo Fisher's grave, wins college football weekend
Each college football season, there's a well-paid, high-profile head coach who has a down season and gets clowned on accordingly. Think Coach O at LSU or Manny Diaz at Miami. This college football season, that man is unquestionably Jimbo Fisher, whose Texas A&M Aggies have now fallen to 3-5 after a fourth straight loss.
The latest defeat came at the hands of Ole Miss, which made Lane Kiffin 2-0 against Fisher as the Rebels' head coach. That's particularly tasty for the Kiffin, who believed he was thrust into the middle of the infamous Fisher vs. Nick Saban feud that took place this past off-season. Saban initially claimed that A&M had "bought every player" in their highly touted recruiting class, and Kiffin later seemed to agree, saying he "didn't know if Texas A&M incurred a luxury tax with how much they paid for their signing class." When Fisher caught wind, he ripped Saban during a news conference, then referred to "other" coaches in the SEC as "clown acts" for other comments he had read, which were undoubtedly Kiffin's comments.
Kiffin, unsurprisingly, did not forget. During a postgame interview with ESPN following his team's 31-28 win, he was asked if he had any costume plans for Halloween, and he had the perfect response:
This is a Kiffin clapback in a nutshell - definitely practiced it in the mirror beforehand, still kind of screwed up the delivery, but recovered beautifully with that evil smile. Oh, I'm a clown act? Well, you're the joker, clown, guy, something.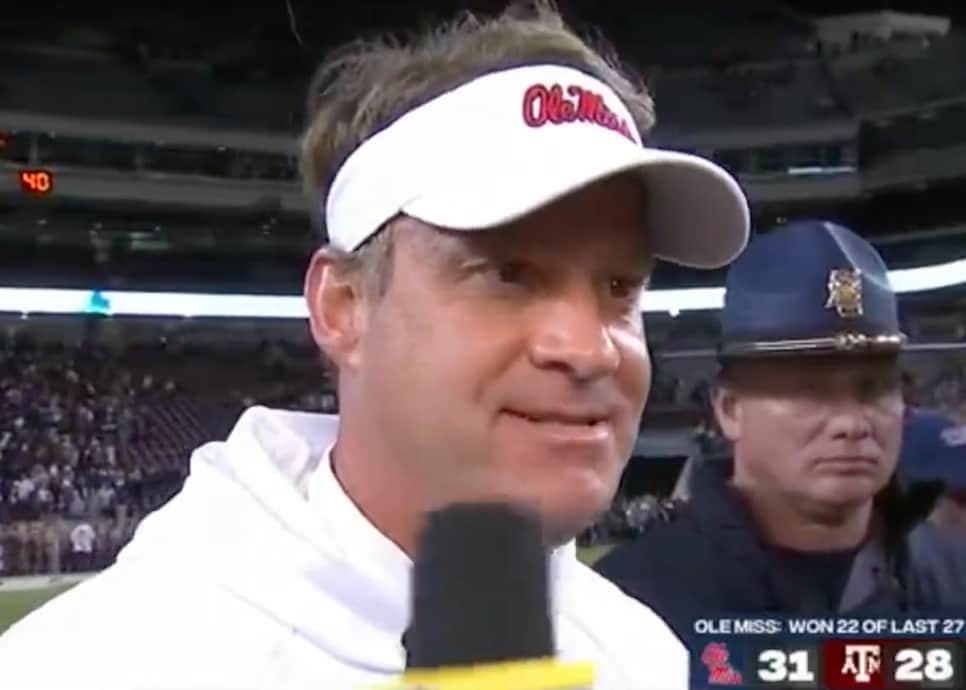 The unintentional joker smiler is what ties it all together. All that's missing is a "you want to see a magic trick?" from Lane as the ESPN reporter starts running away before it gets really weird.
Kiffin did, in fact, have multiple magic tricks up his sleeve Saturday night. Here he is telling an A&M player to fake another injury (Kiffin believed Aggie players were doing that the entire night to slow down their offense):
"I was just having fun with them," Kiffin said afterward "Those kids are highly energetic, like a lot of five-stars. Kind of fun to mess with. It was all good."
By the way, Kiffin calling them "five-stars" is no accident. He made multiple references to all of A&M's "five-stars" during the postgame, even calling them "some of the best high school players ever." A true drag-fest. Lane gonna Lane. Next up: the bye week and then ... drumroll please ... the Alabama Crimson Tide.
(In this section, we give out helmet stickers to those who *almost* won the college football weekend)
Five helmet stickers: The Michigan events staff guy
Considering it has 11 million views on Twitter alone, we're assuming you saw the video of a group of Michigan State players beating up on a Michigan player in the tunnel following the Wolverines' 29-7 win at the Big House. But please watch it again and focus on the man in the yellow Michigan hat:
How that guy made it out alive / didn't get too involved / didn't do something stupid / didn't get canceled for an old tweet that someone found after doxxing him is nothing short of miraculous. Ultimate wrong place, wrong time moment and he managed to escape without a scratch or a black mark on his reputation. As far as we've seen, no one knows who he is, what he does, where he lives, etc. In an age where simply appearing in the corner of a viral video will lead to a FBI investigation into your life, that's a major, major win. Good on ya, man in the yellow hat.
Four helmet stickers: Lee Corso
Sadly, Lee Corso had to miss another "College GameDay" show this past Saturday due to health-related concerns, and a historic GameDay at that, with the show traveling to Jackson State. Thankfully, it sounds like he'll be back sooner rather than later, and he managed to still produce an incredible show moment when Jackson State head coach Deion Sanders found out that he and Corso were tied on the all-time interceptions list in Florida State football history:
Hey, there's a reason they called him Sunshine Scooter. Corso. Prime. Lockdown City, USA. Hope that old GOAT is back on set in Athens, Ga., this weekend. Our time with the legend is sadly running out and all you can ask for is for him to go out on his own terms. Make sure to cherish every headgear selection we have left.
Three helmet stickers: The Kansas State defense
Yes, the Wildcat D pitched an impressive shutout Saturday, laying the smackdown on Oklahoma State, 48-0. The most impressive moment, though, came when it was already 48-0 and Oklahoma State threw their backups in. Redshirt freshman quarterback Gunnar Gundy, son of head coach Mike Gundy, entered the game and appeared visibly terrified of the K-State D:
Sheesh. Talk about intimidation. Also not a great look for coach's sons attempting to make the team on merit. Hopefully Gunnar gets another crack under center in the coming years and settles down.
Two helmet stickers: Kickers making plays
We'll split these two stickers up between Oklahoma kicker Zach Schmit, who scored a damn touchdown, and Fresno State kicker Dylan Lynch, who pulled off the perfect onside kick that led to a shocking comeback win:
Fresno went on to win 32-28, while the Sooners picked up a much-needed road win, 27-13. Kickers are people, too, folks.
One helmet sticker: The analyst who explained how football worked during a football game
Here's the deal - if you're watching Louisiana Tech vs. FIU on a Friday night you're either a degenerate gambler or a complete sicko football fan or possibly both. In other words, you are keenly aware of how football works, in particular, a play-action pass. That did not stop this analyst from explaining how it works, though:
Imagining someone watching football for the first time Friday night, and choosing this pig-slop game as their first time, and hearing this and going "ohhhhh, that's how that works. Cool." Legitimately hilarious. "And Louisiana Tech scores a touchdown, which gives them six points. When your offense crosses that white line into the 'end zone,' that's what happens."