The Loop
Lane Kiffin partying with a bunch of former Bama players at the Natty is an all-time photo
Of the many stops Lane Kiffin has made throughout his career, he seems to still have a lot of love for one place in particular: Alabama. Let's be honest, what's not to love?
Kiffin spent just three seasons as the offensive coordinator in Tuscaloosa, but they were three of the most rewarding seasons of his coaching career. He learned a ton from the now G.O.A.T, Nick Saban, including getting his fair share of "ass-chewings," he won a National Title in 2015, and he was a finalist for the Broyles Award in 2014, given to the nation's top assistant coach. That said, it wasn't the most ceremonious of endings between Saban and Kiffin, which is often the case everywhere Kiffin goes. In case you forgot, Kiffin was relieved of his OC duties before the 2017 National Championship game against Clemson, as it was believed Saban thought he couldn't juggle that job and his new Florida Atlantic job at the same time.
Yet still, Kiffin, who is now the head coach at rival Ole Miss, can't get enough of the Crimson Tide. On Monday night, the Lane Train rolled into Miami to watch Alabama roll over Ohio State in the Natty, and he was joined in a box by a number of former Alabama legends like Julio Jones, Henry Ruggs III and the absolutely enormous Raekwon Davis. It made for an all-time great photo:
For those wondering who the rest of the crew is, one astute Twitter replier did the detective work for us. From right to left it's: Henry Ruggs III (Oakland Raiders), Raekwon Davis (Miami Dolphins), Irv Smith Jr. (Minnesota Vikings), Reggie Ragland (Detroit Lions), Xavier McKinney (New York Giants), Trevon Diggs (Dallas Cowboys), Julio Jones (Atlanta Falcons), Lane Kiffin, Tony Brown (Cincinnati Bengals) and Anfernee Jennings (New England Patriots). If you're keeping score, Kiffin coached zero of those players on offense during his time in Tuscaloosa. The man just really loves him some Bama. Would love to know how Ole Miss fans feel about this one.
Now that we got all that out of the way, let's talk about the true star of this photograph: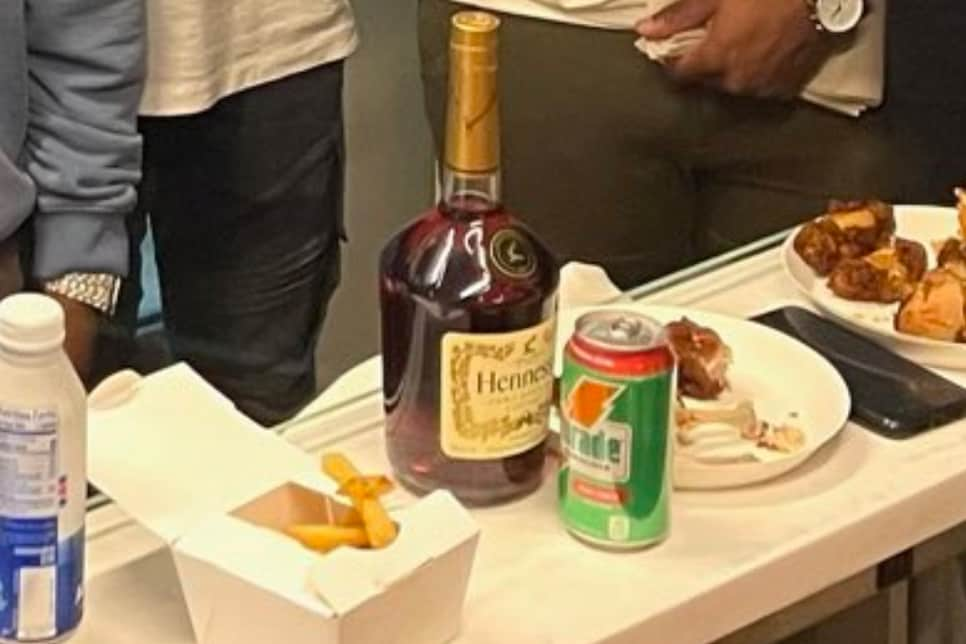 Hennessy and Gatorade IN A CAN?!?! One of the wildest combinations we've ever seen, though that's assuming they were combined. Perhaps someone just set these down next to each other. Either way, there is nothing more unicorn-like than Gatorade in a can, and it made this photo go from pretty cool to legitimately iconic.