News
LACC passes Walker Cup test as the USGA's Mike Davis takes notes for when the U.S. Open goes there in 2023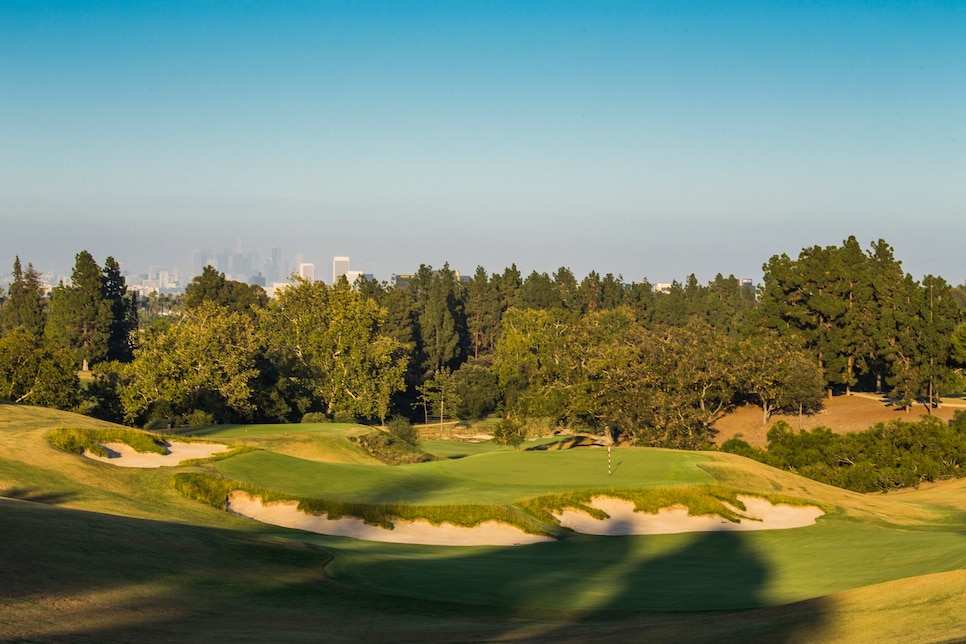 Copyright USGA/John Mummert
LOS ANGELES — Even as the North Course at Los Angeles Country Club is widely regarded as a testament to George Thomas' architectural genius, the club's exclusivity largely deprived it of a historical reference point by which to gauge it as a competitive entity.
Hence the intense scrutiny the 2023 U.S. Open site received at the Walker Cup last week, when Mike Davis, the CEO and executive director of the United States Golf Association, availed himself of the opportunity to see how it stood up to elite golfers.
"This was a big week just to watch how every single hole played," Davis said during a break in play on Sunday. "This was a big week to look at green speeds. Really, what's the ideal green speed, not only for this event? It will help so much at the U.S. Open.
"The firmness numbers, to give you an idea, [on Saturday] we played the [par-3] 15th hole a short little 78 yards. We did that with a mind that we'll play it short for a day at the U.S. Open. I actually think we had it perfect in terms of the firmness of the green. I think we nailed it. We went out and got exact firmness readings, we got moisture levels. Fast forward to 2023, to get that hole to play properly and fair, here's what the moisture readings need to be, the firmness readings need to be, and we know the speed of the greens.
"Essentially, it's really just looking at everything and saying, 'How did it play this week, is there anything that we might want to do?' "
Among concerns were that some Walker Cup players on the 17th tee were deliberately hitting their tee shots to a more generous landing area on the adjacent second fairway.
"The USGA does not want to make internal bounds," Davis said. "We don't like the feel of that. However, there's the safety issue. There's also just the pace of play. Somebody standing on the 17th tee and there are players in the drive zone at No. 2, they're not going to hit.
"If you had told me, if we never had a Walker Cup and just went straight into the U.S. Open, that somebody would play it down the second hole playing 17, why would they do that with angles that are horrible playing into that green? I think it makes the tee shot easier, but the second shot, I'm not sure the touring pros will do that. But even if they did that's probably not going to be a positive thing. Those are the kinds of things you learn that will help you down the road."
He identified the first and 18th fairways that sit side by side, "kind of just one big fairway now," he said, as an area the USGA will address in 2023. "We'll put some rough in between one and 18. It'll be a little bit more of a test on accuracy when you do that. Looking forward to 2023, in general what I'd say is you will see a tighter Los Angeles Country Club. It doesn't mean you're going to see it real tight, like narrow hallways. That's not the character of Los Angeles Country Club."
Davis and Gil Hanse, the architect who restored the North Course to Thomas' original design, discussed moving the tee box at the third hole as much as 30 yards back.
"The reason for that is it brings the barranca into play, which is exactly what George Thomas, when he designed it, wanted to be done. That hadn't gotten done. This week for the Walker Cup, 20 players didn't even have to think about that barranca. The members have to think about that barranca. We want the players in the U.S. Open to. That would be a change.
"We've tried to do in the last decade, 12 years or so, is to say 'how can we be more true to what the architects wanted?' In this case, I think we want to salute George Thomas, one of the greatest architects who ever lived."
To that end, the USGA deployed Thomas' concept of designing courses within a course, by utilizing decidedly different tee and hole locations, giving some holes the flexibility to be played to differing pars.
"We tried it this week," Davis said. "We played No. 1 sometimes as a [par] 5, sometimes as a four. We played No. 7 [typically a par 3] as a par four.
"The first hole, Thomas designed it be either a 4 or a 5. The 18th hole if you put the hole in that little back corner you wouldn't pick it up unless you saw it, but in his notes he designed it to be a par 5 when the hole location is there. The seventh hole, sometimes a par z3, sometimes a par 4."
Davis even raised the possibility of the course playing to a different par from one day to the next in the U.S. Open, as was the case at Chambers Bay in 2015.
"I don't know whether one day we go from a par 70 to a par 71 or a par 70 to a par 69. No idea," he said. "It just so happened this week we kept it a par 70 here, but you wouldn't have to. In George Thomas's notes, par was really irrelevant."
Overall, the North Course passed its Walker Cup test, notwithstanding a lack of drama, the U.S. prevailing, 19-7. Even in Hollywood, you can't script a competition.
"By and large," Davis said, "we could not be happier with how it played."