Sunday night before her first practice round at the 2020 KPMG Women's PGA Championship, Sei Young Kim talked through strategy with her caddie Paul Fusco in their usual weekly pre-tournament meeting. During that meeting, Fusco noticed something different about the then 10-time LPGA Tour winner, an aura he hadn't previously encountered.
Eight months later, Kim recalls that discussion, too. In the moment, she had come to a decision. She was done stressing about being winless through 29 career major-championship starts, making her the winningest active player on tour without a major title. It's not that it didn't matter. It was just that she was tired of letting it matter too much. Instead, she was going to do everything in her power to stay calm, play golf and trust her game.
"If you tell yourself [this is your approach] before the week starts, it is much easier to keep it through the week," Fusco said.
The irony was that she didn't necessarily make it easy on herself entering the final round. While holding a two-stroke lead after Saturday's third round, Kim somehow forgot to set her alarm that night. Come Sunday morning, she woke up 30 minutes late. While rushed, Kim stuck with her goals—and with her new mindset.
"I did what I planned, completely," Kim said. "It's the first time I did what I imagined before the round."
Kim's triumph was five years in the making, the South Korea native becoming an LPGA Tour member in 2015. But more directly, it could be traced back to 2019 when back pain forced her to change her swing and she decided it was also time to change her approach on the course. Kim was going to focus more on the process, rather than results, even if her play didn't suggest she needed the attitude adjustment.
Before 2019, Kim won seven times on the LPGA Tour, including the 2018 Thornberry Creek LPGA Classic, where she posted an eye-popping 31-under-par 257, the best 72-hole score shot on either the LPGA or PGA Tour. It's the lone golf accomplishment she highlights in her Instagram bio.
"Results follow process," Kim said of the need to change her attitude. "Every tournament, I really focus on how perfectly am I following the process. A couple tournaments, it wasn't perfect, but the result was still good. I like the result, but didn't like the process."
To help frame her mindset, Kim has taken time to observe how other great athletes approach their craft. Along with her golf idol, Annika Sorenstam, Kim watches YouTube videos of how NBA greats LeBron James and Michael Jordan, and Olympic swimmer Michael Phelps prepare for competition.
"I don't really know about the rules of basketball," Kim joked. "It's different when a legendary player mentions something about it [their preparation], I can feel it. It's different. I just want to listen and watch."
Kim most admires how they don't settle once they achieve success. "I'm impressed with their attitude," she said. "Even the good players, when they make a lot of money, they stay hungry [for more success]."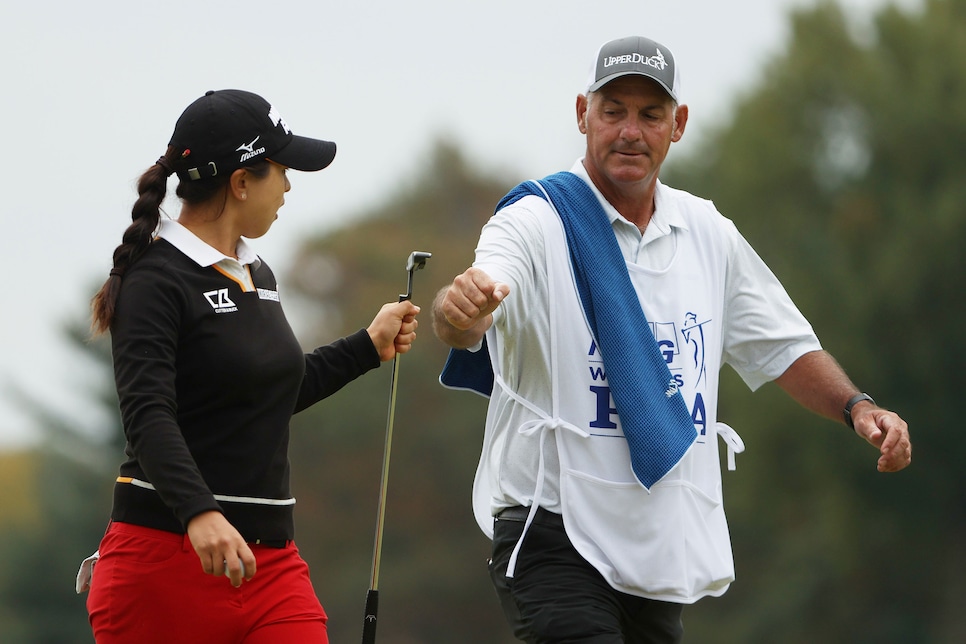 Caddie Paul Fusco knew that once Kim had a breakthrough win at the 2019 CME Tour Championship, a major wouldn't be far behind.
Patrick Smith
The training helped usher in a newfound consistency. Starting in October 2019 at the Volunteers of America Classic and through this year's LPGA Drive On Championship at Ocala in February, Kim went 16 straight events finishing in the top 25, including 11 top-10s and three wins to bring her current total to 12. Her previous best top-25 streak was seven tournaments in 2015-16.
Asked how Kim found the zone for the extended stretch, Fusco answered wryly, "That's the million-dollar question, isn't it?"
It turned out to be the million-and-a-half-dollar question at the 2019 CME Group Tour Championship. Kim won with a dramatic birdie on the last hole to take home the biggest first-place check in LPGA history. She was blissfully unaware in the moment that the putt was to win the biggest tournament of her career to that point and a gargantuan sum of cash. It's a memory Kim leaned on as a pillar to the confidence to win a major championship.
"After I won the CME, I know how to play under huge pressure," Kim said. "When I played at KPMG, I kept thinking about the CME Tournament. It felt normal."
Fusco declared after the CME victory that Kim's first major championship would be soon after. Two major starts later, Kim proved Fusco to be Nostradamus.
"She knew she could do it already, but to have that experience and come out on top, that cemented the idea and gave her confidence," Fusco said. "So, coming out of that I felt, yes, she's always been ready but now that really topped it."
To come out on top at the KPMG, however, required Kim to put aside the one other time she held a 54-hole lead at a major during her career, at the 2015 ANA Inspiration when she shot a 75 Sunday to finish T-4.
And in her way on Sunday at Aronimink was Hall of Famer Inbee Park. The two Korean natives had traded titles ever since Kim joined the LPGA. Park kept the 2015 KPMG Women's PGA Championship out of Kim's grasp, ripping the 36-hole lead from her after a third-round 66 at Westchester Country Club to win her third consecutive PGA Championship. Park closed with a five-under round Sunday to win by five.
Six years later, Park again shot a five-under 67 on Sunday at Aronimink. But Kim improved her final-round score by eight shots, closing with a 63.
"Sei Young was just really untouchable, and she played really, really good golf today," Park said afterward. "That's how a champion plays a final round, so it was good to see that."
As 2021 plays out, Kim is wrestling with finding her final-round gear once more. When she's on, Kim downloads her targets at 5G speeds, taking under five seconds before turning her head back down and swinging freely.
If she's off? Kim's perusing the target at old AOL dial-up speeds, processing with clinks and clanks as if trying to download her line from outer space as she glares for over 10 seconds. She takes in anything but the shot in front of her.
"[I think about] after the tournament, what I'm having for dinner," Kim explained. "What I will do later. I think about the future, not now."
As she approaches defending her first major title, Kim hopes to fall back on the calmness that worked so well last October. The hot humid conditions at Atlanta Athletic Club this week will be far different from the crisp fall weather in the Pennsylvania.
Should she achieve her next goal of staying in the present, and Kim walk away with another major title, one can only imagine others watching YouTube videos of Kim's approach, even if they don't understand golf.