FIRE PIT COLLECTIVE
Pressure-packed responses, familiar names and heartbreaking tales were among the storylines at the first stage of Korn Ferry Tour Q School
Editor's Note: This article first appeared in Fire Pit Collective, a Golf Digest content partner.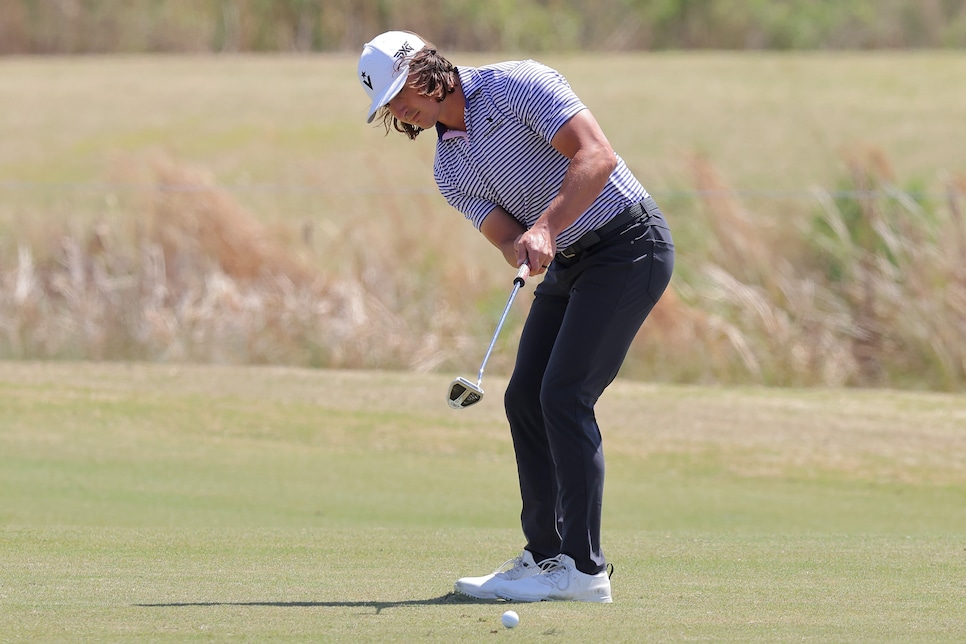 The first stage of Korn Ferry Tour Q school wrapped up last week, as over 900 players teed it up at 12 sites, with 314 players advancing. This is the last year of the current Q-school structure, where 40 players are exempt for at least the first eight events. Next year five PGA Tour cards will be available and the final stage will be stacked with conditional Tour members. The second stage begins next week with competition at three of the five sites. The final stage will be in Georgia during the first week in November. Here is a quick recap of what happened in the first stage.
Anthony Maccaglia: He shot a final-nine 29 to get through on the number in North Carolina. When I asked him about the last 29 he had in competition, Maccaglia replied, "Never. This was my first."
Conrad Shindler: Over his last 10 holes, Shindler made 123 feet of putts to put himself near the number. He then had to wait for more than an hour as scores came in to see if his score was good enough. It was.
Peyton White: After an opening-round 77, White was ahead of exactly zero players. He crept up the board with a second-round 69, but he was still well outside the number. He followed that with 64-68, the best 36 holes in the field, and got through by one stroke.
George Toone: The 18th hole at The Bridges Golf Course in Gunther, Texas, is a 645-yard par-5. Needing eagle to get through, Toone responded with two shots to 15 feet and holed the putt.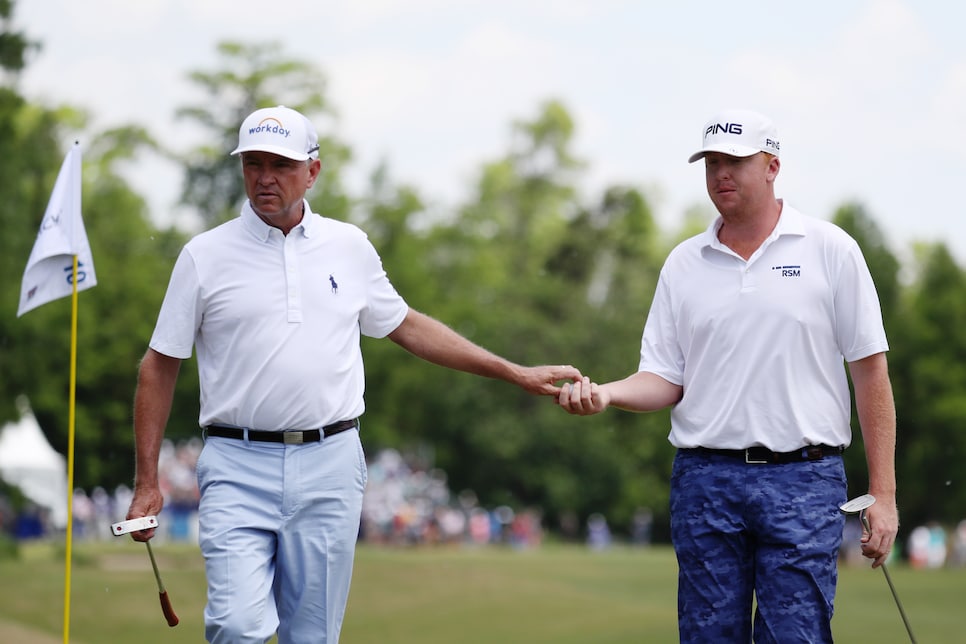 Davis Love III and Dru Love
Rob Carr
Dru Love: The son of Davis Love III advanced in Texas, shooting 7 under, two shots better than the number needed.
Nick Cantlay: The brother of world No. 4 Patrick had a long, agonizing wait, but he snuck through on the number in California.
Gunner Wiebe: The son of two-time PGA Tour winner Mark Wiebe was a club pro for a while before returning full time to tour play. He got through in Arizona.
Sean Jacklin: The son of two-time major champion Tony Jacklin advanced in Florida. Sean has won numerous mini-tour events, mainly on the West Florida Golf Tour.
Derek Fribbs: Through two rounds, Fribbs was easily inside the number in Arizona. After the second round, however, he signed for a 5 on a hole where he had made a 6 and was DQ'd. Last year Fribbs was the third player in a Korn Ferry Monday Q where a fight broke out between the other two players.
Jonathan Hodge: He made just one bogey in 72 holes and shot 14 under. He missed by one.
What's
he

doing at first stage?
Nick Voke: After turning pro in 2018, Voke had a remarkable start to his career. He won in his third start, in China, and again in his fifth and seventh starts. But he has battled injuries and was back at first stage upon losing his Korn Ferry status after last season. He did, however, make it through.
Charlie Saxon: After a great college career at Oklahoma, Saxon dominated on PGA Tour China. He almost got his PGA Tour card in 2019, finishing just outside the top 25 on the Korn Ferry Tour, then struggled last season and lost his status. He, too, has battled injuries, but he advanced in Illinois.
Matt Hill: Two players have won seven NCAA events in a season, Tiger Woods and … Matt Hill. Hill did it in 2009 and remains the only golfer to be named ACC Male Athlete of the Year. He has struggled as a pro but got through easily.
Andre Metzger: One of two Dakotas Tour legends teeing it up in first stage, Metzger has made a living by dominating on that tour. The few times he has gained Korn Ferry status he has struggled. Now 39, he advanced to second stage.
Brady Calkins: A Dakotas Tour and partying legend, Calkins will head to second stage, probably with a beer in his hand.
Derek Busby: A 37-year-old amateur, who has played (and won) a lot on the Mid-Am circuit, easily got through first stage, shooting 14 under and finishing second in Texas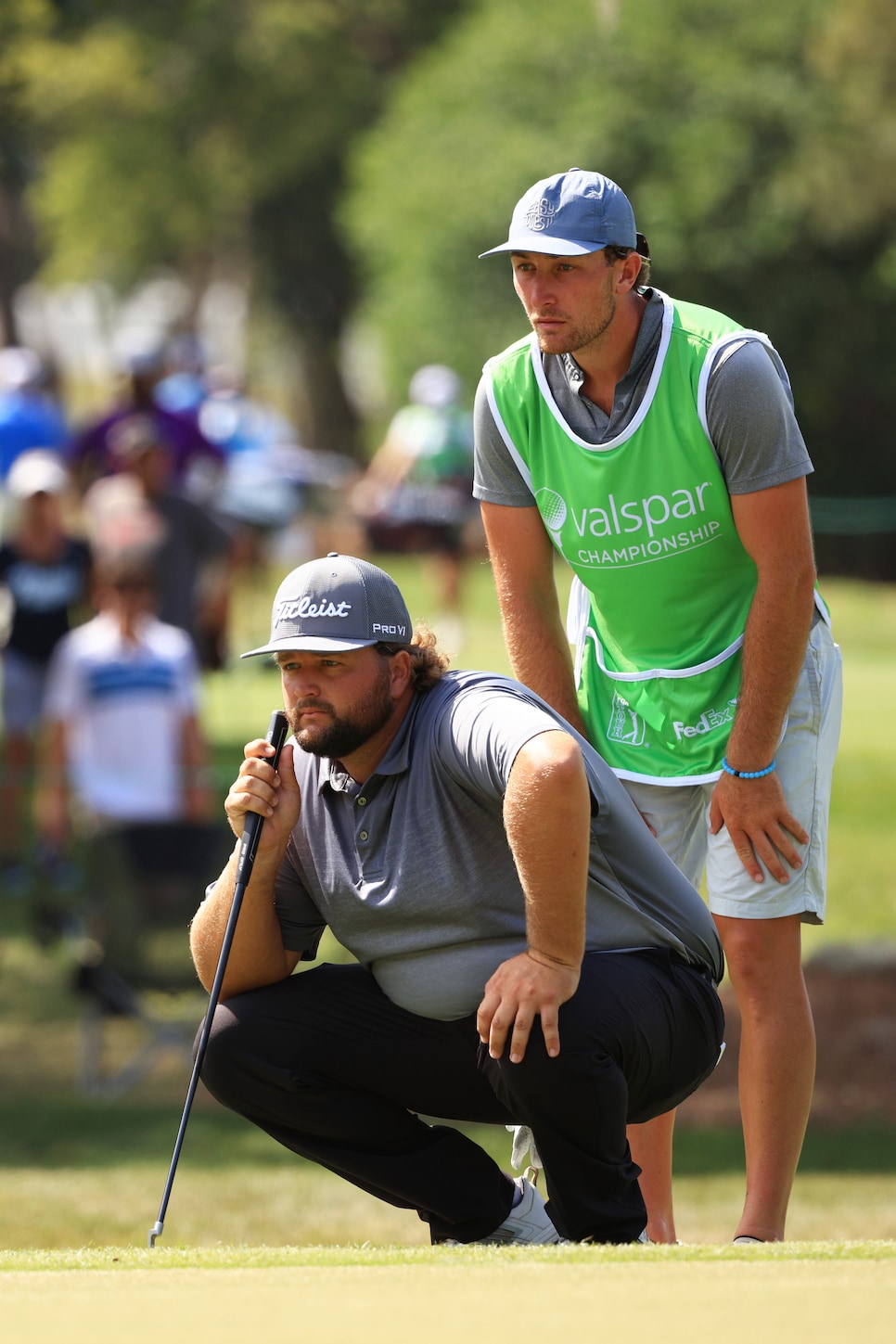 Mike "Big Mike" Visacki: Most people know Big Mike from the viral video of him calling his parents after successfully Monday qualifying for the Valspar in 2020. Justin Thomas later gave him a check to help with his expenses for the year. He struggled last year with Korn Ferry status, but I look forward to him starting his comeback on the Monday Q trail
Matt Picanso: Picanso is one of my favorite people in golf, and after struggling last season on the Korn Ferry Tour, he missed at Q school. I am hoping he can get back there soon.
Albin Choi: Again, one of the nicest guys there is. He has been great to me. He has been through so much in his life, I hope he continues to grind.
Anthony Brodeur: The son of Hall of Fame goalie Martin Brodeur, Anthony has had some success on the Minor League Tour, but failed to get through first stage in Florida.
Scott Fawcett: The DECADE founder and occasionally controversial Twitter personality gave it a valiant run at age 49, but he fell just one short.
James Hart du Preez: The long-hitting 6-foot-10 pro struggled at a very short course, where he couldn't take advantage of his length and failed to get through
Broc Everett: The former NCAA champ has struggled as a pro, and the struggles continued at Q school.