The Fringe
Alex Fourie's unlikely journey from a Ukraine orphanage to the U.S. Adaptive Open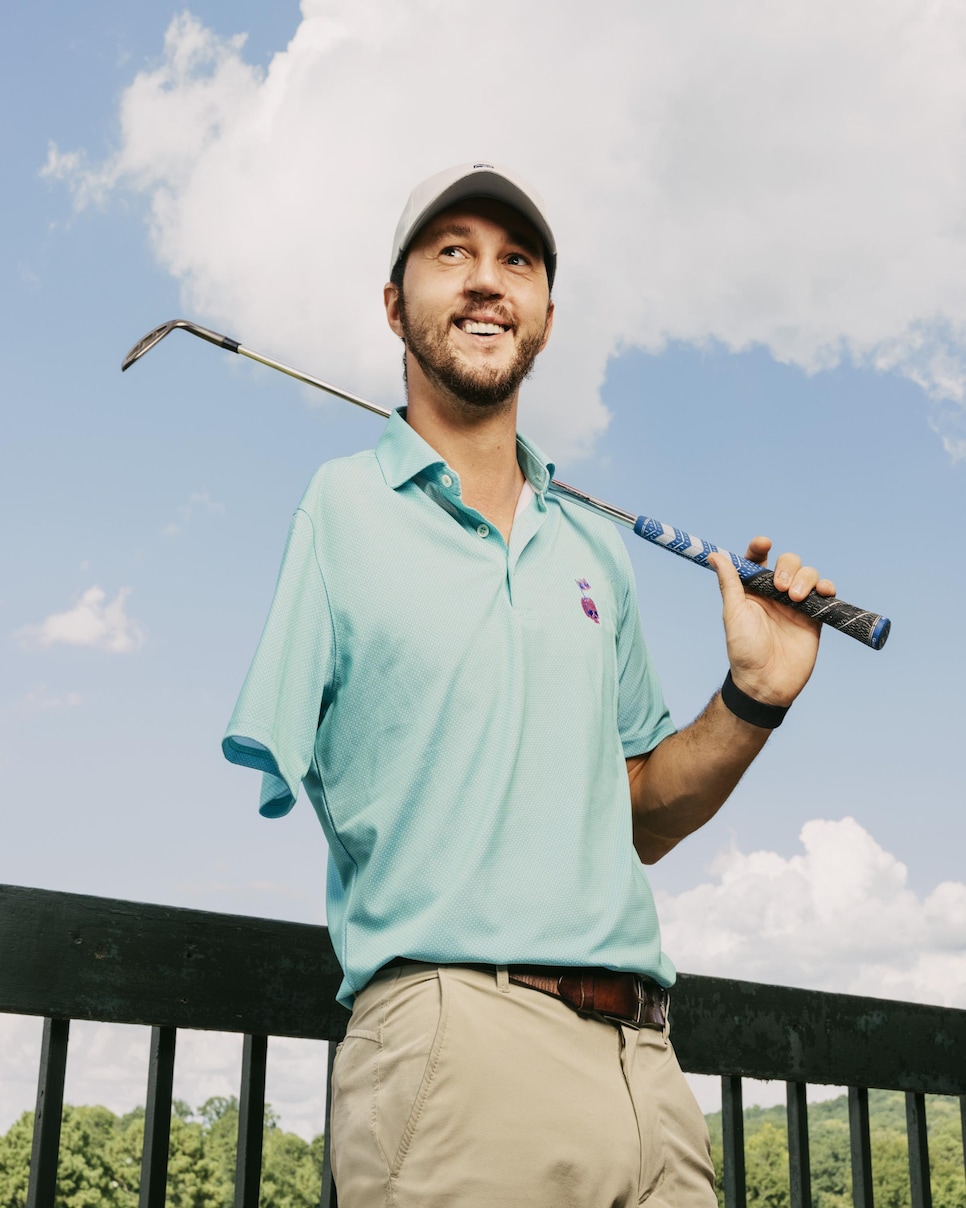 Photograph by Eric Ryan Anderson
Having worked at Golf Digest for more than 13 years, I've been fortunate to interview plenty of big names. It's an incredible perk that never gets old, but none of those chats has left me feeling as in awe as I was after talking to Alex Fourie. Alex isn't a PGA Tour star or a celebrity golfer, but he's one heck of a player, and he deserves to be famous for what he's doing on and off the course. His infectious attitude, however—especially considering all he has been through—might be most amazing.
"I hit the lottery," Fourie says. "That's what I tell people."
Most would argue otherwise. Fourie was born near Chernobyl in 1992, just six years after the biggest nuclear disaster in history. The radiation seeped into the rivers near Fourie's hometown of Zvenyhorodka in present-day Ukraine. That poison eventually passed down from Fourie's birth mom, causing him to be born without a right arm—and with a cleft lip and palate that would eventually require 22 surgeries.
Fourie's biological parents gave up custody of Fourie at the hospital, and he lived in orphanages for nearly seven years. That's when he finally got some of that good luck he always talks about. A Ukrainian law prohibited kids from being adopted after the age of 7, but Fourie was taken in by a pair of South African missionaries living in the United States just a month before that pivotal birthday. A few weeks later and who knows where Fourie, 29, would be now.
Fourie says he weighed just 34 pounds when he moved more than 5,000 miles to Bessemer, Ala., with his new family. He recalls scarfing down three quarter-pounders at McDonald's for his first American meal after years of mainly subsisting on soup. Growing up, Fourie played a bunch of sports, excelling at soccer and as the kicker for Shades Mountain Christian High School's football team, but he found early success at golf—his adoptive father, Anton, placed a club in his hand soon after Fourie's introduction to fast food—in a more unofficial way at Hoover Country Club when older members started including him in money games.
"I wasn't gambling, but other people were making sure I was on their team, and they were profiting off my abilities," Fourie says with a laugh. "I got in trouble because when I started getting new clubs, my dad said, 'What's going on?' He wasn't happy when he found out."
Golf remained an important part of his life. He played in the No. 2 spot at Shades Mountain as a senior and eventually became a club pro in the Knoxville, Tenn., area where he lives. Fourie has an impressive 0.6 Handicap Index and began entering tournaments in 2020. His low competitive round is 70 (two under) during a runner-up finish at the 2021 Georgia State Golf Association Adaptive Open. His greatest highlight so far, however, was getting to compete in the USGA's inaugural U.S. Adaptive Open at Pinehurst in July. Fourie, the country's top-ranked one-armed golfer, according to the U.S. Adaptive Golf Alliance, didn't play his best with scores of 95-83-86 in the three-day event—a broken finger and torn ligaments in his left knee that he has since had surgery on hampered him—but he was still beaming about the experience when we spoke a few weeks after.
"It's our major," Fourie says proudly, "and I'm thankful the USGA is shining the spotlight on us to show we can really play. It was a celebration."
Fourie finished 51st out of 78 in the men's competition won by Simon Lee, an autistic South Korean who shot three under in regulation before beating Sweden's Felix Norman, another intellectually impaired player, in a playoff. Kim Moore, the women's golf coach at Western Michigan University, born without a right foot and with a clubbed left foot, won the women's title. But Fourie says there was something more important happening at Pinehurst No. 6.
Fourie was born near Chernobyl in 1992, just six years after the biggest nuclear disaster in history.
"The disabled golf community is a family, and we cheer each other on, so if you're doing really well, heck yeah, keep going," says Fourie, who also credits the U.S. Disabled Golf Association and the North American One-Armed Golfer Association. "We try to grow the game in that way."
In a year in which "Grow the Game" has become more of a disingenuous rallying cry of rich tour pros, it was nice to hear it used properly. Alex is matching his words with action. He has started a charity called Single Hand Golf to help adaptive kids get into the sport. "My whole goal is to grow disabled golf," Fourie says. "We get little snippets here and there, and it's really cool, but I don't believe you can inspire through a story on Instagram that lasts 24 hours. I believe the best way to inspire is what we're doing now—to have these tournaments and to have kids show up to clinics at the tournaments, to have the parents there to help them understand what the kids are going to go through. That's our mission."
The beneficiaries of that mission, however, have shifted with the war in Ukraine. To date, Fourie has raised more than $42,000 through Single Hand Golf t-shirt sales that has gone to help move more than 300 fellow orphans from his native country through a partnership with Hope Now Ministries, the same organization that helped find him a home more than two decades ago. With the ongoing fighting there are new challenges. Fourie says he saw a horrifying video of his hometown orphanage destroyed, and some funds might go toward the purchase of a bulletproof vehicle after someone driving a group of kids to safety was shot in the leg.
"Seeing what's going on there really hurts," says Fourie, who is planning to go to Romania in November to meet some of the youngsters his charity efforts have helped, "especially knowing there are going to be more orphans because of the lives that have been taken senselessly."
Fourie has also worked as a youth pastor and is currently a roof salesman. His passion, however, is helping other disabled kids through golf. He plans to work with more area courses to do clinics and hopes his foundation will eventually become his full-time job. "I want them to know and believe that anything they put their mind to, they can do it. I want to give them hope, give them a clear picture of what's in front of them," says Fourie, who has a 1-year-old daughter, Lila. "Don't use your disability as a disability. Use your disability as an ability to promote and to fight."
Fourie's fight is reflected by the "One arm, zero handicap" motto on his website, but it goes beyond that. Thanks in part to his efforts, there will be others someday saying they, too, hit the lottery—whether they ever hit a golf ball.