Mamba Mentality
Anaheim Ducks goalie John Gibson posted a shutout while rocking an awesome tribute to Kobe Bryant on Tuesday night
As you've probably already heard a million times by now, Tuesday marked the one-year anniversary of Kobe Bryant's death in a helicopter crash outside of Calabasas, California, along with that of his daughter Gianna and seven others flying on board. A lot of water has poured under the bridge since then—a pandemic, protests, and a would-be coup. It somehow feels like it happened a decade ago and just yesterday. And yet none of that has taken any of the sting out of one of sports' greatest losses ever, period.
This could be seen and felt across the sports world on Tuesday, including on the face (literally) of Anaheim Ducks goaltender John Gibson, who dusted off this awesome Kobe- and Gianna-themed mask to pay tribute to the man, the myth, the Mamba.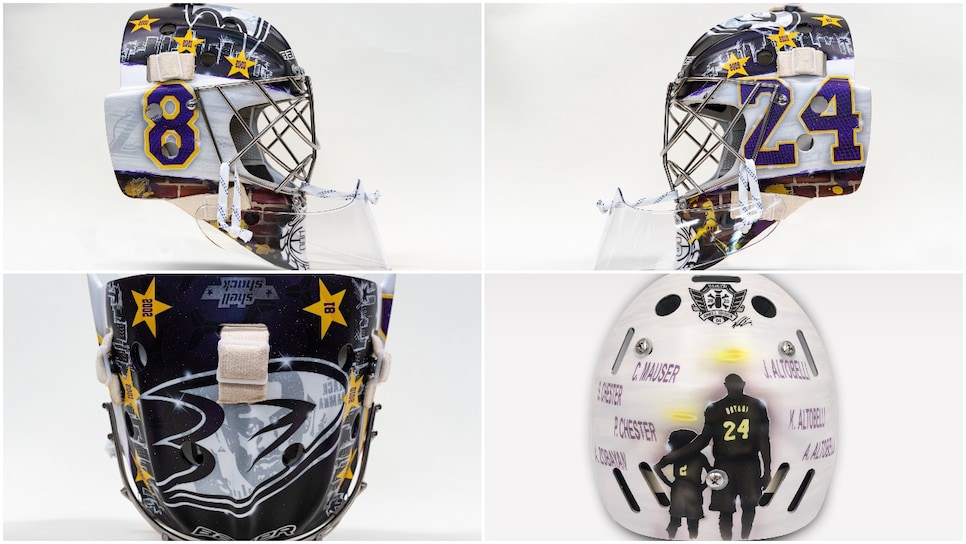 As you can see, the custom mask also features the names of the seven others lost in the tragic crash, which is a nice and essential touch. Bryant's death was a massive groundswell—a day of national tragedy—but to friends and family of the others on board, it was but a footnote in the worst day of their lives. It's important to remember that.
Best of all, however, was the fact that Gibson pitched a shutout in the custom lid, helping the Ducks top the Arizona Coyotes 1-0. We don't know where Kobe is now, but wherever it is, we now know he spent Tuesday night watching some pucks.