Let Russ Retire
K.J. Hamler's postgame meltdown summed up how everyone felt after watching Colts-Broncos
Wide receivers at the NFL level always, always think they're "open." They could be double and triple covered and, without fail, they'll return to the huddle and ask the quarterback why he wasn't looking their way. In K.J. Hamler's case on Thursday night, he was ACTUALLY Wide. Freaking. Open.
After a long night of utter futility in the red zone, which has been the theme for the Denver Broncos all season, quarterback Russell Wilson and his offense had a chance to erase all the bad juju with a game-winning touchdown in overtime against the Indianapolis Colts. With Indy leading 12-9 in a fiel-goal fest, Wilson and co. faced 4th and 1 at the six-yard line. Wilson, having already thrown two brutal picks near Indy's end zone on the night, took a shotgun snap, held the ball too long and attempted a miracle throw over the middle off his back foot that was defelected to the turf by Stephon Gilmore. Game. Blouses.
On that very same play, you'll notice Hamler at the top right of your screen using a "pick" from teamate Jerry Jeudy which allowed the former Penn State Nittany Lion to be wide open in the middle of the end zone. Russ completely missed him:
In fairness to Russ, this throw was very likely intended for Hamler, just about five seconds too late. By never looking to his right after the snap, he completely missed the window he had to fire the slant into Hamler and end the game. Summed up Russ' night, and his season so far, as Denver's $245 million man (Yikes!).
Speaking of summing things up, Hamler's immediate reaction summed up how we all felt after watching that four-hour, touchdown-less slog:
There's a tendency to pass off wide receivers as batshit-crazy divas when stuff like this happens. But in this particular case, you could argue Hamler was subdued. No one would have blamed him if he ripped off his whole uniform Antonio Brown-style and asked for a trade before heading to the locker room. That was brutal.
This is the photo right here: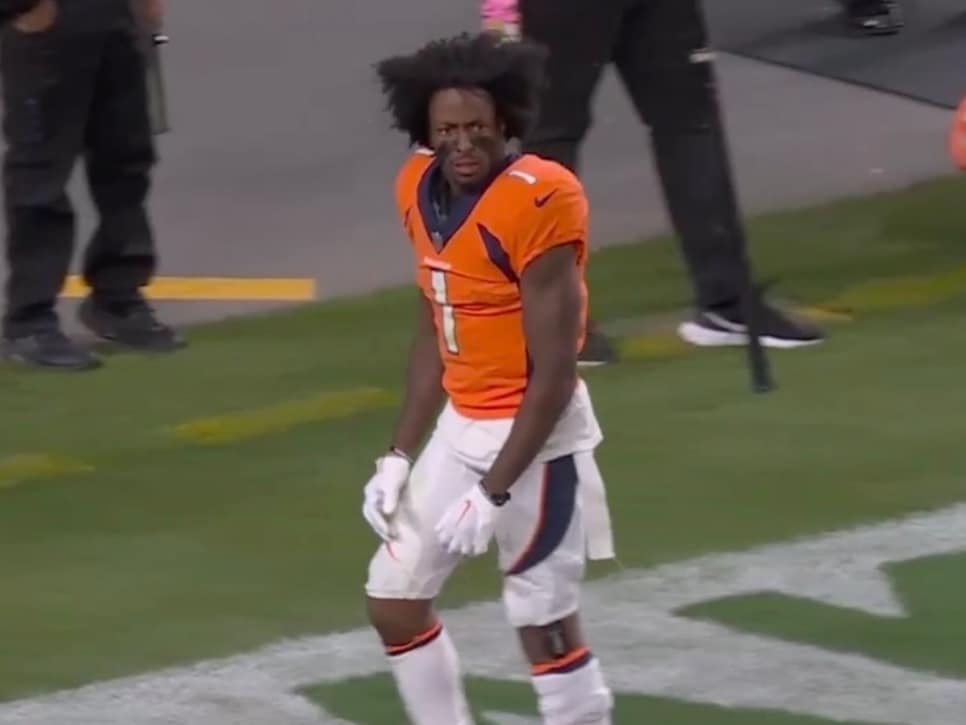 Betrayed. Bewildered. Disgusted. The 2022 Denver Broncos story.