News
Kim Kaufman had mono, fell going down stairs before the CME Group Tour Championship, now tied for lead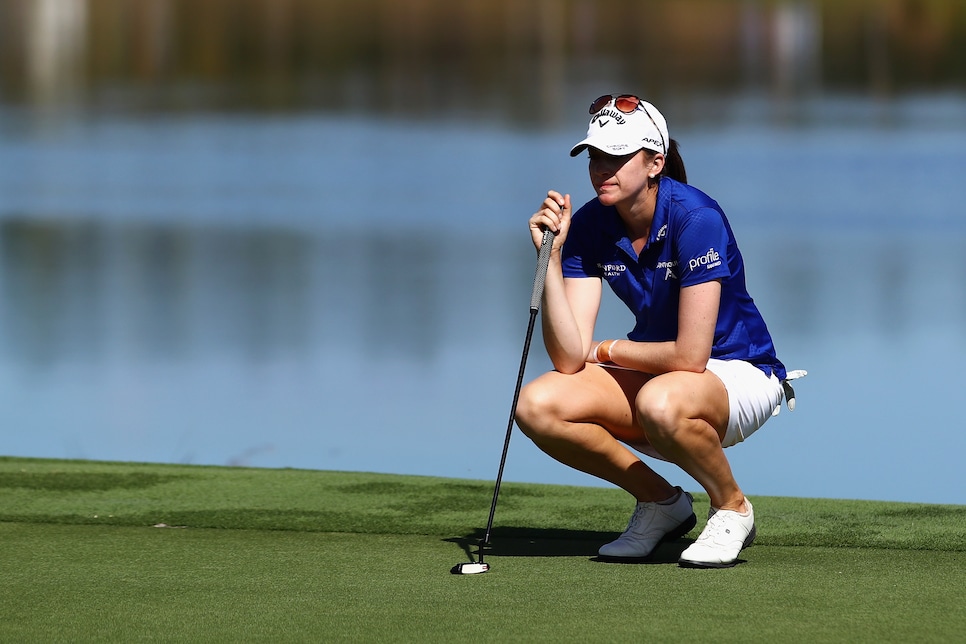 NAPLES, Fla. — Kim Kaufman began not feeling well during the LPGA's swing through Asia in the middle of October.
"In Malaysia, I got to a point where I didn't warm up I was so tired," Kaufman said. "I would just go take a nap."
The next event was in Japan, and she was an alternate. She took the opportunity to go see a doctor.
"The plan was to go back to Blue Bay," said Kaufman, "and I found out the night before that I had mono, that that's what I've been having. So, I didn't go to China. I've been resting at home [in South Dakota] for two weeks."
Kaufman flew to Florida on Tuesday before the LPGA's CME Group Tour Championship began and teed it up in the pro-am without playing a practice round. She shot rounds of 70 and 72 to start, and then fired a 64 on Saturday to catapult up the leader board into a tie for the lead at 10 under par with a threesome of LPGA stars: Michelle Wie, Ariya Jutanugarn and Suzann Pettersen.
It probably wasn't a position Kaufman expected to be in with mononucleosis, no practice and two weeks resting in bed. Kaufman spent her time doing what anyone might do: She went on a serious Netflix binge. Her shows of choice were Fixer Upper and Friends.
Mono was not her only issue. Kaufman took a little fall on the stairs of her home while she was recovering and caught herself with her wrist.
"I'm the only person to take two weeks off and get injured," Kaufman said. "I don't feel it on the golf course. It's no problem. I just feel better taping it, because I did feel it on Tuesday.
"I feel great. I'm a little bit shaky actually, which isn't great out there, but it's just great to be out and doing something. I was going a little bit stir crazy. You know, just kind of fighting through it."
Kaufman is not the first player this season to get mono and still play well. Anna Nordqvist was dealing with the illness earlier in the season, having to take two weeks off after the U.S. Women's Open. She went on to finish T-7 in the Ricoh Women's British Open after spending those two weeks resting, and eventually won the Evian Championship in September.
Though both players have played well while having mono, mono should make playing well harder. The exhaustion alone makes hours walking in the heat difficult, not to mention repeating the golf swing with speed and strength over 18 holes. But there is a valuable simplicity that sometimes comes when you're playing sick. You're so focused on just getting through the round, you're not likely to overthink.
"Sometimes your best weeks you play you get in late and don't get a practice round. You know, you just get out there and play," said Kauffman. "It's just a drive and a green and you just got to play."