News
LPGA Q school getting a makeover, will conclude with 144-hole Q Series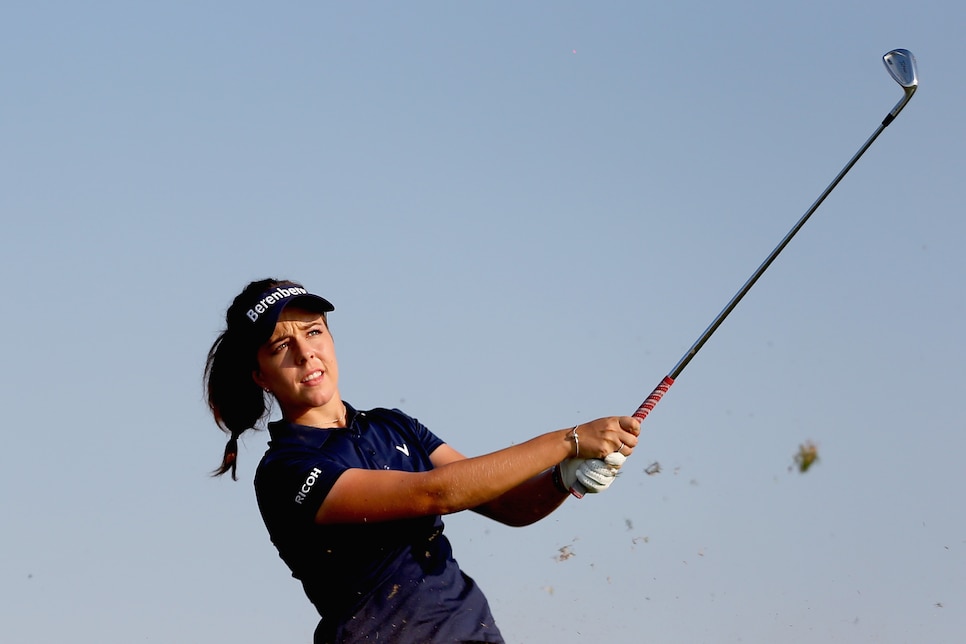 NAPLES, Fla. -- You might remember when the PGA Tour got rid of its PGA Tour Qualifying Tournament, also known as Q school. Instead of being able to play your way onto the PGA Tour by playing well in three stages between September and the beginning of December, players since 2012 have had to get their cards by finishing in the top 25 on the Web.com Tour money list or the Web.com Tour Finals Series. It's a system that puts more value in playing well over the course of a season rather than rewarding players who might have just gotten hot at the right time.
The LPGA's qualifying school has been similar to the old version of PGA Tour Q school—until now.
LPGA commissioner Mike Whan announced that starting in 2018, LPGA Q school will take on a new format. There will still be two stages of 72-hole stroke play, but instead of having a third and final stage, the LPGA will have a Q Series.
Stage 3 of Q School used to be 90 holes of stroke play with a cut after 72 holes that would bring the field down to the top 70 and ties. The field was made up of the top 15 and ties on the Symetra Tour, any players in the top 40 in the Rolex rankings and the 80 and ties who moved on from stage two.
This format put a lot of value on players who played well in the first two stages of Q School—in the 144 holes spread out over two months preceding Stage 3. The new format does the opposite.
Stage 3 will still be in a new location, making it a bit more like the actual LPGA – you obviously don't want to just reward players who play well in Florida. LPGA tournaments take place all over the world, so it stands to reason that aspiring LPGA members should have to be able to play well in different places.
Instead of 90 holes like like the old stage three, the Q Series be 144 holes. It'll be two four-round events at different locations with a three-day break in the middle. There will be no cut for the 108-player field, and the score will be cumulative. Adding this new cumulative piece and more holes creates a stronger test of consistency.
But the biggest change isn't actually the format, but who will be playing.
"When we go to [2017 Q School] stage three in a week, you'll probably have 80 or 85 players in that field that came from stage two," Whan said. "In 2018, I'll bet that number will be somewhere around 20 to 30, maybe 20 to 25 that will come from stage two. So what that means is you can still go Stage 1, Stage 2, Q Series, LPGA card. But that will be a much tighter funnel and harder to do. The superstars of the time will still get through that, but generally speaking most players will get to stage two, play a year on the Symetra Tour and play their way on to the LPGA."
Instead of having the majority of the field be players who qualified through playing well in stages one and two, the majority of the field will be made up of LPGA and Symetra Tour players. Players ranked 101-150 on the LPGA and players ranked 11-30 on Symetra will be eligible to play in Q Series. The top 5 collegiate players in the country (via the GolfWeek rankings) will also be invited, and there will be spots held for players ranked in the top 100 on the Rolex World Ranking, but aren't on the LPGA Tour. The decision has not yet been made for how many spots that will be. That just leaves about 25 spots for players who have played well in the first two stages, instead of the about 80 spots that it's been in the past.
"I feel like in today's day and age of tour seasons," Whan said, "there's so many places you can play and play a full season, we should give more credibility to somebody who has played over the course of a season, not a weekend or two weekends in Daytona or Florida."
You are using an unsupported version of Internet Explorer. Please upgrade to Internet Explorer 11 or use a different web browser.