Memorial Tournament
Players at Memorial are scratching their heads about why Kevin Na would resign from the PGA Tour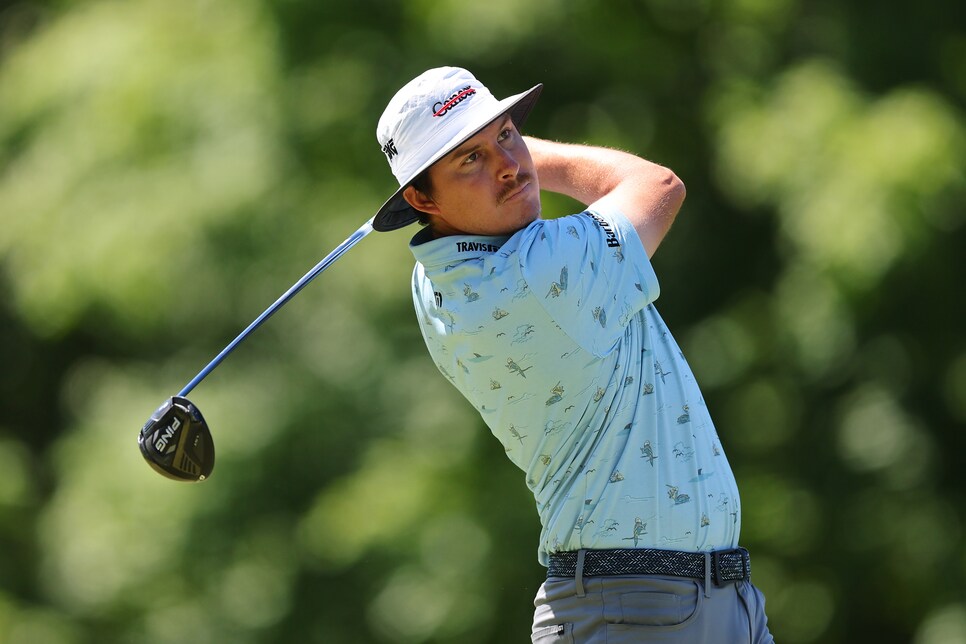 Joel Dahmen is among PGA Tour players who wonder why Kevin Na would resign from the tour.
Michael Reaves
DUBLIN, Ohio — If the PGA Tour reiterated to player agents this week at the Memorial Tournament that their clients had to "pick a side," between remaining a tour member or joining the rival LIV Golf Series, as one published report suggested, then Kevin Na's announcement Saturday that he resigned from the tour might make some sense.
That's the take from some of Na's peers competing in the Memorial after the news of Na's decision filtered around Muirfield Village Golf Club as Saturday's third round unfolded.
"It's a shame that guys feel they have to be on one side or the other," Aaron Wise said after a three-under 69 lifted him in a tie for second with Cameron Smith, five shots behind leader Billy Horschel. "I feel like the tour has pushed that in a hard way, that you're picking one side or the other, and I don't know if Kevin was trying to make a point or taking a stance in what he believes and making a statement, but he obviously felt this is what he had to do."
Na, 38, who is among 13 PGA Tour members listed in the field for next week's inaugural LIV Golf Invitational event in London, announced on social media Saturday that he has quit the tour on which he has competed for 19 years.
"I am sad to share that I have chosen to resign from the PGA Tour," said Na, who is ranked 33 in the world and has won five tour titles in more than 450 starts. "This has not been an easy decision and not one I take lightly. I hope the current policies change and I'll be able to play on the PGA Tour again."
PGA Tour Commissioner Jay Monahan has indicated that a player who competes in the upstart tour would face stiff penalties, including a suspension or a lifetime ban. Whatever decision the tour makes in response to players competing on the LIV tour without releases from the PGA Tour (in essence, permission) has not been made public.
"I guess maybe he's protecting himself down the road. Maybe some legal issue. He obviously sees the LIV Golf tour is the place he's going to play on going forward," Rory McIlroy, a member of the PGA Tour Policy Board, said, trying to guess Na's motivation for taking such a drastic step. "Look, I get it for Kevin. He's never been … he's qualified for the Open Championship a few times and not gone over. He likes to do what he likes to do, and he's his own person. No, I'm not surprised."
McIlroy might not be surprised, but he, like others, was having a hard time getting his mind around it.
"I really don't understand the decision at this point," he said.
"I think life is a really long time, so it seems silly to me sometimes when people say that they want to resign from something or they pledge their fealty or whatever it is," said Patrick Cantlay, the defending champion at the Memorial. "You don't know what's going to happen next week, let alone five or 10 years from now."
"I think he is going to be one of the best players over there, so good for him if that's what he wants to do," Joel Dahmen said. "He's been in the Tour Championship for like the last couple of years. I would think the tour has been pretty good to him over 19-20 years in his career. I don't understand how you resign. That's a bold statement. What if the LIV folds in a year? I mean, can he resign his resignment? I don't know. Do whatever you want, but I don't think you have to resign from the tour to do this."
Horschel said he was "saddened" by the news and maintains a position he has had throughout his career—that if a player fulfills his minimum requirement of 15 tournament starts to remain in good standing and keep his card, then he should be free to pursue outside opportunities.
"Did he resign because he didn't want to go down the legal route? If the legal route leads to something like a ban from the PGA Tour, I don't think the tour can pull our pension … or whatever. There must be something in there that he thought this is the best thing for him, to resign," Horschel said. "If I were him, I would stand my ground a little bit. Any way this goes, though, I don't think this is a great look for golf right now."