News
Kevin Chappell and a short putt that ended a long journey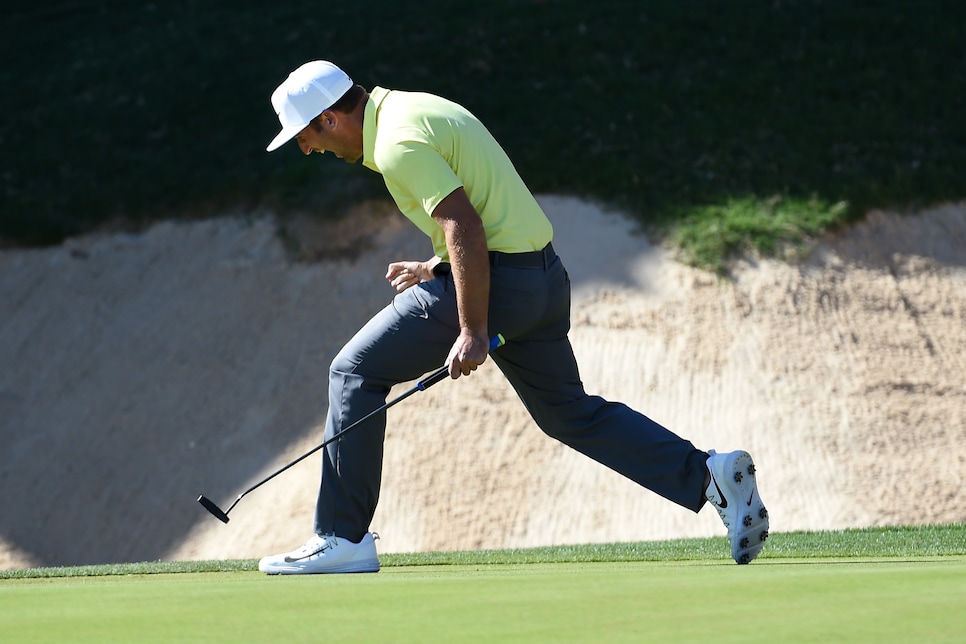 The game has always played to an elevated green for Kevin Chappell, a perpetual uphill climb that might have tested his resolve, but never broke it. On Sunday he finally reached the pinnacle.
Eight feet, two inches was all that remained, though considering the length of Chappell's journey it probably looked like a mile. He made it a milestone instead.
Chappell holed the putt, an 18th-hole birdie at the TPC San Antonio, to win the Valero Texas Open, his first PGA Tour victory in this his 180th career start covering six-plus years as a tour member. It triggered a celebration worthy of a green jacket, though at this point he'll gladly settle for the cowboy boots awarded the winner of the Texas Open.
"Just a big relief for me," Chappell said. "I don't have to answer that question anymore. Feel like I have a base to kind of jump off from with my career moving forward.
"You know, lot of hard work went into this, and I don't think I would have it any other way. Those people that know me know I do everything the hard way, and 180 starts later, that's pretty hard."
Chappell is a grinder by nature, who learned long ago that the starting point isn't the finish line, too. When he began his college career at UCLA, he was not a scholarship player. When he ended it, he was the college player of the year and the NCAA individual champion.
"That's kind of the way my professional career has gone, too," he said last year, when he finished second on four occasions. "From no status on any tour to being in the top 40 in the world. I had to grind it out."
Steady improvement having defined both his amateur and professional careers, he understandably is now aiming higher. He made a strong bid to make the U.S Ryder Cup team last year and eventually finished 18th in points. Major championships are on his radar, too; in his last start, he tied for seventh in the Masters.
"He's an unbelievable player," Brooks Koepka, the runner-up, said. "He was in contention for Ryder Cup last year. I mean you look at all the stuff he's done, it's pretty impressive, and it's kind of amazing that he hasn't won, how good he's played."
Koepka had posted the best round of the day, a seven-under-par 65 that wasn't good enough. He was on the practice tee awaiting a verdict on whether there'd be a playoff, after making birdie on the par-5 18th hole earlier to tie for the lead.
Chappell had taken a one-stroke lead into the final round, then closed with a four-under par 68 that included an untimely bump along the way. He had birdied the 14th hole to go two up, then bogeyed the 15th to let Koepka back into it.
On the 18th hole, Chappell delivered the knockout punch. After a perfect layup second shot, he hit his third to eight feet, two inches to set up the game-winner.
"I definitely had more nerves," he said of the putt at 18. "I think I was able to pull from some past experiences on that putt. Had what felt like a putt to win at Bay Hill last year, left it about six feet short. Had a putt to win at the Tour Championship and left that about four feet short. Luckily, I only had eight feet. I wasn't going to leave it short. I told myself, 'Hit the best putt you can and we'll see what happens.'"
What happened was that a 179-tournament streak was brought down by a lethal combination of talent and perseverance.